IMPORTANT DATES TO REMEMBER
9/10- (Tuesday) ADVANCED DRAMA MANDATORY PARENT MEETING – Elements (Room 9) at 6:00 PM  

9/10- (Tuesday) PTO MEETING – Elements at 7:00 PM  

9/12- (Thursday) DRIVELINE DOGS – During Morning Drop-off (Left Lane Only) – 7:30 am – 8:00 am

9/18- (Wednesday) PICTURE RETAKES   

9/19- (Thursday) Constitution Night – Elements at 6:30 PM  
TEMPORARY OFFICE: 16000 Maricopa Rd. – Elements @ UltraStar (North side of building)

OFFICE HOURS: Monday – Thursday  7:30 am – 4:00 pm

SCHOOL HOURS: Monday – Thursday  8:00 am – 3:30 pm

PHONE: 520-367-3800

FAX: 520-367-3801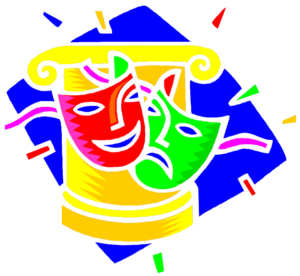 ADVANCED DRAMA MANDATORY PARENT MEETING
Tuesday, September 10th 
6:00 PM (Room 9 – Elements)
Hello Advance Drama parents! The kids are busy preparing for the swashbuckling tale of Zorrito! We are going to have a mandatory parent meeting to let you know important dates, help you to understand expectations, and answer any questions you may have.  Your Scholar does not need to come but please have at least one parent or representative attend. 
We want this to be the best production that it can possibly be so having your Scholar in advanced drama is a family affair. We could not do this without your support and we are excited to be able to utilize your talents as well as your amazing Scholars! 

COME BE A PART OF IT!
NEXT PTO MEETING:
TUESDAY, SEPTEMBER 10th – 7:00 PM
LOCATION: ELEMENTS @ ULTRASTAR
JOIN US ON FACEBOOK: https://www.facebook.com/groups/heritageptomaricopa/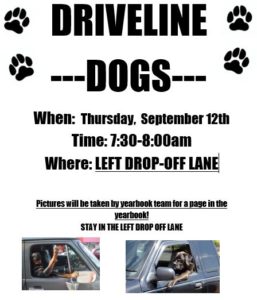 Yearbook Scholars have noticed your cute furry friends in the mornings during drop-off,  and they want to capture some fun pictures for a page in the yearbook!  Bring them for a ride THIS THURSDAY to participate in DRIVELINE DOGS!!!!  

Is your Scholar not feeling well? 
Please call the office at 520-367-3800 by 10:00 AM to report your child's absence.  
YEARBOOKS ON SALE NOW!!!  
Go to www.treering.com/validate and enter 1015628559814512. 
Order by September 30th and 15% off + 2 FREE Customizable Pages!!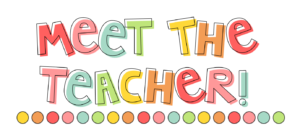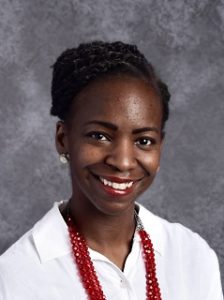 Heritage Academy introduces Ms. Chareka Daniel to the Maricopa Campus as our Dance Instructor!
Ms. Daniel is a graduate of James Madison University in Harrisonburg, Virginia where she received her Bachelor of Arts with a concentration in dance. While in college, Ms. Daniel was awarded the Outstanding Performer and Choreographer of the Year for the School of Theatre and Dance at JMU. In addition, Ms. Daniel received a full scholarship to attend The American Dance Festival, hosted in Durham, North Carolina. A year later, she received a scholarship to study dance for an entire month at the Laban Dance Studio in London, England.
In 2015, Ms. Daniel became a graduate of Arizona State University where she received her Master of Fine Arts degree in choreography, teaching, and performance. Since then, she has traveled to several countries such as Panama, India, France, Germany, Cambodia, Thailand, Netherlands, Indonesia, Malaysia, and Mexico teaching dance. Ms. Daniel enjoys choreographing, performing, and most of all teaching.
In 2018, Ms. Daniel became a University Dance Supervisor for Arizona State University. She supervised college dance students who were teacher candidates, seeking to obtain a teaching certification. She  served as Dance Director at North Pointe Preparatory for the 2018-2019 school year. Additionally, she has taught dance to grades K-5th all across the valley.  Ms. Daniel recently became a dance member of the "Be Kind People Project" in Arizona. This program uses dance as a tool to teach children how to be kind and serve one another.
We are so excited to have Ms. Chareka Daniel as part of our Family of Heroes!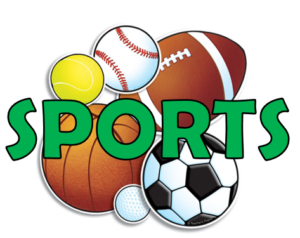 UPCOMING EVENTS…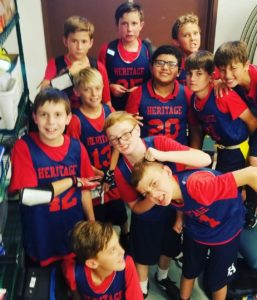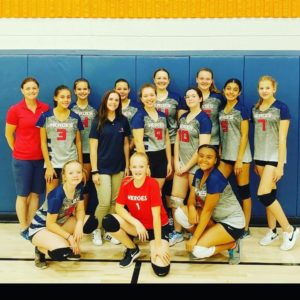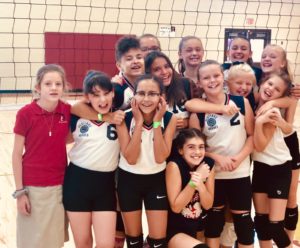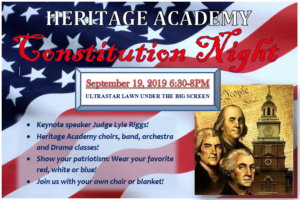 STUCCO, CEILING TILES, & DECORATIVE TRIM
We are making great progress on the building this week!  Stucco is nearly complete on building A.  They will be installing ceiling tiles this week inside and working on the decorative trim on the the outside.  Curbing continues in the parking lot and steel framing continues on the gym.  They also started the steelwork on the extension this week.  The gym and extension will be completed after we move in.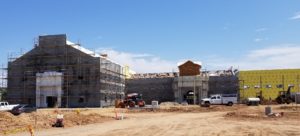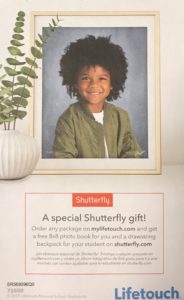 PICTURES SHOULD BE ARRIVING THIS WEEK!   RETAKES WILL BE SEPTEMBER 18TH!
UNIFORMS ARE REQUIRED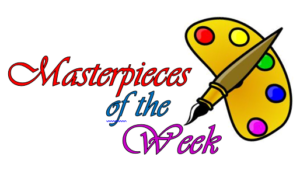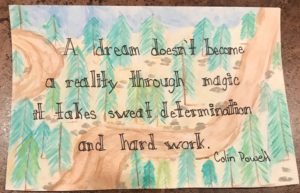 Artist: Catalina Springstroh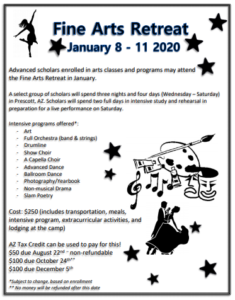 FINE ARTS RETREAT 2019-2020
(9-12 GRADE) & (6-8 GRADE BY INVITATION ONLY) 
January 8th-11th
CLICK HERE FOR PERMISSION FORMS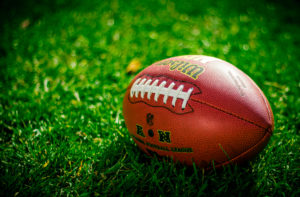 COURSE FEES ARE DUE 
All course fees are now due for the fall/winter semester.  Payments are made online at https://hamaricopa.com/payments/
BE SURE TO ENTER YOUR PAYMENT METHOD IN THE PAYPAL SECTION TO COMPLETE THE PAYMENT.  PAYPAL WILL EMAIL YOU A RECEIPT ONCE PAYMENT HAS BEEN CONFIRMED.
Class and sports fees must be paid IN FULL to attend the class or perform in the extracurricular activity.
If Fees are not paid, the scholar will be dropped from the class and re-scheduled to a non-fee bearing class.  NO refunds are given after the first 3 weeks of class.
Here is a list of the course fees for your reference:  2019-20 Maricopa Course Fees