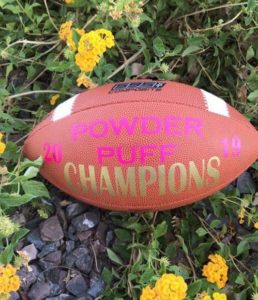 IT'S TIME TO GET YOUR PINK ON!!!  
Powder Puff starts NEXT WEEK on Monday 10/12! 
PRACTICE: MON- THURS 3:45-4:45 @ PACANA PARK (down on the outfield of the baseball field) The scholars will need to quickly change after school and come see me in the lunch area to get their number. We will then quickly head over to Pacana to get started. Scholars can be picked up at Pacana after practice.
Mon 12th/Tues 13th- Scholars will run drills
Wed 14th- Coaches will pick teams
Thurs 15th- Teams will be posted and will practice as Team
TEAMS: The Scholars will be divided into 4 Teams. Each team will have a color.
SHIRTS: Participant T-shirts will be sold in their team color. This is optional not required. If they do not buy a t-shirt they will just need to make sure to wear their team color.
Sizes- Adult Small – Adult Large $6
Adult XL- Adult XXL $10
Families are also welcome to order shirts also.
ORDER AND PAYMENT TAKEN-  October 19th – 21st in the lunch area Before school, at lunch, or after school. You may email orders to Crombie126@gmail.com CASH ONLY
WHAT TO WEAR: Shirt, shorts, tennis shoes or cleats, MOUTH GUARD and water.

TEAM PRACTICES:
After teams are picked coaches will let the scholars know their practice schedule.  Practices will ALWAYS be at Pacana Park 3:45pm-4:45pm down by the baseball fields. Some teams may not practice every day.
CONFLICT WITH OTHER SPORTS:
We have lots of scholars on different school teams. Please do not stress as we want this event to be FUN for EVERYONE. Have them come to all that they can and coaches will fill them in.
GAME DAY: 
ENTRY:
Scholars Participating (girls and guys) –  2 canned goods
Families – 1 canned good per person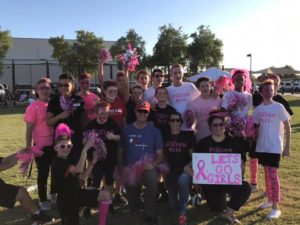 MENS CHEER SQUAD
 Coach Mandi is excited to get started with all the guys. Shorts, t-shirt and tennis shoes will be great.  
CHEER PRACTICE DAYS:
12th, 15th, 22nd, 26th, and 29th