IMPORTANT DATES TO REMEMBER
1/11  – TALENT SHOW AUDITION VIDEO DUE– (See Post for Details)

1/12  – PTO MEETING – 7:00 PM (See Post for Details)

1/18-1/19  – NO SCHOOL (CIVIL RIGHTS DAY)

1/21 – OPEN HOUSE – 7:00-8:00 PM @ the Heritage Gym (See Post for Details)

  

1/22  – HERITAGE ACADEMY TALENT SHOW – 5:00-7:30 PM @ the Heritage Gym (See Post for Details)

  

1/31  – OPEN ENROLLMENT DEADLINE –  (See Post for Details)

  
IMPORTANT SCHOOL INFORMATION

Good Afternoon Heritage families,
Happy New Year! We appreciate your hard work and dedication even through these unprecedented times.  We could not have done it without you.  We love our scholars and thoroughly enjoyed seeing them walking the halls this week.  We want the best for them and are so very grateful to have them on campus.
We are dedicated to our commitment to be here for your scholars. We are dedicated to their growth and development. Heritage Academy is known as a school of excellence where all scholars and parents can honestly say that the time spent at Heritage has been the best schooling experience of their lives and we want that to remain true.
One way that we will ensure this happens is to follow protocols regarding Covid.  It is imperative that each family adhere to the expectations in your agreement to be on campus for in-person learning.  You agreed to perform a health screen every day BEFORE your scholar comes to school. Any scholar that comes to school with any of the symptoms (even the mildest) below will be immediately sent home for the safety of our scholars and staff.  No exceptions.
We take the wellbeing of our scholars, as well our teachers, very seriously. Our teachers are our most dedicated and valuable asset. They provide the education of which you sought for your scholar when you chose Heritage Academy. Along with those in the medical field and first responders, we count on them to be here for your scholars every day.  They do so willingly day after day. Like the rest of us, they balance home and work, simultaneously caring for students, grieving losses, and attempting to create a new normal for those youth that look to them for stability or education.  Let's all do our part to keep our campus open, healthy and successful.
Scholars must not come to school if they exhibit ANY of the following symptoms:
● fever of 100.4 degrees or higher, or chills
● shortness of breath or difficulty breathing
● muscle aches
● sore throat
● headache
● fatigue
● congestion or runny nose
● cough
● vomiting
● diarrhea
● new loss of taste or smell
If any family member is quarantined, please keep your scholar home quarantined as well.  If your scholar has any type of mild symptoms, keep them home.  Also, if you need to sign out your scholar, send only a healthy individual to do so.  Please do not come in the building with symptoms yourself.  We need your help with this.
To better understand symptoms of the COVID-19 virus, we encourage families to refer to the Arizona Department of Health Services website: https://www.azdhs.gov/
Sincerely,
Kimberly Ellsworth
Principal, Maricopa Campus
Course fees for all SECOND SEMESTER classes are being assessed  THIS WEEKEND and will be DUE on THURSDAY, JANUARY 21st.  Scholars with balances on the 22nd will be dropped from all fee-bearing classes and will not be enrolled back in for the remainder of the semester.
As a reminder, our course fees are for the class, not the sport.  Even if your scholar is not playing on a competitive team, you are still responsible for paying the course fee as is listed on the course request form completed at orientation.  Course fees also apply even if your scholar is online full-time.
You will receive an invoice for each fee-bearing course your scholar has for 2nd semester.  HAVE A CREDIT?  If you have a credit on your account, you will go to myschoolbucks.com then select school store > browse all items > pay with existing account credit and complete the form.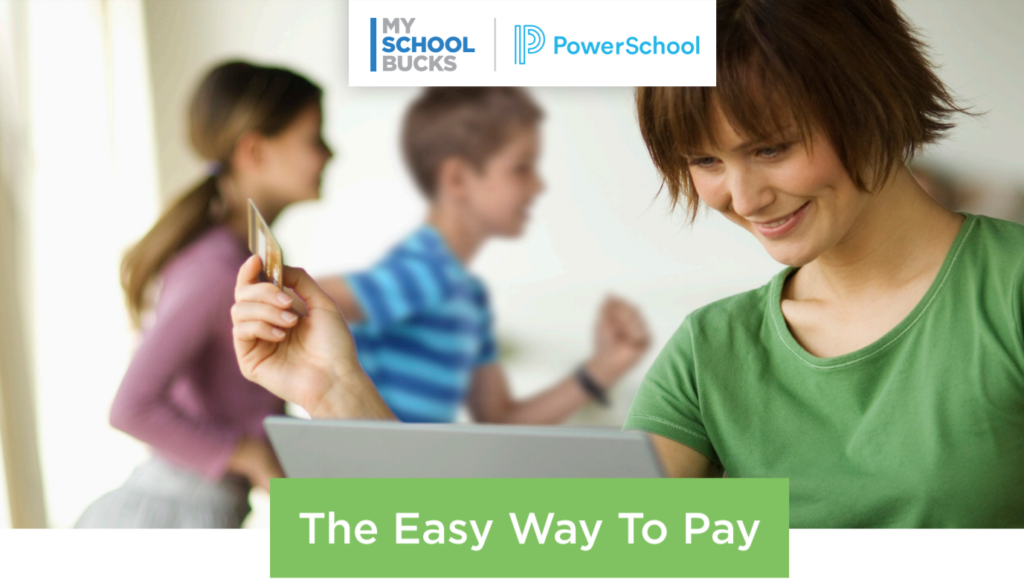 MySchoolBucks is our new payment system for course fees and to make purchases through the school store.
To create your account go to MySchoolBucks.com and follow these instructions:
Click "Sign Up Free"
Follow the step by step instructions to add our school and your scholars to your account.  Our district is Heritage Academy Inc.  
Click on "School Store" on the top menu bar for a list of options.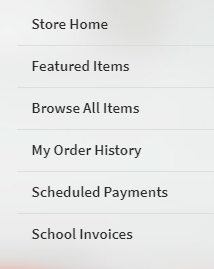 If you click on "Store Home" it will take you to where you can purchase items like a parking permit, pay your PTO dues, or pay for the Fine Arts Retreat.
If you click on "School Invoices" this is where your current course fees and end of year school balances from last year will be listed.  You will be able to make a payment right through this system!
We only accept online payments.  No cash or checks will be accepted.
COMMON ISSUE:  
No invoices?  You must add your scholars to your account.  Click the profile icon and select "My Students."  You may also need to add Heritage Academy as a new district if you another school on your account that uses myschoolbucks.
WANT TO AUDITION FOR THE SCHOOL TALENT SHOW???  
SEND AN AUDITION VIDEO TO MS. ALLEN
(alethea.alle@heritageacademyaz.com)
BY MONDAY, JANUARY 11th. 
(No late entries will be accepted). 
TALENT SHOW WILL BE:
Friday, January 22nd
5:00 – 7:30 PM @ the Heritage Gym
Sign up to watch the talent show!
130 Slots available due to social distancing!
https://www.signupgenius.com/go/805044EA9AE2EABF94-watch1
Do you have any family or friends who want to learn more about attending Heritage Academy for next school year? Please have them join us for our upcoming Open House on January 21st! The info session starts promptly at 7:00 pm.
There are 2 ways to join:
In Person – Sign Up: bit.ly

/2021OPENHOUSE

Virtually – meet.google.com/ffw-sjni-irt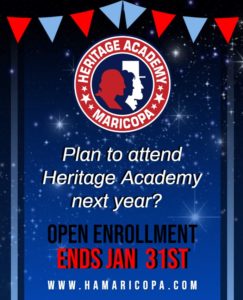 Open Enrollment will end January 31st for the 2021-2022 school year.  If you have Heritage siblings, friends, or other family members that would like to join us for next year…NOW IS THE TIME TO ENROLL!  Open Enrollment will run through January 31st and seats will be offered around the second week of February.  
As we prepare for re-enrollment for the 2021-2022 school year, we anticipate a continuation of increased enrollment, with many new families eager for their scholar to benefit from the quality academic environment at Heritage Academy – Maricopa Campus.  
EXISTING SCHOLARS – As an existing scholar, you are extended the opportunity to reserve your space for next year. Please complete this RE-ENROLLMENT FORM if you haven't already (most of have you have completed this already).  You will need to complete one for each scholar that currently attends Heritage Academy Maricopa.  If you know you will be moving or not returning, please complete the form as well to let us know.  
NEW SCHOLARS – If you have Heritage Siblings, friends, or other family members that do not currently attend Heritage but would like to join us for next year…they will need to complete the full enrollment application.  Click here to start the application: https://heritageacademyaz.com/enroll/. Open Enrollment will run through January 31st and seats will be offered around the second week of February. Heritage siblings will receive priority.  
By way of information, we do have a few spots left in 6th grade (TO ATTEND NOW) if a scholar would like to make the switch over to ensure their spot for next year!    

For our online scholars, below are some helpful links to help you get acquainted with Edgenuity.
 https://www.edgenuity.com/resources/edgenuity-help-for-families/
Have questions?  Please contact Afton Welker (afton.welk@heritageacademyaz.com)

Scholars can be dropped off starting at 7:30 am and need to be picked up after school by 4:00 pm!
The front office closes at 4:00 pm.  Scholars will not be permitted in the building after this time without a teacher and will need to wait in the  driveline area for their parents, and may not wait in the front office.
We would also like to remind families that Heritage Academy has a strict Tardy Policy.
TARDY POLICY: If you scholar is tardy more than 3 times to school, they will be pulled into a "sweep," (similar to a detention) for the remainder of 1st period, and every tardy after.  They simply are not allowed to interrupt their first hour class coming in late.  Parents will be called on the scholar's 5th tardy, and a meeting will be scheduled at their 7th tardy.
Why does being on time matter?  At Heritage, we want all of our scholars to learn traits that will help them be successful in their lives.
Here are just a few benefits of punctuality: 
INTEGRITY
DEPENDABILITY
LEADERSHIP
RESPECT
DISCIPLINE
ORGANIZED
PRODUCTIVE
LESS – STRESSED
SELF-CONFIDENCE
CREDIBILITY
Here are some tips to arrive on time: 
PACK IT UP THE NIGHT BEFORE – Uniforms, gym clothes, shoes, jackets, sports equipment, water bottles, homework, lunch etc.
TIME TRICKS – set alarms, change the clocks in your house to be early, tell yourself school starts at 7:45 (not 8:00).
ANTICIPATE DELAYS– Add 25% of your travel time to your commute for traffic, gas, emergencies, etc.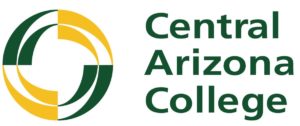 DUAL ENROLLMENT REGISTRATION ENDS NEXT WEEK!
Here is the process:
Get the forms from Mr. McCambridge
Fill out, sign and date
Scan the forms into 2 separate PDFs
Submit the forms to admissions@centralaz.edu
Just a reminder that hoodies, sweatshirts, sweaters, and jackets worn inside the building must be solid red, white, or blue with no striping, graphics, or lettering.  Heritage spirit wear (as seen above) is approved as dress code compliant.
A Few More Reminders……
– clean shaven even with a mask on
– no nose rings even under masks
– no denim khakis
DRESS CODE REMINDERS
Just a reminder that hoodies, sweatshirts, sweaters, and jackets worn inside the building must be solid red, white, or blue with no striping, graphics, or lettering.  Heritage spirit wear (as seen above) is approved as dress code compliant.
A Few More Reminders……
– clean shaven even with a mask on
– no nose rings even under masks
– no denim khakis
NEED YOUR OFFICIAL TRANSCRIPT TO APPLY FOR COLLEGE?   
Stop by Mrs. Hoffman's office for a copy of your unofficial transcript or CLICK HERE and complete the request form for an official one to be sent to the college you are applying to.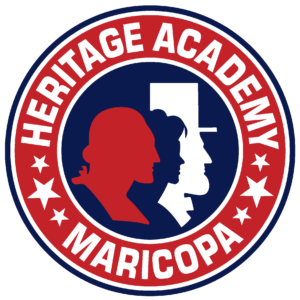 Heroes Athletics Update
Winter Sports CAA Spectator Update:
Due to current metrics in Arizona in regards to the spread of COVID-19, the CAA governing board has decided to NOT ALLOW ANY SPECTATORS FOR WINTER INDOOR SPORTS.  This restriction will take effect on Monday, January 12th.  The CAA will continue to monitor the metrics and will remove this restriction when the board sees improved data showing the decline of cases.
Two spectators per player are allowed for outdoor sports at this time.
Heritage Academy Maricopa will look for ways to provide a live stream option for families to watch their scholars play.  We know this is a difficult time and appreciate your understanding as we all work our way through these changes.
Winter Sports Schedules:
As many schools are deciding whether they will participate in winter sports, it has made scheduling this season vary volatile.
The CAA Preps site schedule is a live view of the schedule.  It shows dates, times and locations of all scheduled games.  It will show immediately any changes that occur.
Please use this site to review your scholars game schedule and review it often.
With questions about HA Maricopa Athletics, please email Mr. Miller (Jeffrey.miller@heritageacademyaz.com)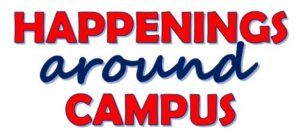 Happy New Year 2021 Heroes!  
Look at all of the scholars that received Belt Rank Promotions from Master Feiles in the Martial Arts class!  Congratulations Ninjas!!
And Mrs. Titus' is at it again with her 8th graders learning about sublimation (a solid to a gas) with dry ice.
….and here she is trapping the gas and making dry ice bubbles!
IT'S TIME TO ORDER YOUR YEARBOOK!!  
Dates
January 25
February 1, February 15, & February 22
March 1, March 22, & March 29
April 5, April 19, & April 26
May 3, May 17, & May 24
FRANCE TOUR

2022
Dear Heritage families,
Heritage Academy high school scholars are invited to join us for a once-in-a-lifetime travel experience to France: Paris, Normandy, and Brittany during Spring Break 2022!
We are excited to offer this opportunity right now to give scholars some hope for a brighter future. We had an amazing experience in France this past Spring Break.  While the world might feel like it is filled with uncertainty, we want to give families the chance to look ahead. In addition, to make sure you feel confident making future travel plans, EF is offering a risk-free enrollment period.
There are limited spots on this tour!  To learn more about this exciting opportunity, please email me or call the EF Traveler Support Team at 1-800-665-5364, Monday-Friday, 9AM-5PM EST. You might also want to review the Parent Guide for information about payment plans, on-tour safety, credit opportunities, and more.
Now, let's get ready to go to France!
Thanks,
Joseph Arnold
jarnold@heritageacadmeyaz.com
French I/II/III, P.E.
Cross Country, Varsity Boys Soccer, Junior High Soccer
Heritage Academy Laveen
Will you or your Scholar be driving to school and parking on campus for the day? 
You will need a parking permit!  
Please complete the following PARKING PERMIT APPLICATION if you or your scholar plans to park on campus for the 2020-2021 school year.  Parking permits must be hung on the rear-view mirror at all times while on the Heritage Academy Campus.  You will be assigned a designated parking spot.  There is a $10 fee/year for SCHOLAR parking, and permits can be purchased through the school store at MySchoolBucks.com.  You will need to login or create an account to access the store.  See MySchoolBucks Post above for details on setting up an account.    There is no fee for Staff Parking.  Permits are non-transferable and there is a $10 Replacement Fee if the permit is lost or stolen.    
WANT TO ORDER LUNCH?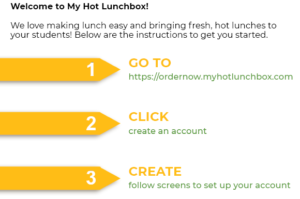 *IMPORTANT NOTES:  MAKE SURE YOUR ORDER IS COMPLETE AND FULLY PAID FOR.  YOU MUST ORDER  24 HOURS AHEAD OF TIME.  IF YOU ALREADY HAVE AN ACCOUNT, YOU WILL NEED TO UPDATE YOUR PROFILE WITH YOUR SCHOLARS CURRENT GRADE TO VIEW THE CALENDAR.
We do not charge any fees to create an account or to order student's lunches. Our meal prices are typically at or below a restaurant's in­ store price. Place orders and process payment on our secure website.  No more forgetting or losing lunch money!
No minimum orders. You can order lunches for one day, one week or months in advance. Add, edit, or cancel an order up to noon on the day before delivery.  You can print a calendar view of lunch orders and receive weekly opt-in email reminders.  Additionally, if you add orders and forget to process payment you will receive an alert.We offer a range of selections at a variety of price points. Our menus include combos, entrees and a la carte options.
My Hot Lunchbox is happy to accommodate gluten-free, dairy-free and vegetarian meal choices.  We are a peanut free company.  Our Customer Service Team is happy to help. For any inquires please call: 1-888-894-8295.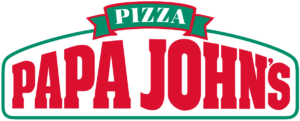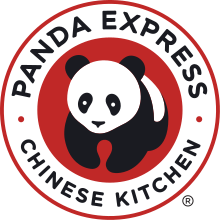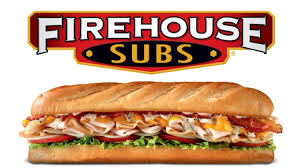 Does your scholar require medication during the school day?
Our medication policy has changed this year.  In cases where medication is required by a doctor to be given during school hours, Heritage Academy
officials administer prescription medication in the school setting in accordance with specific regulations that come from state law.
The following form needs to be completed by the doctor and delivered to the school by an adult with the medication.
Administering Meds Form 2020
Please note, medication to be given two (2) and/or three (3) times daily are to be given at home, unless specifically ordered by the doctor to be given at school. For prescription medication, there must be a written order from the physician stating the name of the medication, the dosage and the time it is to be administered and that it must be administered during school hours. There must be written permission from the parent/guardian for the medication to be administered at school. The medication must be in the original prescription container labeled by the pharmacist. Pharmacies will provide a duplicate container for school use upon request. No medications in envelopes, foil, or baggies will be accepted.
Pursuant to A.R.S. §§ 15-341(A)(35),(36), students who have been diagnosed with anaphylaxis and/or breathing disorders may carry and self-administer emergency medications while at school and at school- sponsored activities. The student's name must be on the medication container and annual written documentation, which authorizes the possession and self-administration of the medication from the
student's parent is required.
UNIFORMS 
Uniforms will be required starting the first day back on campus September 9th!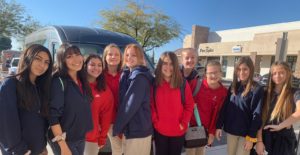 THERE ARE (4) APPROVED UNIFORM VENDORS TO CHOOSE FROM:
1. DENNIS UNIFORMS – https://www.dennisuniform.com/schools/QHR (1-2 week delivery)
2. EDUCATIONAL OUTFITTERS – http://phoenix.educationaloutfitters.com/heritage-academy-maricopa-campus/ (6-8 week delivery)  
3. LANDS' END – https://www.landsend.com/co/account/school-uniformsSchool Account # 900147471 (Under Mesa -District) (Check website for delivery times)
4. PRINTED DESERT – https://heritageacademyuniforms.com/  (Check website for delivery times)
UNIFORM GUIDELINES:
HERITAGE POLO – Red, White, or Blue must be purchased from an approved uniform vendor (Heritage Logo Required).
PANTS – Can be purchased anywhere as long as they meet the dress code standards (must be beige khaki lightest color option) or navy. No cargo pockets or leggings.  Cannot be ripped, torn, or frayed.
SKIRTS/DRESSES – MUST COME TO MIDDLE OF THE KNEE.  CHECK MEASUREMENTS OF SKIRT LENGTH FROM VENDORS BEFORE PURCHASING.  MOST OF THEM ARE NOT LONG ENOUGH.  Can be purchased anywhere as long as they meet the dress code standards (must be beige khaki lightest color option) or navy. Cannot be ripped, torn, or frayed.
SHORTS – Must be no shorter than four inches above the knee. Can be purchased anywhere as long as they meet the dress code standards (must be beige khaki lightest color option) or navy. No cargo pockets.  Cannot be ripped, torn, or frayed.
OUTERWEAR (Sweatshirts, Sweaters, Jackets) – Can be purchased anywhere as long as they meet the dress code standards (must be solid red, white, or navy blue with no large graphics or lettering. (Heritage Logo not required)
SPORTS/PE UNIFORM – Must be from one of the approved uniform vendors. (Lands' End does not carry it).   Uniform consists of navy blue basketball shorts (HA Logo Required) and a solid red t-shirt (HA Logo Required).
Looking for scholarships can be time consuming!
Here is a link to some wonderful opportunities:
Be sure to apply before the deadline!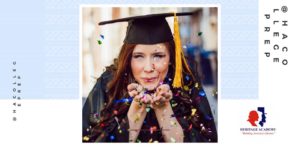 Do you have questions regarding College planning?
Heritage Academy offers advising to every scholar on campus. We will coach them along their college prep path, get them enrolled in college while in high school, and set up for future success!
Parents and scholars….. Do you have questions regarding College or high school planning?
Below is a list of topics that you may want to consider.
High school course selection

Early College Program – Dual enrollment, AP & CLEP

Earning an Associates Degree at Heritage Academy

ACT/SAT/PSAT (Which test and when?)

Financial Aid (Scholarships, Grants, Loans & FAFSA)
To schedule your appointment with Mrs. Weiler, please visit the website:  https://hamaricopa.com/advising/