IMPORTANT DATES TO REMEMBER
10/22 & 10/23 (Tuesday & Wednesday) EARLY RELEASE – Pick-up at 1:45 PM 

10/24 (Thursday) POWDER PUFF GAME – Pacana Park @ 4:00 pm

10/24 (Thursday) CHOIR CONCERT – Our Lady of Grace Parish  @ 6:30 pm

10/31 (Thursday) BUCKS For BOOS (DOLLARS FOR DUDS) – $1.00 for top & $1.00 for bottom

10/31 TRUNK-OR-TREAT – This event has been cancelled
TEMPORARY OFFICE: 16000 Maricopa Rd. – Elements @ UltraStar (North side of building)

NEW BUILDING ADDRESS: 41000 West Heroes Way Maricopa, AZ 85138

OFFICE HOURS: Monday – Thursday  7:30 am – 4:00 pm

SCHOOL HOURS: Monday – Thursday  8:00 am – 3:30 pm

PHONE: 520-367-3800

FAX: 520-367-3801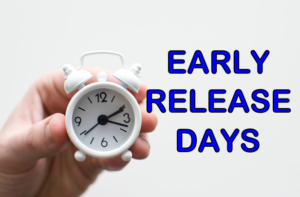 We have (2) early release days scheduled next week on TUESDAY 10/22 & WEDNESDAY 10/23.  School will dismiss at 1:45 pm and Scholars will need to be picked up no later than 2:15 pm.  We apologize for any inconvenience this may cause.  Please mark your calendars!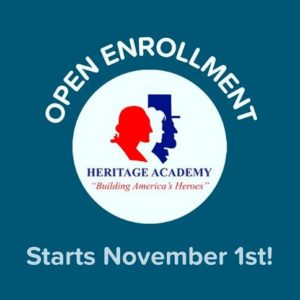 Only 2 weeks until Open Enrollment begins for the 2020-2021 school year.  If you have friends or family members that would like to join us for next year…NOVEMBER 1st is the date to remember.  Open Enrollment will run through January 31st and seats will be offered around the second week of February.  
As we prepare for re-enrollment for the 2020-2021 school year, we anticipate a continuation of increased enrollment, with many new families eager for their scholar to benefit from the quality academic environment at Heritage Academy – Maricopa Campus.  
As an existing family within our school, you are extended the opportunity to reserve your scholar's space for next year. Please complete this RE-ENROLLMENT FORM and submit it by November 15th, 2019.  Please complete one for each scholar that currently attends Heritage Academy Maricopa. 
Don't hesitate to call the office if you have any questions or concerns.  
SCHOLAR COUNCIL PRESENTS….
BUCKS for BOOS
  (DOLLARS FOR DUDS)
THURSDAY, OCTOBER 31st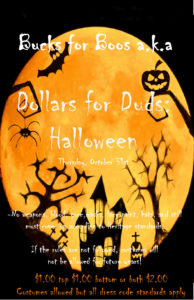 On Dollars for Duds days, students are allowed to wear non-uniform clothing (INCLUDING JEANS) that meet Heritage Standards.  $1.00 for shirt and $1.00 for pants/shorts.   Dollars for Duds is optional and students do not have to participate. Money raised goes to support Scholar Council and the school activities and dances they support.
Costumes are permitted as long as they meet Heritage Standard.  NO MASKS OR FACE PAINT.
Heritage Standard means: no sleeveless or midriff shirts; shorts must be 4″ from the middle of the knee and skirts must come to the knee:  no cargo pants or shorts; no pants or shorts that are ripped or torn; and no inappropriate slogans or symbols on the clothing. If a scholar is wearing  inappropriate clothing, they will be dress coded and sent home to change.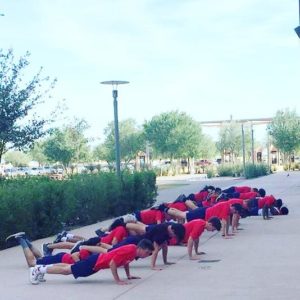 The HS Boys' Basketball Team with Coach Deakyne doing double push-ups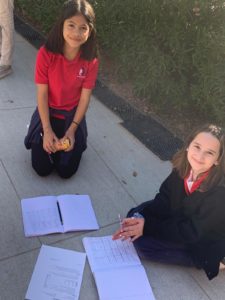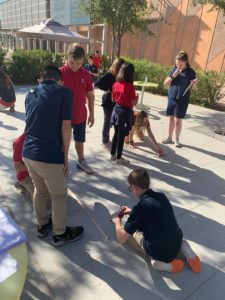 Potential and Kinetic Energy Soda Can Experiment 7th grade Science with Mrs. Titus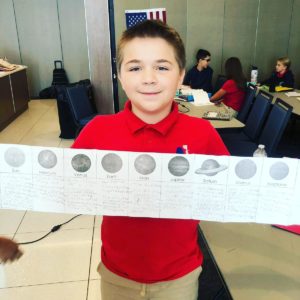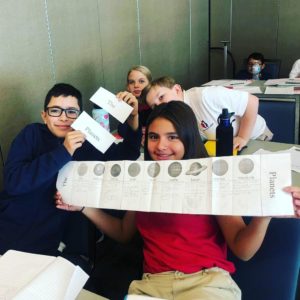 Planet Lesson with Mrs. Hoellwarth

UNIFORM REMINDER
All scholars must be uniform compliant (including polo WITH A LOGO) by Nov. 1st. This does include all new scholars.  The uniform vendors have caught up with orders and are at a 2 week turn-around.     

Don't miss the Powder Puff Game on October 24th – Pacana Park @ 4:00 pm!  Our boys will be cheering on our girls in a special number!  Come join in the fun and bring your canned food items for the Maricopa Food Pantry!  WEAR PINK!!  
UPCOMING PRACTICES: 
Tues 10/22: 1:45-3:30 pm (Early Release)
Wed 10/23:  1:45-3:30 pm (Early Release)
Game Day Thurs 10/24: Meet at Pacana Park at 3:40pm (Transportation not provided)
Just as a reminder, scholars need to bring 2 cans of food to the office next week as an entry fee.

Save the Date for our Choir Concert!  October 24th – 6:30 @ Our Lady of Grace Parish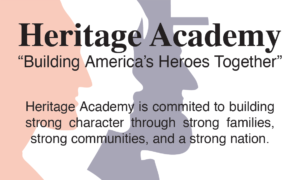 Scholars are required to complete the following citizenship requirements during the 2019-2020 school year: 
COMMUNITY SERVICE HOURS: 10 hours per school year are required for graduation. The goal should be 5 hours per semester.
CHARACTER DEVELOPMENT: Scholars are required to attend one of each of the following activities during the school year:
Attend 1 Heritage sporting event
Attend 1 Heritage fine arts event
Attend 1 additional school event
Service to your family (2 hours)
Heritage Scholar, Brayden Hill, coordinated a service project with a group of his friends at Feed My Starving Children.  Way to go Brayden!!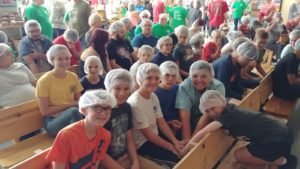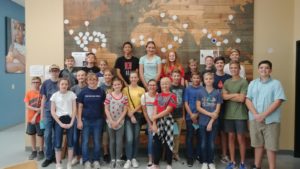 We would love to see other acts of service by our Heritage Scholars!  Send your pics to thoffman@heritageacademyaz.com to be included in future newsletters!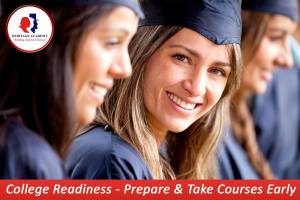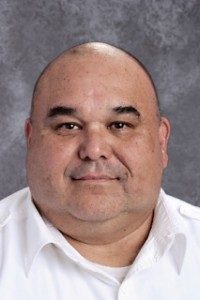 Heritage Academy introduces Mr. Bryant Herrera to the Maricopa campus as our College Advisor!
Mr. Herrera was born and raised in Mesa, Arizona and now lives in Maricopa with his family. He is a first generation college graduate. He holds a Bachelor of Science in Justice Studies, a Master of Science in Business Administration and a Master of Science in Administration of Justice and Securities. He also holds several certifications from FEMA, NRA, Homeland Security, and ASIS.
Mr. Herrera spent 10 years working for the University of Phoenix in advisement assisting university students with their degree programs. He has also been involved in corporate security as well as corrections. Mr. Herrera loves working with his hands and grew up learning how to work with wood, metal, and leather.  He currently operates his own blacksmith business, Black Wolf Forge, where he and his daughter make all types of historical items. On his off-time, Mr. Herrera enjoys spending time with his family participating in outdoor activities such as camping and fishing.
To schedule an appointment to meet with Mr. Herrera about your college preparation, click here.
We are so excited to have Mr. Bryant Herrera as part of our family of Heroes!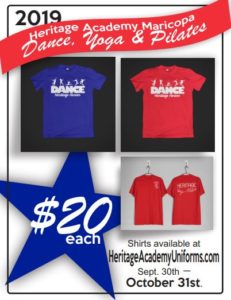 Support our Dance Department with a Dance, or Yoga & Pilates T-shirt!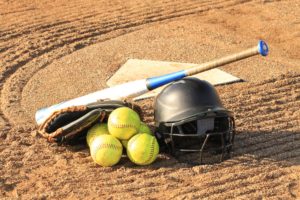 Do you have any Softball Gear you would like to donate??? 
Our Heritage Softball Team is looking for donations of mitts, balls, bats, helmets, etc. If you have any items you would like to donate, please bring them by to the office for Coach Ryder.  If you are interested in helping with the team, let us know!  
BUILDING UPDATE: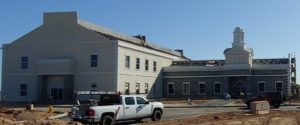 Parents,
First, we are excited to announce that we have received full accreditation by AdvancEd. This is the largest accreditation agency in the world and the gold standard in accreditation in Arizona. (They have recently changed their name to Cognia. See Cognia.org)
Second, we have been working with the City of Maricopa to start holding classes in a portion of our new facility on Monday. This date has been pushed back to Monday, October 28th. The permanent address is 41000 West Heroes Way, Maricopa, AZ 85138. The City staff and leadership have been great to work with. If there are any further delays, we will continue to work with Ultra Star. We can't thank them enough for their flexibility with housing us. Due to this delay, we will have early release next Tuesday and Wednesday at 1:45.
Our biggest struggle in completing the building has been the extreme labor shortage. This is due to the strong commercial construction industry in Arizona. At the time we move in, construction will continue on the 2nd floor of the classroom building. These classrooms on the second floor will be completed within weeks of our move in and ready for inspection and potential usage. After we occupy the initial phase of classrooms, the workers will continue to work on completing more classrooms and the gym.
As such, a number of safety measures will be taken to keep our scholars separated from these projects. Fencing, designated walk ways, and a lunch area separate from the site are a few of the safety elements. We will have a fire drill to ensure everyone knows how to evacuate safely.
Third, 25 years ago Heritage Academy and others pioneered the charter school industry in Arizona. At that time, Heritage rented a few rooms in a Mesa Jewish Synagogue. Public education has taken huge strides forward since that time and so has facilities for charter schools.
Everyone is excited and looking forward to moving into our new facilities. It will be beautiful and definitely worth the wait! Thank you for your patience and understanding. We will see you at UltraStar.
Thank you,
Jared Taylor,
Heritage Academy Board Chairman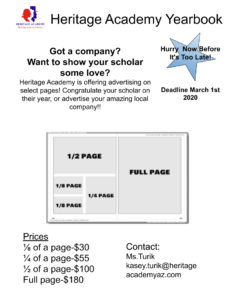 2019-2020 JH History Tour

 
Northern Arizona – April 29th & 30th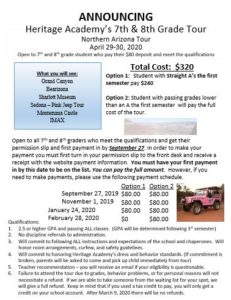 Please FILL OUT THIS TOUR AGREEMENT and return it to the front office!