IMPORTANT DATES TO REMEMBER
10/31 (Thursday) BUCKS For BOOS (DOLLARS FOR DUDS) – $1.00 for top & $1.00 for bottom

11/21 ZORRITO DRESS REHEARSAL – Heritage Academy Campus (Time TBD)

11/22-23 ZORRITO – Heritage Academy Campus (Time TBD)

12/4 DANCE SHOWCASE DRESS REHEARSAL – 6:30-8:30 pm @ Saddleback Elementary

12/5 BALLROOM WINTER SHOWCASE – 6:00 pm @ Elements Event Center (By Invitation Only)

12/12 CHOIR CONCERT – 6:00-6:30 pm & 7:30-8:00 pm @ Central Arizona College

12/13 INSTRUMENTAL CONCERT– Time and Location TBD (Band, Orchestra, and Japanese Drumming)

Heritage Families –
Thank you for your support and patience with our communications this weekend and our delays in our building.  Please read this letter in its entirety.  We have included a lot of information for you.
We are pleased and excited to announce that we will be starting in our new building on Monday, October 28!  We will be moving in to our first floor only.  As mentioned previously, we will still be on an active construction site.   Because of this, it is extremely important to follow all traffic flow, drop off times, pick up times, etc.
We have attached the driveline map for you to help with the flow on Monday morning.  The city has specifically asked us to follow this driveline pattern as to always have an open fire lane and safe scholars.  It is a single lane flow with drop off at the back of the building through a smaller parking lot and then drop off.  Campus is open for drop-off starting at 7:30 am.  Scholars will not be permitted on the property until that time.  All scholars need to be picked up and/or off campus by 4:00 pm.  At pick up time, we will ask you to circle back out of the driveline if your scholar is not there to meet you right away to keep the line moving.  Please have a plan with your scholar as to where to meet you (if you are in the front of driveline or back, etc).
We will have a staff members directing traffic near the front parking lot.  We do NOT have any parking lots that can be used to park and drop off your scholar.  Please know if you head down the street to our gate you will already be considered in the driveline and have to go through driveline to go back the other way.  Please be courteous to those directing traffic.  We cannot have scholars dropped off at the front gate for safety reasons.
There is a back fire lane that goes out towards the Catholic church.  This is a CLOSED road.  We are not allowed to use it.  It is a FIRE LANE only.
We have also attached a layout of the first floor with room numbers.  You can view your scholar's schedule on Powerschool before Monday if they would like to know ahead of time the room numbers in which they will meet.  Your scholar's schedule will remain the same, simply with a different room number.  During first hour, teachers will review your scholar's schedule with them and give a short tour of the building.
We will have lists posted around campus of where each scholar's first hour will be.  All staff members and PTO parents will be helping scholars find their first hour after we have a short 1st floor ribbon cutting ceremony.  We will gather our scholars on the north side of the building for a short ceremony and some pictures before we actually enter the building.  We will start this ceremony right around 7:45 am.  You are welcome to stay for our short ceremony if you would like.
To lessen the chaos, we ask that parents do not come into the building on Monday morning unless absolutely necessary.   If you need to come in, please park in the front parking lot area and only enter the admin door (the one story portion of the building) to report to the front office. If you simply cannot wait to see the building, we will give a quick tour once all scholars are in class right around 8:15 ish.
We will have an open house for parents when both floors are open.  We will tentatively plan for the evening of November 12.
Thank you again for your great scholars, your patience, your understanding and all the support!  We couldn't do all this without you!
Mrs. Ellsworth
Principal
NEW DROP-OFF & PICK-UP PROCEDURE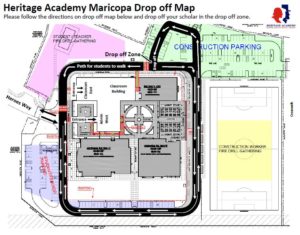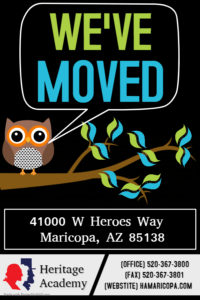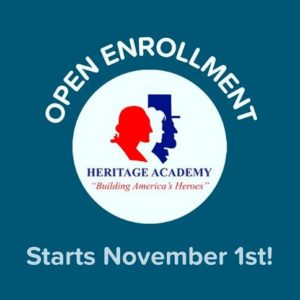 Less than 1 week until Open Enrollment begins for the 2020-2021 school year.  If you have friends or family members that would like to join us for next year…NOVEMBER 1st is the date to remember.  Open Enrollment will run through January 31st and seats will be offered around the second week of February.  
As we prepare for re-enrollment for the 2020-2021 school year, we anticipate a continuation of increased enrollment, with many new families eager for their scholar to benefit from the quality academic environment at Heritage Academy – Maricopa Campus.  
As an existing family within our school, you are extended the opportunity to reserve your scholar's space for next year. Please complete this RE-ENROLLMENT FORM and submit it by November 15th, 2019.  Please complete one for each scholar that currently attends Heritage Academy Maricopa. 
Don't hesitate to call the office if you have any questions or concerns.  
SCHOLAR COUNCIL PRESENTS….
BUCKS for BOOS
  (DOLLARS FOR DUDS)
THURSDAY, OCTOBER 31st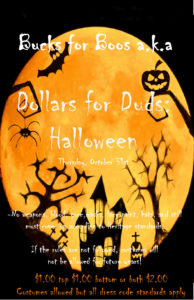 On Dollars for Duds days, students are allowed to wear non-uniform clothing (INCLUDING JEANS) that meet Heritage Standards.  $1.00 for shirt and $1.00 for pants/shorts.   Dollars for Duds is optional and students do not have to participate. Money raised goes to support Scholar Council and the school activities and dances they support.
Costumes are permitted as long as they meet Heritage Standard.  NO MASKS, FACE PAINT, OR COSTUME PROPS.  
HERITAGE STANDARD MEANS: no sleeveless or midriff shirts; shorts must be 4″ from the middle of the knee and skirts must come to the knee:  no cargo pants or shorts; and no inappropriate slogans or symbols on the clothing. If a scholar is wearing  inappropriate clothing, they will be dress coded and sent home to change.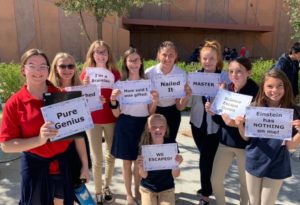 Mrs. Titus' 3A Class survived the Science Plant and Animal Cell Escape Room!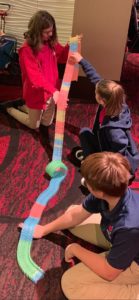 Mrs. Titus' 7th grade building a section of roller coaster to test potential and kinetic energy.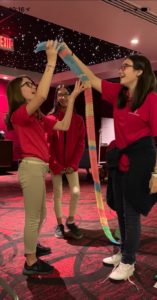 FALL CHOIR CONCERT WITH MR. RASMUSSEN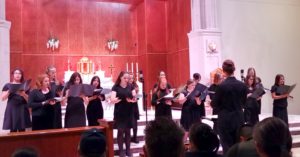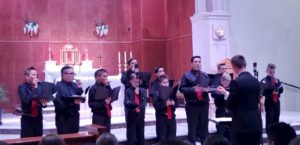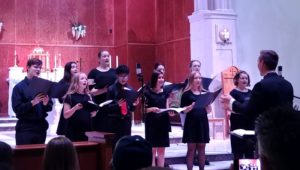 POWDER PUFF WAS SO MUCH FUN!!!  
A HUGE THANK YOU to everyone that helped make this event a success!  The players, cheerleaders, coaches, refs, PTO moms, parents, fans, scholars, & teachers! A special shout out to Mrs. Ashley Abercrombie for coordinating the entire event and making all of the awesome t-shirts.  It couldn't have happened without her!!  We were able to collect 511 lbs. of food and make a large donation to breast cancer treatment and research. Nice Job Heroes!!!  
2019 POWDER PUFF CHAMPIONS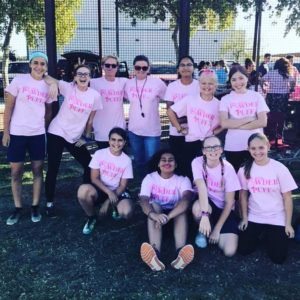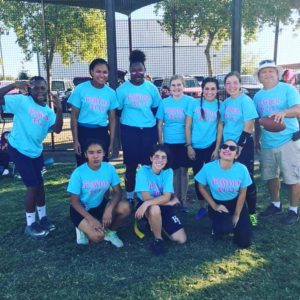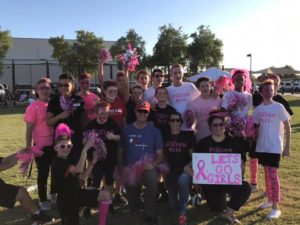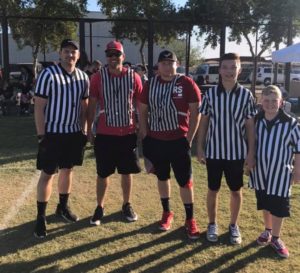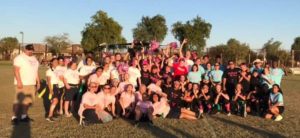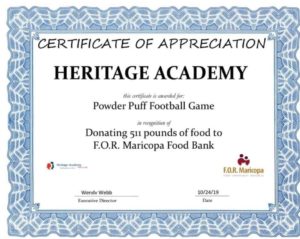 Please join us for our Tidings of Comfort and Joy Choir Concert December 12th 6:00-6:30 or 7:30-8:00 @ Central Arizona College.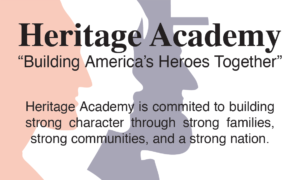 Scholars are required to complete the following citizenship requirements during the 2019-2020 school year: 
COMMUNITY SERVICE HOURS: 10 hours per school year are required for graduation. The goal should be 5 hours per semester.
CHARACTER DEVELOPMENT: Scholars are required to attend one of each of the following activities during the school year:
Attend 1 Heritage sporting event
Attend 1 Heritage fine arts event
Attend 1 additional school event
Service to your family (2 hours)
We would love to see other acts of service by our Heritage Scholars!  Send your pics to thoffman@heritageacademyaz.com to be included in future newsletters!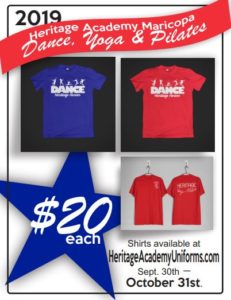 LAST CHANCE TO ORDER DANCE/YOGA-PILATES SHIRTS! 
ALL ORDERS DUE BY 10/31!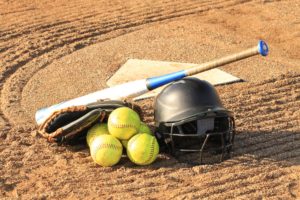 Do you have any Softball Gear you would like to donate??? 
Our Heritage Softball Team is looking for donations of mitts, balls, bats, helmets, etc. If you have any items you would like to donate, please bring them by to the office for Coach Ryder.  If you are interested in helping with the team, let us know!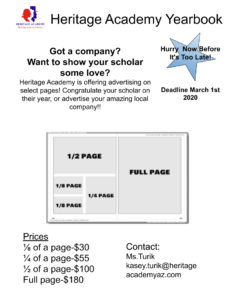 2019-2020 JH History Tour

 
Northern Arizona – April 29th & 30th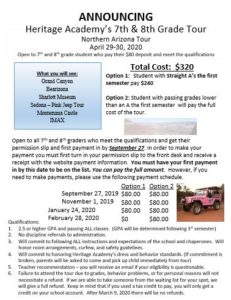 Please FILL OUT THIS TOUR AGREEMENT and return it to the front office!