IMPORTANT DATES TO REMEMBER
11/12 DOUBLE HALF DAY – Scholars attend all 8 classes due to the holiday. 

11/12 PTO MEETING – Heritage Academy Room #117 @ 7:00 pm. 

11/19 PANDA FUNDRAISER – 4:00 pm – 9:00 pm 

11/21 ZORRITO DRESS REHEARSAL – Heritage Academy Campus (Time TBD)

11/22 FALL FESTIVAL – 6th-8th Grade – 11:00 am – 3:00 pm

11/22-23 ZORRITO – Heritage Academy Campus (Time TBD)

11/27-12/1 THANKSGIVING BREAK – No School

12/4 DANCE SHOWCASE DRESS REHEARSAL – 6:30-8:30 pm @ Saddleback Elementary

12/5 BALLROOM WINTER SHOWCASE – 6:00 pm @ Elements Event Center (By Invitation Only)

12/12 CHOIR CONCERT – 6:00-6:30 pm & 7:30-8:00 pm @ Central Arizona College

12/13 INSTRUMENTAL CONCERT– Time and Location TBD (Band, Orchestra, and Japanese Drumming)

We had a great turn-out for the Maricopa Veterans Day Parade on Saturday!  We had a wonderful time participating in the parade and saw many Heritage Families cheering along the the parade route!  Thank you for coming out to show your support for the great men and women who have served our country!
HERITAGE ACADEMY SALUTES OUR VETERANS!  
This Tuesday, 11/12 will be a double half-day due to the Veterans Day holiday.   Scholars will need to prepared with assignments and supplies for all (8) of their classes that day!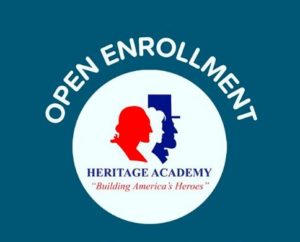 As we prepare for re-enrollment for the 2020-2021 school year, we anticipate a continuation of increased enrollment, with many new families eager for their scholar to benefit from the quality academic environment at Heritage Academy – Maricopa Campus.  
EXISTING SCHOLARS – As an existing family within our school, you are extended the opportunity to reserve your scholar's space for next year. Please click the following link and and submit it by November 15th, 2019: https://hamaricopa.com/re-enroll/.  Please complete one for each scholar that currently attends Heritage Academy Maricopa.
NEW SCHOLARS – If you have friends or family members that do not currently attend Heritage but would like to join us for next year…they will need to complete the full enrollment application.  Click here to start the application: https://heritageacademyaz.com/enroll/. Open Enrollment will run through January 31st and seats will be offered around the second week of February. 
By way of information, we are currently on a wait list for all grade levels until the end of the semester.  Beginning January, we will issue offers as seats become available.

We have noticed that as we are settling into our routine at our new campus, several scholars are arriving late.  We would like to remind families that Heritage Academy has a strict Tardy Policy. 
TARDY POLICY: If you scholar is tardy more than 3 times to school, they will be pulled into a "sweep," (similar to a detention) for the remainder of 1st period, and every tardy after.  They simply are not allowed to interrupt their first hour class coming in late.  Parents will be called on the scholar's 5th tardy, and a meeting will be scheduled at their 7th tardy.  
Why does being on time matter?  At Heritage, we want all of our scholars to learn traits that will help them be successful in their lives.  
Here are just a few benefits of punctuality: 
INTEGRITY

DEPENDABILITY

LEADERSHIP

RESPECT

DISCIPLINE

ORGANIZED

PRODUCTIVE

LESS – STRESSED

SELF-CONFIDENCE

CREDIBILITY
Here are some tips to arrive on time: 
PACK IT UP THE NIGHT BEFORE – Uniforms, gym clothes, shoes, jackets, sports equipment, water bottles, homework, lunch etc. 

TIME TRICKS – set alarms, change the clocks in your house to be early, tell yourself school starts at 7:45 (not 8:00).

ANTICIPATE DELAYS- Add 25% of your travel time to your commute for traffic, gas, emergencies, etc.  
P

arent

T

eacher

O

rganization
Our next PTO meeting is Tuesday, November 12 at 7:00 pm here at Heritage, Room #115. We would love to add to our numbers! Please come and share your ideas! Do You have kids on Heritage sports teams? We could use you as our Sports Chairman! Are you techie? We could use you as our Communications Chairman! Do you like making teachers happy? Suzanne Martin our Teacher Appreciation Chair would love for you to join her committee! Suzanne will be meeting with her committee soon to plan November and December activities so join today! Please reach out to sarah@heritageptomaricopa.com or to Mimi at the front desk if you are interested!  See you Tuesday!!

Our ballroom scholars are getting ready for their winter showcase.  Tickets are on sale this week–there are a limited number available! 
Yoga/Pilates class working out and having fun!    


PANDA FUNDRAISER
(20% of event sales will be donated to Heritage Academy)
Tuesday, November 19th
4:00 pm – 9:00 pm 

FALL FESTIVAL
(6th-8th Grade)
Friday, November 22nd
11:00 am – 3:00 pm 
Ballroom Winter Showcase
Thursday, December 5th
6:00 pm – 7:30 pm 
Elements Event Center 
$12 – hors d'oeuvres, dessert, dancing, and performances

Please join us for our Tidings of Comfort and Joy Choir Concert December 12th 6:00-6:30 or 7:30-8:00 @ Central Arizona College.  
SEWING CLUB –  11/18 – 3:30-4:30 pm in room 118
SEWING DONATIONS NEEDED:  We will happily accept all and any sewing supplies such as; fabric, buttons, thread, sewing machines, thimbles, needles, measuring tape, patterns, scissors, etc.
ART CLUB –  11/19 – 3:30-4:30 pm in room 118
Please contact Stephanie Schwarzen if you have questions: stephanie.schwarzen@heritageacademyaz.com
BYU to raise its enrollment cap starting next fall:
CLEP Exam Offerings

Many college and University Testing Centers offer CLEP exams which offer college credit at a fraction of the cost than traditional classes for subjects that students may already be experts in! Total out of pocket costs for the CLEP exam is $134. (confirm with the schools testing center)
The most popular CLEP exams administered for many of the schools include Spanish Language, French Language, and Calculus. Undergraduate students can receive college credit to fulfill their prerequisites towards their degree. Students can take any CLEP exam prior to completing an earned credit through formal course work. Meaning, students must complete their CLEP exam before they complete a course in the same subject.
Please review the college or university's Catalog CLEP policies for a list of subjects, and the scores required to earn college credit and which classes they could earn credit for.  Also, meet with your counselor to confirm what tests to take to fulfil your prerequisites.
Earning a qualifying score on your CLEP test allows you to earn college credits for the course without having to spend time and money to enrol and complete the class. CLEP testing gives you the chance to receive credits for things you already know such as Skills you learned through on-the-job training, internships, or even personal courses of study.
Students can inquire directly by calling The school Testing Office that you plan to attend at or visiting their web page for more information.
Passing CLEP Exams will Save You Time. …
Credits Through CLEP Exams will Save You Money. …
You can Earn College Credits for What You Already Know. …
You can Take More Classes in Subjects that Matter to You. …
Study at Your Own Pace.
"Benefits of CLEP* Exams." Benefits of CLEP Exams, http://www.testoutofcollegeclasses.com/clep-exam/121/Benefits-of-CLEP-Exams.html.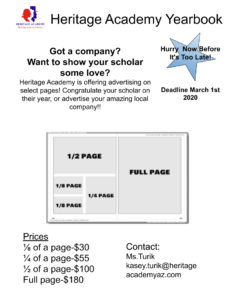 ***REMINDER: 2ND PAYMENT DUE***
2019-2020 JH History Tour

 
Northern Arizona – April 29th & 30th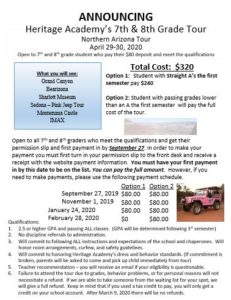 Please FILL OUT THIS TOUR AGREEMENT and return it to the front office!