IMPORTANT DATES TO REMEMBER
11/21 ZORRITO DRESS REHEARSAL – Heritage Academy Campus (Time TBD)

11/22-23 ZORRITO – Heritage Academy Campus (Time TBD)

11/27-12/1 THANKSGIVING BREAK – No School

12/4 DANCE SHOWCASE DRESS REHEARSAL – 6:30-8:30 pm @ Saddleback Elementary

12/5 BALLROOM WINTER SHOWCASE – 6:00 pm @ Elements Event Center (By Invitation Only)

12/12 CHOIR CONCERT – 6:00-6:30 pm & 7:30-8:00 pm @ Central Arizona College

12/13 INSTRUMENTAL CONCERT– Time and Location TBD (Band, Orchestra, and Japanese Drumming)

WE HAD A FANTASTIC FIRST WEEK AT OUR NEW BUILDING!  
What an amazing Family we have here at Heritage!!  You are flexible, patient, giving, kind, and always willing to give it your best even if the circumstances are not perfect!  From school being held at UltraStar to a campus under construction — it is definitely apparent that you teachers, scholars, and parents, are willing to give it everything you have to be successful!
We made it through our second "first day of school" and things went relatively smoothly.  We worked through the kinks, made a few adjustments, and off we go!  The next few months will move quickly.  With the Holidays, concerts, recitals, plays, etc. it will be the end of the year before we know it!
Thank you for being a part of something great!!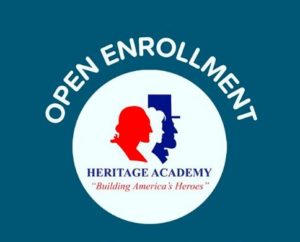 As we prepare for re-enrollment for the 2020-2021 school year, we anticipate a continuation of increased enrollment, with many new families eager for their scholar to benefit from the quality academic environment at Heritage Academy – Maricopa Campus.  
EXISTING SCHOLARS – As an existing family within our school, you are extended the opportunity to reserve your scholar's space for next year. Please complete this RE-ENROLLMENT FORM and submit it by November 15th, 2019.  Please complete one for each scholar that currently attends Heritage Academy Maricopa.
NEW SCHOLARS – If you have friends or family members that do not currently attend Heritage but would like to join us for next year…they will need to complete the full enrollment application.  Click here to start the application: https://heritageacademyaz.com/enroll/. Open Enrollment will run through January 31st and seats will be offered around the second week of February. 
By way of information, we are currently on a waitlist for 7th and 8th grade until the end of the semester.  We do still have openings in 6th, 9th, 10th, and 11th grades for those of you with friends thinking about transferring over.  

Our Heritage Swim Team made State!!!
Congratulations swimmers on an amazing season!  You are the first Maricopa Swim Team to make it to State!  Awesome Job!!! 
Coach Miller and the Cross Country Team had a great Jr High meet on Saturday 10/26.  7 of the 9 runners PR'd, including one girl that beat her last PR by a minute and a half!  The team has  4 HS runners and 4 Jr High runners qualify for State – Saturday 11/2!
HS Runners – Amor Juarez, Andrew Ensminger, Fisher Ormond, and Chase Woodhouse
JH Runners – Kella Connelly, Sapphire Valadez, Vash Livingston, and Tak Harris
Congratulations Cross Country Team!  GO HEROES!!! 
Some fun pics from Mrs. Hoellwarth's STEM challenge!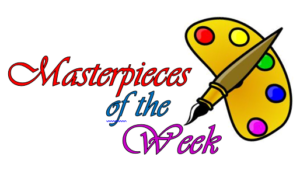 Talyssa Hoffman – 6th Grade
Sachia Cloran – 7th Grade
Maleiya Gaddy – 9th Grade




Please join us for our Tidings of Comfort and Joy Choir Concert December 12th 6:00-6:30 or 7:30-8:00 @ Central Arizona College.  
SEWING CLUB – 11/4 & 11/18 – 3:30-4:30 pm in room 118
SEWING DONATIONS NEEDED:  We will happily accept all and any sewing supplies such as; fabric, buttons, thread, sewing machines, thimbles, needles, measuring tape, patterns, scissors, etc.
ART CLUB – 11/5 & 11/19 – 3:30-4:30 pm in room 118
Please contact Stephanie Schwarzen if you have questions: stephanie.schwarzen@heritageacademyaz.com
The Keys Research Internship: 
SPEND YOUR SUMMER AS AN INTERN AT UNIVERSITY OF ARIZONA RESEARCH LAB:
The University of Arizona KEYS Research Internship Program is a unique opportunity for motivated Arizona high school students to spend their summer exploring real-world scientific research on the UA campus. Students enroll at the University and receive 3 units of Molecular and Cellular Biology. Students spend their summer working in the laboratory completing research projects. At the end of the program, students present their research at our very well attended Research Showcase. Applications are available now at https://keys.arizona.edu/.
The only program costs are for room and board for students from outside of Tucson. Financial aid is available on a need basis.

 If we can provide any additional information about our program, or other programs at the UA for high school students, please contact us at keys@bio5.org or (520) 626-8124.
IS TRADE SCHOOL AN OPTION FOR YOU?  
Trade School Scholarship: Work Ethic Scholarship from the mikeroweWORKS Foundation:
Central Arizona College: Early College Program
The Early College program provides Pinal County high school students an opportunity to get an early start into college by taking courses while still enrolled in high school. Students accepted into the Early College program receive a tuition waiver from Central Arizona College for up to five college credit hours. The tuition waiver covers regular in-state tuition and fees. Students are responsible for the purchase of textbooks, class materials, and are responsible for their own transportation to and from campus.  Tuition waiver can only be used for CAC 100 level courses or higher.
https://centralaz.edu/future-students/outreach-programs/early-college/
Promise for the Future:
 Promise for the Future is an educational initiative made possible through a partnership between Central Arizona College, the Central Arizona College Foundation, Pinal County Middle and High Schools. Promise for the Future was designed to encourage students who reside in Pinal County to remain in high school and graduate from a Pinal County high school.
https://centralaz.edu/community/foundation/promise-for-the-future/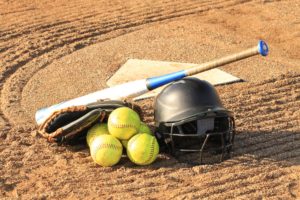 Do you have any Softball Gear you would like to donate??? 
Our Heritage Softball Team is looking for donations of mitts, balls, bats, helmets, etc. If you have any items you would like to donate, please bring them by to the office for Coach Ryder.  If you are interested in helping with the team, let us know!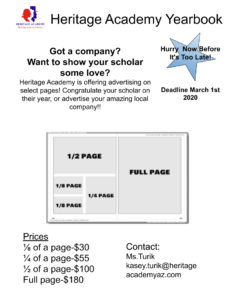 2019-2020 JH History Tour

 
Northern Arizona – April 29th & 30th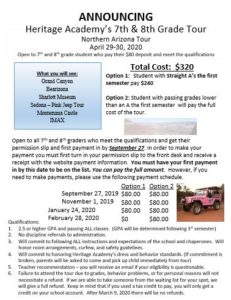 Please FILL OUT THIS TOUR AGREEMENT and return it to the front office!