IMPORTANT DATES TO REMEMBER
11/20 – HOMECOMING DANCE – 7:00 PM (See Post for Details)

11/25-11/29 – THANKSGIVING BREAK – Enjoy time with family and friends!  

11/30 – FALL & WINTER COURSE FEES DUE – (See Post for Details)

12/9  – HOLIDAY CHOIR CONCERT – 5:30, 6:30, & 7:30 PM (See Post for Details)  

12/11  – HERITAGE DANCE SHOWCASE – 5:00 & 7:30 PM (See Post for Details)  

12/15  – GRADUATION CAP & GOWN ORDERING DEADLINE 

12/14-12/17  – FINALS WEEK – Attendance Required (See Post for Details)  
IMPORTANT SCHOOL INFORMATION

Happy Thanksgiving from your Heritage Family! 
The Homecoming Dance is TONIGHT
Friday, November 20th @ 7:00 PM in the Courtyard 
Tickets are $18 and you can buy them at the door
Additional Information:
Mask Required!

This event will be socially distanced and has been moved outside, so please dress accordingly. 
(There will be no slow or contact dancing.)
No jeans or shorts

You must cover cleavage, shoulders, back, and midriff. Dresses and skirts must go to the middle of the knee without pulling it down while standing, sitting, and moving around.

High school scholars only

If you invite a high school aged guest from another school, they must come with a guest pass given by the principal and a photo I.D.
Invoices for fall semester fees (including winter sports) are due by
MONDAY, NOVEMBER 30th
If your scholar had a credit on their account from last year, the credit has been applied to the invoice.
NEW PAYMENT SYSTEM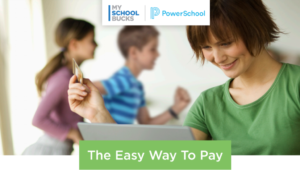 MySchoolBucks is our new payment system for course fees and to make purchases through the school store.
To create your account go to MySchoolBucks.com  and follow these instructions:
Click "Sign Up Free"
Follow the step by step instructions to add our school and your scholars to your account.  Our district is Heritage Academy Inc.  
Click on "School Store" on the top menu bar for a list of options. 
If you click on "Store Home" it will take you to where you can purchase items like a parking permit, pay your PTO dues, or pay for the Fine Arts Retreat.
If you click on "School Invoices" this is where your current course fees and end of year school balances from last year will be listed.  You will be able to make a payment right through this system!
NEED YOUR OFFICIAL TRANSCRIPT TO APPLY FOR COLLEGE?   
Stop by Mrs. Hoffman's office for a copy of your unofficial transcript or CLICK HERE and complete the request form for an official one to be sent to the college you are applying to.  
HOLIDAY CHOIR CONCERT 
Wednesday, December 9th 
3 showings @ 5:30, 6:30 & 7:30 pm
Audience members need to sign up using signup genius


(https://www.signupgenius.com/go/70A044FAEAE22AA8-holiday)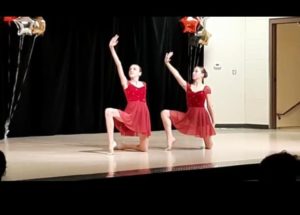 HERITAGE DANCE SHOWCASE 
Friday, December 11th 
2 showings @ 5:00 & 7:30 pm
Each scholar will receive (2) tickets for each show (4 tickets total).
DONATIONS WILL BE ACCEPTED AT THE DOOR.
Dress Rehearsal will be December 11th from 10:00 am – 12:00 pm.

IT'S CRUNCH TIME!!!
FINALS WEEK: DEC 14th – DEC 17th
All scholars are required to take their final exams for each class during finals week.  There will not be a test make-up after break, so if your scholar misses their final during this week, they will receive a "0".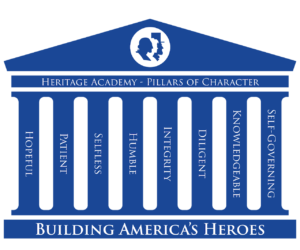 Scholars should try and complete the following citizenship requirements during the 2020-201 school year:
COMMUNITY SERVICE HOURS: 10 hours per school year (5 hours per semester).
CHARACTER DEVELOPMENT: Scholars should attend one of each of the following activities during the school year:
Attend 1 Heritage sporting event
Attend 1 Heritage fine arts event
Attend 1 additional school event
Service to your family (2 hours)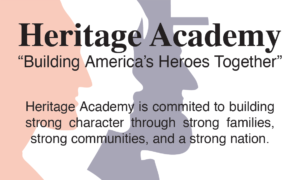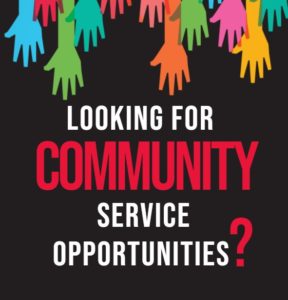 Volunteer opportunities are all around our community! 
Mow the neighbor's yard, volunteer at the food bank, or pick up trash in your community.  Need to stay in your house?  No problem!  Write letters to soldiers, sew masks, call and check on your elderly friends and neighbors!  There are opportunities to give service all around you!  As long as you are providing service for someone outside of your home (not for your family) it can count towards your hours.
CLICK HERE FOR A COMMUNITY SERVICE TRACKING SHEET
Other volunteer opportunities for our Maricopa community can be found on justserve.org.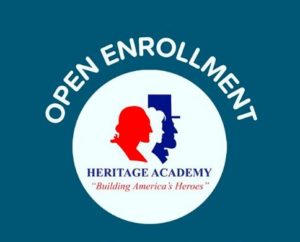 Open Enrollment has begun for the 2021-2022 school year.  If you have Heritage siblings, friends, or other family members that would like to join us for next year…NOW IS THE TIME TO ENROLL!  Open Enrollment will run through January 31st and seats will be offered around the second week of February.  
As we prepare for re-enrollment for the 2021-2022 school year, we anticipate a continuation of increased enrollment, with many new families eager for their scholar to benefit from the quality academic environment at Heritage Academy – Maricopa Campus.  
NEW SCHOLARS – If you have Heritage Siblings, friends, or other family members that do not currently attend Heritage but would like to join us for next year…they will need to complete the full enrollment application.  Click here to start the application: https://heritageacademyaz.com/enroll/. Open Enrollment will run through January 31st and seats will be offered around the second week of February. Heritage siblings will receive priority.  
By way of information, we do have a few spots left in 6th grade (TO ATTEND NOW) if a scholar would like to make the switch over to ensure their spot for next year!  Don't hesitate to call the office if you have any questions or concerns.  
OUR 2ND ANNUAL POWDER PUFF GAME WAS A HUGE SUCCESS!!! 
A BIG THANK YOU to Mrs. Abercrombie from the PTO for coordinating this FANTASTIC event!  It's not an easy task putting together teams, coaches, refs, making t-shirts, collecting food for the food bank, and much more, but she made it happen!   A special shout out to Mrs. Taylor who stepped up last minute to coach the Cheer Team (they were AMAZING) with her helpers Abigail O'Barr and Nataly Bejar.    We couldn't have done it without our coaching team: Coach Abercrombie, Coach Zappa, Coach Ramirez, Coach James, Coach Chelly, and our scholar coaches, Brendan Hunt, Ben James, Karston Bogle, Dane Adams, Takeo Shimasaki, and Blayne Abercrombie!  Thank you for all of your efforts to make this such a great event for the whole family! And we have the BEST PTO in all of Maricopa!  Thank you moms for always being there!  We sure love you and appreciate all you do!
Photos by Jeff Hazlett
Photos by Victor Moreno
CONGRATULATIONS TO OUR 2020 POWDER PUFF CHAMPIONS!!! 
We were able to collect 460 lbs. of food for our local food bank and make a $200 donation to breast cancer treatment and research.
WAY TO GO HEROES!!!
ATHLETIC UPDATE
Our Fall sports season was amazing.  Look for an email over the next couple weeks covering all our teams and their many success.  Tackle football has made it to the State Championships!  Way to go gentleman.  They will play on Saturday, December 5th.  Kickoff is at 7:00pm at Thunderbird High school.  This game will also serve as Senior night.  Please note, due to Covid restrictions, only 4 guests will be allotted per player.  We request that you wear a mask even when able to social distance.  We love our scholars and we are one big family.  Let's do our part to keep each other healthy especially around the upcoming holidays.
The weather is finally changing and so has the sports season.  Meet our Winter Coaches!  Our National Boys Basketball team is led by Head Coach, James Deakyne and Assistants Vernon Wells and Devon Rowland. Varsity Boys Basketball is led by Coach Keith Carter.  J.V. Boys Basketball is led by James Fethkenher. J.H.  Boys Basketball is led by John Hill and Jason Schalow. Varsity Girls Basketball is led by Colin Comerford.  Wrestling is led by Head Coach David Hettinger and Assistant William Senne and J.H. Girls Softball is led by Head Coach Derek Zappa and Assistant Joe Klepfer.
We are looking forward to an amazing season of Winter sports and bringing home some additional hardware for our trophy case.  Be sure to come out and support our athletes and continue to build our strong Heritage school spirit and family culture.
Our 2nd Annual Powder-Puff game was a total success.  We had 4 amazing teams of talented young women who came out to battle for the title of Champions.  Our Teal Team led by Mr. Abercrombie battled it out with Mr. Ramirez and his returning Champs.  After going into overtime 0-0, the ladies in teal took the title.  Way to go Lady Heroes!  Our Power-Puff Cheer team was fantastic, and their performance will be remembered for years to come.  Our young men proved to have serious dance skills and executed amazing stunts. Led by Coach Taylor and Scholar Coach O'Barr, we could not be prouder of their confidence and school spirit.  A special thanks to Mrs. Abercrombie on another successful year and taking on such an event. Congratulations to everyone involved, we appreciate you!
The athletic department still has masks for sale.  Show your school spirit with our light and soft to the touch Heritage face masks. They sell one of $12 or two for $20.  Please see Mr. Miller or Mrs. Taylor for purchase.
Brrrr…It's getting cold out there!
Just a reminder that hoodies, sweatshirts, sweaters, and jackets worn inside the building must be solid red, white, or blue with no striping, graphics, or lettering.  Heritage spirit wear (as seen above) is approved as dress code compliant.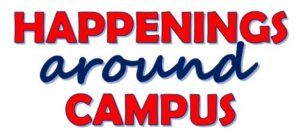 Mr. Klepfer's Physics class participated in an "Egg Drop" experiment this week.  They built their container using materials provided in class and then Mr. Halterman dropped them from the roof of the gym to see if the egg could withstand the fall.
IT'S TIME TO ORDER YOUR YEARBOOK!!  
Are you interested in a challenge?
Wrestling is an opportunity to participate in one of the world's oldest and most rigorous sports. It is an individual sport with a team sport component. Come join the Heritage Wrestling Team today! Interest sheet can be found at the front desk.
Fine Arts Retreat
January 6-9, 2021
Advanced scholars from all Heritage Academy campuses enrolled in fine arts classes and programs may attend the Fine Arts Retreat in January.
A select group of scholars will spend three nights and four days (Wednesday Saturday) at Emmanuel Pines Camp located in Prescott, AZ. Scholars will spend  two full days in intensive study and rehearsal in preparation for a live  performance on Saturday.
Intensive Programs Offered*:
-Art
-Full Orchestra (band, strings, percussion)
-Beats of the Street (percussion & advanced piano)
-Dance
-Musical Theatre
-Ballroom dance
-Photography
-Stage Combat
-Vocal Jazz
Cost: $250 (includes transportation, meals, intensive workshops, extracurricular activities, and lodging at the camp)
AZ Tax Credit can be used to pay for this!
$125 due November1st**
$125 due December 3rd**
*Subject to change, based on enrollment
**No money will be refunded for any reason
TO MAKE A PAYMENT, go to myschoolbucks.com and login > click on the school store > click on Fine Arts Retreat and make a payment.
CLICK HERE FOR A VIDEO ON HOW TO MAKE A PAYMENT
For questions or to sign-up, please contact Ms. Schwarzen at stephanie.schw@heritageacademyaz.com
Dates
November 23 & November 30
December 7 
January 4 & January 25
February 1, February 15, & February 22
March 1, March 22, & March 29
April 5, April 19, & April 26
May 3, May 17, & May 24
FRANCE TOUR

2022
Dear Heritage families,
Heritage Academy high school scholars are invited to join us for a once-in-a-lifetime travel experience to France: Paris, Normandy, and Brittany during Spring Break 2022!
We are excited to offer this opportunity right now to give scholars some hope for a brighter future. We had an amazing experience in France this past Spring Break.  While the world might feel like it is filled with uncertainty, we want to give families the chance to look ahead. In addition, to make sure you feel confident making future travel plans, EF is offering a risk-free enrollment period.
There are limited spots on this tour!  To learn more about this exciting opportunity, please email me or call the EF Traveler Support Team at 1-800-665-5364, Monday-Friday, 9AM-5PM EST. You might also want to review the Parent Guide for information about payment plans, on-tour safety, credit opportunities, and more.
Now, let's get ready to go to France!
Thanks,
Joseph Arnold
jarnold@heritageacadmeyaz.com
French I/II/III, P.E.
Cross Country, Varsity Boys Soccer, Junior High Soccer
Heritage Academy Laveen
Will you or your Scholar be driving to school and parking on campus for the day? 
You will need a parking permit!  
Please complete the following PARKING PERMIT APPLICATION if you or your scholar plans to park on campus for the 2020-2021 school year.  Parking permits must be hung on the rear-view mirror at all times while on the Heritage Academy Campus.  You will be assigned a designated parking spot.  There is a $10 fee/year for SCHOLAR parking, and permits can be purchased through the school store at MySchoolBucks.com.  You will need to login or create an account to access the store.  See MySchoolBucks Post above for details on setting up an account.    There is no fee for Staff Parking.  Permits are non-transferable and there is a $10 Replacement Fee if the permit is lost or stolen.    
WANT TO ORDER LUNCH?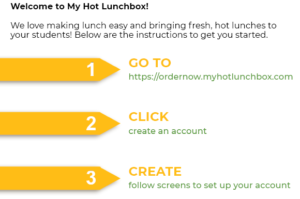 *IMPORTANT NOTES:  MAKE SURE YOUR ORDER IS COMPLETE AND FULLY PAID FOR.  YOU MUST ORDER  24 HOURS AHEAD OF TIME.  IF YOU ALREADY HAVE AN ACCOUNT, YOU WILL NEED TO UPDATE YOUR PROFILE WITH YOUR SCHOLARS CURRENT GRADE TO VIEW THE CALENDAR.
We do not charge any fees to create an account or to order student's lunches. Our meal prices are typically at or below a restaurant's in­ store price. Place orders and process payment on our secure website.  No more forgetting or losing lunch money!
No minimum orders. You can order lunches for one day, one week or months in advance. Add, edit, or cancel an order up to noon on the day before delivery.  You can print a calendar view of lunch orders and receive weekly opt-in email reminders.  Additionally, if you add orders and forget to process payment you will receive an alert.We offer a range of selections at a variety of price points. Our menus include combos, entrees and a la carte options.
My Hot Lunchbox is happy to accommodate gluten-free, dairy-free and vegetarian meal choices.  We are a peanut free company.  Our Customer Service Team is happy to help. For any inquires please call: 1-888-894-8295.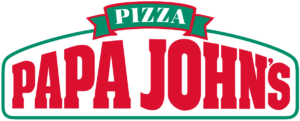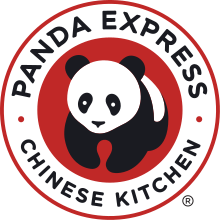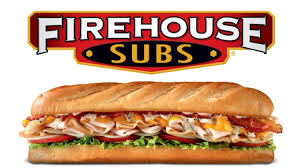 Does your scholar require medication during the school day?
Our medication policy has changed this year.  In cases where medication is required by a doctor to be given during school hours, Heritage Academy
officials administer prescription medication in the school setting in accordance with specific regulations that come from state law.
The following form needs to be completed by the doctor and delivered to the school by an adult with the medication.
Administering Meds Form 2020
Please note, medication to be given two (2) and/or three (3) times daily are to be given at home, unless specifically ordered by the doctor to be given at school. For prescription medication, there must be a written order from the physician stating the name of the medication, the dosage and the time it is to be administered and that it must be administered during school hours. There must be written permission from the parent/guardian for the medication to be administered at school. The medication must be in the original prescription container labeled by the pharmacist. Pharmacies will provide a duplicate container for school use upon request. No medications in envelopes, foil, or baggies will be accepted.
Pursuant to A.R.S. §§ 15-341(A)(35),(36), students who have been diagnosed with anaphylaxis and/or breathing disorders may carry and self-administer emergency medications while at school and at school- sponsored activities. The student's name must be on the medication container and annual written documentation, which authorizes the possession and self-administration of the medication from the
student's parent is required.
SCHOLARS WILL NEED A WATER BOTTLE!  
It is important that our scholars stay hydrated!  Drinking fountains will only be used to refill water bottles!  Please be sure your scholar brings a water bottle with them each day that they can refill!  Label the water bottle with FIRST and LAST NAME!    
UNIFORMS 
Uniforms will be required starting the first day back on campus September 9th!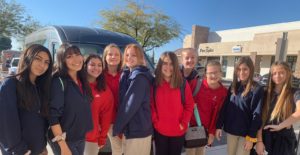 THERE ARE (4) APPROVED UNIFORM VENDORS TO CHOOSE FROM:
1. DENNIS UNIFORMS – https://www.dennisuniform.com/schools/QHR (1-2 week delivery)
2. EDUCATIONAL OUTFITTERS – http://phoenix.educationaloutfitters.com/heritage-academy-maricopa-campus/ (6-8 week delivery)  
3. LANDS' END – https://www.landsend.com/co/account/school-uniformsSchool Account # 900147471 (Under Mesa -District) (Check website for delivery times)
4. PRINTED DESERT – https://heritageacademyuniforms.com/  (Check website for delivery times)
UNIFORM GUIDELINES:
HERITAGE POLO – Red, White, or Blue must be purchased from an approved uniform vendor (Heritage Logo Required).
PANTS – Can be purchased anywhere as long as they meet the dress code standards (must be beige khaki lightest color option) or navy. No cargo pockets or leggings.  Cannot be ripped, torn, or frayed.
SKIRTS/DRESSES – MUST COME TO MIDDLE OF THE KNEE.  CHECK MEASUREMENTS OF SKIRT LENGTH FROM VENDORS BEFORE PURCHASING.  MOST OF THEM ARE NOT LONG ENOUGH.  Can be purchased anywhere as long as they meet the dress code standards (must be beige khaki lightest color option) or navy. Cannot be ripped, torn, or frayed.
SHORTS – Must be no shorter than four inches above the knee. Can be purchased anywhere as long as they meet the dress code standards (must be beige khaki lightest color option) or navy. No cargo pockets.  Cannot be ripped, torn, or frayed.
OUTERWEAR (Sweatshirts, Sweaters, Jackets) – Can be purchased anywhere as long as they meet the dress code standards (must be solid red, white, or navy blue with no large graphics or lettering. (Heritage Logo not required)
SPORTS/PE UNIFORM – Must be from one of the approved uniform vendors. (Lands' End does not carry it).   Uniform consists of navy blue basketball shorts (HA Logo Required) and a solid red t-shirt (HA Logo Required).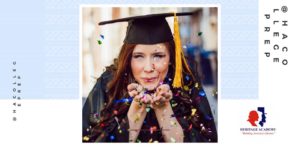 Do you have questions regarding College planning?
Heritage Academy offers advising to every scholar on campus. We will coach them along their college prep path, get them enrolled in college while in high school, and set up for future success!
Parents and scholars….. Do you have questions regarding College or high school planning?
Below is a list of topics that you may want to consider.
High school course selection

Early College Program – Dual enrollment, AP & CLEP

Earning an Associates Degree at Heritage Academy

ACT/SAT/PSAT (Which test and when?)

Financial Aid (Scholarships, Grants, Loans & FAFSA)
To schedule your appointment with Mrs. Weiler, please visit the website:  https://hamaricopa.com/advising/