IMPORTANT DATES TO REMEMBER
12/20-1/5 CHRISTMAS BREAK – Enjoy some time-off with friends and family!  

1/14 LION KING PARENT MEETING – 5:45 PM in #215 

2/7 BALLROOM VALENTINE FUNDRAISER – 6:00 – 7:30 PM in #208 – $10/person 


New 2nd semester schedules will be available from 1st hour teachers on January 6th.  1st hour classes will be listed on the school doors before school for scholars to check.  You should also be able to view the schedules on Powerschool January 5th. 
SCHEDULE CHANGES 

Mr. Halterman will be only be doing schedule changes for HOLES or CORE CLASSES.  If your scholar needs a schedule change for a hole in their schedule or a core class change, please have them sign up at the front desk, and Mr. Halterman will meet with them the first week back.  
Schedules are made based on the course selection forms submitted at orientation.  For our new scholars joining us in January, class selection will be made based on current class schedule and space availability.  

THANK YOU TO OUR HERITAGE FAMILIES THAT SUPPORTED THE PTO GIVING TREE!  
What a fun surprise for the teachers and staff to open their gifts!  They absolutely loved everything!  It really was such a fun surprise!  OUR HERITAGE FAMILIES ARE AMAZING!!  THANK YOU!  THANK YOU!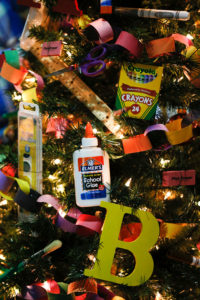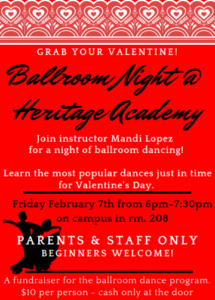 Wish you could take a ballroom class? 
Well you are in luck!  Join Ms. Lopez with this exclusive Heritage offer and learn how to dance just in time for Valentine's Day!
Friday, February 7th from 6:00 – 7:30 pm 
$10 per person (Cash at the door)

ORDER YOUR YEARBOOK TODAY!!  
Go to www.treering.com/validate
Enter the passcode:
1015628559814512
Price: $22.37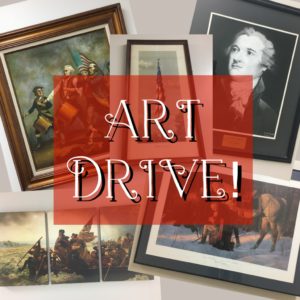 Heritage Academy Maricopa will be participating in an Art Drive to decorate the halls of our new school building starting Monday December 9th through January 31st. Do you have any Patriotic pictures, hangable Americana decor, Images of traditional American landscapes, Flag pictures or Founding Fathers portraits gathering dust? We would love to hang it on our walls! If you would like to donate a new or gently used piece of art please email a picture to lcrosland@heritageacademyaz.com. When approved, art can be dropped off at the front office. You may request a tax deductible receipt for your donation from Mrs. Hoffman as well.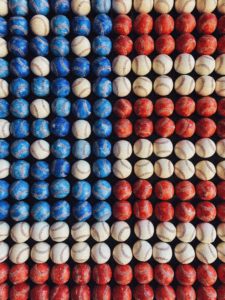 Does your scholar want to play Heritage Baseball?    
Please send an email to Coach Carpenter so you can get on the list for upcoming meetings and information!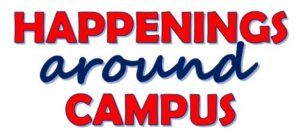 Mrs. Miller's strength and conditioning class completed the Murph Challenge 2019 before break!
Here is a 'before' photo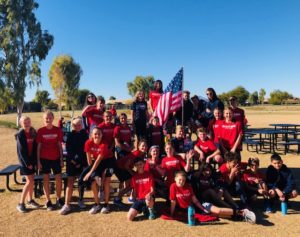 and here are the post workout photos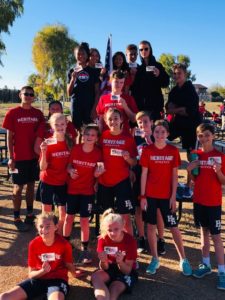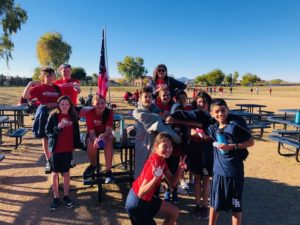 Mrs. Miller shared, "The scholars holding a flag sticker did the workout solo. They ran 1 mile, completed 300 squats, 200 pushups, 100 burpees (substitution for pull-ups) and then ended with another mile. Those not smiling in the last photo had finished seconds before 🙂 The Team Challenge was 1/3 of the workout.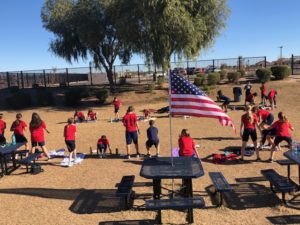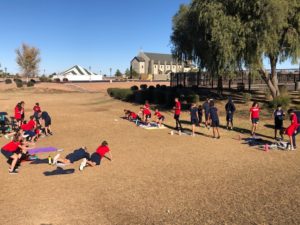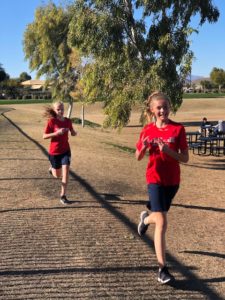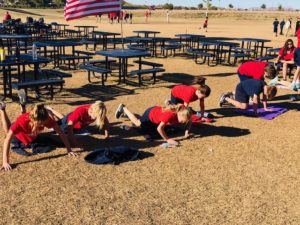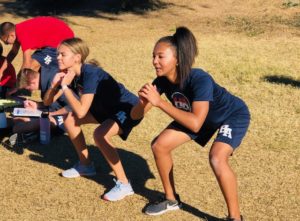 These scholars were so inspiring! There were some tears as they learned to push beyond what they thought they were capable of. There were those that had to make a choice to change their attitude and step up to the challenge before them. Scholars cheered each other on and ran extra laps and did extra squats, etc. alongside  teammates that were struggling. There was a scholar that I thought had given up on doing it solo and then decided that she refused to fall short of her goal. Her strength made quite a few of us tear up and I watched this little 6th grader earn the respect of high school scholars as they watched her finish her last lap. There were tears of joy and exhaustion at the finish and a sense of pride as they finished what few thought they could do.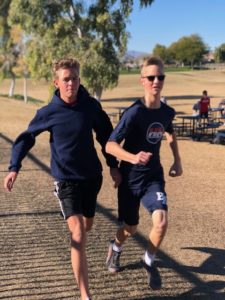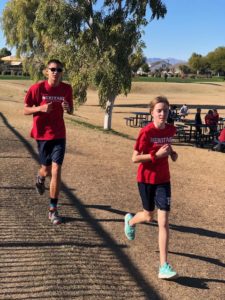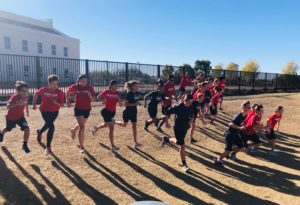 When I asked 2 weeks ago who wanted to do the challenge solo, there were 3 that said yes, and that was with some prodding. Today, 17 finished it Solo, and 11 finished it as a Team. Those doing it as a team also learned that they could do more than they gave themselves credit for.
We have focused on mental strength as a large part of our conditioning class this semester and this workout tested both their physical and mental strength, as well as help them learn more about some of the great heroes of our day and the sacrifices they make. You have some amazing scholars at this school!"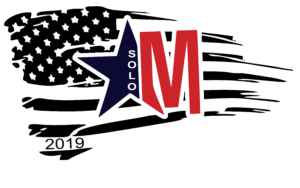 Congratulations to Mrs. Miller and her inspiring scholars!  Job Well Done!!   You Rock!!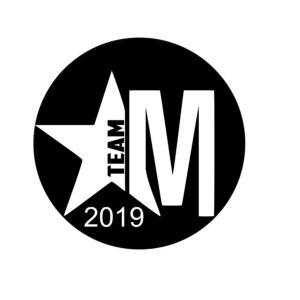 Ms. Daniel had some Holiday Magic happening in her classes finals week!!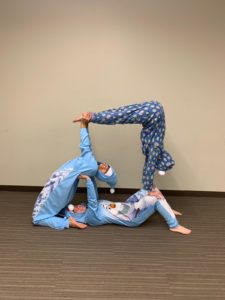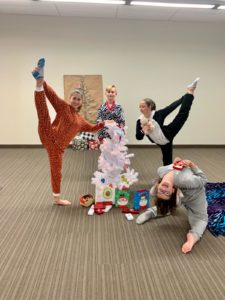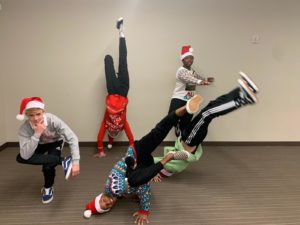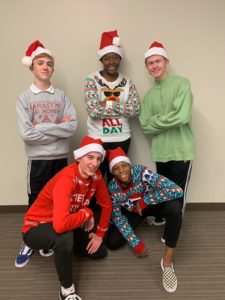 … And Mrs. Sorenson and the Charity Club met before break and created thank you cards with candy canes to include in holiday care packages for our Troops!  The care packages were put together by Brandon Sorenson for his Eagle Scout Project!!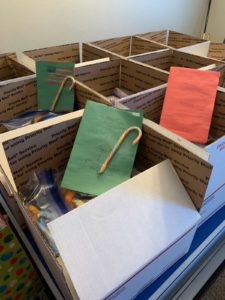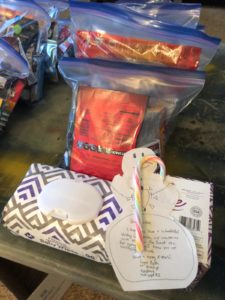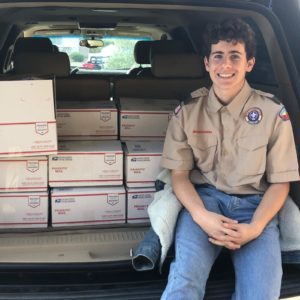 Nice Work Brandon! And Thank You Mrs. Sorenson and the Charity Club! 
We LOVE our Troops!!! 
POETRY CLUB –  TBD – 3:30-4:30 pm in room 125 (alethea.allen@heritageacademyaz.com)
SEWING CLUB –  1/13 & 1/27 – 3:30-4:30 pm in room 118 (stephanie.schwarzen@heritageacademyaz.com)
SEWING DONATIONS NEEDED:  We will happily accept all and any sewing supplies such as; fabric, buttons, thread, sewing machines, thimbles, needles, measuring tape, patterns, scissors, etc.
ART CLUB –  1/13 & 1/28 – 3:30-4:30 pm in room 118 (stephanie.schwarzen@heritageacademyaz.com)
CHARITY CLUB –  1st and 3rd Wednesdays- 3:30-4:30 pm in room 134 (christina.sorenson@heritageacademyaz.com)
THERE ARE A FEW SPOTS LEFT!!!
PAYMENT IS DUE IN FULL IMMEDIATELY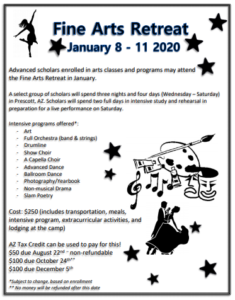 FINE ARTS RETREAT 2019-2020
(9-12 GRADE) & (6-8 GRADE BY INVITATION ONLY) 
January 8th-11th
CLICK HERE FOR PERMISSION FORMS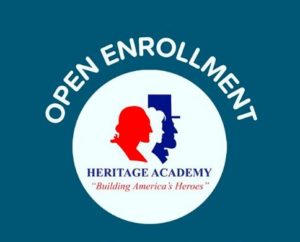 As we prepare for re-enrollment for the 2020-2021 school year, we anticipate a continuation of increased enrollment, with many new families eager for their scholar to benefit from the quality academic environment at Heritage Academy – Maricopa Campus.  
EXISTING SCHOLARS – As an existing family within our school, you are extended the opportunity to reserve your scholar's space for next year. Please click the following link to ensure your spot: https://hamaricopa.com/re-enroll/.  Please complete one for each scholar that currently attends Heritage Academy Maricopa.
NEW SCHOLARS – If you have friends or family members that do not currently attend Heritage but would like to join us for next year…they will need to complete the full enrollment application.  Click here to start the application: https://heritageacademyaz.com/enroll/. Open Enrollment will run through January 31st and seats will be offered around the second week of February. 
By way of information, we are currently on a wait list for all grade levels until the end of the semester.  Beginning January, we will issue offers as seats become available.

Calling all STEM Scholars!
Lockheed Martin has launched a new scholarship program to provide opportunities to students who want to build their talents and change the world!
Beginning in 2019, we are awarding 200 scholarships of $10,000 per student – renewable each year. The program will continue to add up to 200 new recipients each year, and will be open to individuals studying engineering or computer science that demonstrate financial need and come from underrepresented or underserved communities.
The scholarship program doesn't end with a check. Mentoring opportunities will be a key component of the program, and recipients will also be eligible for Lockheed Martin internship opportunities following their freshman year in college.
Scholarship applications for the 2019-2020 school year has ended on March 12, 2019. Applications for the 2020-2021 school year will open in January 2020.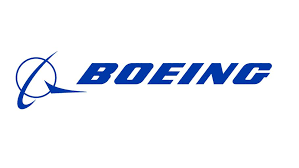 The Boeing High School Scholars Program  
The Boeing High School Scholars Program is a highly selective program that provides high school students with an opportunity to experience college level course work in engineering at Embry-Riddle Aeronautical University with other promising engineering peers. The Boeing Corporation in partnership with ERAU Prescott offers full or partial scholarships to cover the cost of an engineering summer program. Scholarships do not cover travel expenses to or from ERAU. There are Boeing Scholarship spaces available in the following programs: Aerospace Engineering "Aero Track", Aerospace Engineering "Astro Track", CESE Arduino, and CESE Near Space Research. Female and minority students are strongly encouraged to apply.
https://secure.touchnet.net/C20722_ustores/web/product_detail.jsp?PRODUCTID=162&SINGLESTORE=true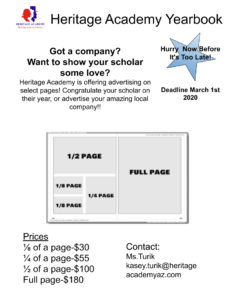 ***REMINDER: 2ND PAYMENT DUE***
2019-2020 JH History Tour

 
Northern Arizona – April 29th & 30th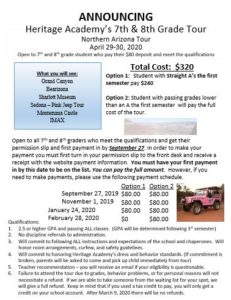 Please FILL OUT THIS TOUR AGREEMENT and return it to the front office!