IMPORTANT DATES TO REMEMBER
12/6 DANCING WITH THE HERITAGE STARS – 7:30 @ Saddleback Elementary ($5)

12/12 CHOIR CONCERT – 6:00-6:30 pm & 7:30-8:00 pm @ Central Arizona College

12/13 INSTRUMENT PROGRAM HOLIDAY CONCERT– 6:00 pm &  7:30 pm @ Central Arizona College -Band, Orchestra, and Japanese Drumming (Donations Appreciated)

12/14 WINTER FORMAL – 7:00 pm – 9:00 pm @ Central Arizona College – $6 (in advance) $8 (at the door)

12/16-12/19 FINALS WEEK – All scholars must be in attendance 

12/20-1/5 CHRISTMAS BREAK – Enjoy some time-off with friends and family!  


IT'S CRUNCH TIME!!!
FINALS WEEK: DEC 16th – DEC 19th
All scholars are required to take their final exams for each class during finals week.  There will not be a test make-up after break, so if your scholar misses their final during this week, they will receive a "0".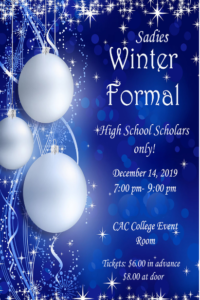 WINTER FORMAL 
Saturday, December 14th 
7:00 pm – 9:00 pm
@ Central Arizona College
Tickets are on sale now during lunch for $6 or will be available at the door for $8.  
It is a girls' choice dance, however scholars do not need a date to attend and can come with a group if they would like!
This is a high school only event!  Junior high scholars may not go, even if they are "invited" by a high school scholar.  High school scholars may invite one guest from another school, however they need a "guest pass" which they can obtain from Mrs. Ellsworth who will go over Heritage standards.  These scholars must strictly follow Heritage standards, present their pass with the ticket at the door, and show a picture ID.
Scholars must strictly follow Heritage standards with their dress or they will not be admitted to the dance!  Attached is a dress code flyer showing acceptable and unacceptable dress attire. This information will also be printed on the back of the ticket for your convenience.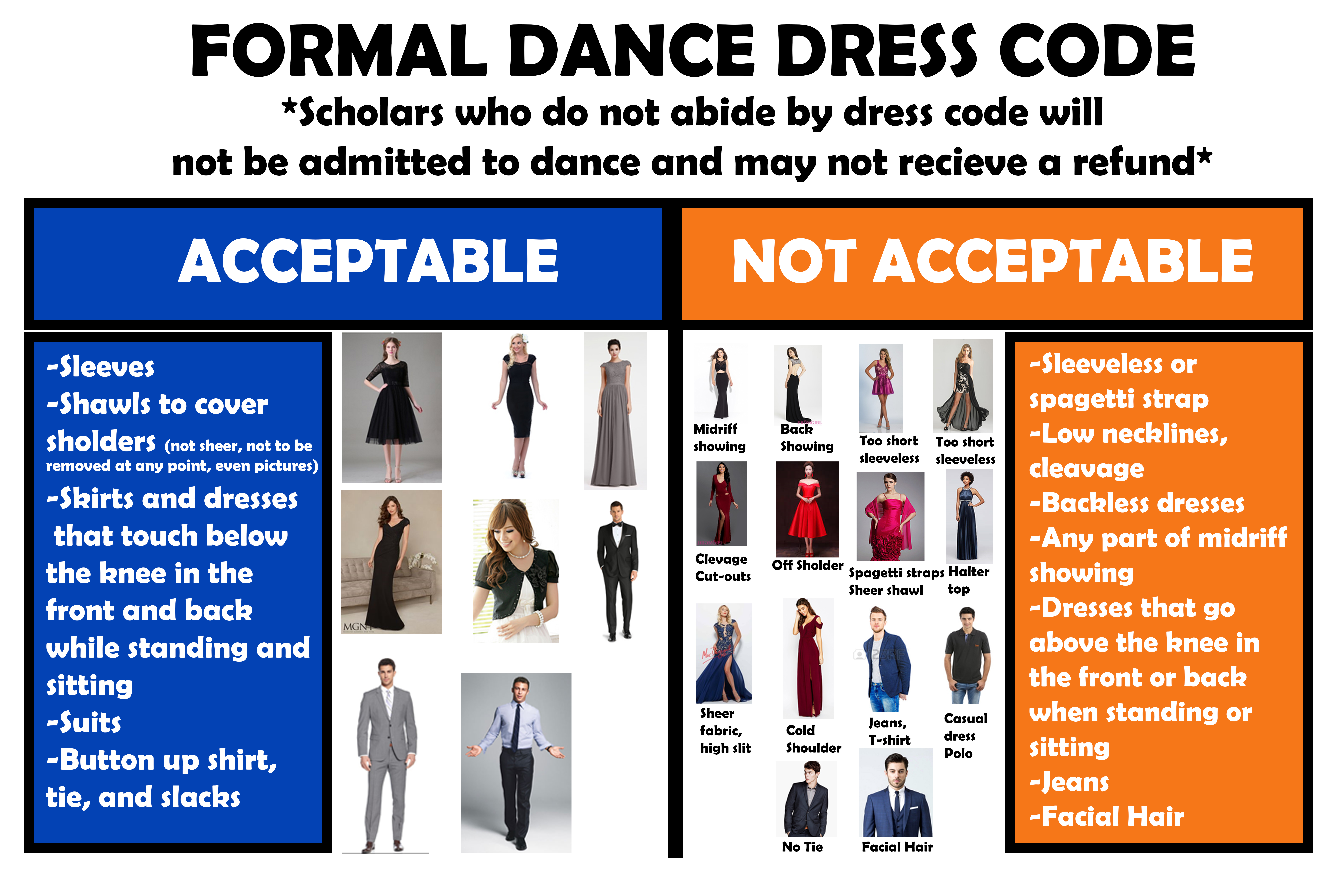 DANCING WITH THE HERITAGE STARS 
Friday, December 6th
7:30 pm 
Saddleback Elementary 
$5 – Tickets will be available at the door

Please join us for our 


Tidings of Comfort and Joy Choir Concert

 


December 12th 
@ Central Arizona College
6:00 pm & 7:30 pm

INSTRUMENT PROGRAM HOLIDAY CONCERTS
Friday, December 13th
Central Arizona College – Maricopa Campus
Room A 101
First Concert
6:00 pm (doors open at 5:45 pm)
Featuring Beginning Band, Beginning Orchestra, and Taiko (Japanese Drumming)
Second Concert
7:30 pm (doors open at 7:15 pm)
Featuring Concert Band and Concert Orchestra
with scholars from the Heritage Academy Choirs
Admission is FREE, so please consider donating at the door
Suggested amounts: $5, $10, $15, $20, $25, or $50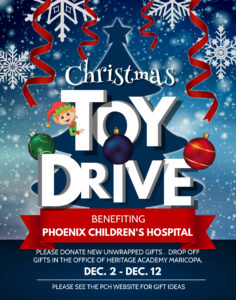 We are holding a toy drive to benefit the Phoenix Children's Hospital from December 2nd to December 12th. Please bring new, unwrapped toys or gift cards for the children and drop them off in the drop box located in the front office at school. These toys will help to lift the spirits of the children in the hospital at this time. If you have any questions about what is most needed, please visit https://www.phoenixchildrens.org/ways-help/donate/donate-toys-books-or-family-items and click on the link for Holiday Toy Drive.  Thank you for helping us with this toy drive.

PTO GIVING TREE
Help us show our Heritage Teachers/Admin some love this holiday season! Grab a wishlist ornament from our PTO Giving Tree in the office.  Purchase the listed item and bring it back into the office unwrapped BEFORE Wed. Dec 18 so we can put together gift baskets for our Heritage Family! Can't get into the office? Sign up online and send your Hero in with it! https://www.signupgenius.com/go/9040F4CAEAC2FABFD0-lets

AUDITION FOR THE LION KING!!! 
Print out the attached audition sheet and bring it filled out to the auditions. You do not need to prepare anything. We will teach you a song, a dance, and have you do a reading we provide. Rehearsals will be after school and Friday mornings.
Monday, Dec. 9th 3:30-5:30
Tuesday, Dec. 10 3:30-5:30
Performances will be April 17th and 18th.

ORDER YOUR YEARBOOK TODAY!!  
Go to www.treering.com/validate
Enter the passcode:
1015628559814512
Price: $22.37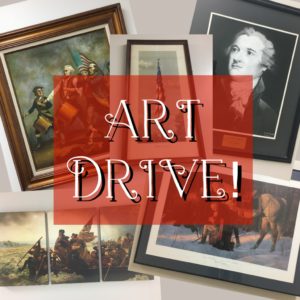 Heritage Academy Maricopa will be participating in an Art Drive to decorate the halls of our new school building starting Monday December 9th through January 31st. Do you have any Patriotic pictures, hangable Americana decor, Images of traditional American landscapes, Flag pictures or Founding Fathers portraits gathering dust? We would love to hang it on our walls! If you would like to donate a new or gently used piece of art please email a picture to lcrosland@heritageacademyaz.com. When approved, art can be dropped off at the front office. You may request a tax deductible receipt for your donation from Mrs. Hoffman as well.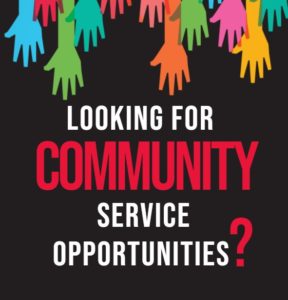 Scholars are required to complete the following citizenship requirements during the 2019-2020 school year:
COMMUNITY SERVICE HOURS: 10 hours per school year are required for graduation. The goal should be 5 hours per semester.
CHARACTER DEVELOPMENT: Scholars are required to attend one of each of the following activities during the school year:
Attend 1 Heritage sporting event
Attend 1 Heritage fine arts event
Attend 1 additional school event
Service to your family (2 hours)
Volunteer opportunities are all around our community!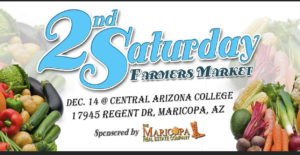 Borderlands Food Bank is looking for volunteers for the 2nd Saturday Farmers Market on Saturday December 14th from 7:00 am – 11:00 am @ CAC.  If you and your scholar(s) are interested please contact Leeanne Richmond at law0923@gmail.com.

Other volunteer opportunities for our Maricopa community can be found on justserve.org.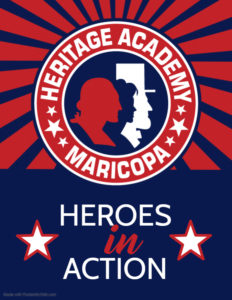 Josue and Sapphire Valadez volunteered for a non profit organization called  New City – Barrionuevo in south phoenix. They helped paint a low income and less fortunate elderly grandmother's home with hope to spread joy!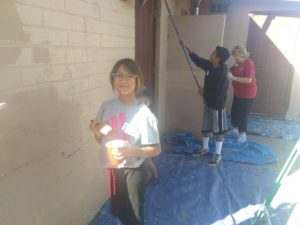 Maleiya Gaddy, Ayla McKee, and Lily Piper shared their talents with a Maricopa Girl Scout Troop 314 and helped plan a camping trip and teach the troop outdoor skills!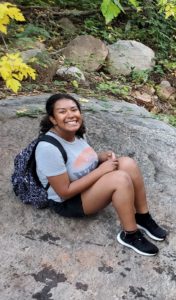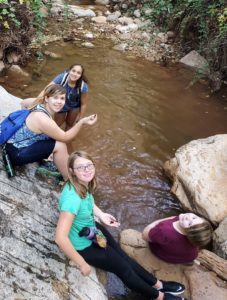 Way to go Heritage Heroes!  
Please send your community service experiences to thoffman@heritageacademyaz.com for the next newsletter!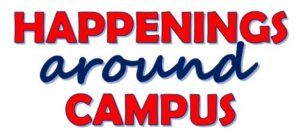 Congratulations to the Drama Department on a stellar performance of ZORRITO!  Mr. Ellsworth, Mrs. Titus, and the entire cast and crew were AMAZING!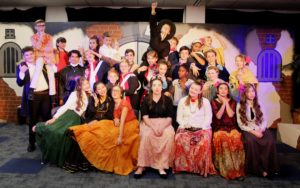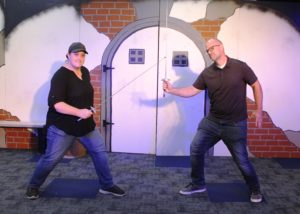 A huge Thank You to Ms. Allen, the Scholar Council, and teachers for a fantastic FALL FESTIVAL activity!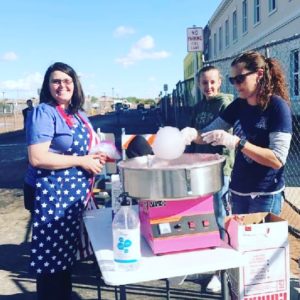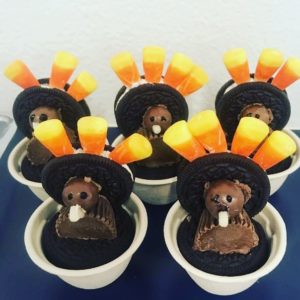 ….and our JH Softball Team took the WIN 14-11!  Highlights from Coach Alli…Jordyn caught a dropped 3rd strike and threw a girl out at first!  They had two fly ball double plays.  Payton pitched amazing for her first time EVER pitching.  Great Chatter!  Nice job ladies!!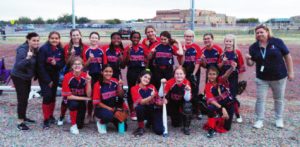 POETRY CLUB –  12/10 & 12/17 – 3:30-4:30 pm in room 125 (alethea.allen@heritageacademyaz.com)
SEWING CLUB –  12/16 – 3:30-4:30 pm in room 118 (stephanie.schwarzen@heritageacademyaz.com)
SEWING DONATIONS NEEDED:  We will happily accept all and any sewing supplies such as; fabric, buttons, thread, sewing machines, thimbles, needles, measuring tape, patterns, scissors, etc.
ART CLUB –  12/17 – 3:30-4:30 pm in room 118 (stephanie.schwarzen@heritageacademyaz.com)
CHARITY CLUB –  12/18 – 3:30-4:30 pm in room 134 (christina.sorenson@heritageacademyaz.com)
THERE ARE A FEW SPOTS LEFT!!!
PAYMENT IS DUE IN FULL IMMEDIATELY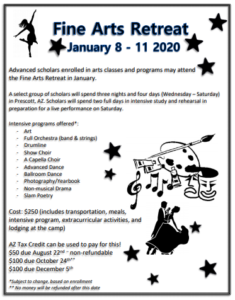 FINE ARTS RETREAT 2019-2020
(9-12 GRADE) & (6-8 GRADE BY INVITATION ONLY) 
January 8th-11th
CLICK HERE FOR PERMISSION FORMS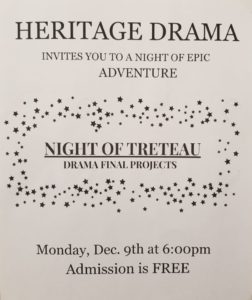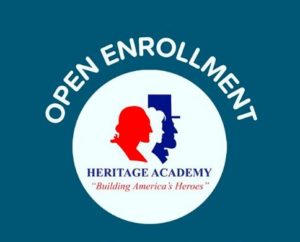 As we prepare for re-enrollment for the 2020-2021 school year, we anticipate a continuation of increased enrollment, with many new families eager for their scholar to benefit from the quality academic environment at Heritage Academy – Maricopa Campus.  
EXISTING SCHOLARS – As an existing family within our school, you are extended the opportunity to reserve your scholar's space for next year. Please click the following link to ensure your spot: https://hamaricopa.com/re-enroll/.  Please complete one for each scholar that currently attends Heritage Academy Maricopa.
NEW SCHOLARS – If you have friends or family members that do not currently attend Heritage but would like to join us for next year…they will need to complete the full enrollment application.  Click here to start the application: https://heritageacademyaz.com/enroll/. Open Enrollment will run through January 31st and seats will be offered around the second week of February. 
By way of information, we are currently on a wait list for all grade levels until the end of the semester.  Beginning January, we will issue offers as seats become available.
The CAC Maricopa campus is offering EGR102: Introduction to Engineering in January 2020. This is the first transferable engineering requirement at Arizona State University and University of Arizona. Don't miss out on your chance to complete the class locally for a fraction of the University price!
Description: Comprehensive engineering problem solving incorporating the design process, its scientific basis, hands-on teamwork, effective communication, ethical implications and the profession itself. (Pre-requisite – MAT151: College Algebra)
High School Juniors and Seniors can use the Early College scholarship to waive all tuition for the class. Call 520-494-6400 to learn more!
NOW ENROLLING!!!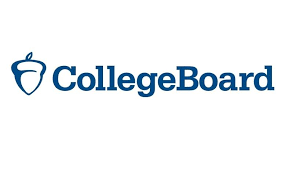 The College Board Opportunity Scholarships program
New for the Class of 2021
The College Board Opportunity Scholarships program opens in December for your juniors. Save the getting started steps below and schedule a kick-off activity before winter break.

Early efforts will get rewarded! Students who've already taken action to build their college list on BigFuture™ and link their College Board and Khan Academy® accounts to practice for the SAT® on Official SAT Practice will automatically earn a scholarship entry when they join the program once it opens next month.

Getting Your Juniors Started in December
| | |
| --- | --- |
| 1. | Students should join the program by signing in with their existing College Board account (same one they used for the SAT and PSAT/NMSQT®) or they can create an account if they don't have one. |
| 2. | They should click on the yellow Earn Scholarships button at the top of the homepage. |
| 3. | They should review the official rules on the Opt In screen and click Agree. Then they're ready to start turning their efforts into scholarships! |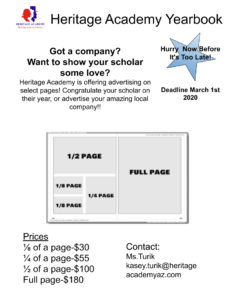 ***REMINDER: 2ND PAYMENT DUE***
2019-2020 JH History Tour

 
Northern Arizona – April 29th & 30th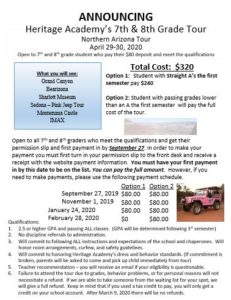 Please FILL OUT THIS TOUR AGREEMENT and return it to the front office!