IMPORTANT DATES TO REMEMBER
3/8-18  –  NO SCHOOL –  Spring Break

3/22  –  YEARBOOK ORDER DEADLINE –  See Post for Details

3/29-4/1  –  SPIRIT WEEK –  More details to come

4/5-8  –  STANDARDIZED TESTING –  See Post for Details

5/1  –  PROM EVENT –  TBD

5/27  –  GRADUATION –  7:00 PM
IMPORTANT SCHOOL INFORMATION

Dear Parents,
At Heritage Academy we encourage our scholars to be self-governing.  Self-governance includes everything from dress code to grades to discipline.  Self-governing is self-discipline while respecting the rights of oneself and others.  As examples, when scholars come to school, they have a right to be educated, a right to learn, a right to be heard, a right to be safe and a right to be treated fairly.  If anyone is infringing on these rights of others while at school, it is a problem.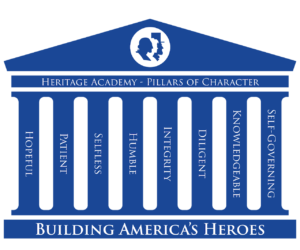 We have had instances lately where scholars are talking about others, being unkind to others, sending inappropriate messages and gossiping.  We are asking, especially in our Junior High, that parents review with their scholars the importance of self-governing.  Scholars are not to infringe on the rights of others, and they are to keep themselves in check.  Scholars agree when they come to Heritage to the following:
To maintain a level of academic performance and conduct that meets or surpasses Heritage Academy standards.
To do all work as assigned by the teachers
To be properly attired according to the required dress policy as established by Heritage Academy.
To be on time and attend classes every day that school is in session when in good health.
To observe all other established rules and policies as contained in the Scholar/Parent Handbook.
To enter the school with expectations of doing better than the scholar has in any other school before and will improve on any behavior or attitude weakness which may prevent the scholar from learning and enjoying the spirit of Heritage Academy.
To take an active part in Citizenship classes and activities.
To do my part, as assigned, in keep school facilities clean.
To use only positive, uplifting language on any social media/online or in person when referring to our scholars and teachers.
We want to emphasize the positive and uplifting language!  Scholars need to consistently be aware of how their actions do effect those around them. We ask that families discuss the importance of being kind and knowing how to self-govern.
Thank you for being part of Heritage Academy.  We want to encourage young people to be leaders and good citizens.  Thank you for allowing us to help in this endeavor.
Sincerely,
Kim Ellsworth
Principal, Maricopa Campus

ENJOY YOUR 2 WEEK BREAK!  
We would love to see pics of how you are spending the break!  Post them to our Parents Facebook page or you can email them to thoffman@heritageacademyaz.com to be including in a future newsletter!
Relax! Smile!  Laugh! Have a Blast!  
DRESS CODE REMINDER

Our handbook specifies beige khaki, but it is acceptable to be in cream, beige or khaki as pictured above.  We noticed some scholars have been consistently wearing darker colored pants.  We ask that you have your scholar in the correct color when returning after spring break.

COURSE REQUESTS ARE DUE SATURDAY, 3/6!  
For the past two weeks, Scholars have been in the process of requesting courses for next school year. If your scholar has not yet completed the course request process, please do so immediately. Mr. Halterman had planned to close the course request portal today (3/5/21) but will be extending that until tomorrow evening. A few things to be aware of:
– Scholars should be requesting their courses through PowerSchool, and Mr. Halterman has prepared instructional videos to walk them through the process of requesting courses. Those videos can be found here: https://hamaricopa.com/course-requests/ at the bottom of the page.
– It is recommended that you use a computer (not a phone or tablet) to request courses, as sometimes the PowerSchool app can be unreliable.
– If your scholar is interested in requesting a course that requires teacher approval, such as Dance II, III, or Company, Concert Band or Orchestra, Advanced Drama (HS or JH), or Advanced Art, those courses do not appear in PowerSchool. Your scholar should request the lower-level class (Dance I, Drama, Beginning Band, or Art) and as teachers finalize their approval lists Mr. Halterman will adjust course requests accordingly prior to finalizing schedules.
– A final reminder: Just because a scholar requests a particular class, does not mean that they will be enrolled in that class next year. Mr. Halterman will make it a priority to try and enroll everyone in their preferred electives, but please understand that it may not be possible.
Kind regards,
Mr. Halterman
ARE YOU INTERSTED IN TAKING ADVANCED ART NEXT YEAR?  
If you are interested in taking Advanced Art next year, a teacher recommendation is required.
Please complete the ADVANCED ART INTEREST FORM and Ms. Schwarzen will determine if the class can be added to your schedule.
We are currently scheduled for state standardized testing APRIL 5th – 8th.  Please do not schedule appointments during this week.  Online and in-person scholars will all be participating in the testing.  More details will come in the next few weeks.
By way of information, the Arizona Department of Education will not be ranking schools for the 2020-2021 school year.  For more information on statewide assessments and frequently asked questions, CLICK HERE.
VALLEY FEVER POSTER CONTEST
Our Heritage scholars from Ms. Schwarzen's art class entered a poster contest for the Valley Fever Center for Excellence and the Arizona Department of Health Services.  They had 135 participants submit posters this year and eight of our Heritage Scholars had top posters!
Gavin Carr won not only his age group but was the GRAND PRIZE WINNER of the entire contest!
By: Gavin Carr
Ronare Padua tied with Ulissa Garcia for the top posters in their age group.
Ayla McKee won her age group.
Catalina Springstroh got second in her age group
Luke Mrosko, Keira Burch, Carleigh Mrosko won an honorable mention
CONGRATULATIONS TO ALL OF OUR WINNERS!!!  
CITIZENSHIP BINGO CHALLENGE
Citizenship bingo has come to an end. We had several scholars participate and want to congratulate all who finished and worked on building their character. Our winners are 
Shayne George
,
Carliegh Mrosko
, and
Addison Campbell.
Congratulation ladies!
DEADLINE: MARCH 22nd
Our Hero Shout Out this week goes to Heritage dad,

Bryan Adams

!  
Mr. Adams donated all of the junior high and high school wrestling team singlets.  It gave our wrestlers a boost of confidence and made being a part of our Heritage team a little more official!
THANK YOU Mr. Adams for being our HERO!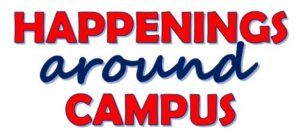 Art/Sewing Club was the place to be this week!  Some scholars were drawing anime while using alcohol-based markers and others were learning how to drawing faces.  Sewing Club worked on sewing scrunchies!
Ms. Schwarzen's high school art class designed and carved stamps to create their art projects.
Mr. Millers' Conceptual Science classes finished their Mouse Trap Car projects.  They had to create cars that would use the energy of the mousetrap spring to make the car go 7 meters and stay inside a 1/2 meter lane.  The groups pictured were successful.
Dates
 March 22, & March 29
April 5, April 19, & April 26
May 3, May 17, & May 24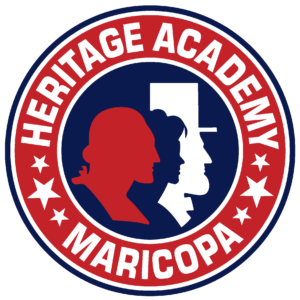 Heroes Athletics Update
Our High School Wrestlers finished the season strong, leaving everything on the mat. There were some intense matches that kept us on the edge of our seat and made the whole team hoarse from cheering.  Here are the results.
Our HS team took Third  place overall.
Individually, Fourth place went to
Third place finishers were
Second place runners up were:
And our 132 lb HS state Champion was Christian Mylek!
Great job Heroes! Our wrestlers are some of the hardest working and driven young men. We have been impressed with their amazing sportsmanship and teamwork. We are proud of our young team and look forward to next year!
In other news  our team was featured in an article on the CAA website:
We kicked off our spring season of Co-ed soccer against Legacy Maricopa this week. Coach Hill and his team played extremely well and we look forward to an exciting season full of growth.
It was a big week for boys' basketball.  Our National and Varsity teams made it to the playoffs. Our girls team finished with a big win, it wasn't enough to get us in the playoffs, but they finished very strong.
Speaking of our Varsity Basketball players, Senior Jose Miguel Jr. took part in committing to SAGU American Indian College, home of the Warriors! Along with giving his family credit for always being there for him, keeping him centered and connected to his heritage, he thanked all of his coaches along the way with a special shoutout to coach Deakyne, "he helped me a lot, once I came to Heritage I got noticed and everything fell into place."
We are so excited to be in full swing for spring when we return from break. Support your student athlete by checking their grades in PowerSchool.  Heritage Academy is a Pass to Play school.
FRANCE TOUR

2022
Dear Heritage families,
Heritage Academy high school scholars are invited to join us for a once-in-a-lifetime travel experience to France: Paris, Normandy, and Brittany during Spring Break 2022!
We are excited to offer this opportunity right now to give scholars some hope for a brighter future. We had an amazing experience in France this past Spring Break.  While the world might feel like it is filled with uncertainty, we want to give families the chance to look ahead. In addition, to make sure you feel confident making future travel plans, EF is offering a risk-free enrollment period.
There are limited spots on this tour!  To learn more about this exciting opportunity, please email me or call the EF Traveler Support Team at 1-800-665-5364, Monday-Friday, 9AM-5PM EST. You might also want to review the Parent Guide for information about payment plans, on-tour safety, credit opportunities, and more.
Now, let's get ready to go to France!
Thanks,
Joseph Arnold
jarnold@heritageacadmeyaz.com
French I/II/III, P.E.
Cross Country, Varsity Boys Soccer, Junior High Soccer
Heritage Academy Laveen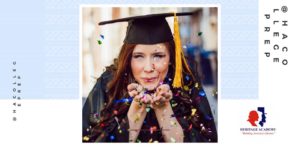 Do you have questions regarding College planning?
Heritage Academy offers advising to every scholar on campus. Mr. McCambridge will coach them along their college prep path, get them enrolled in college while in high school, and set up for future success!
Parents and scholars….. Do you have questions regarding College or high school planning?
Below is a list of topics that you may want to consider.
High school course selection
Early College Program – Dual enrollment, AP & CLEP
Earning an Associates Degree at Heritage Academy
ACT/SAT/PSAT (Which test and when?)
Financial Aid (Scholarships, Grants, Loans & FAFSA)
To schedule your appointment with Mr. McCambridge, please visit https://calendly.com/greg-mcca/45min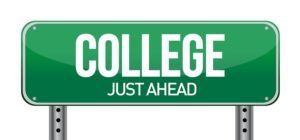 HUGE VIRTUAL COLLEGE FAIR
100's of schools all across the country, valuable information, and all from the comfort of your home!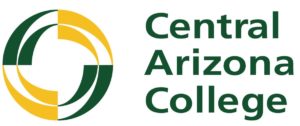 Spring Break is coming up and is a great time to apply for college scholarships!!!
The biggest collection of scholarship information is:
Here is another link to some wonderful opportunities:
Be sure to apply before the deadline!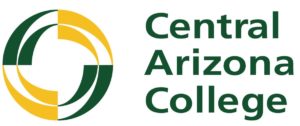 Do you like to build and fix things?
Are you exploring different career options?
Join us for the 2021 Skilled Trades Expo on March 11th from 10AM to 1PM to learn about in-demand careers.
This virtual event brings together businesses, industry professionals, students, and community members to discuss job training and employment opportunities.
Learn how to prepare for an interview, and gain insight into the skills needed to be successful in a great career.
Our tentative 2021-2022 Calendar is Now Available!!
HAMaricopa Academic Calendar 2021-2022
Please note that dates are subject to change per board approval in June 2021.
If you are moving and/or transferring to another school, please complete this WITHDRAWAL FORM.
You will need return any books or checked out items to the school when you come to pick up/sign the withdrawal paperwork.  Please allow 24 hours to process the withdrawal paperwork.  We will call you when it is ready.
NEED YOUR OFFICIAL TRANSCRIPT TO APPLY FOR COLLEGE?   
Stop by Mrs. Hoffman's office for a copy of your unofficial transcript or CLICK HERE and complete the request form for an official one to be sent to the college you are applying to.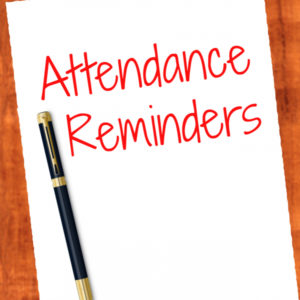 WHAT TO DO IF YOUR SCHOLAR IS ABSENT: 
CALL THE SCHOOL BEFORE 10:00

AM

THE DAY OF THE ABSENCE.  
LEAVE A MESSAGE WITH

THE REASON

FOR THE ABSENCE.
CHECK

GOOGLE CLASSROOM

FOR WORK THEY MISSED IN CLASS.
The Department of Education defines an EXCUSED ABSENCE as being an absence due to illness, doctor appointment, bereavement, family emergencies and out-of-school suspensions not to exceed 10% of the instructional days scheduled for the school year.
FAMILY VACATIONS ARE NOT CONSIDERED EXCUSED ABSENCES.
Attendance Letters are mailed out at the first of the month for scholars who currently have (5) or more absences for the grading period. 
Just a reminder of Heritage Academy's policy concerning attendance:
Any scholar who misses ten percent (10%) or more of classes (usually five or more per semester) in a given subject may not receive credit for that subject. Each teacher sets his/her own policy for work missed. Furthermore, many experiences and activities by their very nature cannot be duplicated or "made up."
When a scholar is absent, a parent must call the school at the beginning of the day to indicate that the scholar will not be in attendance.  Please be sure to include a reason for the absence if you are leaving a voicemail.  Excusing an absence allows the scholar to make up work missed, however, it does not remove the absence.
We understand that there are times when a scholar may have more absences than normal due to a chronic illness. If your scholar suffers from a chronic illness, please complete the CHRONIC HEALTH CONDITION PACKET, and return it to the front office with the required documentation.

Additionally, any scholar who is absent from school on a given day cannot participate in any school activity that
same day or evening.
DON'T GET BLOCKED IN
SCHOLARS CANNOT BE SIGNED OUT BETWEEN 2:30-3:30 PM
Need to schedule an appointment for your scholar during school hours?  We ask that you try and schedule appointments on Fridays when the scholars are out of school.  We know this isn't always possible due to days and hours of operation, however due to our driveline, we are not able to sign scholars out after 2:30 pm.  If you have an appointment for your scholar, we will need you to pick them up before 2:30pm or wait until school is out to pick up your scholar.  
We apologize for any inconvenience.

For our online scholars, below are some helpful links to help you get acquainted with Edgenuity.
 https://www.edgenuity.com/resources/edgenuity-help-for-families/
Have questions?  Please contact Afton Welker (afton.welk@heritageacademyaz.com)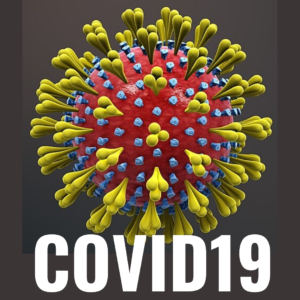 If a scholar (or member of their household) is sick and experiencing symptoms that might be COVID-related, DO NOT bring any of your scholars to school.
If a scholar (or a member of their household) is isolated or quarantined, is awaiting test results, has tested positive, or has been exposed to another individual that has tested positive for COVID, please keep your scholar(s) home until the COVID case has cleared.
If you need to sign out your scholar, send only a healthy individual to do so.  Please do not come in the building with symptoms yourself. 
We have prepared a Google Form to help families communicate and understand current health protocols. That form is available here: https://bit.ly/35fkQE7. Please review and fill out the form and notify the Attendance Clerk, Mrs. Mimi Adams, of the absence. It is also recommended that your scholar communicate with each of their instructors. The instructors can make arrangements for work via Google Classroom during that absence.
Scholars must not come to school if they exhibit ANY of the following symptoms:
● fever of 100.4 degrees or higher, or chills
● shortness of breath or difficulty breathing
● muscle aches
● sore throat
● headache
● fatigue
● congestion or runny nose
● cough
● vomiting
● diarrhea
● new loss of taste or smell
To better understand symptoms of the COVID-19 virus, we encourage families to refer to the Arizona Department of Health Services website: https://www.azdhs.gov/

Scholars can be dropped off starting at 7:30 am and need to be picked up after school by 4:00 pm!
The front office closes at 4:00 pm.  Scholars will not be permitted in the building after this time without a teacher and will need to wait in the  driveline area for their parents, and may not wait in the front office.
We would also like to remind families that Heritage Academy has a strict Tardy Policy.
TARDY POLICY: If you scholar is tardy more than 3 times to school, they will be pulled into a "sweep," (similar to a detention) for the remainder of 1st period, and every tardy after.  They simply are not allowed to interrupt their first hour class coming in late.  Parents will be called on the scholar's 5th tardy, and a meeting will be scheduled at their 7th tardy.
Why does being on time matter?  At Heritage, we want all of our scholars to learn traits that will help them be successful in their lives.
Here are just a few benefits of punctuality: 
INTEGRITY
DEPENDABILITY
LEADERSHIP
RESPECT
DISCIPLINE
ORGANIZED
PRODUCTIVE
LESS – STRESSED
SELF-CONFIDENCE
CREDIBILITY
Here are some tips to arrive on time: 
PACK IT UP THE NIGHT BEFORE – Uniforms, gym clothes, shoes, jackets, sports equipment, water bottles, homework, lunch etc.
TIME TRICKS – set alarms, change the clocks in your house to be early, tell yourself school starts at 7:45 (not 8:00).
ANTICIPATE DELAYS– Add 25% of your travel time to your commute for traffic, gas, emergencies, etc.
UNIFORMS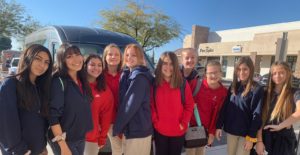 THERE ARE (3) APPROVED UNIFORM VENDORS TO CHOOSE FROM:
1. DENNIS UNIFORMS – https://www.dennisuniform.com/schools/QHR (1-2 week delivery)
2. LANDS' END – https://www.landsend.com/co/account/school-uniformsSchool Account # 900147471 (Under Mesa -District) (Check website for delivery times)
3. PRINTED DESERT – https://heritageacademyuniforms.com/  (Check website for delivery times)
UNIFORM GUIDELINES:
HERITAGE POLO – Red, White, or Blue must be purchased from an approved uniform vendor (Heritage Logo Required).
PANTS – Can be purchased anywhere as long as they meet the dress code standards (must be beige khaki lightest color option) or navy. No cargo pockets or leggings.  Cannot be ripped, torn, or frayed.
SKIRTS/DRESSES – MUST COME TO MIDDLE OF THE KNEE.  CHECK MEASUREMENTS OF SKIRT LENGTH FROM VENDORS BEFORE PURCHASING.  MOST OF THEM ARE NOT LONG ENOUGH.  Can be purchased anywhere as long as they meet the dress code standards (must be beige khaki lightest color option) or navy. Cannot be ripped, torn, or frayed.
SHORTS – Must be no shorter than four inches above the knee. Can be purchased anywhere as long as they meet the dress code standards (must be beige khaki lightest color option) or navy. No cargo pockets.  Cannot be ripped, torn, or frayed.
OUTERWEAR (Sweatshirts, Sweaters, Jackets) – Can be purchased anywhere as long as they meet the dress code standards (must be solid red, white, or navy blue with no large graphics or lettering. (Heritage Logo not required)
SPORTS/PE UNIFORM – Must be from one of the approved uniform vendors. (Lands' End does not carry it).   Uniform consists of navy blue basketball shorts (HA Logo Required) and a solid red t-shirt (HA Logo Required).
Does your scholar require medication during the school day?
Our medication policy has changed this year.  In cases where medication is required by a doctor to be given during school hours, Heritage Academy
officials administer prescription medication in the school setting in accordance with specific regulations that come from state law.
The following form needs to be completed by the doctor and delivered to the school by an adult with the medication.
Administering Meds Form 2020
Please note, medication to be given two (2) and/or three (3) times daily are to be given at home, unless specifically ordered by the doctor to be given at school. For prescription medication, there must be a written order from the physician stating the name of the medication, the dosage and the time it is to be administered and that it must be administered during school hours. There must be written permission from the parent/guardian for the medication to be administered at school. The medication must be in the original prescription container labeled by the pharmacist. Pharmacies will provide a duplicate container for school use upon request. No medications in envelopes, foil, or baggies will be accepted.
Pursuant to A.R.S. §§ 15-341(A)(35),(36), students who have been diagnosed with anaphylaxis and/or breathing disorders may carry and self-administer emergency medications while at school and at school- sponsored activities. The student's name must be on the medication container and annual written documentation, which authorizes the possession and self-administration of the medication from the
student's parent is required.
MY SCHOOL BUCKS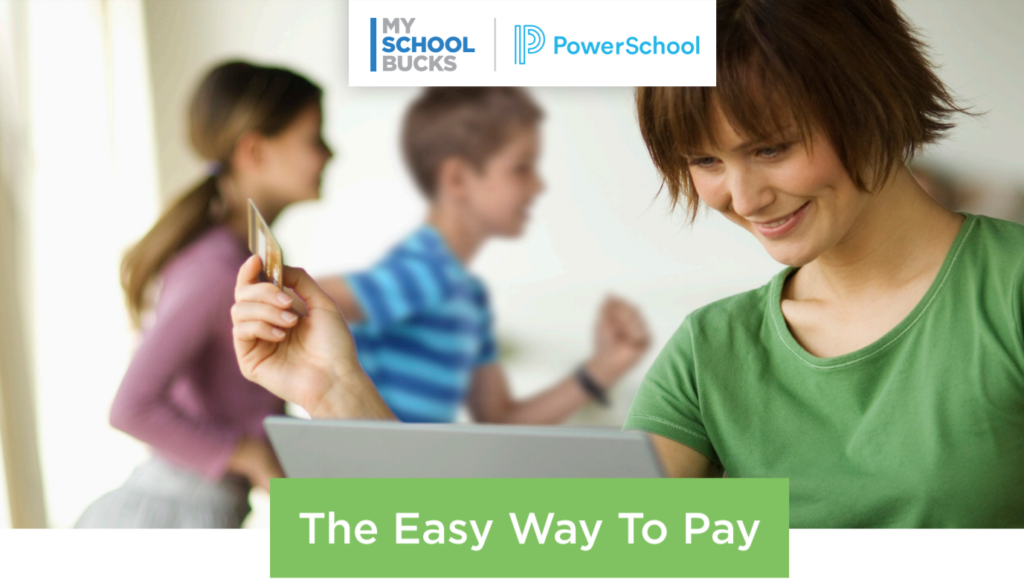 MySchoolBucks is our payment system for course fees and to make purchases through the school store.
PLEASE NOTE: WE DO NOT USE POWERSCHOOL FOR FEES.  All Powerschool balances are $0 for every scholar.  You will not use PowerSchool to see if you owe fees.  
To create your account go to MySchoolBucks.com and follow these instructions:
Click "Sign Up Free"
Follow the step by step instructions to add our school and your scholars to your account.  Our district is Heritage Academy Inc.  
Click on "School Store" on the top menu bar for a list of options.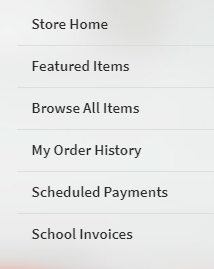 If you click on "Store Home" it will take you to where you can purchase items like a parking permit, pay your PTO dues, or pay for the Fine Arts Retreat.
If you click on "School Invoices" this is where your current course fees and end of year school balances from last year will be listed.  You will be able to make a payment right through this system!
We only accept online payments.  No cash or checks will be accepted.
COMMON ISSUE:  
No invoices?  You must add your scholars to your account.  Click the profile icon and select "My Students."  You may also need to add Heritage Academy as a new district if you another school on your account that uses myschoolbucks.  We are also finding that if you have linked your account to PowerSchool it will give you this message as well.
WANT TO ORDER LUNCH?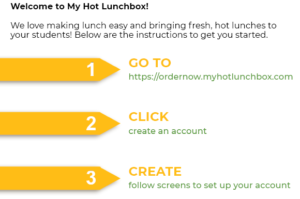 *IMPORTANT NOTES:  MAKE SURE YOUR ORDER IS COMPLETE AND FULLY PAID FOR.  YOU MUST ORDER  24 HOURS AHEAD OF TIME.  IF YOU ALREADY HAVE AN ACCOUNT, YOU WILL NEED TO UPDATE YOUR PROFILE WITH YOUR SCHOLARS CURRENT GRADE TO VIEW THE CALENDAR.
We do not charge any fees to create an account or to order student's lunches. Our meal prices are typically at or below a restaurant's in­ store price. Place orders and process payment on our secure website.  No more forgetting or losing lunch money!
No minimum orders. You can order lunches for one day, one week or months in advance. Add, edit, or cancel an order up to noon on the day before delivery.  You can print a calendar view of lunch orders and receive weekly opt-in email reminders.  Additionally, if you add orders and forget to process payment you will receive an alert.We offer a range of selections at a variety of price points. Our menus include combos, entrees and a la carte options.
My Hot Lunchbox is happy to accommodate gluten-free, dairy-free and vegetarian meal choices.  We are a peanut free company.  Our Customer Service Team is happy to help. For any inquires please call: 1-888-894-8295.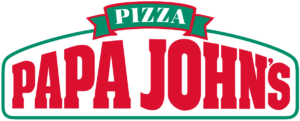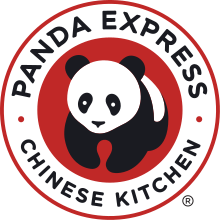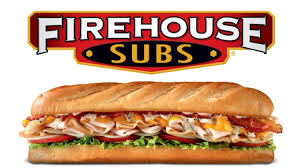 Will you or your Scholar be driving to school and parking on campus for the day? 
You will need a parking permit!  
Please complete the following PARKING PERMIT APPLICATION if you or your scholar plans to park on campus for the 2020-2021 school year.  Parking permits must be hung on the rear-view mirror at all times while on the Heritage Academy Campus.  You will be assigned a designated parking spot.  There is a $10 fee/year for SCHOLAR parking, and permits can be purchased through the school store at MySchoolBucks.com.  You will need to login or create an account to access the store.  See MySchoolBucks Post above for details on setting up an account.    There is no fee for Staff Parking.  Permits are non-transferable and there is a $10 Replacement Fee if the permit is lost or stolen.