IMPORTANT DATES TO REMEMBER
4/30 –  BALLROOM SHOWCASE – TONIGHT!! 7:00 – 8:30 PM (See Post for Details)

5/1  –  PROM EVENT – TOMORROW!! Castles and Coasters (See Post for Details)

5/3-6 –  TEACHER APPRECIATION WEEK –  (See Post for Details)

5/5 –  ROSATI'S PTO FUNDRAISER – 4:00 -8:00 PM

5/6-8 –  FROZEN MUSICAL –  (See Post for Details)

5/11 –  PTO MEETING & ELECTIONS –  7:00 PM (See Post for Details)

5/18  –  CHOIR CONCERT –  (More Details to Come)

5/19 –  SONIC PTO FUNDRAISER –  (More Details to Come)

5/20  –  INSTRUMENTAL CONCERT –  Band, Orchestra, and Japanese Drumming (More Details to Come)

5/26  –  SENIOR SUNSET –  6:00 – 8:00 PM (See Post for Details)

5/27  –  GRADUATION –  7:00 PM

5/27  –  LAST DAY OF SCHOOL!!!
IMPORTANT SCHOOL INFORMATION

Heritage Families,
Thank you for letting us educate your young scholars. We love them and love watching them learn and become even better scholars!
Heritage standards can seem difficult and hard to understand why we do things the way we do sometimes.  The answer is to keep the culture and atmosphere that we have on this campus.  We want it to be a safe place to learn and grow.  We continuously teach our scholars about self governance.  This means we teach our scholars to take responsibility for their actions and help others to do the same.  We will address anything which remotely affects the school day or the school event.  This can extend to emails, texts, etc. that move through campus.  We also ask for help from families to reinforce what we ask for on campus such as no touching (no PDA, hitting, etc.), no bad language, no gossiping, no drugs of any kind. We do really well on most of these.  The scholars are awesome!
Sometimes we find that scholars cannot self govern themselves (not obey rules) and need help doing so, which requires someone telling an adult so this can stop.  Heritage does not label this as "being a snitch."  We appreciate those scholars and parents who are willing to let us know immediately any issues they hear happening so we can take action and keep our school a safe place to learn with the highest standards.   Thank you for this!  It takes a team!
Sincerely,
Kimberly Ellsworth
Principal, Maricopa Campus
TONIGHT!!  TONIGHT!!  TONIGHT!!  
TOMORROW!!  TOMORROW!!  TOMORROW!!
TICKETS ARE NO LONGER AVAILABLE FOR THIS EVENT. 
Scholars who purchased tickets should have received an email with instructions on meeting locations and buddy instructions.  Please contact Ms. Allen at alethea.allen@heritageacademyaz.com if you have questions! 
THE SOUTHERN ARIZONA TOUR WAS A BLAST!!!
23 of our 7th and 8th graders spent some time exploring southern AZ this week! They adventured through the Queen Mine in Bisbee, Ghost hunted in Tombstone, trekked through the Sonoran Desert Museum, and soared through the Pima Air and Space Museum! Our scholars were so awesome! They had a great time and kept a positive and happy attitude even when the were tired, hot, or cold!
A HUGE thank you to MS. FAIRBANKS and MRS. SCHMIDGALL for heading up the tour!  We couldn't have done it without you!!
FROZEN TICKETS ARE NOW ON SALE!!!! 
May 7th, Friday 6 pm
https://www.purplepass.com/#217954/Heritage_Academy_Maricopa-Frozen-Heritage_Academy_Maricopa-May-07-2021.html
May 7th, Friday 8 pm
https://www.purplepass.com/#217955/Heritage_Academy_Maricopa-Frozen-Heritage_Academy_Maricopa-May-07-2021.html
May 8th, Saturday 6 pm
https://www.purplepass.com/#217956/Heritage_Academy_Maricopa-Frozen-Heritage_Academy_Maricopa-May-08-2021.html
May 8th, Saturday 8 pm
https://www.purplepass.com/#217957/Heritage_Academy_Maricopa-Frozen-Heritage_Academy_Maricopa-May-08-2021.html
Our hero shout out this week goes to our Maricopa Rosati's for the appetizing meal they catered for our Murder Mystery dinner.  They served an Italian table salad, garlic bread, chicken fettucine alfredo, and cannoli for dessert!  It was absolutely Delicious!
THANK YOU!  THANK YOU!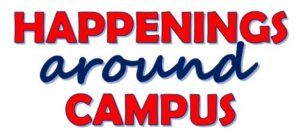 Mr. Porter welcomed a new little hero to his family last week!  Congratulations Porter Family!
Mr. Rivera's class put on a special performance  of "Cielito Lindo" for fellow scholars!
Yearbooks were delivered this week!  Ms. Turik and our Yearbook scholars are the best!!! They worked so hard to get the yearbook ready by the deadline and they even shipped out early! If you haven't ordered one yet, it's not too late. You'll just have to pay extra for shipping to your home! They did such a FANTASTIC job!
All windows and doors are now tinted in the main gym!  Our athletes and spectators will be so happy about this, as there will no longer be blinding sunlight in their eyes while trying to play or watch the games!
… And on a silly note, Taquito is showing he needs a little more puppy training!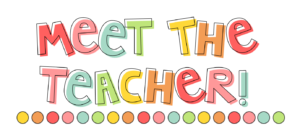 Heritage Academy welcomes Mr. Tony Rowan to the Maricopa campus as our new Varsity Basketball Coach and PE teacher for the 2021-2022 school year!  
We are very excited to announce Mr. Tony Rowan will be joining our Heritage Academy P.E. department as well hold the position of Head Varsity Basketball Coach for our 2021-22 school year. As Head Varsity Coach, Mr. Rowan brings a plethora of experience and knowledge.  He looks forward to enhancing the lives of our scholars, being a part of our amazing Hero family and continuing our high standard of play. Please join us in welcoming Mr. Tony Rowan!
Here are just a few noteworthy accomplishments.  Mr. Rowan was invited by ESPN to be a part of the ESPN Top 100 camp, where he coached the top 100 incoming college Freshmen.  As a club coach, he has placed consistently in national tournaments. As a member of the Chicago Bulls Training Academy staff, he attended/assisted Bulls practices and player development sessions over the off-season. And last but certainly not least, over his coaching career, he has helped dozens of players receive collegiate athletic scholarship offers. 
Please join us in welcoming Mr. Rowan to our family of Heroes!
Heritage Academy Maricopa is proud to present the online Art Show. We hope you enjoy all of these hard working scholars' artwork. We will also have an art wall in person at the upcoming art department events:
The Ballroom Showcase April 30; 6:30 pm
The Dance Showcase May 6; 6:00 pm
Frozen May 7 & 8; 6:00 pm & 8:00 pm
The Choir Concert May 11; 3:30 pm
The art wall will not be displayed at our last two events as we would like to return the artwork to the artist. Please support the arts and attend
The Choir Concert May 18; 3:30 pm
The Instrumental Concert May 20; 4:30 pm
We hope to see you there.
Below  are the links to view these talented scholars' artwork.
1A High School Art Show
2A Junior High Art Show
3A Junior High Art
1B Junior High School Art Show
2B High School Art Show
3B Advanced Art Show
Dates
May 3, May 17, & May 24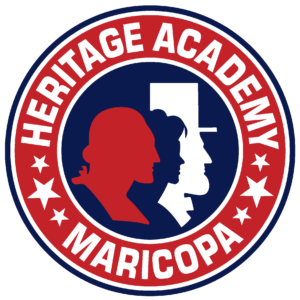 Heroes Athletics Update
We still have our brand new, Heritage Academy hats for sale.  Great quality and fit. Priced to sell at $25.00.  You can purchase yours in the Athletic Office form Mr. Miller or Mrs. Taylor.

Our spring sports teams are finishing an amazing season with many of them headed to the postseason.
Junior High Boys Volleyball finished their season this week advancing to the state semi-final.  They played a great game and demanded that their opponents play their best game to beat them.  Coach Kim Miller was extremely happy with the progress of the team.  They saw a lot of improvement over the season and had a deep bench that is promising for next season.

Junior High Baseball finished their regular season in second place with an 8-2 record.  They received a first round bye and will play in the state semifinal this Saturday vs Heritage Gateway at Dream City Christian at 11:00a.  The state final will be held on Tuesday (5/4).  Dylan Hopper is pitching well and Mathew Martin, Alexander Vale, and Leander Vale have hot bats.  Coach Klepfer has his team firing on all cylinders and has high hopes to bring home our first state title.

Junior High Coed Soccer also is advancing to the playoffs as they finished their regular season with a 10-1 record.  Their state semi-final is on Friday at Pan American Charter at 5:30p.  They also play Heritage Gateway.  The state final will be held on Saturday.  The team is led by strikers Luca Hernandez and Ulissa Garcia while Maddox LaFramboise pulls the strings in midfield and Makennly Champley and JJ Turcott provide a staunch defense.

Our swimmers are competing in their state meet this Friday at Hamilton Pool. We had many swimmers qualify for the state meet with Robert Huff, Camden Bitter, Jens Robinson, Genesis Spallinger, and Tylee Roden all swimming at the top of their game.
Our high school teams finished their regular seasons this week and recognized all their seniors in their final home games.
Varsity Baseball finished their regulars season in 1st place with a 13-1 record.  Senior Sam Huffaker leads the team from the mound into the playoffs on Thursday (5/6) at Gene Autry Field.
Varsity Softball recognized their three seniors this week Noahli Antone, Celsielynn Espinueva, and Hannah Zamora. They finished with a 10-1 record and in 2nd place.  Their playoff game will be on Thursday (5/6) at Papago Park.
Varsity Boys Volleyball concluded their regular season with a big win.  They are graduating four seniors Camden Bitter, Cal Huff, Logan Porter, and Ridge Rieman.   They finished in 3rd place with a 9-2 record.  They will have a home playoff game on Tuesday (5/4) at 6:30p.
Varsity Girls Soccer is advancing to the playoffs as well.  They went 7-2-1 on the season and compete in their first playoff game on Tuesday (5/4) at 5:00p at 91st Psalm Christian School.  The Girls Soccer team is led by underclassmen, having only one Junior and no Seniors.
Good luck to all of our teams this week as we hunt for that first CAA State Championship! 
Let's Go Heroes!
LIBERTY TOUR 2021
(OVER FALL BREAK )
Heritage Academy is offering a tour over Fall break 2021 for 11th and 12th graders to Boston and New York!  $150.00 is due by May 6th to reserve your spot! Contact Ms. Allen
alethea

.alle@heritageacademyaz.com
if you are interested!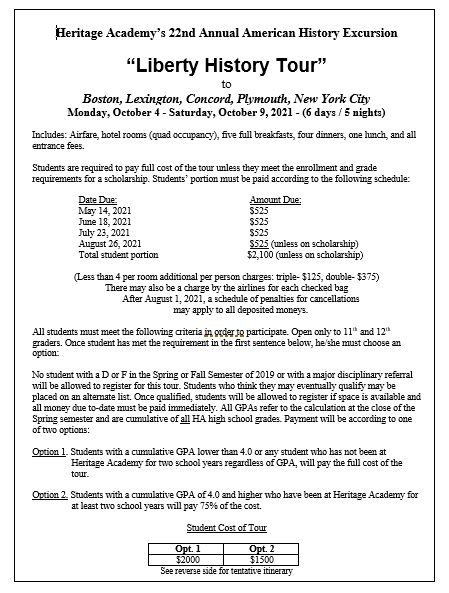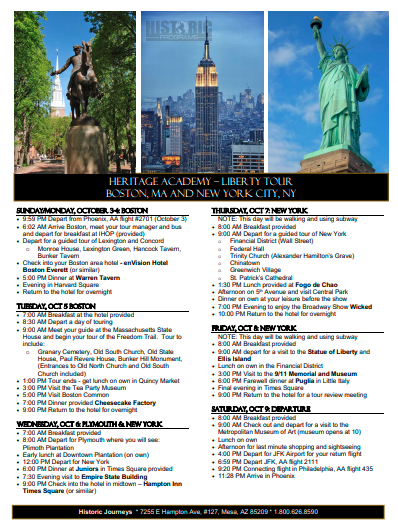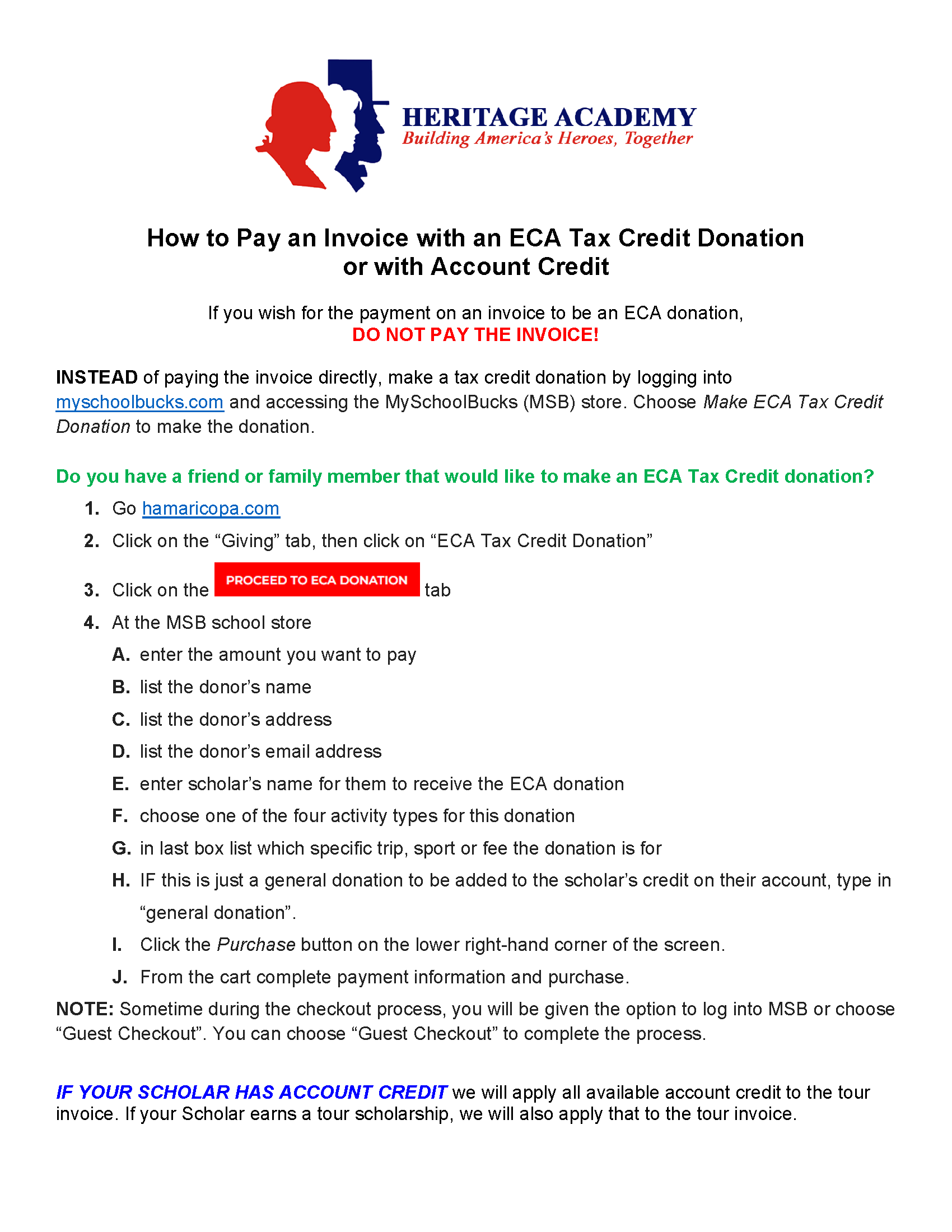 FRANCE TOUR

2022
Dear Heritage families,
Heritage Academy high school scholars are invited to join us for a once-in-a-lifetime travel experience to France: Paris, Normandy, and Brittany during Spring Break 2022!
We are excited to offer this opportunity right now to give scholars some hope for a brighter future. We had an amazing experience in France this past Spring Break.  While the world might feel like it is filled with uncertainty, we want to give families the chance to look ahead. In addition, to make sure you feel confident making future travel plans, EF is offering a risk-free enrollment period.
There are limited spots on this tour!  To learn more about this exciting opportunity, please email me or call the EF Traveler Support Team at 1-800-665-5364, Monday-Friday, 9AM-5PM EST. You might also want to review the Parent Guide for information about payment plans, on-tour safety, credit opportunities, and more.
Now, let's get ready to go to France!
Thanks,
Joseph Arnold
jarnold@heritageacadmeyaz.com
French I/II/III, P.E.
Cross Country, Varsity Boys Soccer, Junior High Soccer
Heritage Academy Laveen
Our tentative 2021-2022 Calendar is Now Available!!
HAMaricopa Academic Calendar 2021-2022
Please note that dates are subject to change per board approval in June 2021.
If you are moving and/or transferring to another school, please complete this WITHDRAWAL FORM.
You will need to return any books or checked out items to the school when you come to pick up/sign the withdrawal paperwork.  Please allow 24 hours to process the withdrawal paperwork.  We will call you when it is ready.
NEED YOUR OFFICIAL TRANSCRIPT TO APPLY FOR COLLEGE?   
Stop by Mrs. Hoffman's office for a copy of your unofficial transcript or CLICK HERE and complete the request form for an official one to be sent to the college you are applying to.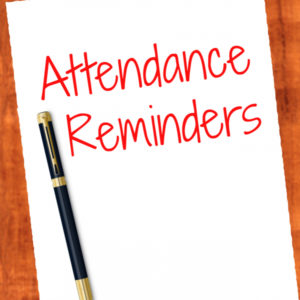 WHAT TO DO IF YOUR SCHOLAR IS ABSENT: 
CALL THE SCHOOL BEFORE 10:00

AM

THE DAY OF THE ABSENCE.  
LEAVE A MESSAGE WITH

THE REASON

FOR THE ABSENCE.
CHECK

GOOGLE CLASSROOM

FOR WORK THEY MISSED IN CLASS.
The Department of Education defines an EXCUSED ABSENCE as being an absence due to illness, doctor appointment, bereavement, family emergencies and out-of-school suspensions not to exceed 10% of the instructional days scheduled for the school year.
FAMILY VACATIONS ARE NOT CONSIDERED EXCUSED ABSENCES.
Attendance Letters are mailed out at the first of the month for scholars who currently have (5) or more absences for the grading period. 
Just a reminder of Heritage Academy's policy concerning attendance:
Any scholar who misses ten percent (10%) or more of classes (usually five or more per semester) in a given subject may not receive credit for that subject. Each teacher sets his/her own policy for work missed. Furthermore, many experiences and activities by their very nature cannot be duplicated or "made up."
When a scholar is absent, a parent must call the school at the beginning of the day to indicate that the scholar will not be in attendance.  Please be sure to include a reason for the absence if you are leaving a voicemail.  Excusing an absence allows the scholar to make up work missed, however, it does not remove the absence.
We understand that there are times when a scholar may have more absences than normal due to a chronic illness. If your scholar suffers from a chronic illness, please complete the CHRONIC HEALTH CONDITION PACKET, and return it to the front office with the required documentation.

Additionally, any scholar who is absent from school on a given day cannot participate in any school activity that
same day or evening.
DON'T GET BLOCKED IN
SCHOLARS CANNOT BE SIGNED OUT BETWEEN 2:30-3:30 PM
Need to schedule an appointment for your scholar during school hours?  We ask that you try and schedule appointments on Fridays when the scholars are out of school.  We know this isn't always possible due to days and hours of operation, however due to our driveline, we are not able to sign scholars out after 2:30 pm.  If you have an appointment for your scholar, we will need you to pick them up before 2:30pm or wait until school is out to pick up your scholar.  
We apologize for any inconvenience.

For our online scholars, below are some helpful links to help you get acquainted with Edgenuity.
 https://www.edgenuity.com/resources/edgenuity-help-for-families/
Have questions?  Please contact Afton Welker (afton.welk@heritageacademyaz.com)
UNIFORMS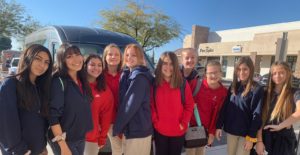 THERE ARE (3) APPROVED UNIFORM VENDORS TO CHOOSE FROM:
1. DENNIS UNIFORMS – https://www.dennisuniform.com/schools/QHR (1-2 week delivery)
2. LANDS' END – https://www.landsend.com/co/account/school-uniformsSchool Account # 900147471 (Under Mesa -District) (Check website for delivery times)
3. PRINTED DESERT – https://heritageacademyuniforms.com/  (Check website for delivery times)
UNIFORM GUIDELINES:
HERITAGE POLO – Red, White, or Blue must be purchased from an approved uniform vendor (Heritage Logo Required).
PANTS – Can be purchased anywhere as long as they meet the dress code standards (must be beige khaki lightest color option) or navy. No cargo pockets or leggings.  Cannot be ripped, torn, or frayed.
SKIRTS/DRESSES – MUST COME TO MIDDLE OF THE KNEE.  CHECK MEASUREMENTS OF SKIRT LENGTH FROM VENDORS BEFORE PURCHASING.  MOST OF THEM ARE NOT LONG ENOUGH.  Can be purchased anywhere as long as they meet the dress code standards (must be beige khaki lightest color option) or navy. Cannot be ripped, torn, or frayed.
SHORTS – Must be no shorter than four inches above the knee. Can be purchased anywhere as long as they meet the dress code standards (must be beige khaki lightest color option) or navy. No cargo pockets.  Cannot be ripped, torn, or frayed.
OUTERWEAR (Sweatshirts, Sweaters, Jackets) – Can be purchased anywhere as long as they meet the dress code standards (must be solid red, white, or navy blue with no large graphics or lettering. (Heritage Logo not required)
SPORTS/PE UNIFORM – Must be from one of the approved uniform vendors. (Lands' End does not carry it).   Uniform consists of navy blue basketball shorts (HA Logo Required) and a solid red t-shirt (HA Logo Required).
Does your scholar require medication during the school day?
Our medication policy has changed this year.  In cases where medication is required by a doctor to be given during school hours, Heritage Academy
officials administer prescription medication in the school setting in accordance with specific regulations that come from state law.
The following form needs to be completed by the doctor and delivered to the school by an adult with the medication.
Administering Meds Form 2020
Please note, medication to be given two (2) and/or three (3) times daily are to be given at home, unless specifically ordered by the doctor to be given at school. For prescription medication, there must be a written order from the physician stating the name of the medication, the dosage and the time it is to be administered and that it must be administered during school hours. There must be written permission from the parent/guardian for the medication to be administered at school. The medication must be in the original prescription container labeled by the pharmacist. Pharmacies will provide a duplicate container for school use upon request. No medications in envelopes, foil, or baggies will be accepted.
Pursuant to A.R.S. §§ 15-341(A)(35),(36), students who have been diagnosed with anaphylaxis and/or breathing disorders may carry and self-administer emergency medications while at school and at school- sponsored activities. The student's name must be on the medication container and annual written documentation, which authorizes the possession and self-administration of the medication from the
student's parent is required.
MY SCHOOL BUCKS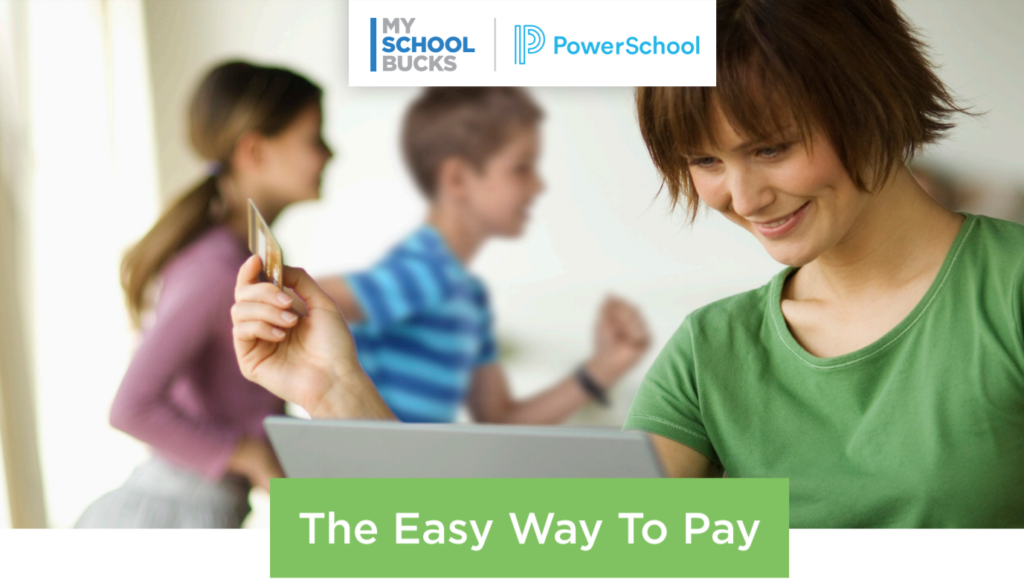 MySchoolBucks is our payment system for course fees and to make purchases through the school store.
PLEASE NOTE: WE DO NOT USE POWERSCHOOL FOR FEES.  All Powerschool balances are $0 for every scholar.  You will not use PowerSchool to see if you owe fees.  
To create your account go to MySchoolBucks.com and follow these instructions:
Click "Sign Up Free"
Follow the step by step instructions to add our school and your scholars to your account.  Our district is Heritage Academy Inc.  
Click on "School Store" on the top menu bar for a list of options.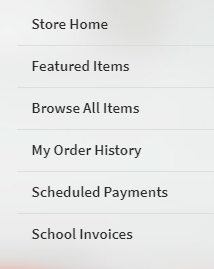 If you click on "Store Home" it will take you to where you can purchase items like a parking permit, pay your PTO dues, or pay for the Fine Arts Retreat.
If you click on "School Invoices" this is where your current course fees and end of year school balances from last year will be listed.  You will be able to make a payment right through this system!
We only accept online payments.  No cash or checks will be accepted.
COMMON ISSUE:  
No invoices?  You must add your scholars to your account.  Click the profile icon and select "My Students."  You may also need to add Heritage Academy as a new district if you another school on your account that uses myschoolbucks.  We are also finding that if you have linked your account to PowerSchool it will give you this message as well.
WANT TO ORDER LUNCH?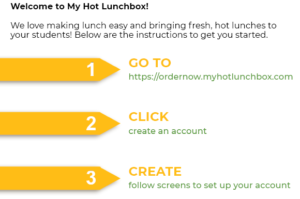 *IMPORTANT NOTES:  MAKE SURE YOUR ORDER IS COMPLETE AND FULLY PAID FOR.  YOU MUST ORDER  24 HOURS AHEAD OF TIME.  IF YOU ALREADY HAVE AN ACCOUNT, YOU WILL NEED TO UPDATE YOUR PROFILE WITH YOUR SCHOLARS CURRENT GRADE TO VIEW THE CALENDAR.
We do not charge any fees to create an account or to order student's lunches. Our meal prices are typically at or below a restaurant's in­ store price. Place orders and process payment on our secure website.  No more forgetting or losing lunch money!
No minimum orders. You can order lunches for one day, one week or months in advance. Add, edit, or cancel an order up to noon on the day before delivery.  You can print a calendar view of lunch orders and receive weekly opt-in email reminders.  Additionally, if you add orders and forget to process payment you will receive an alert.We offer a range of selections at a variety of price points. Our menus include combos, entrees and a la carte options.
My Hot Lunchbox is happy to accommodate gluten-free, dairy-free and vegetarian meal choices.  We are a peanut free company.  Our Customer Service Team is happy to help. For any inquires please call: 1-888-894-8295.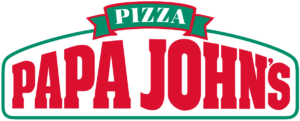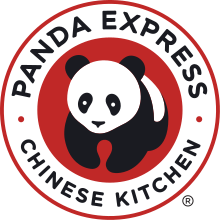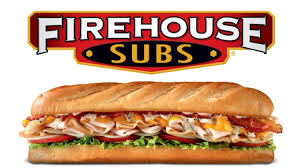 Will you or your Scholar be driving to school and parking on campus for the day? 
You will need a parking permit!  
Please complete the following PARKING PERMIT APPLICATION if you or your scholar plans to park on campus for the 2020-2021 school year.  Parking permits must be hung on the rear-view mirror at all times while on the Heritage Academy Campus.  You will be assigned a designated parking spot.  There is a $10 fee/year for SCHOLAR parking, and permits can be purchased through the school store at MySchoolBucks.com.  You will need to login or create an account to access the store.  See MySchoolBucks Post above for details on setting up an account.    There is no fee for Staff Parking.  Permits are non-transferable and there is a $10 Replacement Fee if the permit is lost or stolen.