IMPORTANT DATES TO REMEMBER
8/3-8/20 – DUAL ENROLLMENT REGISTRATION – (See Post for Details)

8/4 – BOOKS,  AGENDAS, & AWARDS PICK-UP – 8:00 – 10:00 am & 5:00 – 7:00 pm (See Post for Details)

8/5 & 8/6 – SPORTS PHYSICALS (BY APPOINTMENT ONLY) –  (See Athletic Update Post for Details)

8/11 – PTO MEETING – 7:00 pm 

8/17 ATHLETIC PACKETS & PHYSICALS DUE – (See Athletic Update Post for details).  
IMPORTANT SCHOOL INFORMATION

Welcome back Heritage scholars and families!
We have missed you!  We still miss seeing you on campus and can't wait until we can see you here each day.  I have said this was the saddest first day of school ever – no scholars to see. Our scholars make the difference.
We do appreciate your patience with us as we have navigated through Governor's announcements, delay of school and the actual set up of school online.  It is not our normal, but, I can guarantee you your teachers have had the scholars in mind throughout this planning process.  We want to do the best we can for you!
We have asked every scholar to sign in to complete the attendance assignment by 2 pm each day in each class. Please help ensure this gets accomplished or they will be marked absent.  We need everybody's help on this. Thank you in advance!
Each scholar should have already been invited to their Google classrooms.  Our administration team has worked tirelessly to return all emails and phone calls to make sure you are set.  Please be sure to thank them when you see them.  You are their priority.
We love you!  We miss you!  (And some of you we can't wait to have for the first time on campus.) It will be a great year!  We will get through this together – one step at a time.
Sincerely,

Kimberly Ellsworth
Principal, Maricopa Campus
BOOKS – Teachers will be notifying your scholar (via email or google classroom) if your scholar needs to pick-up books for their class. If you are unsure whether your scholar needs to pick up a textbook, please contact your scholar's teacher by email.
AGENDAS – All Junior high scholars (grades 6th-8th) who would like to pick up their Heritage agenda may also do so at this time.
AWARDS – Also, scholars who received end of the year awards for the 2019-2020 school year can be these awards up during the times noted above.
REMINDER: ATTENDANCE IS DUE EVERYDAY BY 2:00 PM
Each class has an Attendance form listed as an assignment that needs to be filled out each day that class is held.
On MONDAYS and WEDNESDAYS, you will complete the A DAY ATTENDANCE FORM listed as an assignment for every A DAY class you have.
On TUESDAYS and THURSDAYS, you will complete the B DAY ATTENDANCE FORM listed as an assignment for every B DAY class you have.
Forms can be filled out anytime between 7:30 am -2:00 pm of the current day.
CALL THE OFFICE TO REPORT AN ABSENCE
If your scholar is sick or unable to log-in that day, please call the front office at 520-367-3800.
Please disregard the fee balance showing in your scholar's PowerSchool account.  There was a glitch with PowerSchool that pre-maturely assessed course fees to your scholar's account.    Once we move over to our new payment system they will be removed and assessed correctly.  We do have accurate account information to ensure the correct balance will remain.
All fees for fall semester (including winter sports) will be due once we are back on campus in-person.  Payments are only made online.  By way of information, we DO NOT accept cash or checks.   2020-2021 COURSE FEES
Update Your Profile Pic In Google Classroom
Profile picture icons for heritage google accounts must be updated to a picture of the scholar's face, their initials, or Heritage Logo.  Heritage standards apply.
Change your picture
On your computer, open Gmail.
In the top right, tap your profile picture.
Tap Manage your Google Account.
On your Google Account page, tap "Personal info."
Under "Profile," tap your current profile picture.
Follow the on-screen prompts to choose or take a photo.
Tap Set Profile Photo.
CLICK HERE
for a video from Ms. Allen showing how to update your profile icon.
CLASS SCHEDULES
Mr. Halterman is continuing with schedule changes this week.  He started with the 12 graders and is working his way down to 6th grade.  You should be hearing from him this week if you have submitted a schedule change request form.
SCHEDULE CHANGES – Changes to a scholar's schedule may be possible on a limited basis:
If a scholar has a documented medical condition that prevents them from participating in a class. For school record keeping purposes, it is preferred that a doctor's note be provided.
If a scholar was incorrectly scheduled for an academic class (e.g. Pre-algebra instead of geometry).
If a teacher recommends that a specific schedule change be made for academic reasons.
If a scholar qualifies to move out of an academic support class. Please note that if a scholar was scheduled for a math lab last semester, they will be scheduled for a math lab again this semester unless they earned an A in their math class and an A in the math lab, or they have a teacher recommendation to move out of the math lab class.
If your scholar has a hole in their schedule and you have not completed the schedule change request form, please complete it here:   SCHEDULE CHANGE REQUEST FORM.
ATHLETIC UPDATE
There are a lot of unknowns in the world right now, but many sports leagues and teams are returning to play.  Our fall sports are beginning to have open workouts with appropriate safety measures in place.  Our conference, the CAA, is working to start our fall season safely.  More information will become available shortly.
On-Site Physicals on Campus 8/5 & 8/6:
In the meantime, we will continue our preparations.  If your scholar is signed up for any athletics classes and wants to be part of a competitive team, they will need to complete the CAA Physical Form and our Heritage Academy Athletics Packet.  These can both be found on our Heritage Academy Maricopa Athletics Site.
The CAA physical form is a contactless physical.  Heritage Academy Maricopa is offering an on-site physical completed by Dr. Matthew Ormond, Relief and Restoration Chiropractic, and our Heritage Academy Maricopa biology teacher.
These physicals will be available on Wednesday August 5th and Thursday August 6th from 5:00p-9:00p.  The cost is $25, of which, Relief and Restoration Chiropractic will be donating 20% back to the athletics program.  Payment can be taken at the time of appointment by credit card or Venmo.  We are not able to accept cash.
Check in will be behind the school at the lunch area and scholars will meet with the doctor in the gym.  We will be enforcing social distance protocols, so please limit the number of people attending.  One parent/guardian is needed to enter the gym with the scholar.  If you are interested please reserve your spot using the Sign Up Genius Link Here.  Please have the physical form completed at the time of arrival.
Physicals Due 8/17:
For all fall sports classes, all scholar's physicals and athletics packets are due by Monday, August 17th.  This includes football, swimming, golf, cross country, girls volleyball, & boys soccer.  Scholars need to complete the physical and packet annually.  Fees will be due once we are back on campus.
Heritage Academy Athletics Fan Gear:
On the 5th and 6th, we will also have the Heritage Academy Maricopa branded masks and bumper stickers available for purchase.  There are four different over-the-ear mask designs.  The masks are only $12 each or 2 for $20 (see attachment).  For these items, we are ONLY ACCEPTING CASH.
On Monday August 3rd, our online athletics team store will be open. On the team store you will be able to purchase Heritage Academy Maricopa athletic wear, including t-shirts, hats, and sweatshirts (the sweatshirts are DRESS CODE COMPLIANT).  We will send out the link for that on Monday the 3rd.
We are also finalizing on a vendor for class rings and letterman jackets.  We will have information coming soon about those products as well.
For any Heritage Academy Maricopa Athletics questions, please contact the AD, Jeff Miller, at jeffrey.miller@heritageacademyaz.com
ARE YOUR UNIFORMS ORDERED???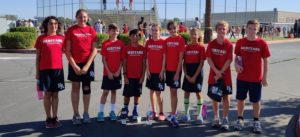 THERE ARE (4) APPROVED UNIFORM VENDORS TO CHOOSE FROM:
1. DENNIS UNIFORMS – https://portal.dennisuniform.com/onlstore/password.asp?sc=QHR
2. EDUCATIONAL OUTFITTERS – http://phoenix.educationaloutfitters.com/heritage-academy-maricopa-campus/
3. LANDS' END – https://www.landsend.com/co/account/school-uniformsSchool Account # 900147471 (Under Mesa -District)
4. PRINTED DESERT – https://heritageacademyuniforms.com/
UNIFORM GUIDELINES:
HERITAGE POLO – Red, White, or Blue must be purchased from an approved uniform vendor (Heritage Logo Required).
PANTS – Can be purchased anywhere as long as they meet the dress code standards (must be beige khaki lightest color option) or navy. No cargo pockets.  Cannot be ripped, torn, or frayed. 

SKIRTS/DRESSES – Must come to the middle of the knee.  Can be purchased anywhere as long as they meet the dress code standards (must be beige khaki lightest color option) or navy. Cannot be ripped, torn, or frayed. 
SHORTS – Must be no shorter than four inches above the knee. Can be purchased anywhere as long as they meet the dress code standards (must be beige khaki lightest color option) or navy. No cargo pockets.  Cannot be ripped, torn, or frayed. 
OUTERWEAR (Sweatshirts, Sweaters, Jackets) – Can be purchased anywhere as long as they meet the dress code standards (must be solid red, white, or navy blue with no large graphics or lettering. (Heritage Logo not required)
SPORTS/PE UNIFORM – Must be from one of the approved uniform vendors. (Lands' End does not carry it).   Uniform consists of navy blue basketball shorts (HA Logo Required) and a solid red t-shirt (HA Logo Required).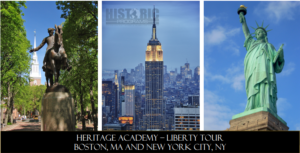 Heritage Academy Maricopa's 1st Annual American History Excursion
11TH & 12TH GRADE LIBERTY TOUR
to
Boston, MA and New York City, NY
Sunday, March 14th – Saturday, March 20th, 2020 (6 Days, 5 Nights)
Includes: Airfare, hotel rooms (quad occupancy), 5 full breakfasts, five full dinners, and all entrance fees.
Due to restrictions by the State of New York and other factors, we plan to postpone the Liberty Tour to Boston and New York until the second week of Spring Break, leaving on the evening of March 14 and returning on the evening of March 20. 
With the change of dates, the updated payment schedule will be as follows:
Due Date:           Amount Due:        
March 5th              $100                         




May 15th                $209   




September 15th     $500   




October 15th          $500   




November 15th       Balance of tour cost 
Total student portion:   $1809.00 without scholarship    $1309.00 with scholarship 
The last day for a full refund will be Wednesday December 2nd, 2020.  
*IMPORTANT NEWS: Our payment system will migrate to an improved online system called MySchoolBucks by the end of August.  The system will auto-generate an invoice for the trip and it will be emailed to you.  Please be on the lookout for that invoice for September's payment.   
There is still space for available for scholars that haven't made any payments. Please call the school to find out how to secure your spot for the tour and catch up with payments. 520-367-3800
See attached files for details but note the date changes above: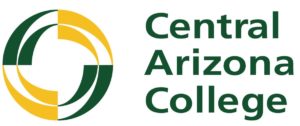 Dual Enrollment Registration –
Begins August 3 (DUE: August 31)
Central Arizona College and Heritage Academy Maricopa have partnered to offer several dual enrollment classes this Fall 2020 semester.
It is now time to submit your CAC registration paperwork for the dual enrollment class/es you are taking and pay your tuition directly with CAC. Registration forms will be emailed to the scholars that qualify. When complete, please return both documents together in one email, to 
admissions@centralaz.edu
.
Registration is due August 20th.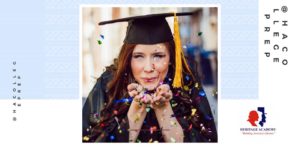 Do you have questions regarding College planning?
Heritage Academy offers advising to every scholar on campus. We will coach them along their college prep path, get them enrolled in college while in high school, and set up for future success!
Parents and scholars….. Do you have questions regarding College or high school planning?
Below is a list of topics that you may want to consider.
High school course selection

Early College Program – Dual enrollment, AP & CLEP

Earning an Associates Degree at Heritage Academy

ACT/SAT/PSAT (Which test and when?)

Financial Aid (Scholarships, Grants, Loans & FAFSA)
To schedule your appointment with Mrs. Weiler, please visit the website:  https://hamaricopa.com/advising/