IMPORTANT DATES TO REMEMBER
9/9 –FIRST DAY IN-PERSON – Uniforms Required

9/16 –PICTURE DAY – Uniforms Required. (See Post for Details).

9/14-17 – CONSTITUTION WEEK – (See Post for Details).
IMPORTANT SCHOOL INFORMATION

Hello Heritage Families,
We want to welcome you back to campus on September 9th for those who have chosen to come back for in-person learning.  We are so excited to get started!  
OPEN HOUSE– We are not able to offer an open house at this time.  For new and returning scholars, we will guide them to their classrooms first hour.  Once the first hour begins, classes will rotate and have a tour of campus.  We have additional classrooms and a gym this year, so we will show everyone around.
CLOSED CAMPUS – Please remember we do have a closed campus, so parents and visitors will not be allowed on campus.  The only exception to this is early pick-up.  All other pick-up and drop-off must be done through the driveline.
DRIVELINE –   Driveline has changed from last year.  We will have double traffic lines around our building.  Please always follow directions of staff members. Once you have reached the drop-off zone, pull all the way up to the crosswalk (or as far as you can) before dropping off. If you are in the left lane, scholars must exit to the sidewalk out of the left side of your vehicle.   If you are in the right lane, scholars must exit out of the right side of the vehicle and walk up to the crosswalk to cross traffic.  Please leave the center lane open for vehicles to exit.  See driveline map (CLICK HERE).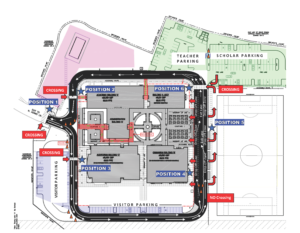 NEW PAYMENT SYSTEM – Our New Payment System is just about ready.  Account balances have not been updated yet with current course fees or credits from last year.  If your balance seems off, it probably is.  Please do not make any payments on your account until we are back on campus Sept. 9th.    
MASKS – We want you to be aware that due to class sizes social distancing will be limited in many areas.  The recommendation in this case is to have all desks in a row and scholars in masks. You will see this in many classrooms.   Masks will be required on campus for teachers and scholars.   When social distancing is available, the masks may be taken off at teacher discretion.  For our full face covering policy, (CLICK HERE).
DAILY HEALTH SCREEN – We will ask families to do a health screen every day BEFORE their scholar comes to school as noted in the mitigation plan (CLICK HERE) . 
Scholars must not come to school if they exhibit any of the following symptoms:
● fever of 100.4 degrees or higher, or chills
● shortness of breath or difficulty breathing
● muscle aches
● sore throat
● headache
● fatigue
● congestion or runny nose
● cough
● vomiting
● diarrhea
● new loss of taste or smell
HAND WASHING & CLEANING – Once scholars are on school grounds, we ask that they wash their hands immediately in the restrooms (gym or new building – staff will be outside to guide).  Scholars will also be asked to wash hands or use hand sanitizer at the beginning and the end of each class.  They will also be asked to clean their desk at the end of each class.  Cleaning by scholars has been and always will be a part of being at Heritage.  During COVID we know our scholars will step up and help out in this area. 
ACKNOWLEDGMENT FORM – Parents need to sign the Parent Acknowledgment Form before their scholar can start on campus.  Please complete one form per family: https://hamaricopa.com/covid-parent-acknowledgement/  
For additional questions including procedures for COVID-19 symptoms or a positive test, please see the mitigation plan (CLICK HERE). 
CONTINUING ONLINE LEARNING: Online learning will look a little different on September 9.  Teachers will post assignments on the day of the class.  Instructional videos will be up by the end of day Tuesday. Scholars will have proper time to complete assignments. Google Meets will be required, but will always be recorded in case a scholar has a conflict with another class.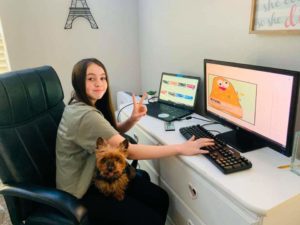 REQUESTS TO CHANGE TO/FROM ONLINE LEARNING: As we prepare to open school on September 9th, we have been contacted by a few families who have expressed interest in changing their previously selected method of instruction this semester, from online only to in-person (on campus), or vice versa. Starting next Monday we will begin contacting families who have requested a change and will be considering those requests on a case-by-case basis. Do not assume that your schedule has been changed unless you have been contacted by us regarding your schedule.
Families who had previously opted for in-person instruction and have recently requested to switch to online only must be aware that not all classes that are available in person will be available online. All academic core classes are available online, however, scholars who are switching from in person to online only will be limited to the few online-only elective classes that are available, and will lose certain electives from their schedule.
Families who had previously opted for online only instruction and have recently requested to switch to in person must be aware that given the limitations we have on class size, and the fact that some resources have been diverted to support online only instruction, available space in the classroom is limited and we may not be able to accommodate all requests to switch to in person instruction. 
We can't tell you how excited we are to have our scholars back on campus!  We are counting down the days in anticipation–12 to go!  
Enjoy your weekend!  
Sincerely,

Kimberly Ellsworth
Principal, Maricopa Campus
ARE YOUR UNIFORMS ORDERED???  
Uniforms will be required starting the first day back on campus September 9th!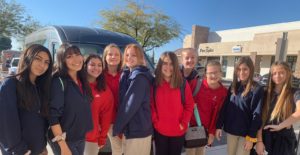 THERE ARE (4) APPROVED UNIFORM VENDORS TO CHOOSE FROM:
1. DENNIS UNIFORMS – https://www.dennisuniform.com/schools/QHR (1-2 week delivery)
2. EDUCATIONAL OUTFITTERS – http://phoenix.educationaloutfitters.com/heritage-academy-maricopa-campus/ (6-8 week delivery- Uniforms from this vendor will not arrive before Sept. 9th).  
3. LANDS' END – https://www.landsend.com/co/account/school-uniformsSchool Account # 900147471 (Under Mesa -District) (Check website for delivery times)
4. PRINTED DESERT – https://heritageacademyuniforms.com/  (Check website for delivery times)
UNIFORM GUIDELINES:
HERITAGE POLO – Red, White, or Blue must be purchased from an approved uniform vendor (Heritage Logo Required).
PANTS – Can be purchased anywhere as long as they meet the dress code standards (must be beige khaki lightest color option) or navy. No cargo pockets.  Cannot be ripped, torn, or frayed.
SKIRTS/DRESSES – MUST COME TO MIDDLE OF THE KNEE.  CHECK MEASUREMENTS OF SKIRT LENGTH FROM VENDORS BEFORE PURCHASING.  MOST OF THEM ARE NOT LONG ENOUGH.  Can be purchased anywhere as long as they meet the dress code standards (must be beige khaki lightest color option) or navy. Cannot be ripped, torn, or frayed.
SHORTS – Must be no shorter than four inches above the knee. Can be purchased anywhere as long as they meet the dress code standards (must be beige khaki lightest color option) or navy. No cargo pockets.  Cannot be ripped, torn, or frayed.
OUTERWEAR (Sweatshirts, Sweaters, Jackets) – Can be purchased anywhere as long as they meet the dress code standards (must be solid red, white, or navy blue with no large graphics or lettering. (Heritage Logo not required)
SPORTS/PE UNIFORM – Must be from one of the approved uniform vendors. (Lands' End does not carry it).   Uniform consists of navy blue basketball shorts (HA Logo Required) and a solid red t-shirt (HA Logo Required).
Will you or your Scholar be driving to school and parking on campus for the day?  You will need a parking permit!  
Please complete the following PARKING PERMIT APPLICATION if you or your scholar plans to park on campus for the 2020-2021 school year.  Parking permits must be hung on the rear-view mirror at all times while on the Heritage Academy Campus.  You will be assigned a designated parking spot.  There is a $10 fee/year for SCHOLAR parking.  There is no fee for Staff Parking.  Permits are non-transferable and there is a $10 Replacement Fee if the permit is lost or stolen.    
Virtual Campus Tour

Mr. Hettinger and Mr. Miller have put together a fantastic virtual tour of the building!  Nothing beats seeing it in person, but here is a sneak peak:  VIRTUAL CAMPUS TOUR
As we anxiously await our scholars' return, teachers are preparing their classrooms, hallway bulletin boards are being hung and decorated, and final safety details are being completed to ensure the safe return of our scholars and teachers!  We can't wait to have families back on campus!  We have missed you!!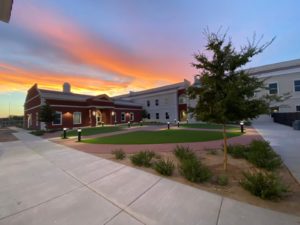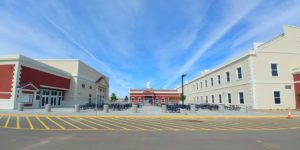 CONSTITUTION WEEK
***SEPTEMBER 14-17***
We are looking forward to Constitution Week!  Our Heritage PTO is planning several fun festivities and we need
your help!
We have planned to celebrate Constitution Week virtually and on campus.
Monday and Tuesday at lunch we will offer scholars the opportunity to be a signer on the Constitution.
Wednesday and Thursday you can choose to participate in a Constitutional History Scavenger hunt which will reward you with a treasure if you succeed.
These activities will be available both virtually for online learners and in person. In addition, we plan to release a couple of links each day M-Th to performances by scholars who have prepared songs, dances, skits, artwork, videos etc. to display their love for America and our Constitution. Our scholars are working hard on their performances and we are thrilled to see them! The culminating link on Thursday will be a slide show/video of all of you, our scholars, expressing your love for your country.

Now for YOUR part: We would like to offer each scholar the opportunity to create a word picture describing what they love most about America. This sign can be simple like a paper with a word written in maker on it, or it can as complex and creative as you want so long as it contains the word clear and large.
Please wear your school uniform or dress code appropriate patriotic clothes.
We encourage you to display your love of America and individual character on your sign.
Please email a picture of you holding your sign to: HeritageCopaPTOPres@gmail.com before Sept 4th!
We will add it to our patriotic slide show for the whole school to see as part of our celebration!
Thank you so much for contributing to the amazing environment of patriotism, gratitude and love of country Heritage is known for. We are grateful for you and look forward to seeing your contributions!
Sincerely,
Sarah Morgan
Heritage Maricopa PTO President
Grade Check letters were emailed on Thursday, 8/20 for scholars who currently have a D or an F in a class.  Grades are issued at the semester so there is plenty of time to make improvements.  We do send these letters out on a monthly basis so scholars and parents are informed if there is a concern.  Please reach out to the teachers directly if you have questions.
Just a reminder of Heritage Academy's policy concerning grades:
High school scholars who receive a "D" or an "F" in a required class will not receive credit and will be required to repeat the class. A student who fails a required class must make up the class at a time other than during the regular school year. This will involve a summer school commitment, either at Heritage, if offered, or at another acceptable school.
In the case of 6th, 7th, and 8th grade scholars, when even a single class or multiple classes are not passed with a "C-" or better, there will be no promotion to the next grade and the scholar will have to repeat the entire year and all the classes, even the ones he did pass. Heritage
Academy will not promote a scholar into high school who has not mastered junior high school skills.
FIRST DAY OF IN-PERSON CLASSES ON CAMPUS WILL BE SEPTEMBER 9TH!  
Here is a copy of our 2020-2021 CALENDAR:
HAMaricopa Academic Calendar 2020-2021
and a copy of our BELL SCHEDULE:
PICTURE DAY WILL BE SEPTEMBER 16TH!!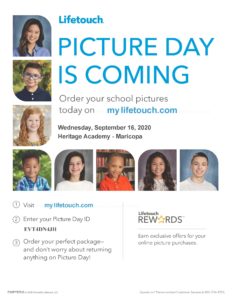 In-Person Scholars will have a scheduled time during school on Sept. 16th to have their pictures taken.

Online Scholars may also get their pictures taken on Sept. 16th, but they will need too come to campus between 2:00 -3:30 pm.  There will be a re-take day in January if you would like to wait until next semester to have them taken.

All scholars (In-Person and Online) will be required to wear Heritage Uniforms for pictures.

Seniors will get pictures this day for their ID and Powerschool, but they will be receiving information in the mail about their Senior picture day which will be on Friday Oct. 16th.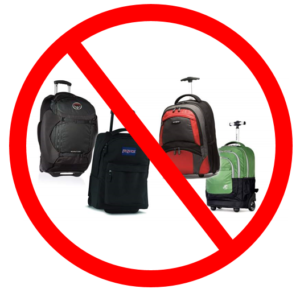 REMINDER:  NO ROLLING BACKPACKS ALLOWED ON CAMPUS 
As we get closer to coming back to campus, you will be shopping for new back packs!  For the safety of the scholars and staff, Heritage does not allow rolling backpacks on campus.  
ATHLETIC UPDATE
The CAA has released our start dates for the Fall Sports.
The HIGH SCHOOL TACKLE FOOTBALL season will have their first game the weekend of October 15th and will play through November 21st.
HIGH SCHOOL GIRLS VOLLEYBALL AND BOYS SOCCER'S competitive season will start September 28th and go through November 5th.
JUNIOR HIGH FALL SPORTS (GIRLS VOLLEYBALL, BOYS SOCCER, AND COED FLAG FOOTBALL) will start playing games the week of September 28th and will play until October 30th.
HIGH SCHOOL AND JUNIOR HIGH CROSS COUNTRY will begin attending meets the first weekend of October and will finish the first weekend in December.
Unfortunately, our fall competitive season for SWIM has been moved to the spring season.
Full schedules for the fall season will be available in the next couple weeks. For links to the calendar,
athletics
 packet, physical packet, and more, please visit our 
Athletics

 Site
.
For questions regarding our athletics program, please email our athletic director, Jeff Miller (jeffrey.miller@heritageacademyaz.com)