IMPORTANT DATES TO REMEMBER
9/25  (Wednesday) FIREHOUSE PTO FUNDRAISER – 4:00 – 8:00 pm

9/27 – 10/13 (2 Weeks) Fall Break – Enjoy some Family Time!!!
TEMPORARY OFFICE: 16000 Maricopa Rd. – Elements @ UltraStar (North side of building)

OFFICE HOURS: Monday – Thursday  7:30 am – 4:00 pm

SCHOOL HOURS: Monday – Thursday  8:00 am – 3:30 pm

PHONE: 520-367-3800

FAX: 520-367-3801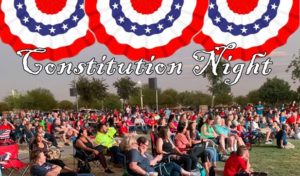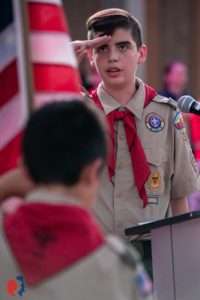 What a fun evening!!! Thank you so much for joining us for our first Constitution Night!  Our PTO moms did an amazing job organizing and planning the event.  Thank you to all of the teachers and scholars who participated and all of the families that attended!  A BIG THANK YOU to our keynote speaker, Judge Lyle Riggs, and Scout Troop # 389  for providing the flag ceremony.  We had performances from the Heritage Concert Band and Orchestra, JH Choir, Ballroom Dance, and Drama.  Scholar Council did a fantastic job as our Master of Ceremonies and the History Department was a hit with their cotton candy!  Photos By: Jonathan Williams/NationalPhotography.us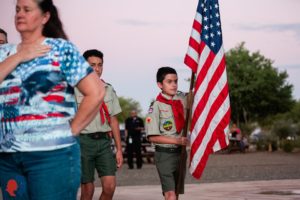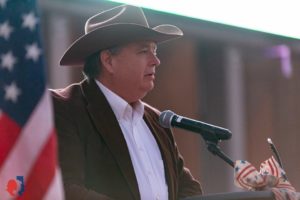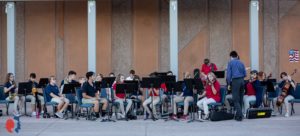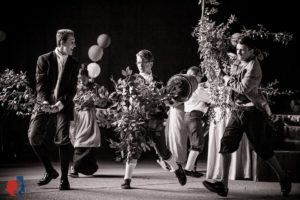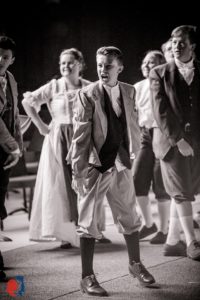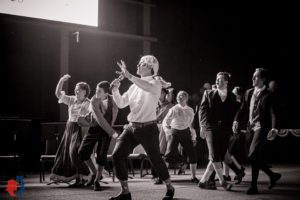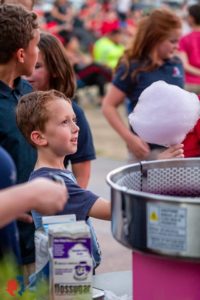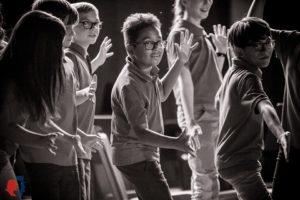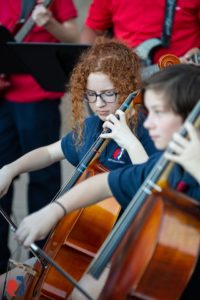 Join us THIS WEDNESDAY 9/25 anytime from 4:00 – 8:00 pm at our local Firehouse Subs.  15% of the proceeds will be donated to Heritage Academy.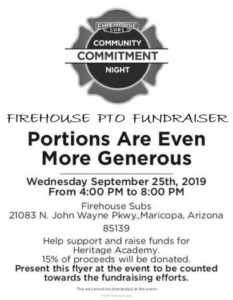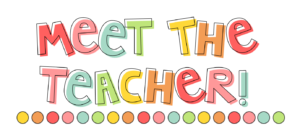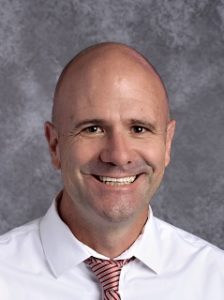 Heritage Academy introduces Mr. Marcus Ellsworth to the Maricopa Campus as our Drama Teacher and Golf Coach!
Marcus Ellsworth has a masters degree in youth theater from ASU and has been acting, directing and choreographing for over twenty years.  He has been teaching for Heritage Academy for five years at the Laveen campus and has directed shows including Thoroughly Modern Millie, West Side Story, Beauty and the Beast, Three Musketeers, Peter Pan and Wendy, and Addams Family.
Mr. Ellsworth and his sister founded Actor's Youth Theater in Gilbert and have been lucky enough to see their actors progress on to Broadway and television.  Marcus is excited to be bringing the drama program to the Maricopa campus.  He loves working with scholars and helping them achieve their goals.  Marcus is married to Kim and they have four awesome children, Parker, Ethan, Madilyn and Brady.
We are so excited to have Mr. Marcus Ellsworth as part of our Family of Heroes!

Is your Scholar not feeling well? 
When is your scholar too ill to be at school?
FEVER:  If a scholar has a temperature of 100 degrees or more, they should stay at home.  To return, they need to be fever-free without taking medication for 24 hours.
VOMITING AND DIARRHEA:  Please keep your scholar home if they are experiencing vomiting and/or diarrhea.  To return, they need to be free of symptoms for at least 24 hours after the last episode of vomiting and/or diarrhea.
ANTIBIOTIC TREATMENT:  If your child is on antibiotics for a communicable disease, such as strep throat, pink eye, etc, keep them home until they have been on the antibiotics for 24 hours.  
TO REPORT YOUR SCHOLAR ABSENT FROM SCHOOL:
Please call the office at 520-367-3800 by 10:00 AM 
DECORATIVE TRIM AND PAINT CONTINUES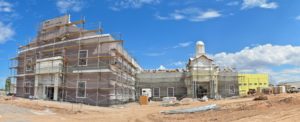 The decorative trim continues to be installed this week.  Paint continues on the inside and the ceiling tiles are almost complete.   The asphalt for the parking lot is scheduled to go the first week of October.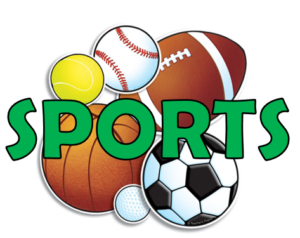 UPCOMING EVENTS…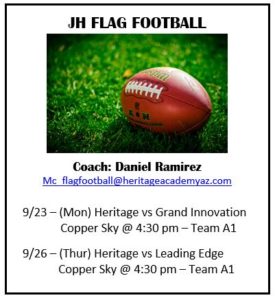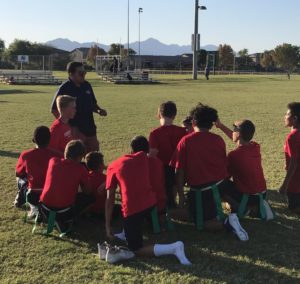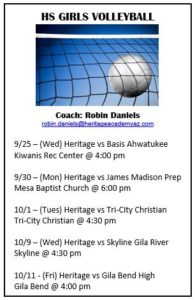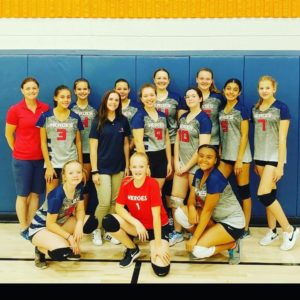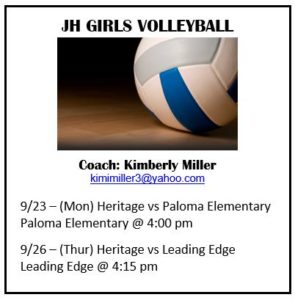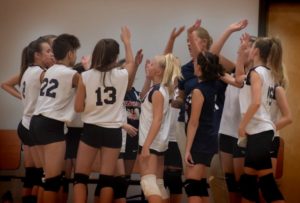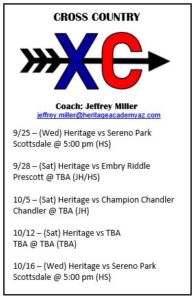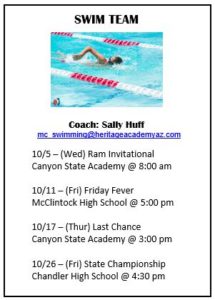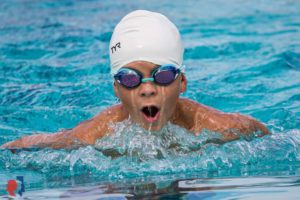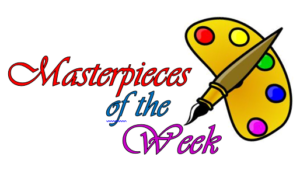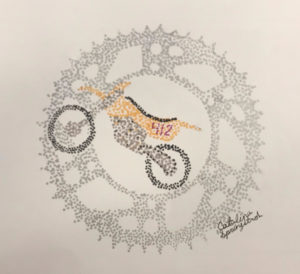 Artist: Catalina Springstroh 9
Artist: Nova Vogel 10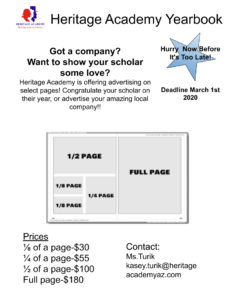 DON'T MISS THE DISCOUNT ON THE YEARBOOK!!!  
Go to www.treering.com/validate and enter 1015628559814512. 
Order by September 30th and 15% off + 2 FREE Customizable Pages!!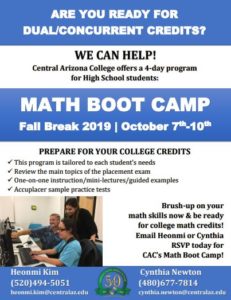 2019-2020 JH History Tour

 
Northern Arizona – April 29th & 30th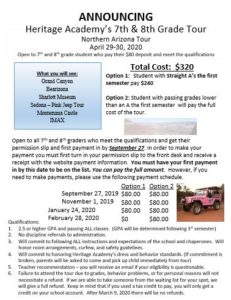 Please FILL OUT THIS TOUR AGREEMENT and return it to the front office!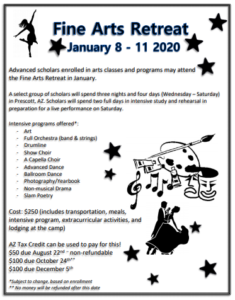 FINE ARTS RETREAT 2019-2020
(9-12 GRADE) & (6-8 GRADE BY INVITATION ONLY) 
January 8th-11th
CLICK HERE FOR PERMISSION FORMS