IMPORTANT DATES TO REMEMBER
9/27 – 10/13 (2 Weeks) Fall Break – Enjoy some Family Time!!!

10/17 PTO MEETING – Elements @ 6:30 pm

10/24 POWDER PUFF GAME – Pacana Park @ 4:00 pm

10/24 CHOIR CONCERT – Our Lady of Grace Parish  @ 6:30 pm
TEMPORARY OFFICE: 16000 Maricopa Rd. – Elements @ UltraStar (North side of building)

OFFICE HOURS: Monday – Thursday  7:30 am – 4:00 pm

SCHOOL HOURS: Monday – Thursday  8:00 am – 3:30 pm

PHONE: 520-367-3800

FAX: 520-367-3801


Happy Fall Break!  Hope everyone enjoys some well deserved time off!  

First Martial Arts Belt Promotion with Master Feiles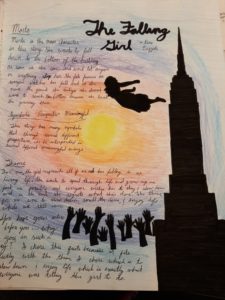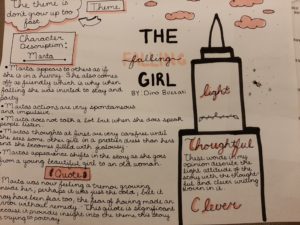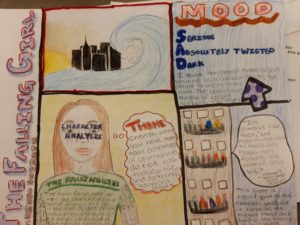 One pagers created by Mrs. Pepper's 10th grade English students demonstrating their creative understanding of a short story called "The Falling Girl".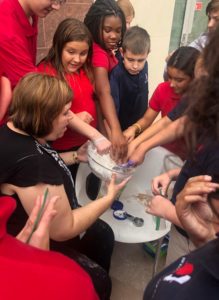 Science experiment with Mrs. Hoellwarth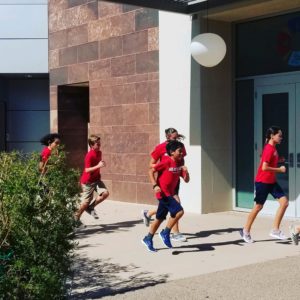 Cross country with Mr. Miller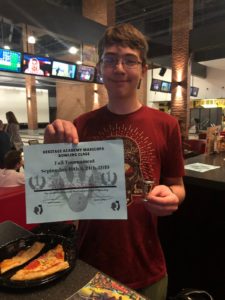 Bowling – Fall Tournament Winner: Nicholas Sclafani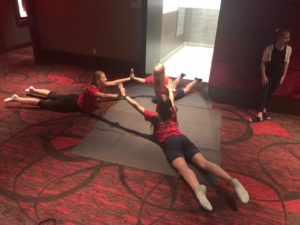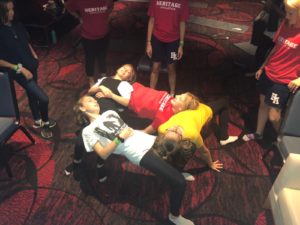 Partner Pilates with Ms. Lopez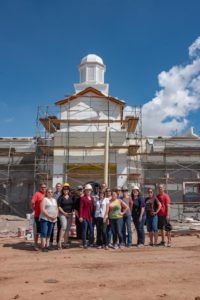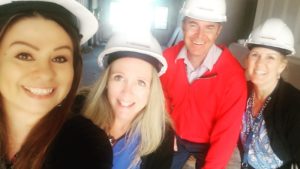 Heritage Staff Hard Hat Tour

Thank you to all of the families who came out to support our Firehouse Night! 

Don't miss the Powder Puff Game on October 24th – Pacana Park @ 4:00 pm!  Our boys will be cheering on our girls in a special number!  Come join in the fun and bring your canned food items for the F.O.R. Food Bank!  

If you have a scholar interested in the Junior High Softball Team please fill out the following survey! Thank you!

Save the Date for our Choir Concert!  October 24th – 6:30 @ Our Lady of Grace Parish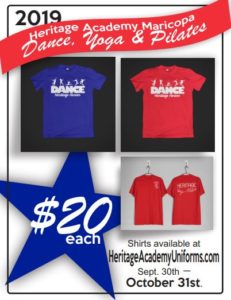 Support our Dance Department with a Dance, or Yoga & Pilates T-shirt!  
BUILDING UPDATE: 

Parents,
We cannot thank you enough for your kind words, continuous support, and constant patience with us, as we have ventured through our first quarter here at Elements and Ultra Star.  Your scholars have been amazing and flexible despite our non- traditional classroom setting.  We have been impressed with their good behaviors, their desire to work hard and their willingness to accept and work together with everyone.  Thank you for a great first quarter!
We will be returning to Elements on October 14th for the first week after October break.  The city has been working closely with us to limit the impact on our scholars and their families. They understand our building is behind and are doing everything in their power to get us in there as soon as possible.  We are planning to start school at our permanent location (41000 W Heroes Way) on October 21st.  This is the day our main building will be ready for us.
Our site will continue to be an active construction site as our gym and additional classroom buildings will still be worked on through the end of the semester.   Our scholar's safety is our number one concern.  We will have the construction areas fenced off and construction workers will not have access to the operating portions of campus at all.  We are excited to be on our campus and look forward to that day.  Please see the attached map for driveline instructions.
Sincerely,
Kimberly Ellsworth
Principal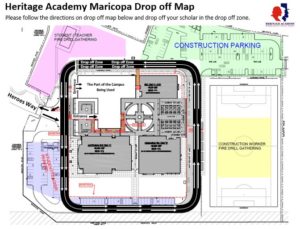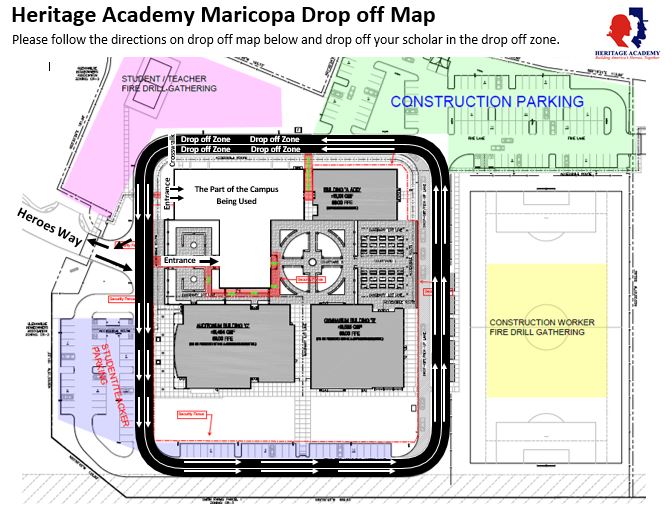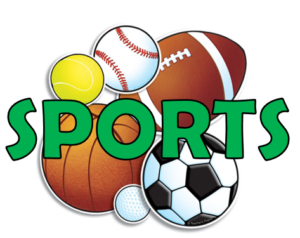 UPCOMING EVENTS…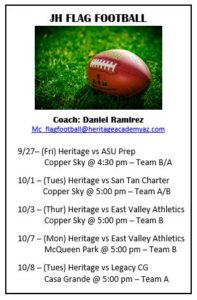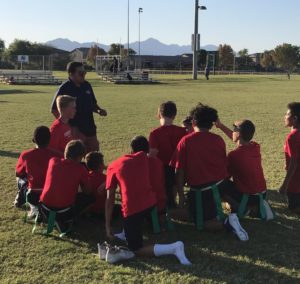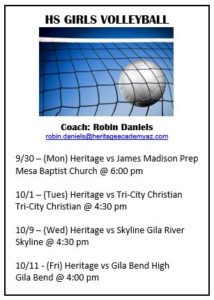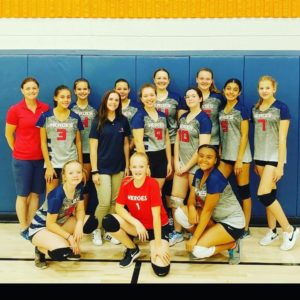 CONGRATULATIONS JH VOLLEYBALL ON AN AWESOME SEASON!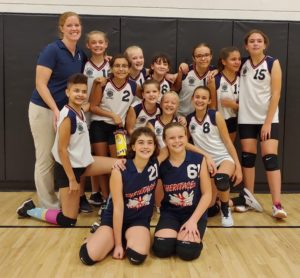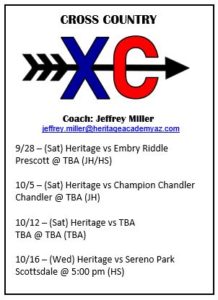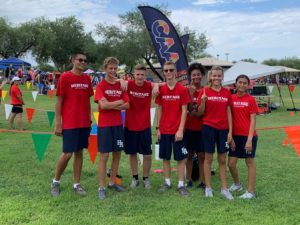 HS Cross Country Team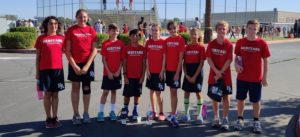 JH Cross Country Team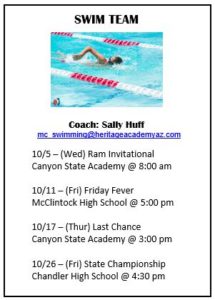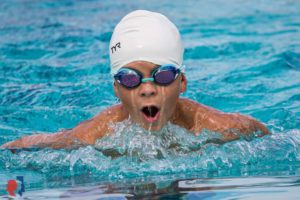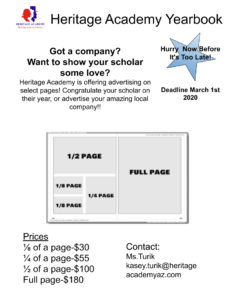 DON'T MISS THE DISCOUNT ON THE YEARBOOK!!!  
Go to www.treering.com/validate and enter 1015628559814512. 
Order by September 30th and 15% off + 2 FREE Customizable Pages!!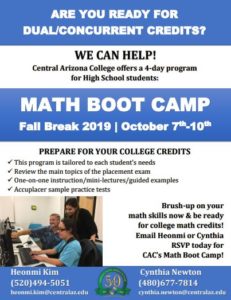 2019-2020 JH History Tour

 
Northern Arizona – April 29th & 30th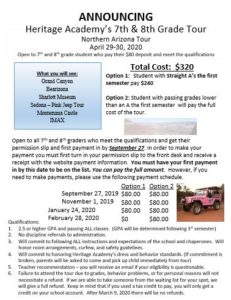 Please FILL OUT THIS TOUR AGREEMENT and return it to the front office!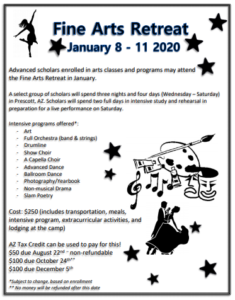 FINE ARTS RETREAT 2019-2020
(9-12 GRADE) & (6-8 GRADE BY INVITATION ONLY) 
January 8th-11th
CLICK HERE FOR PERMISSION FORMS