Athletics
2022-2023 Heritage Academy Athletics
Heroes Bring Home 6 State Championships in 21-22!
The Heritage Academy Maricopa Heroes completed our third season of competition in the Canyon Athletic Association (CAA) and brought home six state championships to add to their one from the previous year.
Heroes soccer is gaining a reputation around the CAA.  The year started with a JH Coed Soccer state championship.  The Heroes won a runner-up trophy the season before on the strength of many eighth graders.  This year, Coach Hill took a young team, loaded with talented sixth graders, to the state championship game and brought home the hardware and our first JH state championship.  Sixth grader Dash Harris and Seventh grader Izzy Gomez were both awarded male and female Players of the Game honors, respectively.
Hero wrestlers fought for a state championship in the winter season.  In their first full year of competition, Coach Hettinger's dedication bore fruit as the wrestling team grew and improved throughout the season.   The team won a couple meets towards the end of the season which sparked hope for what they could do in the championship meet.  In the state championship meet, the Heroes put nine wrestlers on the podium, including three 2022 individual state champions, Corbin Infiesto (106), Christian Mylek (144), and Caleb Weyrauch (157).  We had our first female wrestler compete, Jasmine Romero, and she won an individual state championship as well. The boys garnered their team enough points to win the 2022 team state championship.
Flag football won our second JH state championship.  Once again, or JH players were undersized against most teams they played.  Coaches Schalow and Doscher used speed and creative play-calling to their advantage and won the championship game in overtime.  Seventh grade QB, Noah Lewis, was awarded Player of the Game.
In the spring season, we had three teams that dominated their way to their state championship games.
Baseball, led by Coach Carpenter, capped off an undefeated season with a state championship game in which they won by run-ruling their opponent, 10-0.  The team had 5 seniors, including Mykah Espinueva who pitched the shut out in the championship game and was awarded Player of the Game.  Senior Andrew Hopper was awarded CAA Player of the Year.
Softball won a state runner-up trophy last year and began this year determined to win it all.  Coach Zappa led the girls to the last game of the regular season undefeated when they faced off with another undefeated team.  They came up short that game, but knew they would get a second chance in the playoffs.  They met that same team in the championship game and started scoring runs early.  They jumped out to an early lead, up 9-1.  They knew they would face a fight back, but held on to win 15-12.  Freshman pitcher, Kenia Martin-Cruz won the Player of the Game trophy.
Girls soccer looked to repeat their championship run from the year before.  They had some notable players not return for this season, including the CAA Player of the Year from the 21-22 season.  However, the team as a whole was more experienced and with the addition of talented new players, they finished the regular season in second place with two losses coming from the same team.  It was the same team that the Heroes faced in that state championship game the year before when the Heroes won 5-4 in overtime.  They met again in the championship game and the Heroes were ready.  The Heroes dominated the game from beginning to end, shutting them out and winning 4-0.  Seventh grader, Izzy Gomez, was again awarded the Player of the Game and Freshman, Mady Huffaker, won CAA Player of the Year honors.
Great job to all the teams and individuals that competed for the Heroes this year!
Let's Go Heroes!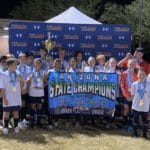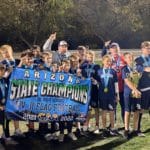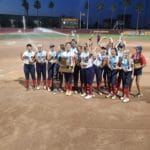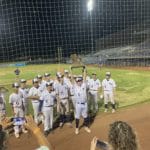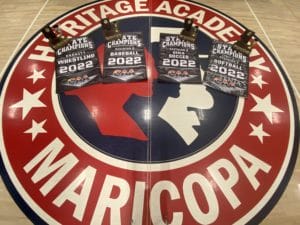 Welcome to our athletics page! Heritage Academy employs the best coaches & faculty in Arizona. Part of being the best includes knowing what makes a good team and how to have fun while developing character in youth through academics and athletics. We invite you to come take a tour, meet our staff, come watch a game, and see how our scholars are excelling in the classroom and in competition.
We compete in the CAA (http://azcaapreps.com)
Below are the forms that both scholars and parents need to review and fill out before participating in sports.
1.) 2022 23 Canyon Athletic Association – Athlete physical form required by the CAA for participation in competitive sports.
2.)  Athletic-Packet_Maricopa-2022-2023 – This packet needs to be printed and returned to campus.  It consists of emergency contact information and consent to treat, parent and athlete code of contact, class fee acknowledgement, transportation permission, insurance information, concussion form, and ECA tax credit information.
3.)Concussion in Sports (For HS Athletes Only)- Must be watched prior to any participation once during your high school tenure. Please watch the video and answer all questions (aprox 30 minutes). Then either download the certificate to your computer and email it to Mrs. Taylor (Joanne.Taylor@HeritageAcademyAZ.com) or print it and bring it to school.  Once you have a completion code while a high school student, you do NOT need to do it again.
4.) Heritage Academy Academic Eligibility – As a reminder, Heritage Academy has an academic eligibility requirement in order to compete. From our handbook: "Academic Eligibility to Compete: Scholar Athlete grades are checked every Monday during the sports season. Players must be passing with 70% or above in each of their individual classes to participate in the game/meet, for that week. Eligibility, therefore, is determined on a week-to-week basis."  A weekly email is sent to parents and scholars alerting them of any ineligibility.                                                                                 
Below are some articles recommended by our athletic staff:
1. "Coaching from the Sidelines"
2. Heritage Academy strongly encourages and recommends that all of our Athletes be Multi-Sport Athletes https://changingthegameproject.com/the-race-to-nowhere-in-youth-sports/
__________________________________________________________________________________________________________
We are always looking for top coaching talent to help from the varsity level to junior high.  If you are interested in finding out more information, please email the athletic director, Mr. Miller at jeffrey.miller@heritageacademyaz.com