Athletics
2023-2024 Heritage Academy Athletics
Heroes Win Back-to-Back Championships in JH Coed Soccer, Varsity Wrestling, Varsity Softball & Varsity Baseball
Heritage Academy Maricopa added four more team banners to the gym in 22-23 including multiple individual medals.  JH coed soccer started us off in the fall with their second championship.  JH coed soccer has not lost in two years and has dominated the CAA.  This year, in their 12 games, they scored over 100 goals and only allowed 3.  Varsity wrestling was ready to defend their team championship in the winter season.  They rolled through the regular season winning multiple meets and came into the state championship as the favorite.  The Heroes won 5 gold medals (Gabriella Green, Alexander Mylek 113, Reagan Fonner 120, Christian Mylek 165, & Lee Kondravy 285) on the way to their second consecutive team championship.  Varsity baseball and softball are both spring sports.  Baseball had one loss in the regular season and softball went undefeated.  Both teams showed exceptional heart having to come from behind to win their championship games, but doing as they have all season, they fought to the last out and were crowned champions!  Leander Vale and Brooke Anderson were both awarded Player of the Game.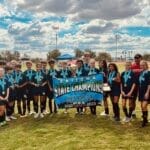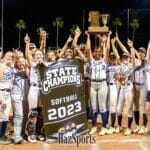 We are excited for what 23-24 will bring!
Welcome to our athletics page! Heritage Academy employs the best coaches & faculty in Arizona. Part of being the best includes knowing what makes a good team and how to have fun while developing character in youth through academics and athletics. We invite you to come take a tour, meet our staff, come watch a game, and see how our scholars are excelling in the classroom and in competition.
We compete in the CAA (http://azcaapreps.com)
Below are the forms that both scholars and parents need to review and fill out before participating in sports.
1.) 23-24 CAA Physical Packet – Athlete physical form required by the CAA for participation in competitive sports.
2.)  Heritage Maricopa Athletics Packet 23-24  – This packet needs to be printed and returned to campus.  It consists of emergency contact information and consent to treat, parent and athlete code of contact, class fee acknowledgement, transportation permission, insurance information, concussion form, and ECA tax credit information.
3.)Concussion in Sports (For HS Athletes Only)- Must be watched prior to any participation once during your high school tenure. Please watch the video and answer all questions (aprox 30 minutes). Then either download the certificate to your computer and email it to Mrs. Taylor (Joanne.Taylor@HeritageAcademyAZ.com) or print it and bring it to school.  Once you have a completion code while a high school student, you do NOT need to do it again.
4.) Heritage Academy Academic Eligibility – As a reminder, Heritage Academy has an academic eligibility requirement in order to compete. From our handbook: "Academic Eligibility to Compete: Scholar Athlete grades are checked every Monday during the sports season. Players must be passing with 70% or above in each of their individual classes to participate in the game/meet, for that week. Eligibility, therefore, is determined on a week-to-week basis."  A weekly email is sent to parents and scholars alerting them of any ineligibility.                                                                                 
Below are some articles recommended by our athletic staff:
1. "Coaching from the Sidelines"
2. Heritage Academy strongly encourages and recommends that all of our Athletes be Multi-Sport Athletes https://changingthegameproject.com/the-race-to-nowhere-in-youth-sports/
__________________________________________________________________________________________________________
We are always looking for top coaching talent to help from the varsity level to junior high.  If you are interested in finding out more information, please email the athletic director, Mr. Miller at jeffrey.miller@heritageacademyaz.com