IMPORTANT DATES TO REMEMBER
1/20  – JH TACKLE FOOTBALL HOME GAME –  4 PM

1/21  – HOME WRESTLING TOURNAMENT – 9 AM to 4 PM

1/23 – GIRLS JH BASKETBALL HOME GAME – 4:30 PM

1/23 – GIRLS VARSITY BASKETBALL HOME GAME – 6 PM

1/24 – GIRLS JH BASKETBALL HOME GAME – 4:30 PM

1/26  – DOUGHNUTS AND DUDS – details to come

1/26  – HOME WRESTLING TOURNAMENT/SENIOR NIGHT – 5 PM

1/26  – BARRO'S PTO FUNDRAISER – see post for details

1/27 – JH TACKLE FOOTBALL HOME GAME – 4 PM

1/27 – JHGIRLS JH BASKETBALL HOME GAME – 4:30 PM

1/27-1/28  – CHOIR/BAND/ORCHESTRA REGIONAL AUDITIONS – details to come

1/30  – LETTERMAN JACKET DAY FOR VARSITY ATHLETES – see post for details

2/9 – JH VALENTINE'S ACTIVITY -more details to come

2/17  – HS VALENTINE'S PICNIC – more details to come

2/20-2/21  – PRESIDENT'S DAY – no school

2/22-2/23  – JH ARIZONA TRIP – required prior sign up

2/24  – MAKING OF AMERICA SEMINAR – see post for details
IMPORTANT SCHOOL INFORMATION

Our Mission Statement
Heritage Academy is dedicated to youth, their growth and development. The purpose of education is to build strong character. Strong character is reflected in strong families, strong communities and a strong nation.
While teaching the academic disciplines, Heritage Academy is dedicated to instilling into the minds and hearts of today's youth a knowledge of and respect for the ideals and values of the great men and women of history, including those who founded the American nation.
As today's rising generation gains an appreciation of these people of accomplishment, they will be ready to provide the selfless service to their fellow citizens and to their country which will be required in the coming years to assist in preserving America's greatness. Heritage Academy exists to this end.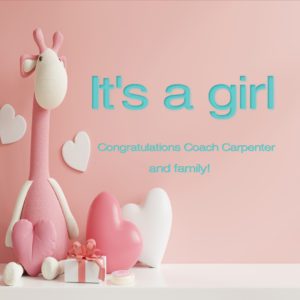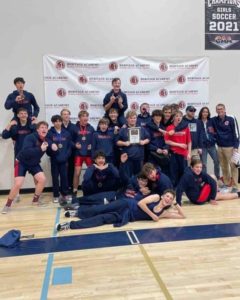 Come and support our Heritage Wrestling Team!
They can't stop winning!!!
SCHOLAR COUNCIL PRESENTS…DOLLARS FOR DUDS
PTO OFFERS $1.00 DOUGHNUTS
THURSDAY, JANUARY 26th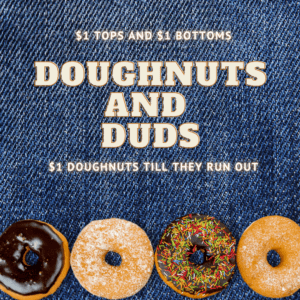 On Dollars for Duds days, scholars are allowed to wear non-uniform clothing (INCLUDING JEANS) that meet Heritage Standards.  $1.00 for shirt and $1.00 for pants/shorts. Wristbands purchased for participation must be worn on your scholar's wrist throughout the day.  Dollars for Duds is optional, and scholars do not have to participate. Money raised goes to support Scholar Council and the school activities and dances they support.
Heritage Standard means: no sleeveless or midriff shirts; shorts must be 4″ from the middle of the knee and skirts must come to the middle of the knee; no pants or shorts that are ripped, torn or frayed; no leggings; no inappropriate slogans or symbols on the clothing; and NO PAJAMAS.
If a scholar is wearing inappropriate clothing, they will be dress coded and will need to change into uniforms we have on hand in the office.
The PTO will be offering $1 doughnuts until they are gone that Thursday morning!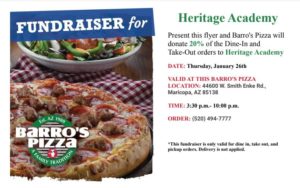 Support Heritage Maricopa
Flyers can be found at the front office.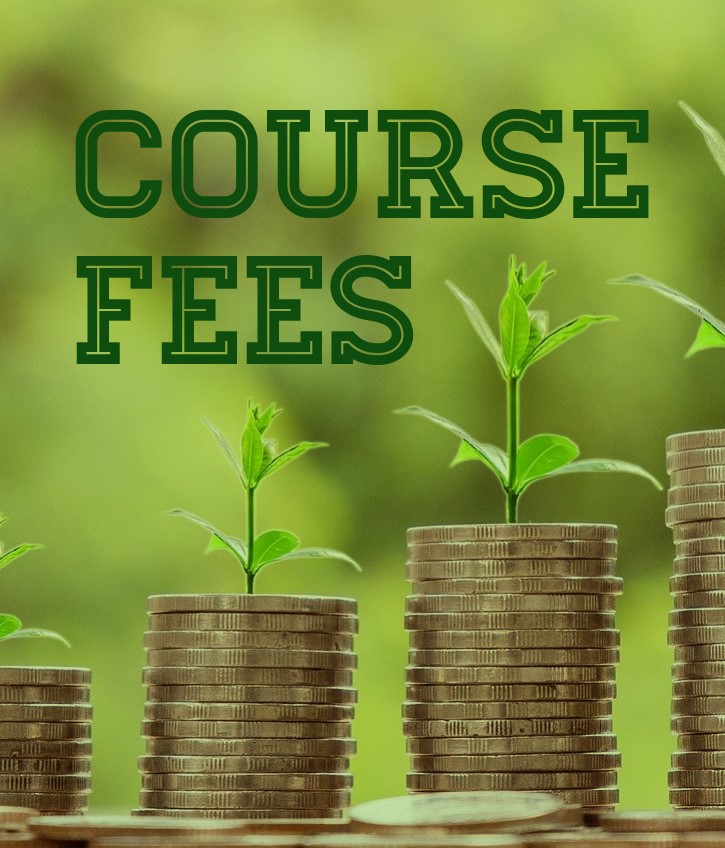 Course fees for all SECOND SEMESTER classes are DUE on THURSDAY, 1/19.  Invoices have been sent out and if you have an ECA credit, it has been applied to your scholars balance. 
Scholars with a fee balance past MONDAY, JANUARY 23rd will be DROPPED from all fee-bearing classes and will not be enrolled back in for the remainder of the semester.
As a reminder, our course fees are for the class, not the sport.  Even if your scholar is not playing on a competitive team, you are still responsible for paying the course fee as is listed on the course request form completed at registration.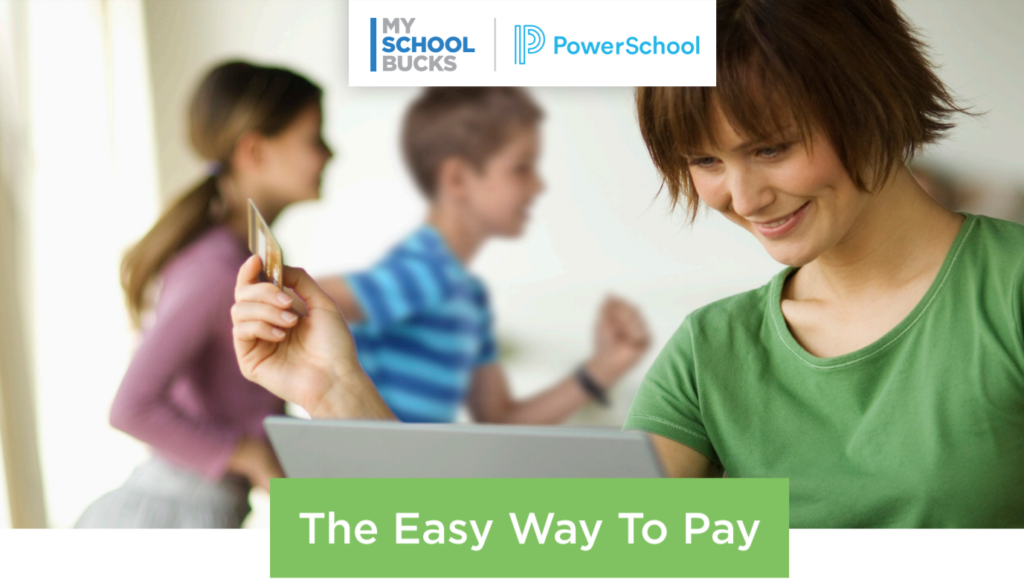 MySchoolBucks is our payment system for course fees and to make purchases through the school store.
To create your account go to MySchoolBucks.com and follow these instructions:
Click "Sign Up Free"
Follow the step by step instructions to add our school and your scholars to your account.  Our district is Heritage Academy Inc.  
Click on "School Store" on the top menu bar for a list of options.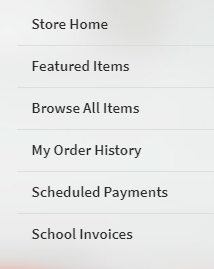 If you click on "Store Home" it will take you to where you can purchase items like a parking permit, pay your PTO dues, or rent your choir robes.
If you click on "School Invoices" this is where your current course fees and end of year school balances from last year will be listed.  You will be able to make a payment right through this system!
It's a brand new year to donate to ECA funds.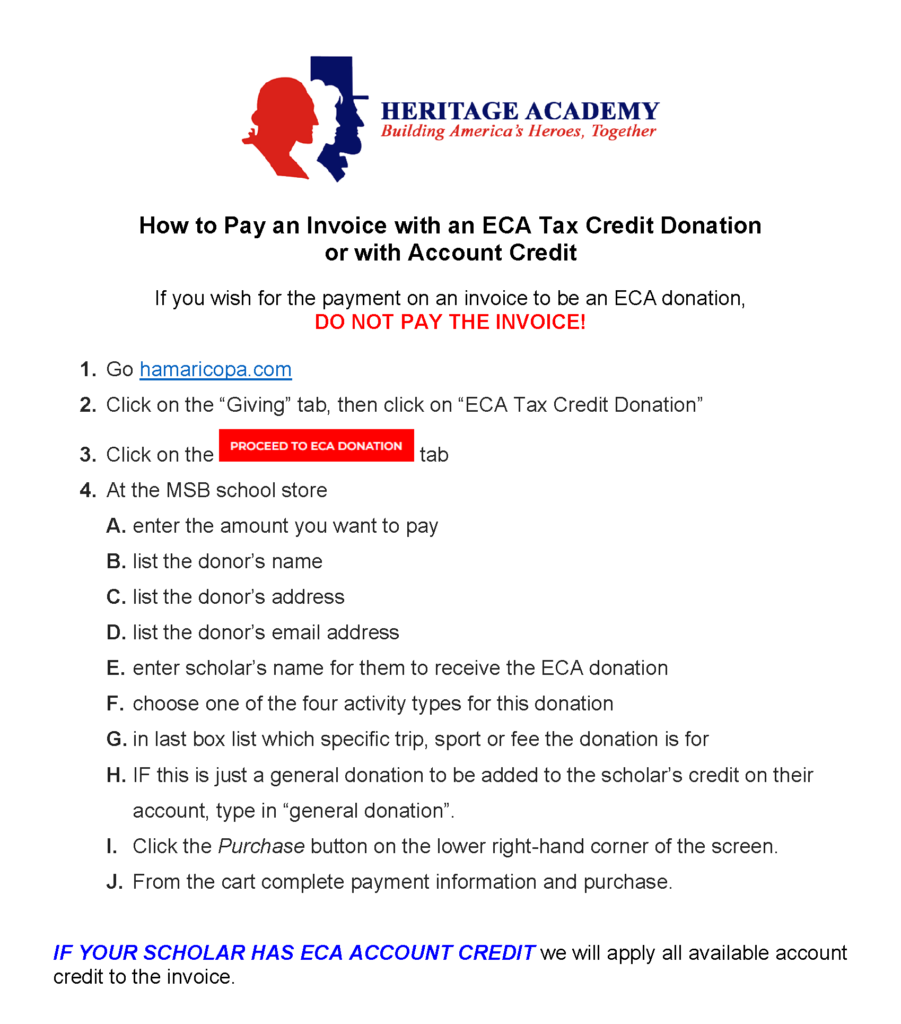 You can use ECA tax credit funds for tours, sports, and fees! 
Click
HERE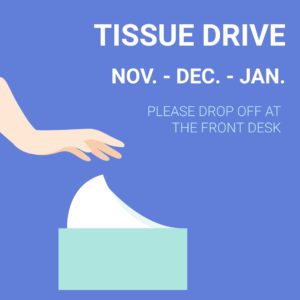 A HUGE thank you to those sending in tissues!
 We are still in need of donations.
Please consider donating tissues, we are still VERY LOW on our tissue supply.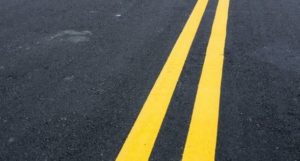 DRIVELINE REMINDER!
PLEASE remember that 0ur driveline is being monitored closely this year.  No one can park on the street outside of our campus before the driveline.  Parents must park in our "cell phone lot" until our gates are open at 3:15. Our city and our neighbors need your cooperation.
Teachers on the lookout for items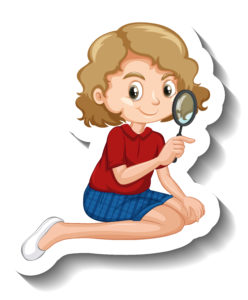 Mrs. Steelman is looking to rehome a few old tablets/iPads, laptops, or even old cellphones (with their charging cords) for use in her classroom. You can wipe/clear all of your data, but they need to have the capability to access the internet. Please bring any donations to the front office for Mrs. Steelman, Room 148.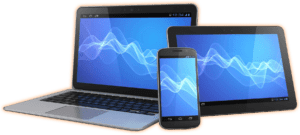 Did you get a new phone, computer, or tablet for Christmas?
Mrs. Steelman can use your old devices!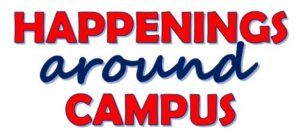 These Heritage Scholars won awards at the recent Arts retreat!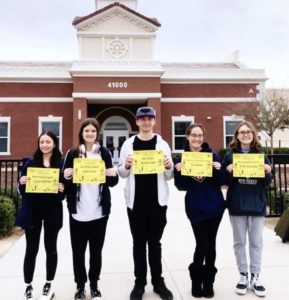 Do you have the new HERITAGE MERCH yet?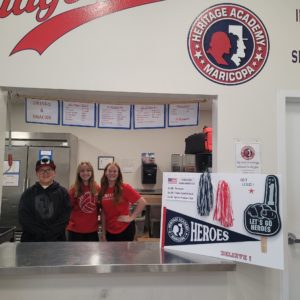 Talent Show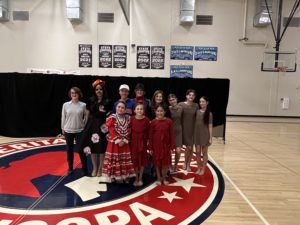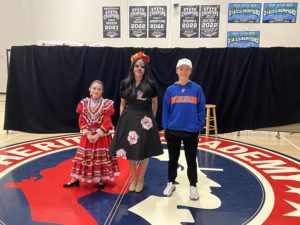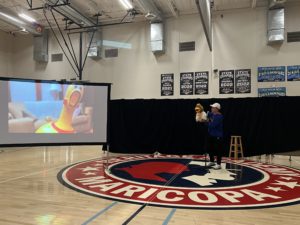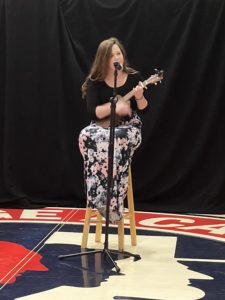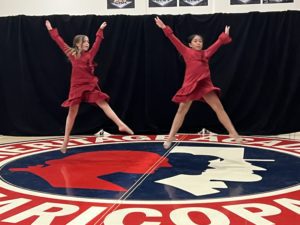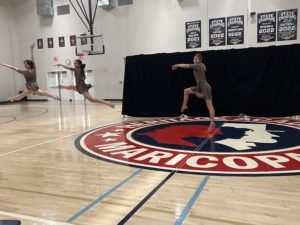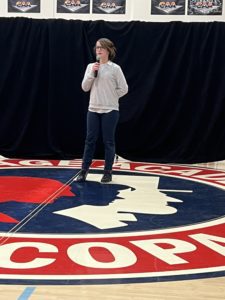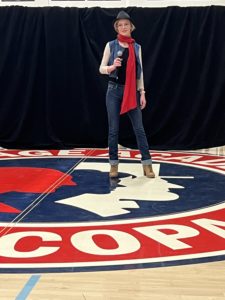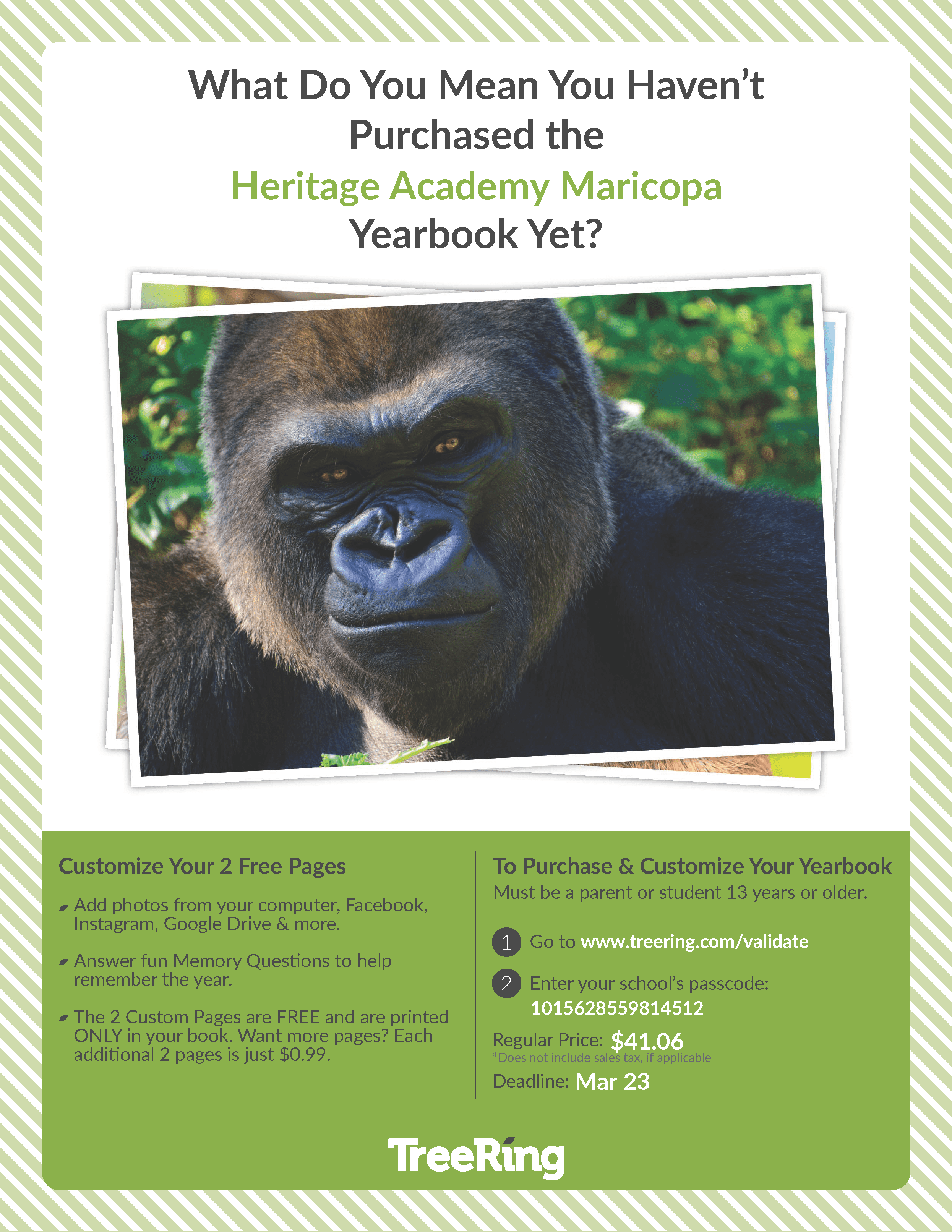 THE 2023-2024 SCHOOL CALENDAR IS HERE!!!  
SCHOLARS SHOULD NOT BE SIGNED OUT BETWEEN 2:30-3:30 PM
Need to schedule an appointment for your scholar during school hours? We ask that you try and schedule appointments on Fridays when the scholars are out of school.  We know this isn't always possible due to days and hours of operation, however due to our driveline, we are not able to sign scholars out after 2:30 pm.  If you have an appointment for your scholar, we will need you to pick them up before 2:30 pm or wait until school is out to pick up your scholar.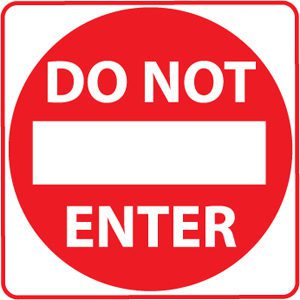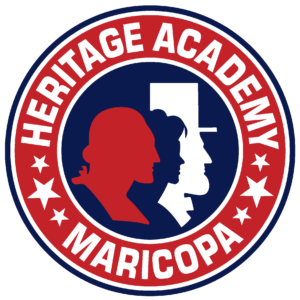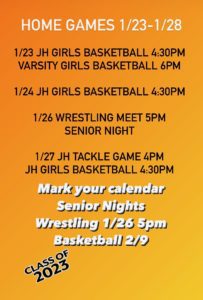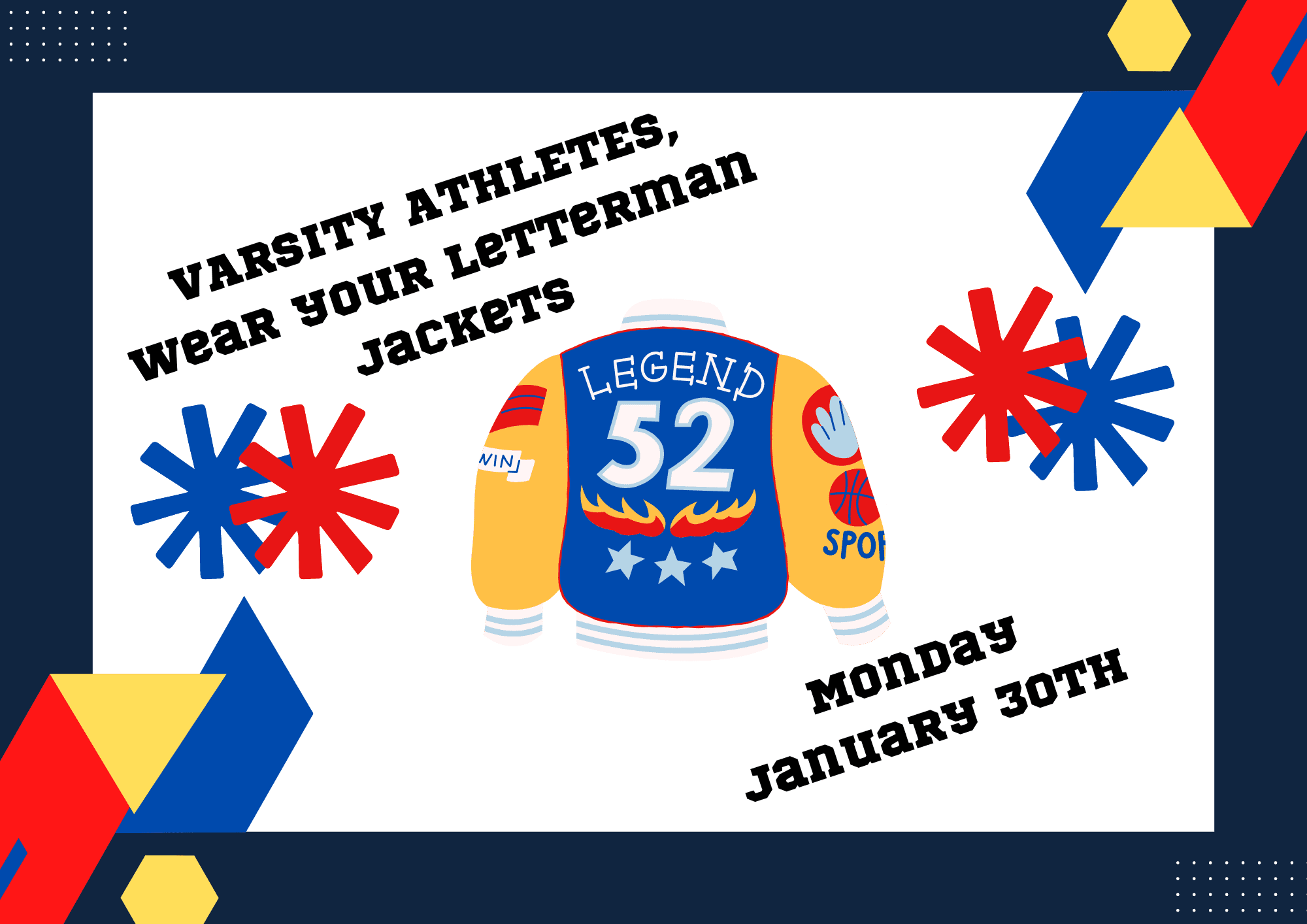 ***CHECK OUT OUR HEROES FAN SHOP***
***LOOK FOR OUR NEW FAN MERCH!!!***
Sold at home games starting tomorrow, Saturday 14th, for our home multi school wrestling meet from 8 AM – 4 PM.  Items will be sold after school as well, see Mrs. Taylor for purchase!  CASH ONLY SALES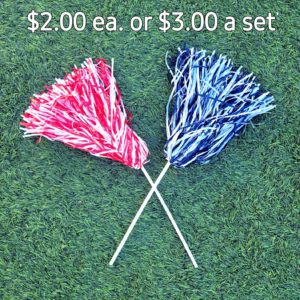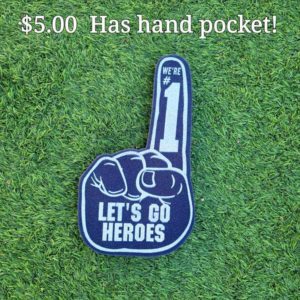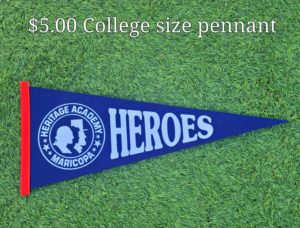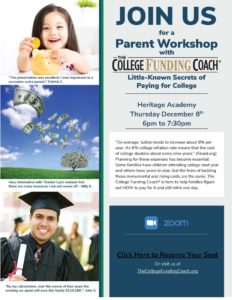 CLICK HERE to check the website of The College Funding Coach
Register for the FREE educational workshop HERE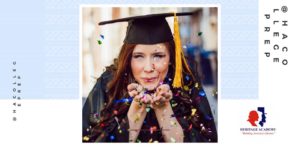 Has your high school scholar created a 4 year plan yet?
Heritage Academy offers advising to every scholar on campus. Mr. McCambridge will coach them along their college prep path, get them enrolled in college while in high school, and set up for future success!
Parents and scholars….. Do you have questions regarding college or high school planning?
Below is a list of topics that you may want to consider.
High school course selection
Early College Program – Dual enrollment, AP & CLEP
Earning an Associates Degree at Heritage Academy
ACT/SAT/PSAT (Which test and when?)
Financial Aid (Scholarships, Grants, Loans & FAFSA)
To schedule your appointment with Mr. McCambridge, please visit https://calendly.com/greg-mcca
REMEMBER TO BRING YOUR LUNCH!! 
NO OUTSIDE FOOD IS ALLOWED
COMMUNICATE WITH YOUR SCHOLAR 
DID YOU ORDER LUNCH? 
HERE ARE A FEW REMINDERS:  
Change your scholars grade level under your profile.

Communicate with your scholar if you ordered lunch for them so they know to pick it up.

If a lunch is ordered and not picked up during lunch time, it will be donated.

If your scholar is absent, cancel the order or contact the front office if you want it saved by 10:00 am, otherwise it will be donated.

If you want a friend to pick up your lunch, it must be communicated to the front office by 10:00 am so the records can be updated.
DRESS CODE REMINDERS
Khaki pants need to be cream, beige, or khaki in color (according to the chart below).  The colors that are crossed out in red are not approved.