IMPORTANT DATES TO REMEMBER
5/26-7/19 –  SUMMER BREAK 

7/14 – MEET THE TEACHER – 6:00 pm (See Post for Details)

7/20 – FIRST DAY OF SCHOOL – 8:00 am
IMPORTANT SCHOOL INFORMATION

Our Mission Statement
Heritage Academy is dedicated to youth, their growth and development. The purpose of education is to build strong character. Strong character is reflected in strong families, strong communities and a strong nation.
While teaching the academic disciplines, Heritage Academy is dedicated to instilling into the minds and hearts of today's youth a knowledge of and respect for the ideals and values of the great men and women of history, including those who founded the American nation.
As today's rising generation gains an appreciation of these people of accomplishment, they will be ready to provide the selfless service to their fellow citizens and to their country which will be required in the coming years to assist in preserving America's greatness. Heritage Academy exists to this end.

Is  your scholar moving or transferring to another school next year?  If you haven't already done so, please complete the
WITHDRAWAL FORM.
We will process the required paperwork and let you know when it is ready.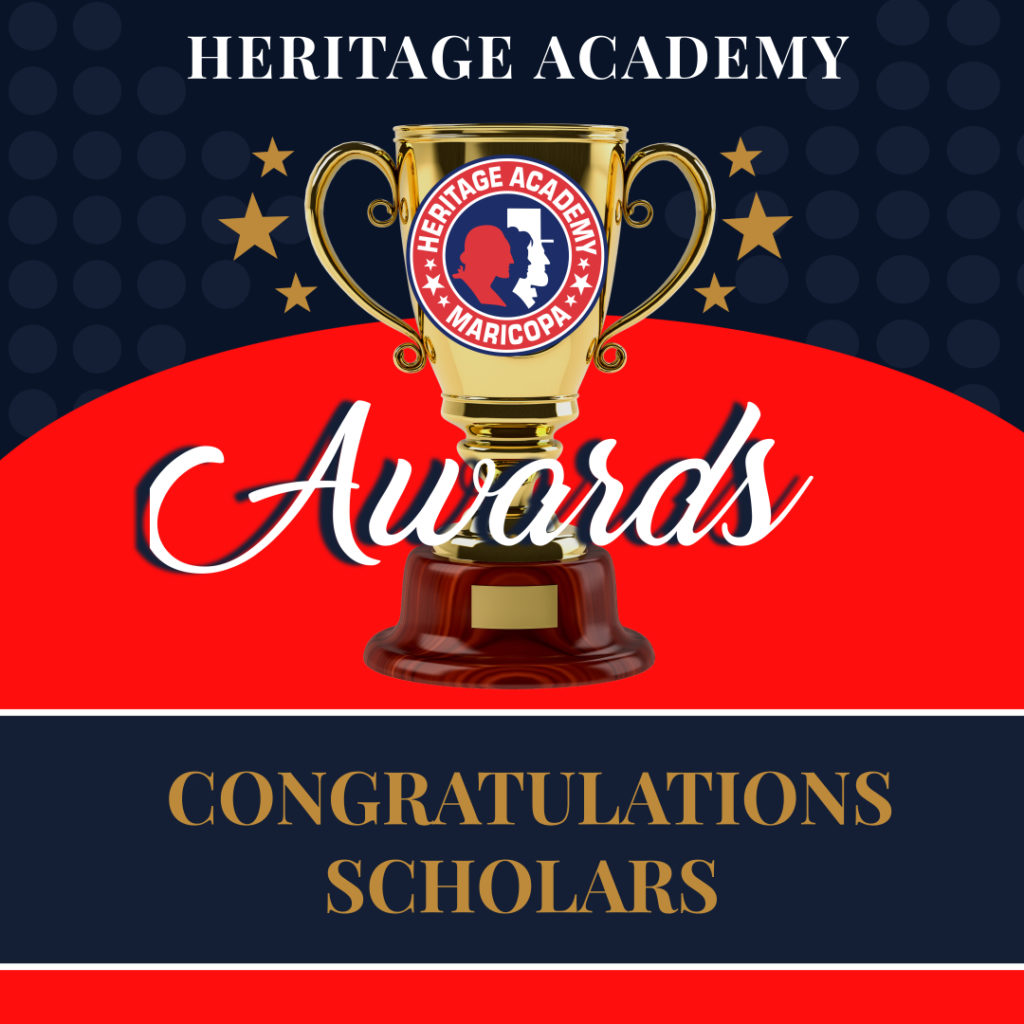 Congratulations to the following scholars for earning academic excellence for the 2021-2022 school year:
High School Awards
HS AWARDS PHOTO ALBUM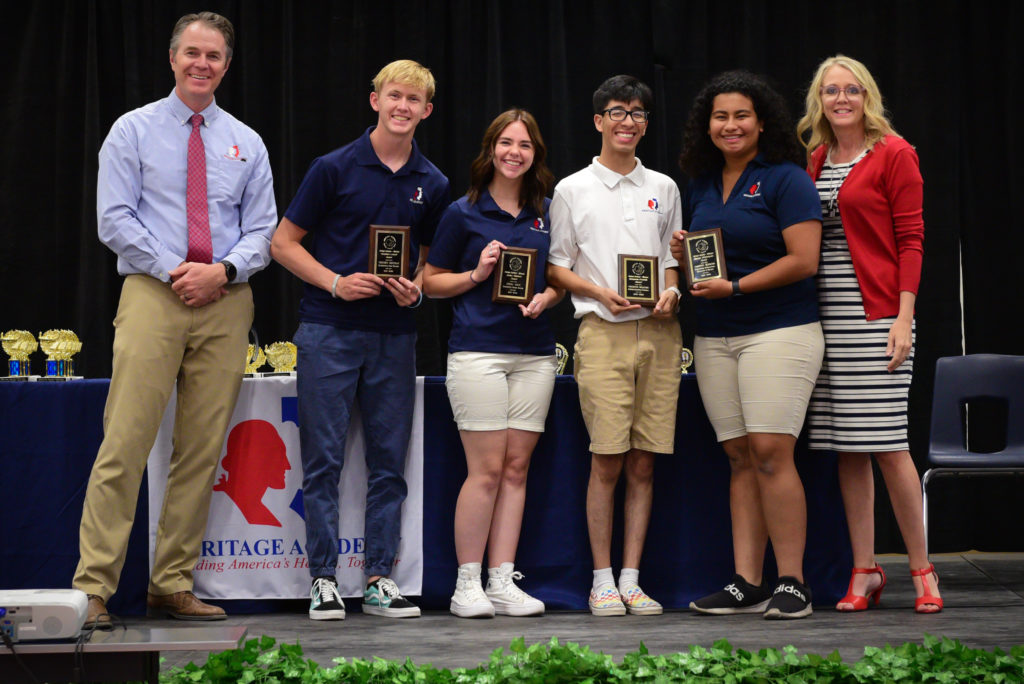 Senior Awards: Kimberly Ellsworth
George Washington – Outstanding Achievement, Character and Service: Jasmine Romero
Abraham Lincoln – Outstanding Male Scholar: Treyden Hoffman
Dolly Madison – Outstanding Female Scholar: Emma Rich
Benjamin Franklin – Outstanding Improvement and Persistence : Vicente Delgado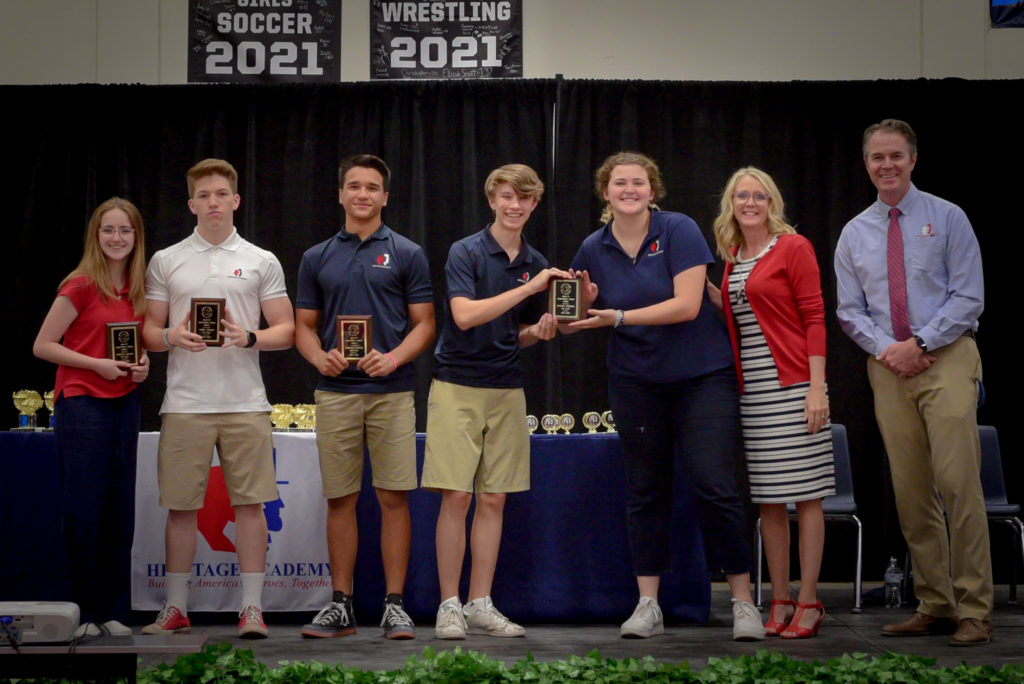 Spirit of Heritage Awards: Kim Ellsworth
9th Grade Scholar: Ashley Adams
10th Grade Scholar: Dane Adams
10th Grade Scholar: Christian Mylek 
11th Grade Scholar: Tanner Webster
12th Grade Scholar: Elise Tilbury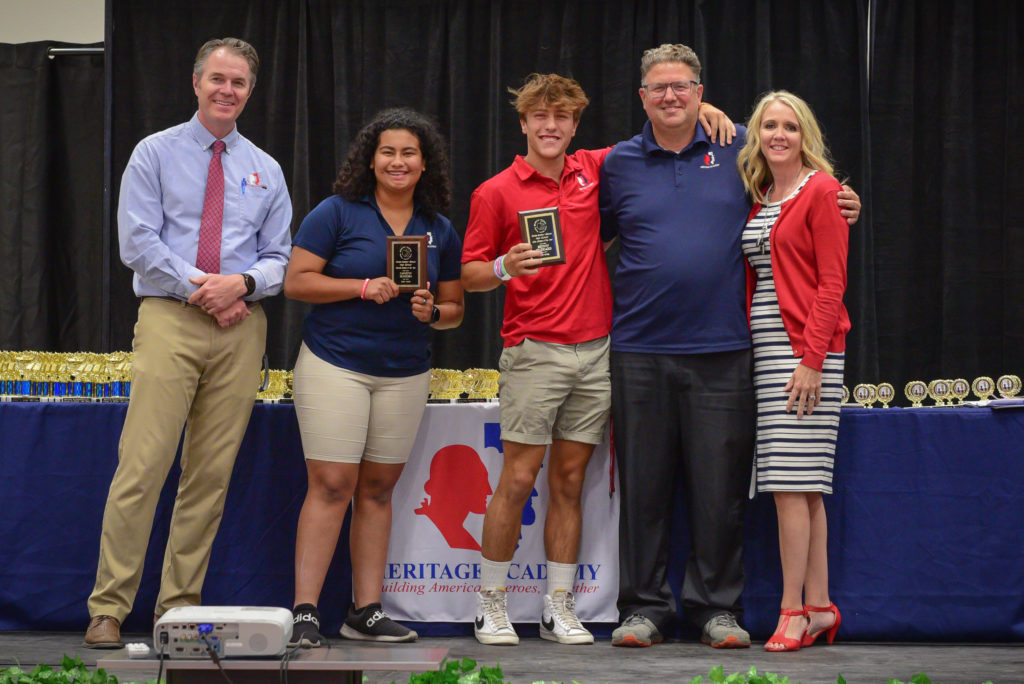 Athlete of the Year Awards: Jeff Miller
Male Scholar: Bryson Stoddard
Female Scholar: Jasmine Romero
English Department: Christy Pepper, Emily Brems, Michelle Gibson
Scholar 1: Luey Diaz
Scholar 2: Liliana Munoz
Scholar 3: Lorelei Adams
English Department – Yearbook: Kasey Turik
Scholar 1: Avory Oosthuizen
English Department – Creative Writing: Robin Daniels  
Scholar 1: Madison Martin
Foreign Language: Siria Contreras Salazar, Enrique Rivera, Sherrie Licon   
Scholar 1: Spa-Peyton Gray
Scholar 2: Fren- Karsten Bogle
Scholar 3: ASL-Emily Turik
Science Department: Joe Klepher, Matthew Ormand, Jeffry Miller, Shannon Hilsinger  
Scholar 1: Malena Green
Scholar 2: Delaney Jacobs
Scholar 3: Tyler Ormond
Math Department: Tanner Carpenter, Colin Comerford, Danielle Steelman, Courtney Deaver
Scholar 1: Karsten Bogle
Scholar 2: Brayden Hill
Scholar 3: Robert Huff
History Department: Lyle Hamblin, David Hettinger, Alethea Allen
Scholar 1: Kimmie Holmes
Scholar 2: Rachel Skousen
Scholar 3: Remember Erhart
Computers/Typing: Jennifer Ford  
Scholar 1: Anne Monson
Scholar 2: Martreon Risper
Performing Arts – Drama: Marcus Ellsworth  
Scholar 1: Grace Huffaker
Scholar 2: Tanner Webster
Performing Arts – Film Production: David Hettinger
Scholar 1: Collaborative Award for Laila Burrow, Hannah Marney & Nataly Bejar
Performing Arts – Choir: Nephi Bunker
Scholar 1: Cienna West
Scholar 2: Tyler Trimmer
Performing Arts – Band/Orchestra: Tanyon Berry
Scholar 1: Lilyana Sabo
Scholar 2: Aiden McDonald
Performing Arts – Dance:
Scholar 1: Emily Turik
Scholar 2: Dexton Bushman
Fine Arts Department: Stephanie Schwarzen 
Scholar 1: Elise Tilbury
Scholar 2: Robert Huff
Fine Arts – Photography: Sally Huff   
Scholar 1: Michael Watson
Martial Arts: Lee Feiles 
Scholar 1: Ekirai Boyd
Scholar 2: Carlos Gralian
Physical Education: Tony Rowan, Derek Zappa, Carrie Ormond
Scholar 1: Grace Martin
Scholar 2: Brecken Bogle

HS STRAIGHT A'S
Dane Adams
Lorelei Adams
Lucas Adams
Karsten Bogle
Brecken Bogle
Melanie Jane Briones
Brianna Burch
Dayanha Caceres
Valerie Camacho
Matthew Carr
Adam Carroll
Mandy Carroll
Sharon Carter
Luey Diaz
Abigail Dirks
Madilyn Ellsworth
Remember Erhart
Kirk Evans
Antony Gjika
Valerie Glasgow
Peyton Gray
Lily Hall
Rose Hall
Brayden Hill
Jaden Hill
Kimberly Holmes
Andrew Hopper
Megan Houser
Madelyn Huffaker
Grace Huffaker
Yaizah Johnson
Angela Lawson
Madison Martin
Patrick McGrory
Chloe Mehaffey
Dalin Mikac
Anne Monson
Braden Morgan
Christian Mylek
Tommy Nguyen
Enrique Nunez-Prieto
Abigail OBarr
Avory Oosthuizen
Ronare Padua
Camylle Palmer
Isabella Perez Palomares
Angelina See
Rachel Skousen
Hailey Stanley
Tyler Trimmer
Jaylie Turcott
Cienna West
MacKenzie Weyrauch
Andrew Wong
Gabriel Zamora
HS HONOR ROLL 3.75+
Ashlee Adams
Dane Adams
Lorelei Adams
Lucas Adams
Jailin Agre
Brooke Anderson
Anthony Aquino
Ajay Blakes
Jada Blanton
Brecken Bogle
Karsten Bogle
EKirai Boyd
MelanieJane Briones
Brianna Burch
Dexton Bushman
Dayanha Caceres
Valerie Camacho
Matthew Carr
Adam Carroll
Mandy Carroll
Sharon Carter
Jackeline Certalic
Jordan Chamness
Mary Champley
Hunter Christianson
Sachia Cloran
Samantha Cottam
Janelle Cutajar
Nathen Dahl
Kimberly Daniels
Elise Densmore
Lily Desmond
Luey Diaz
Abigail Dirks
Ysabelle Dominguez
Payton Duncan
Madilyn Ellsworth
Remember Erhart
Kirk Evans
Riley Geron
Antony Gjika
Rebecca Glasgow
Valerie Glasgow
Carlos Gralian
Peyton Gray
Malena Green
Salma Guzman Sandoval
Lily Hall
Rose Hall
Autumn Hardy
Brayden Hill
Jaden Hill
Jaemin Hill
Sophia Holguin
Kimberly Holmes
Andrew Hopper
Adam Houser
Megan Houser
Robert Huff
Grace Huffaker
Madelyn Huffaker
Brendan Hunt
Jadyn Infiesto
Delaney Jacobs
Yaizah Johnson
Zoie Koons
Michael Kramarczyk III
Aaron Lam
Angela Lawson
Andrew Lissy
Michael Luna-Fruit
Justin Maas
Hannah Marney
Sayuri Marquez
Grace Martin
Madison Martin
Kenia Martin Cruz
Baily Martinez
Patrick McGrory
Naomi Medina
Chloe Mehaffey
Dalin Mikac
Anne Monson
Braden Morgan
Christian Mylek
Audree Nelson
Travis Nelson
Tommy Nguyen
Enrique Nunez-Prieto
Abigail OBarr
Avory Oosthuizen
Jaclyn Oram
Tyler Ormond
Ariella Oropeza
Ronare Padua
Camylle Palmer
Mya Palmiere
Abigail Panter
Lily Panter
Amalia Perez Lugo
Isabella Perez Palomares
Madison Peterman
Alben Polacek
Martreon Risper
Sophia Rubi
Lilyana Sabo
Jessica Sanchez
Jayla Santa Cruz
Olivia Santiago
Trevor Schroeder
Angelina See
Christopher Senne
Keira Silva
Aiyana Sims
Rachel Skousen
Alexia Sorensen
Catalina Springstroh
Hailey Stanley
Jon-Marco Stapleton
Benjamin Taylor
Jacob Thomas
Elise Tilbury
Tyler Trimmer
Jaylie Turcott
Emily Turik
Sarah Turik
Ruby Valadez
Michael Watson
Tanner Webster
Cienna West
Caleb Weyrauch
MacKenzie Weyrauch
Ryah Wilkinson
Breanna Williams
Andrew Wong
Gabriel Zamora
Junior High Awards
JH AWARDS PHOTO ALBUM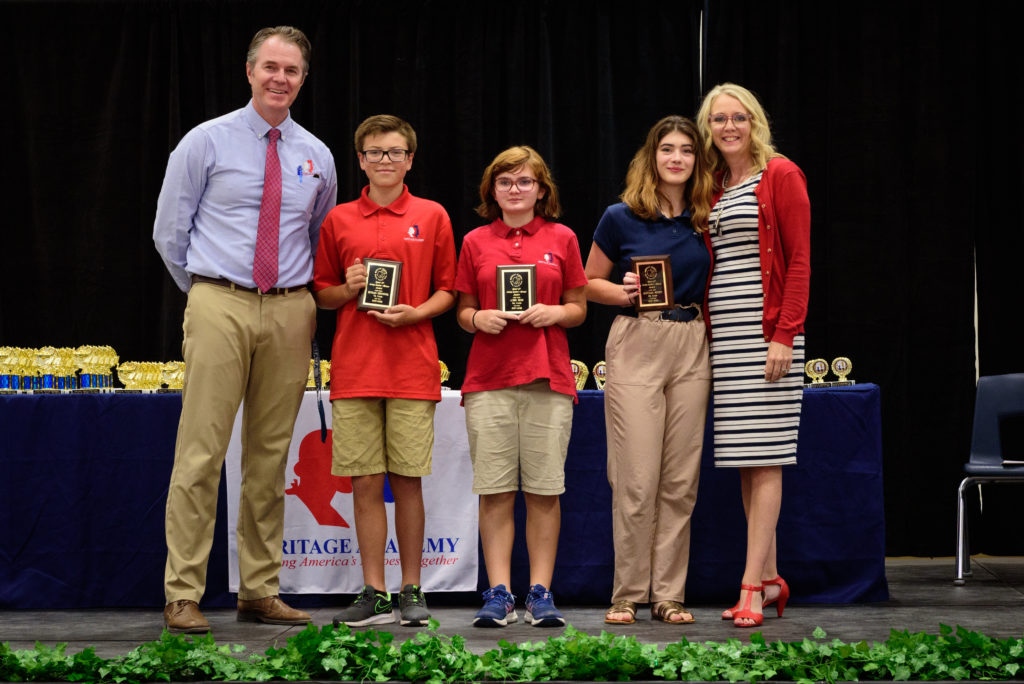 Spirit of Heritage Awards: Kim Ellsworth
6th Grade Scholar: Abbi Sims
7th Grade Scholar: Edward Densmore
8th Grade Scholar: Aliviah Steen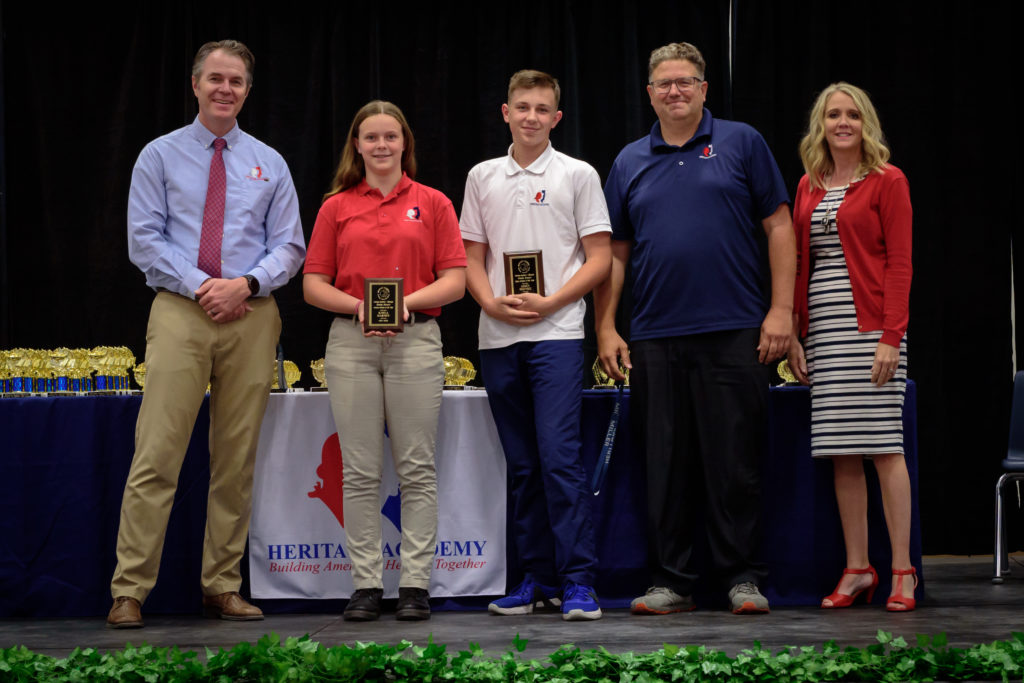 Athlete of the Year Awards: Jeff Miller
Male Scholar: Aiden Behnke
Female Scholar: Kayla Marney
English Department: Alan Daniels, Joe Lawless, John Hill, Michele Bocchinfuso
6th Grade Award: Ana (Sophia) Kennedy
7th Grade Award: Braden Baumen
8th Grade Award: Brylee Horner
Science Department: Jenny Titus, Melissa Sims, Audrey Wilson  
6th Grade Award: Reese Bushman
7th Grade Award: Noah Hettinger
8th Grade Award: Kella Connelly
Math Department: Danielle Steelman, Christina Sorenson, Stephanie Hill 
6th Grade Award: Ava Boger
7th Grade Award:  Gavin Beamish
8th Grade Award: Keira Burch
History Department: Marin Fairbanks, Jan Schmidgall-Petroff, Kasey Turik 
6th Grade Award: Arabella Bryan
7th Grade Award: Elana Holguin
8th Grade Award: Amare Arney
Foreign Language: JeanFrancois Romanek, Kim Miller, Katie Nash  
6th Grade Award: Brook Holmes
7th Grade Award: Nelson Brock
8th Grade Award: Cavan Ziccardi
Computers/Typing: Jennifer Ford  
Scholar 1: Sage Laframboise
Scholar 2: Matthew Martin
Performing Arts – Drama: Marcus Ellsworth and Joe Lawless  
Scholar 1: Hazel Evans
Scholar 2: Benjamin Daniels
Performing Arts – Choir: Nephi Bunker
Scholar 1: Carleigh Mrosko
Scholar 2: Derek Robinson
Performing Arts – Band/Orchestra: Tanyon Berry
Scholar 1: Mackenzie Daly
Scholar 2: Aiden Behnke
Performing Arts – Dance: Ashley Smith
Scholar 1: Della Noyes
Scholar 2: Abbi Sims
Fine Arts Department: Stephanie Schwarzen 
Scholar 1: Kayla Marney
Scholar 2: Logan Bates
Martial Arts: Lee Feiles  
Scholar 1: Juliana Campbell
Scholar 2: Jacob Mass
Physical Education: Robin Daniels, Derek Zappa
Scholar 1: Lilly Mather
Scholar 2: Lakota Dias
8TH GRADE PROMOTION
Brody Abercrombie
Felicity Adams
Aubree Anderson
Amare Arney
Guadalupe Arreola Perez
Emma Atwood
Isabelle Ayala
Gavyn Baker
Jack Barnum
Logan Bates
Robert Beavers
Aiden Behnke
Michael Blondin
Kaitlyn Booth
 Hadley Boothe
Caydence Brown
Aiden Buchanan
Keira Burch
Ethan Cahall
Kirsten Carnel
Isaiah Carpenter
Gavin Carr
Mila Castillo
Elizabeth Castillo
Ryker Christensen
Juliana Christy
Kella Connelly
Joshua Cordero
Tirza Cortes
Benjamin Daniels
Lily Devine
Lakota Dias
Zachary Dirks
Cesar Escalante Contreras
Isaiah Esquivel
Lexie Evans
Amy Evans
Reagan Fonner
Nashton Ford
Lucas Fortier
Mikaylah Gaddy
Jayden Galindo
Valeria Galvez
Isaac Garcia
Manuel Garcia
Wies Garcia-Binford
Jasmine Gardner
Jordan Gardner
Trentten Gillespie
Diego Gonzalez
Nathaniel Gray
Jordan Hammontree
Takaru Harris
Evelyn Hasbach
Gavin Hayes
Alexander Hernandez Curay
Talyssa Hoffman
Andrique Holley
Nathan Hoos
Jordan Hope
Dylan Hopper
Brylee Horner
Arionna Howard
Dallin Huff
Robert Huffaker
Nicholas Hunley
Jayden Hunt
Samuel Johnson
Mariella Jordan-McTaggart
Javier Juarez
Jackson Ketcham
Kaitlyn Kientzler
Summer Knight
Maia Kramarczyk
Jayda Kuehnl
Maddison LaBounty
Sage LaFramboise
Daniel Leon
Brysia Leon Lucero
Regan Leslie
Devin Lewis
Emma Lockhart
Nevaeh Long
Juan Lorenzana
Kayla Marney
Matthew Martin
Ethan Martin
Jaylee Mckenzie
Russell Miller III
Leonidas Mitchell
Colton Moore
Cristian Morgan
Carleigh Mrosko
Alexander Mylek
Mason Nichols
Ethan Phillips
Darren Pierce
Elizabeth Pineda
Ashley Piper
Leana Sierra Poos Guild
Brayden Potter
Shaun Powers
Celest Quaye
Victoria Rasmussen
Isabel Richmond
Daniela Rios
Dominiq Rivera
Jens Robinson
Anthony Rumbo
Nicholas Sclafani
Amaya Scott
BrookeLynn Selig
Alexander Serna
Lenox Shull
Seth Skousen
Aliviah Steen
Jordyn Taylor
Troy Taylor
Paisley Taylor
Jalyn Terrell
Ariel Thomas
Jakub Thompson
Connor Tomaszewski
Leonardo Trevino
Abigail Trimmer
Johnathan Turcott
Jonathan Uribe
Manuel Velazquez
David Watson
Chloe Weber
Athena Wilson
Elise Wilson
Madeline Wilson
Madison Woods
Cavan Ziccardi
STAIGHT A'S
Caleb Adams
Felicity Adams
Amare Arney
Analisa Barillas
Gavan Beamish
Amaya Blakes
Kaitlyn Booth
Nelson Brock
Keira Burch
Reese Bushman
Yazmine Caceres Garcia
Justin Callaghan
Gavin Carr
Gavin Duguay
Jackson Dum
Gracelyn Ghee
Kenny Guarin
Carter Hill
Talyssa Hoffman
Elena Holguin
Brooke Holmes
Micah Huffaker
Samuel Johnson
Jamie Judkins
Ana Kennedy
Jackson Ketcham
Sage LaFramboise
Haylee Laurent
Kiersten Leslie
Regan Leslie
Stevon Lester
Kayla Marney
Lilly Mather
Hailey Mattson
Melanie Mireles
Carleigh Mrosko
Luke Mrosko
Jazlynn Norice
Alexis Oropeza
Lucas Owens
Ezra Shay Pacpaco
Tyler Parady
Addison Parde
Daisy Phillips
Carson Polonus
Adrienne Raper
Isabella Raper
Esther Skousen
Seth Skousen
Brady Snitker
Logan Staff
Aliviah Steen
Cienna Thatcher
Andrew Thompson
Abigail Trimmer
Sahara Walker
Cavan Ziccardi
JH HONOR ROLL 3.75+
Brody Abercrombie
Bella Adams
Caleb Adams
Felicity Adams
Aubree Anderson
Max Anderson
Amare Arney
Daniela Arreola Perez
Camila Arteaga
Isabelle Ayala
Kassidy Bargo
Analisa Barillas
Jack Barnum
Logan Bates
Braden Bauman
Gavan Beamish
Valery Bejar
Alivia Bell
Amaya Blakes
Ava Boger
Kaitlyn Booth
Nelson Brock
Cody Broek
Isaiah Bronner
Arabella Bryan
Dion Buckley
Gracie Buddington
Keira Burch
Reese Bushman
Yazmine Caceres Garcia
Justin Callaghan
Addison Campbell
Juliana Campbell
Sloane Campbell
Gavin Carr
Gianna Casas
Elizabeth Castillo
Jude Chammakhi
Paige Christianson
Noelle Constantin
Savannah Cordell
Andrew Dahl
MacKenzie Daly
Benjamin Daniels
Jasmyn Dart
Lily Devine
Zachary Dirks
Gavin Duguay
Gwendolyn Duguay
Rosalind Duguay
Jackson Dum
Tyson Duncan
Makayla Ewald
Nashton Ford
Kailyn Galindo
Tessa Garlick
Matthew Gentilella
Semra Gentilella
Hunter Geron
Gracelyn Ghee
Addaleigh Gillespie
Macey Goncalves
Mason Gray
Amaya Green
Kenny Guarin
Jennifer Guild
Tadashi Harris
Takaru Harris
Carter Hill
Christopher Hilsinger
Talyssa Hoffman
Elena Holguin
Brooke Holmes
Logan Holmes
Nathan Hoos
Brylee Horner
Micah Huffaker
Emma Ireland
Sofia Jicha
Samuel Johnson
Jamie Judkins
Ana Kennedy
Jackson Ketcham
Peyton King
Lyla Kraay
Maia Kramarczyk
Sage LaFramboise
Haylee Laurent
Kiersten Leslie
Regan Leslie
Stevon Lester
Camila Llaguno-Martinez
Vanessa Llaguno-Martinez
Nevaeh Long
Timothy Long
Jayden Luther
Kayla Marney
Matthew Martin
Lilly Mather
Hailey Mattson
Trinity McFarland
Andrew Miller
Melanie Mireles
Carleigh Mrosko
Luke Mrosko
Ryder Munoz
James Newman
Thomas Nguyen
Jazlynn Norice
Bella Noyes
Jordan Noyes
Elizabeth OBarr
Imani Oliver
Alissah Orantes
Alexis Oropeza
Lucas Owens
Ezra Shay Pacpaco
Sarah Panter
Tyler Parady
Addison Parde
Daisy Phillips
Carson Polonus
Celest Quaye
Sebastian Racines
Adrienne Raper
Isabella Raper
Maliyah Risper
Derek Robinson
Sebastian Rosales
Mya Salas
Milena Saspe
Arianna Sclafani
Lenox Shull
Emily Sibley
Raul Silva
Brynlee Simmerson
Abbi Sims
Esther Skousen
Seth Skousen
Brady Snitker
Logan Staff
Aliviah Steen
Christopher Taylor
Cienna Thatcher
Andrew Thompson
Jakub Thompson
Connor Tomaszewski
Greysen Tomaszewski
Abigail Trimmer
Johnathan Turcott
J'antre VanBuren
Manuel Velazquez
Sahara Walker
Kawaii Weary
Zabrina Weber
Madison Webster
Cole Williams
Athena Wilson
Cavan Ziccardi
CONGRATULATIONS SCHOLARS!!  JOB WELL DONE!! CLASS OF 2022 GRADUATES
GRADUATION PHOTO ALBUM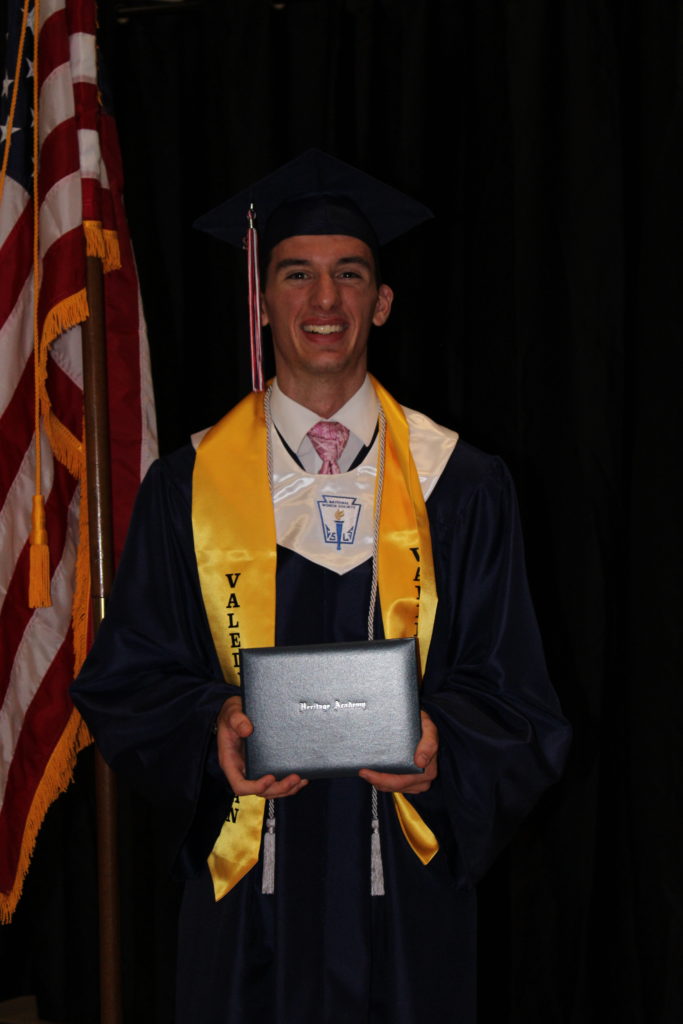 Caleb Weyrauch – Valedictorian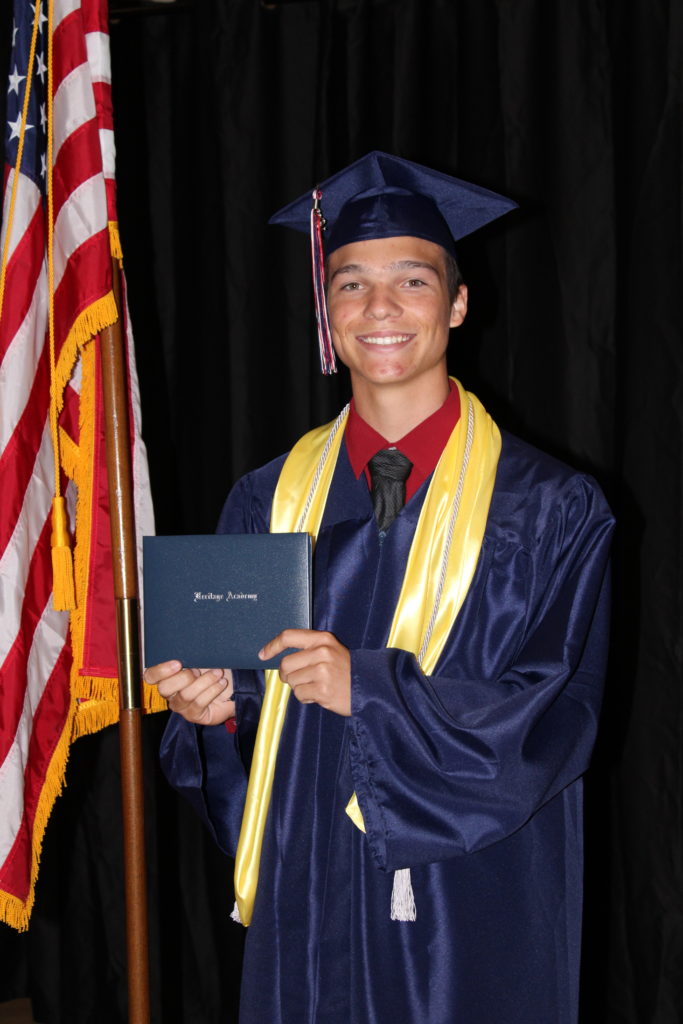 Andrew Hopper – Co – Salutatorian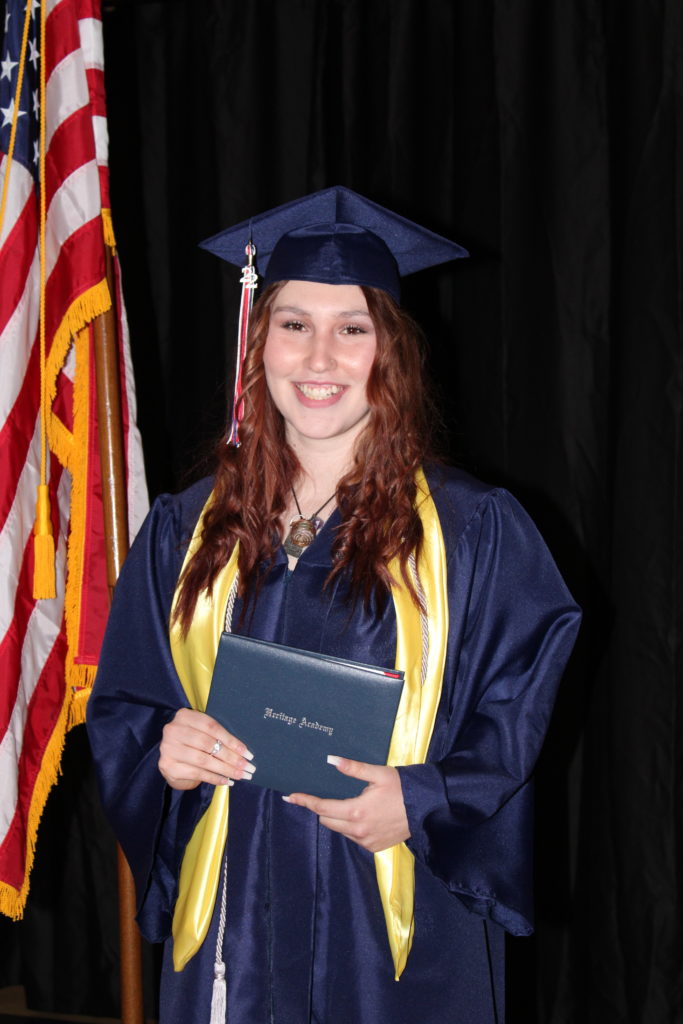 Zoie Koons – Co – Salutatorian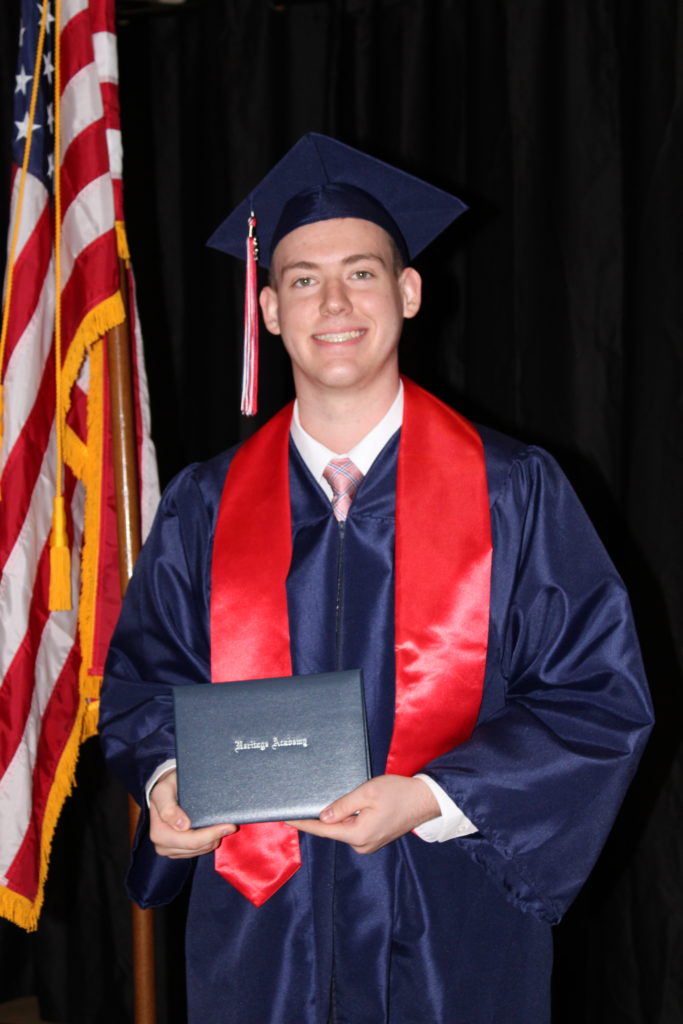 Adam Houser – Graduated with Associates from Central Arizona College
Kenzie Abercrombie
Xavier Aguilar
Brecken Bogle
Ana Carlson Munoz
Mandy Carroll
Aidann Champley
Maxwell Cottam
Vicente Delgado
Lily Desmond
Mykah Espinueva
Kirk Evans
Antony Gjika
Peyton Gray
Malena Green
Treyden Hoffman
Grace Huffaker
Isaiah Kella
Jacob Livingston
Sebastian Makowski
Anne Monson
Braden Morgan
Liliana Munoz
Mya Palmiere
Emma Rich
Jonathan Richardson
Jasmine Romero
Jamara Ruffin
Bryson Stoddard
Armond Stone
Makayla Thacker
Elise Tilbury
Emily Turik
Lawson West
Gabriel Zamora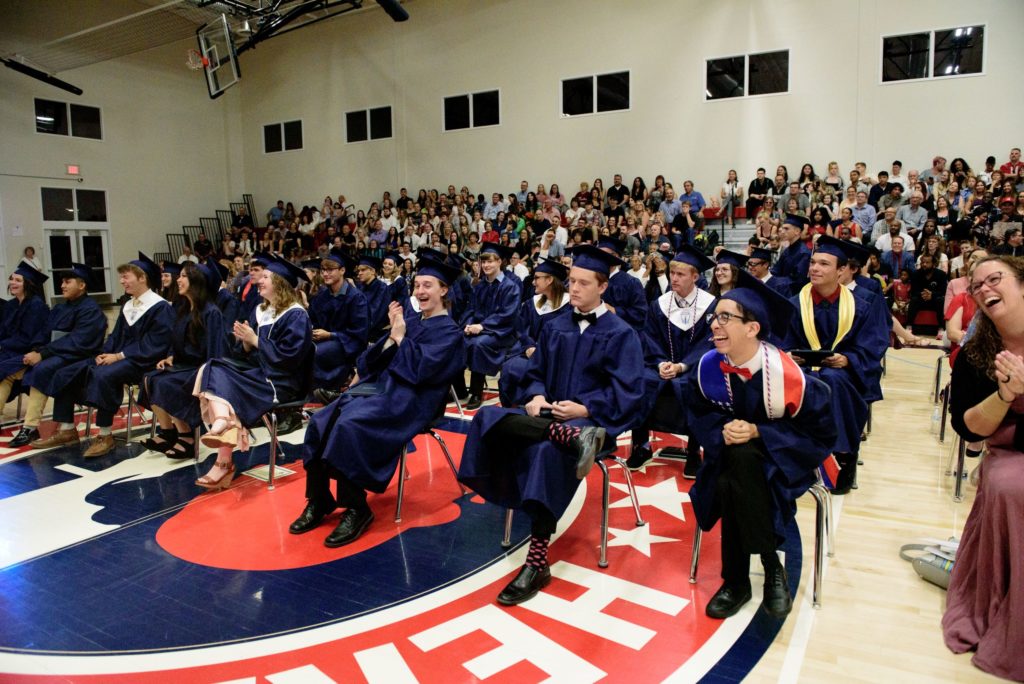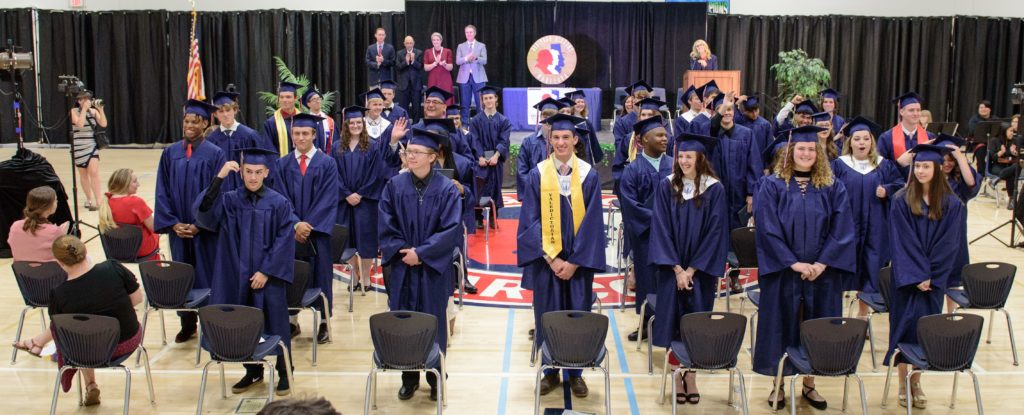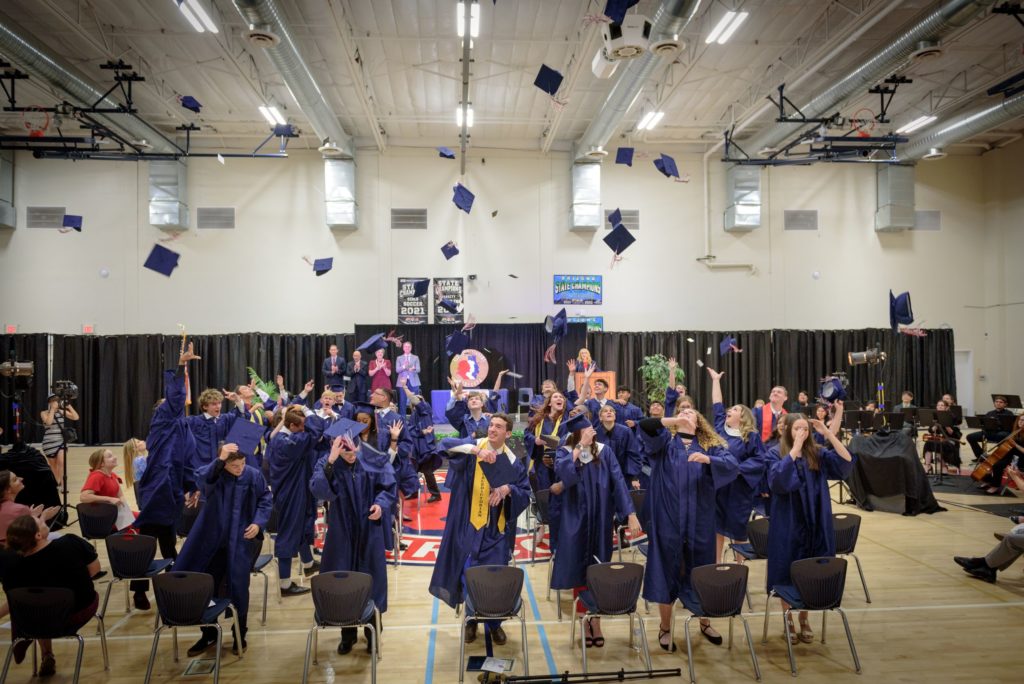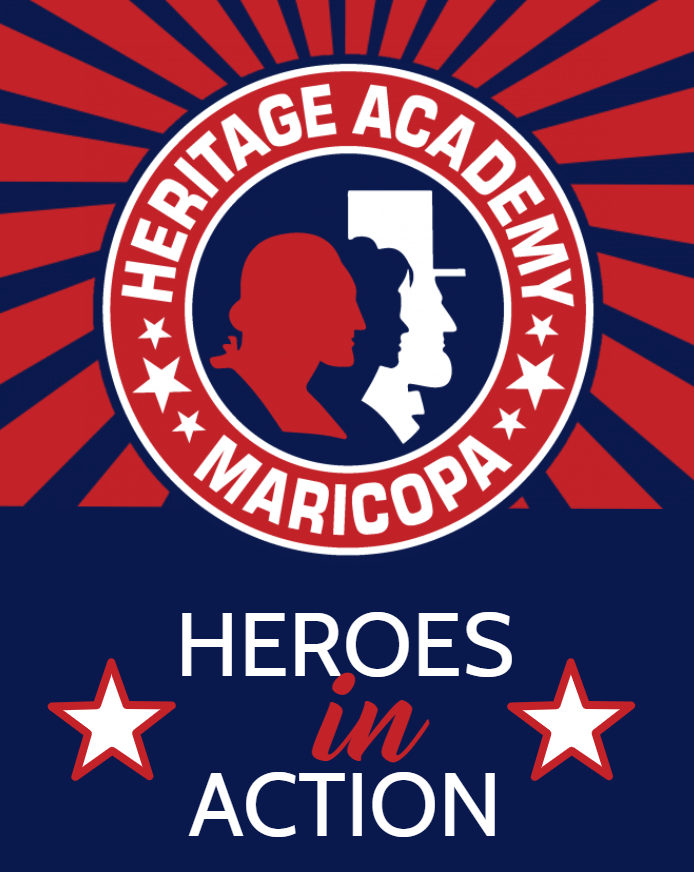 For One Heritage Academy Hero, It's All About Family
By John Hill
"Family on three. One, two, three FAMILY!!" If you heard these words echoing through our gym at Heritage Academy this basketball season you were likely hearing the voice of team
leader Seth Skousen. Players earn the designation of choosing huddle breakouts based on effort and attitude. I often hear "fight" or "Heroes" as typical shoutouts, but as our JH boys basketball
season progressed, I noticed that Seth more often than not chose "family." Whether it was a practice send off, pre-game buildup, or simply a timeout during the game, it was always
"family."
Family being of core importance is not surprising for a young man that defines a big part of his identity through his family name and their achievements. His dad is a prominent local farmer.
His mom is a substitute teacher at Heritage. His sister Hannah earned special recognition as a senior last year in winning our school's prestigious George Washington award.
"My family defines who I am," Seth says proudly. "But I have lots of families. We are born into our biological family, but we choose our extended families based on who and what we want to
be a part of, like our basketball team – they're also my family."
Seth brought the same work ethic and principles that make his family successful to our basketball family: hard work, discipline, and punctuality among many other traits. He also
brought along core pillars of our Heritage Academy school mission regarding knowledge, patience, being humble, and always maintaining a positive, hopeful outlook.
Those core traits have been on display from day one of my time with Seth. Last year, as a 7th grade captain, Seth did not play as much as he would have liked. However, he always looked to
build his knowledge as he patiently waited for his opportunity. Seth also remained humble. He takes his success in stride and sees all success as a normal extension of hard work, which anyone
can achieve.
This ties into his positive, hopeful outlook. Seth knows from his life experience and from his family that success will eventually come your way, as it will to anyone that works hard, builds
knowledge, and has patience. Looking back on his 7th grade season, Seth reflected: "Your time will come, just be patient and enjoy the ride."
This year Seth's time arrived. As an every game starter he became the team leader in rebounds, blocked shots, and minutes played for our JH basketball Heritage Heroes. As I tell all my players
(and my students): work hard, build your knowledge, and be patient – opportunity will find you. Seth did all those things and opportunity found him.
"Family on three" might be a cliched breakout for some players, but for others it represents the core values of who they are and what makes them successful. For Seth it really is all about
family. And as his basketball coach for two seasons, I am honored and fortunate to have been a part of one of his families, one that was made stronger by his presence.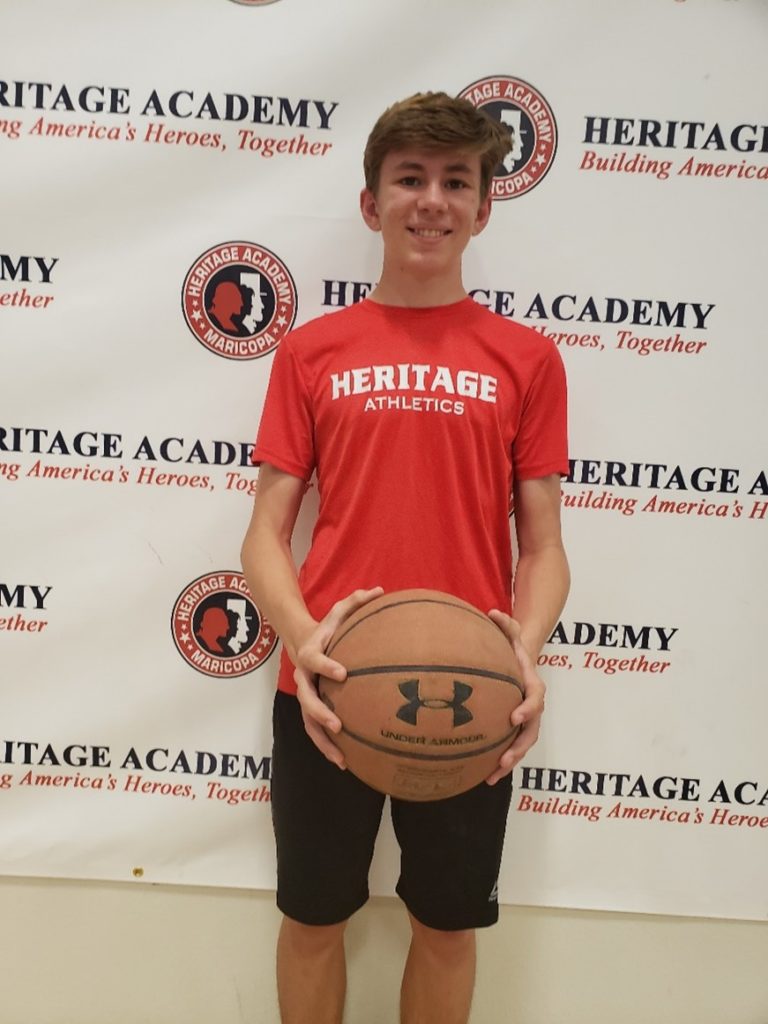 Seth Skousen is an 8th grade scholar at Heritage Academy Maricopa. Other "families" Seth is a part of include being a standout on the JH tackle football team and a lead actor in JH drama.
Seth is an honor roll student. He believes in trying as many things as he can, finding what he enjoys, and then giving it his all.
John Hill is an English teacher and basketball coach at Heritage Academy Maricopa. He proudly includes Heritage Academy Maricopa as one of his families.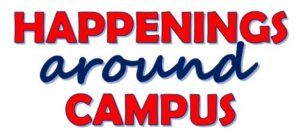 For the last few years Ms. Schwarzen's art scholars have submitted their artwork to the Arizona Department of Health's Valley Fever Awareness Poster Contest.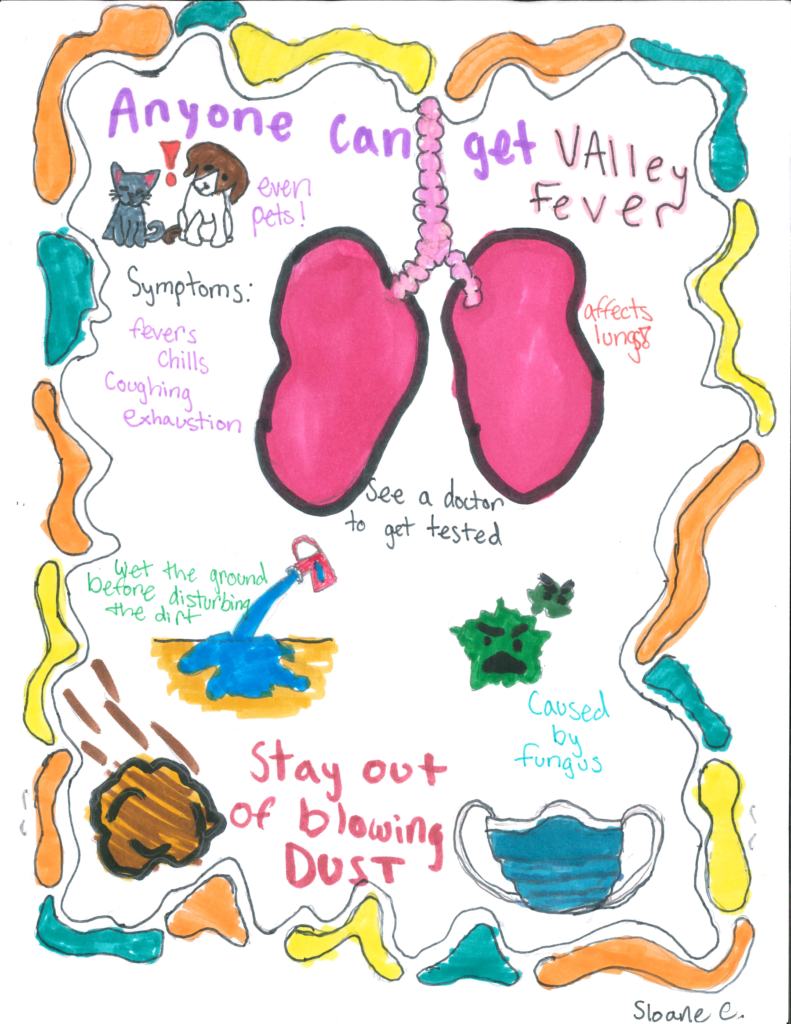 Congratulations to Sloane Campbell who won second place for her age group (out of 37)!
And the following were honorable mentions: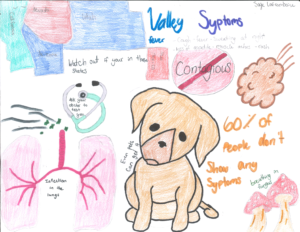 Sage Laframboise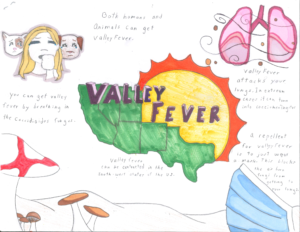 Talyssa Hoffman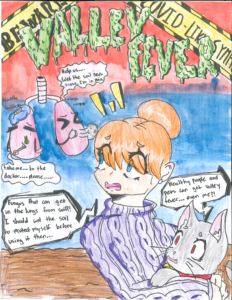 Angela Lawson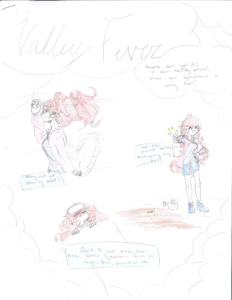 Chloe Mehaffey

Delaney Fortier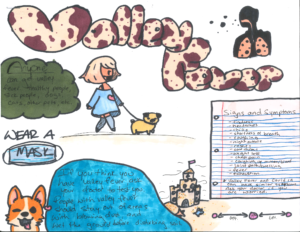 Ryan Wilkerson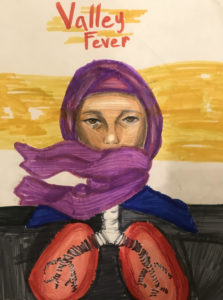 Jacob Livingston
Congratulations Heritage Artists!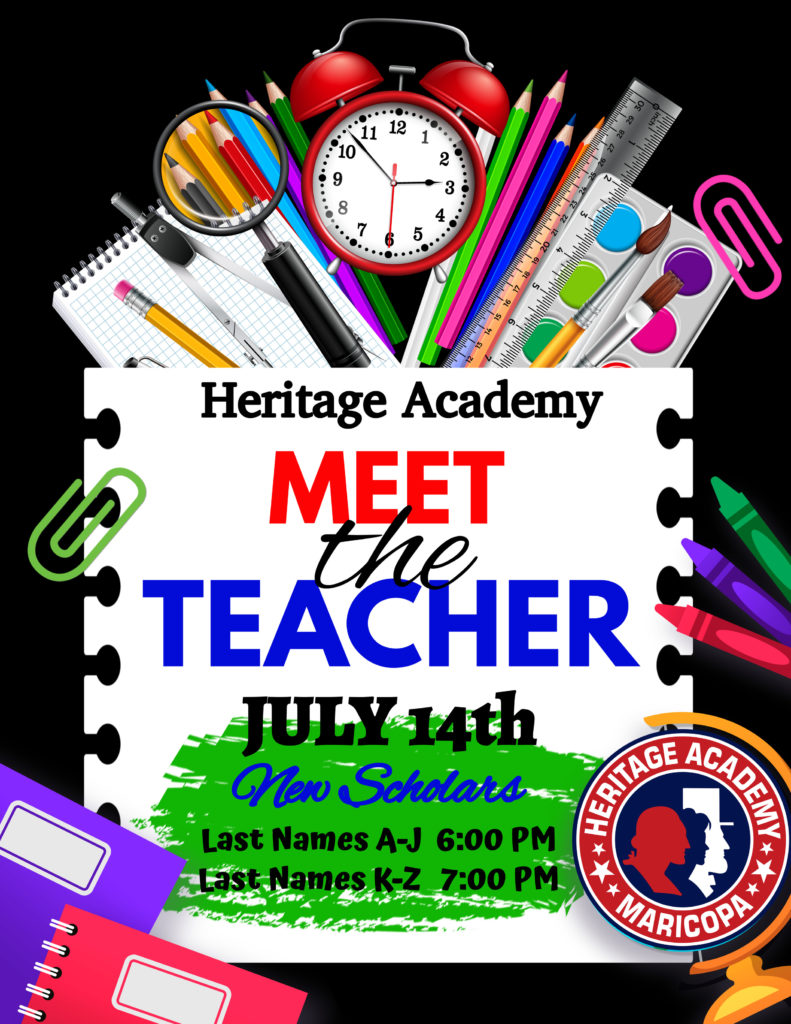 Our Meet the Teacher Event will take place on July 14th!!
Schedules will NOT be handed out that night, but you can view them in PowerSchool or print them from home starting on July 11th.  Although the event is primarily for new scholars, everyone is welcome.  
A "VERY IMPORTANT EMAIL" will be sent to you towards the end of June with instructions on how to obtain your schedule, as well as additional information to ensure a successful year for you and your scholar.  
We invite you to visit the following tables in the gym:  
PTO
Yearbook
Scholar Council
Athletics
Dual Enrollment
Jostens'
Used Uniforms 
We will have maps available for you to tour the school and meet the staff and teachers.  Our snack shack will also be open for a cool drink or sweet treat!  Cash only.  
See you there!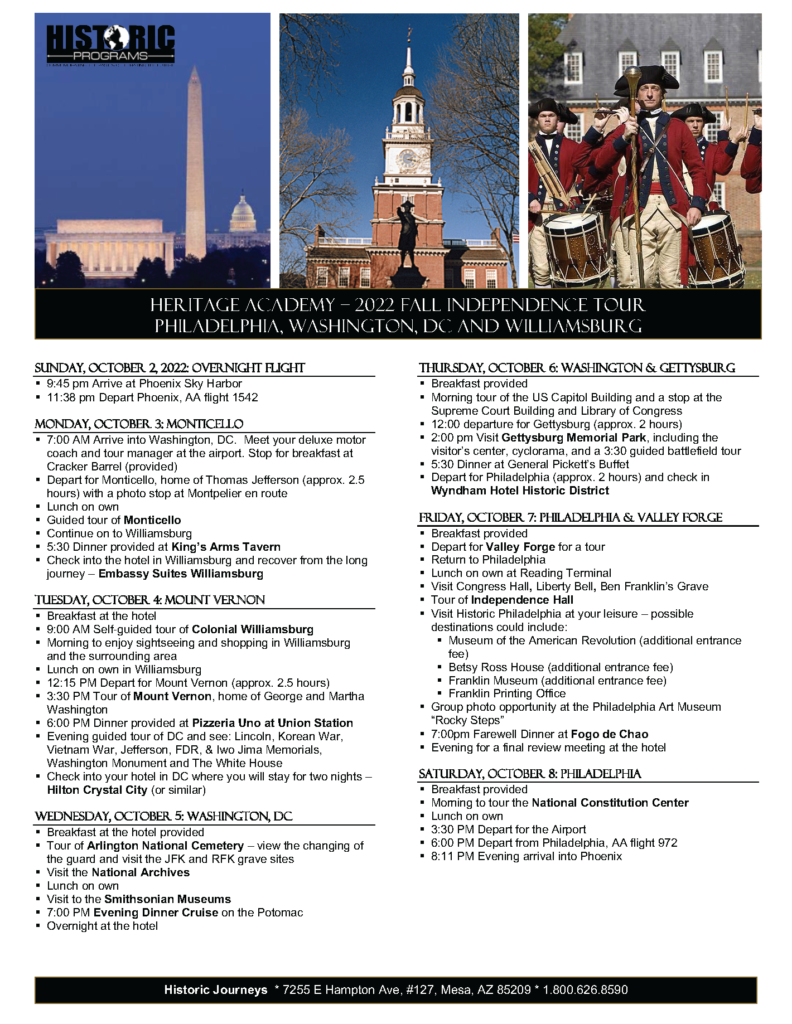 COST: $2200.00
THE 2022-2023 SCHOOL CALENDAR IS HERE!!!  
Please note that the dates are subject to change prior to board approval in June 2022.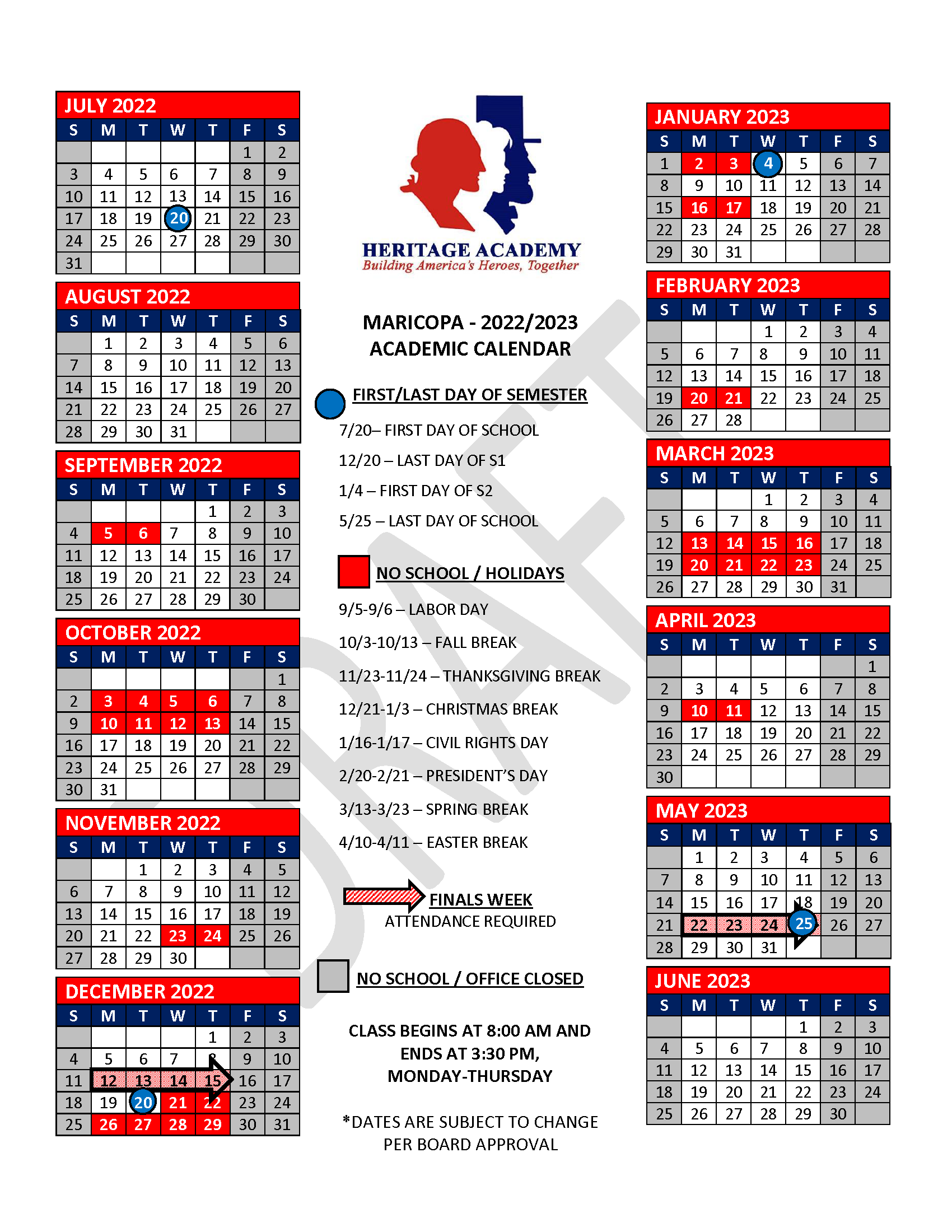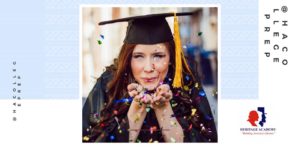 Has your high school scholar created a 4 year plan yet?
Heritage Academy offers advising to every scholar on campus. Mr. McCambridge will coach them along their college prep path, get them enrolled in college while in high school, and set up for future success!
Parents and scholars….. Do you have questions regarding College or high school planning?
Below is a list of topics that you may want to consider.
High school course selection
Early College Program – Dual enrollment, AP & CLEP
Earning an Associates Degree at Heritage Academy
ACT/SAT/PSAT (Which test and when?)
Financial Aid (Scholarships, Grants, Loans & FAFSA)
To schedule your appointment with Mr. McCambridge, please visit https://calendly.com/greg-mcca
DRESS CODE REMINDERS
Khaki pants need to be cream, beige, or khaki in color (according to the chart below).  The colors that are crossed out in red are not approved.