IMPORTANT DATES TO REMEMBER
8/28-8/29 –  HEARING & VISION SCREENINGS

8/28 – JV GIRLS VBALL HOME GAME– vs. HA Gateway 4:30 PM

8/28 – VARSITY BOYS SOCCER HOME GAME – vs. Basis Chandler 5:00 PM

8/28 – VARSITY GIRLS VBALL HOME GAME– vs. HA Gateway 6:00 PM

8/29 – JH GIRLS VBALL #2 HOME GAME – vs. HA Mesa 4:30 PM 

8/29 – VARSITY BOYS SOCCER HOME GAME – vs. Alta Vista HS 5:00 PM 

8/30 – JH BASEBALL HOME GAME – vs. Coolidge JH 4:00 PM 

8/30 – JH GIRLS VBALL #1 HOME GAME – vs. DWMS 4:00 PM 

8/30 – JV GIRLS VBALL HOME GAME – vs. MHP 5:00 PM 

8/30 – VARSITY GIRLS VBALL HOME GAME -vs. MHP 6:30 PM 

8/31 – VARSITY BOYS SOCCER HOME GAME – vs. ASU Prep 5:00 PM 

8/31 – VARSITY FOOTBALL HOME GAME– vs. MIT 7:00 PM 

8/31 – DOUGHNUTS AND DUDS – see post for details

8/31 – JH BASEBALL #1 HOME GAME – vs. LTS NW Tucson 4:00 PM 

8/31 – JH CO-ED SOCCER #1 HOME GAME – vs. Leading Edge 4:30 PM 

9/1 – JH CO-ED SOCCER #2 HOME GAME – vs. GIA 5:00 PM 

9/4-9/5 –  LABOR DAY – No school

9/6 –  SENIOR PICTURE DAY – more details to come

9/6 –  JH BASEBALL HOME GAME – vs. DWMS 4:00PM

9/6 –  JH GIRLS VBALL #2 HOME GAME – vs. GIA 4:30PM

9/6 –  JH GIRLS VBALL #1 HOME GAME – vs. LTS NW Tucson 5:30PM

9/7 –  JH CO-ED SOCCER #2 HOME GAME – vs. HA Gateway 4:30PM

9/7 –  JV GIRLS VBALL HOME GAME – vs. LFPA 4:30PM

9/7 –  VARSITY GIRLS VBALL  HOME GAME – vs. LFPA 6:00PM

9/11 –  TRAP AND SKEET REGISTRATION  – see post for details

9/14 –  CONSTITUTION NIGHT – see post for details

9/16 –  MAKING OF AMERICA – see post for details
IMPORTANT SCHOOL INFORMATION

Our Mission Statement
Heritage Academy is dedicated to youth, their growth and development. The purpose of education is to build strong character. Strong character is reflected in strong families, strong communities and a strong nation.
While teaching the academic disciplines, Heritage Academy is dedicated to instilling into the minds and hearts of today's youth a knowledge of and respect for the ideals and values of the great men and women of history, including those who founded the American nation.
As today's rising generation gains an appreciation of these people of accomplishment, they will be ready to provide the selfless service to their fellow citizens and to their country which will be required in the coming years to assist in preserving America's greatness. Heritage Academy exists to this end.
SCHOLAR COUNCIL PRESENTS…DOLLARS FOR DUDS
PTO OFFERS $1.00 DOUGHNUTS
THURSDAY, August 31st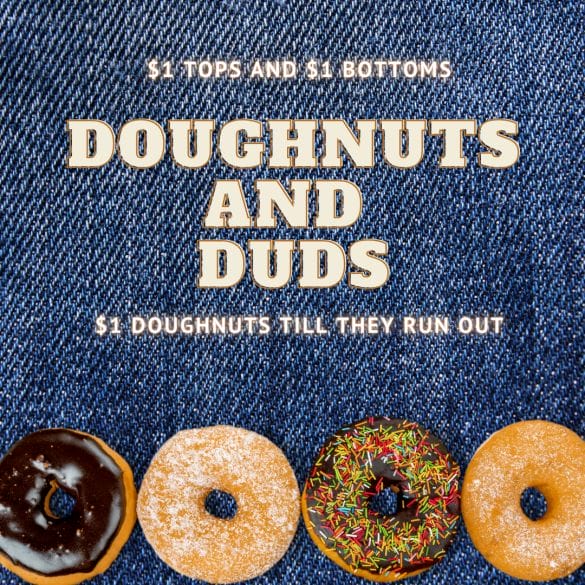 On Dollars for Duds days, scholars are allowed to wear non-uniform clothing (INCLUDING JEANS) that meet Heritage Standards.  $1.00 for shirt and $1.00 for pants/shorts. Wristbands purchased for participation must be worn on your scholar's wrist throughout the day.  Dollars for Duds is optional, and scholars do not have to participate. Money raised goes to support Scholar Council and the school activities and dances they support.
Heritage Standard means: no sleeveless or midriff shirts; shorts must be 4″ from the middle of the knee and skirts must come to the middle of the knee; no pants or shorts that are ripped, torn or frayed; no leggings; no inappropriate slogans or symbols on the clothing; and NO PAJAMAS.
If a scholar is wearing inappropriate clothing, they will be dress coded and will need to change into uniforms we have on hand in the office.
The PTO will be offering $1 doughnuts until they are gone that Thursday morning!
The cost of this trip is $215.  You can use your ECA funds for this trip.  Click HERE to find out how to pay through the ECA tax credit.
Click HERE to sign up!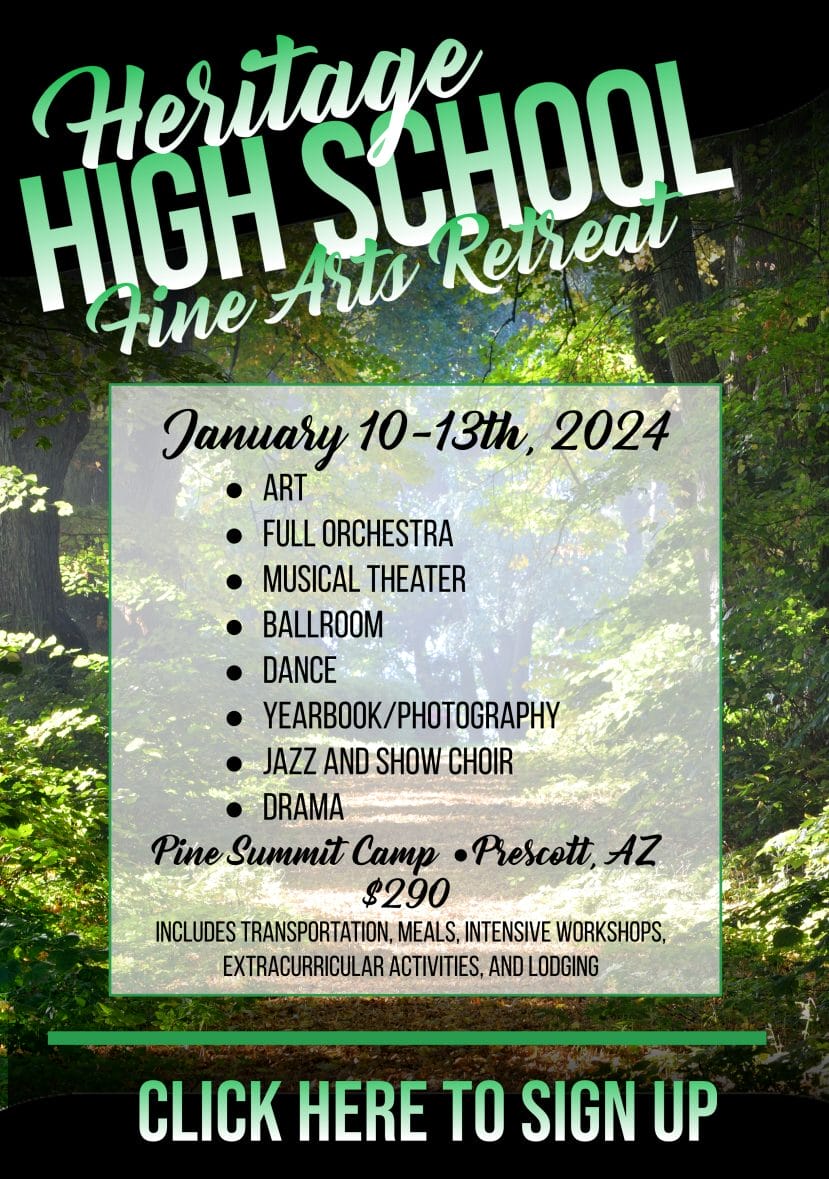 You can use your ECA funds for this trip.  Click HERE to find out how to pay through the ECA tax credit.
Click the flyer to sign up!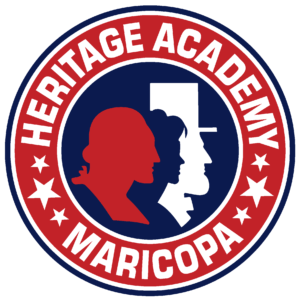 *** Sports Announcements***
For the complete schedule and results, follow our teams on
azcaapreps.com
Facility Upgrades
We have had a busy summer upgrading our sports facilities on campus.  We are proud of our campus and have added some great upgrades.  Our new scoreboard on the field is in and ready to show off our wins.  The windscreen on the back fence is providing a great look to our field.  We have added a logo and advertising board to our scoreboard in the gym.  We now have a 'Digital Trophy Case' in the gym concessions area as well.
We are excited to show those off to our fans when you come see our scholar-athletes play.
Partnership Opportunities
We have a couple more opportunities to partner with us through sponsorship and advertising on our field and gym scoreboards.  There is limited space.  If you are interested or know someone who might be interested, please have them contact Jeff Miller in the athletics office (jeffrey.miller@heritageacademyaz.com)
We have a great assortment of championship, team, and individual pictures cycling on our digital trophy case, BUT WE WANT MORE! If you have some good high-resolution pictures from years past, please contact Mr. Miller to get them added to our slide show.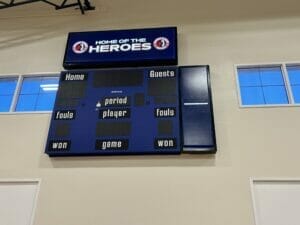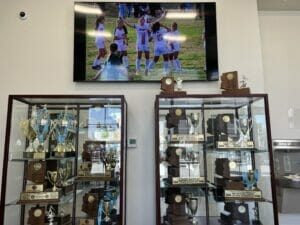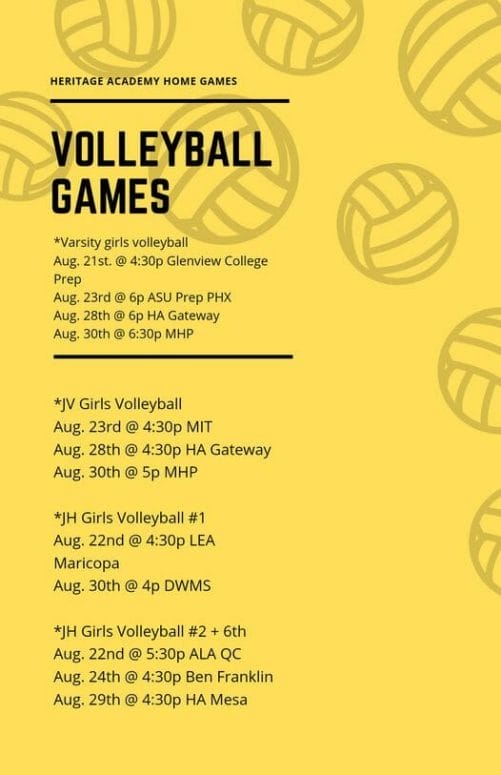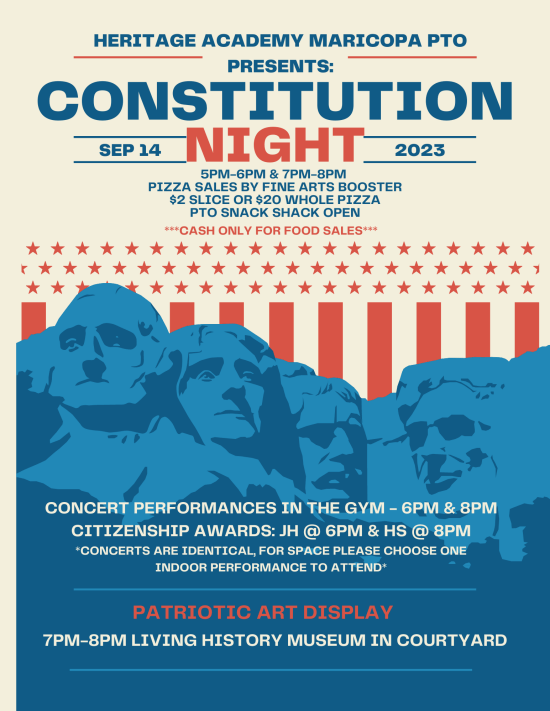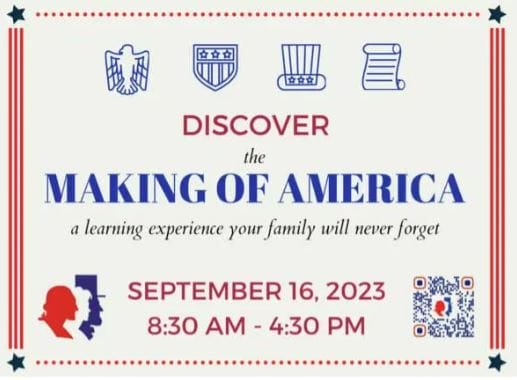 Click HERE for more information!
Hello everyone,
This week our creative heroes were taught different drawing and blending techniques with oil pastels. The elements of design we focused on for this drawing are COLOR and TEXTURE. Incredibly, this is the first oil pastel drawing done by the art classes… imagine how amazing their oil pastel work will be in a couple weeks! The subject for this drawing was a cat's face, and I am once again very proud of our creative heroes and I hope you are as well! I have attached a few random samples of the artwork done this week by our scholars. – Carlos Jimenez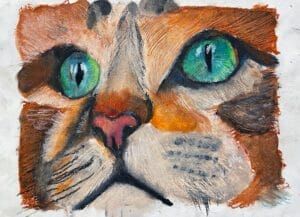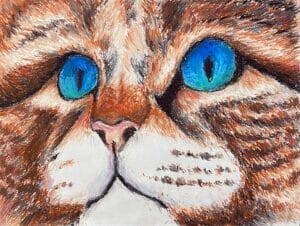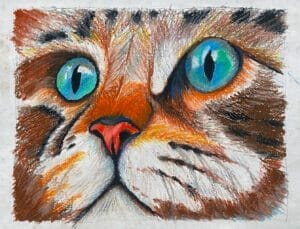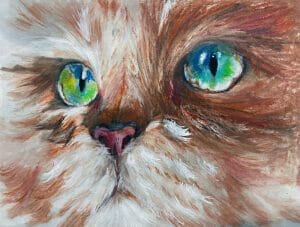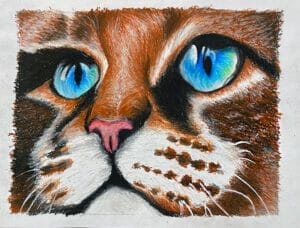 Thank you PTO for setting up this YEAR LONG fundraiser!
Use promo code:  HAM20 at Papajohns.com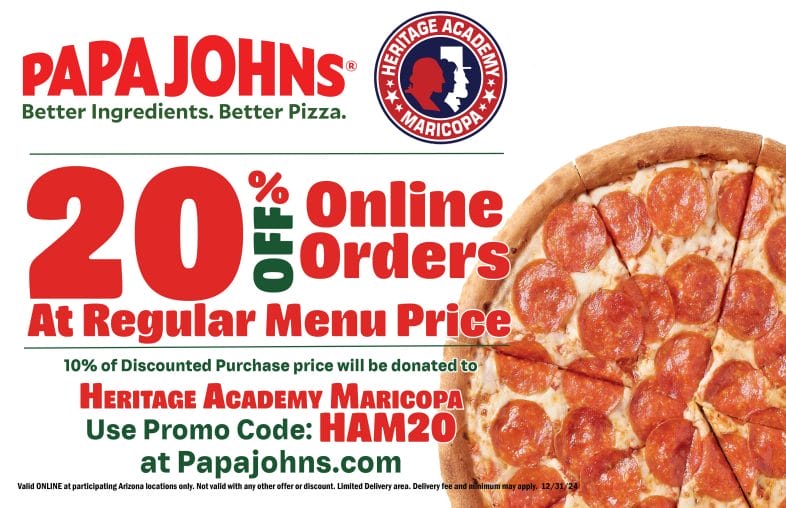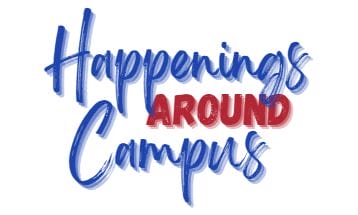 Scholars in Mr. Hamilton's Beginning Orchestra class playing "Mary Had a Little Lamb".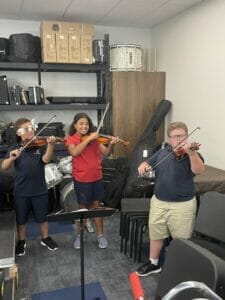 Scholar Council and Mrs. Hunt did an outstanding job planning the JH Water Day events. More than 150 scholars turned out.  The cloud cover gave much needed relief from the burning rays of the sun.  There was a foam cannon that never stopped.  Scholars had a great time with their friends playing water slide kickball and running around in the water.  The SCHOCO manned snack shack and the food trucks were most delicious, and everyone enjoyed themselves.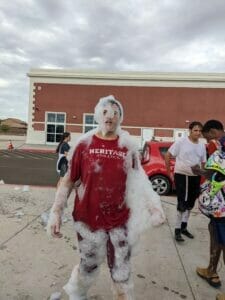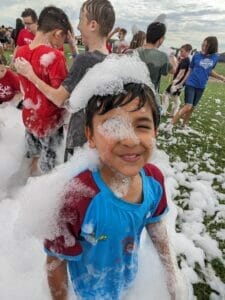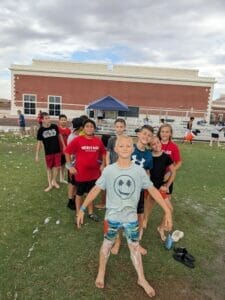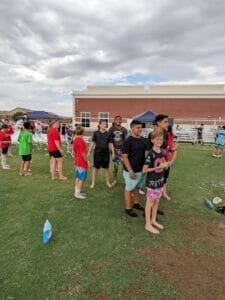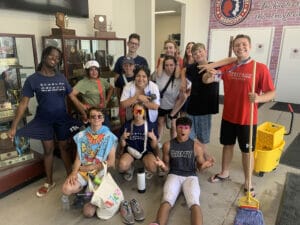 August Pizza with the Principal.  These scholars were noticed around campus doing good things.
6th Grade: Madelyn Arias and Andrew Prentice, 7th Grade: Savannah Brown and Colton Anderson, 8th Grade: Gracelyn Ghee and Lucas Jaeger, 9th Grade: Cadence Baugher and Zaiden Dillard, 10th Grade: Arelli Chacon and Korbin Dingus, 11th Grade Keonna Durham and Leonardo Munoz, 12th Grade: Sayuri Marquez and Aiden McDonald.
CLICK HERE to check the website of The College Funding Coach
Register for the FREE educational workshop HERE
Has your high school scholar created a 4 year plan yet?
Heritage Academy offers advising to every scholar on campus. Mrs. Bocchinfuso will coach them along their college prep path, get them enrolled in college while in high school, and set up for future success!
Parents and scholars….. Do you have questions regarding college or high school planning?
Below is a list of topics that you may want to consider.
High school course selection
Early College Program – Dual enrollment, AP & CLEP
Earning an Associates Degree at Heritage Academy
ACT/SAT/PSAT (Which test and when?)
Financial Aid (Scholarships, Grants, Loans & FAFSA)
To schedule your appointment with Michele Bocchinfuso, please visit: https://calendly.com/michele-bocc
Be prepared and try to remember all of the items you will need for class, sports, and extracurriculars each day. 
We understand things happen and sometimes items get forgotten.  We have had an increase in these forgotten items, so please help remind your scholars to prepare their needed items the night before.  SCHOLAR WILL BE CALLED DOWN BETWEEN CLASSES TO PICK UP THE ITEM. WE WILL NOT DELIVER THE ITEMS TO CLASS.  Please remind your scholar to pick up the item in the front office.
REMEMBER:
Beards are for Santa not for scholars
Boys are to be clean-shaven. Hair length should be above the collar and not touching the ears. Hair must be maintained so as not to reflect faddish styles and not to bring attention, such as the use of long spikes, unnatural colors, etc. Any side burns are to be no lower than the ear lobe.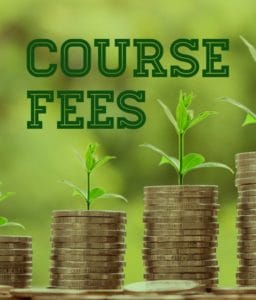 Course fees for all FIRST SEMESTER classes have been assessed and are now PAST DUE . Scholars with balances will now start to be dropped from all fee-bearing classes and will not be enrolled back in for the remainder of the semester.
As a reminder, our course fees are for the class, not the sport. Even if your scholar is not playing on a competitive team, you are still responsible for paying the course fee as is listed on the course request form completed at registration.
MySchoolBucks is our payment system for course fees and to make purchases through the school store.
To create your account go to MySchoolBucks.com and follow these instructions:
Click "Sign Up Free"
Follow the step by step instructions to add our school and your scholars to your account.  Our district is Heritage Academy Inc.  
Click on "School Store" on the top menu bar for a list of options.
If you click on "Store Home" it will take you to where you can purchase items like a parking permit, pay your PTO dues, or rent your choir robes.
If you click on "School Invoices" this is where your current course fees and end of year school balances from last year will be listed.  You will be able to make a payment right through this system!
We only accept online payments.  No cash or checks will be accepted.
COMMON ISSUE:  
No invoices?  You must add your scholars to your account.  Click the profile icon and select "My Students."  You may also need to add Heritage Academy as a new district if you another school on your account that uses myschoolbucks.
DRESS CODE REMINDERS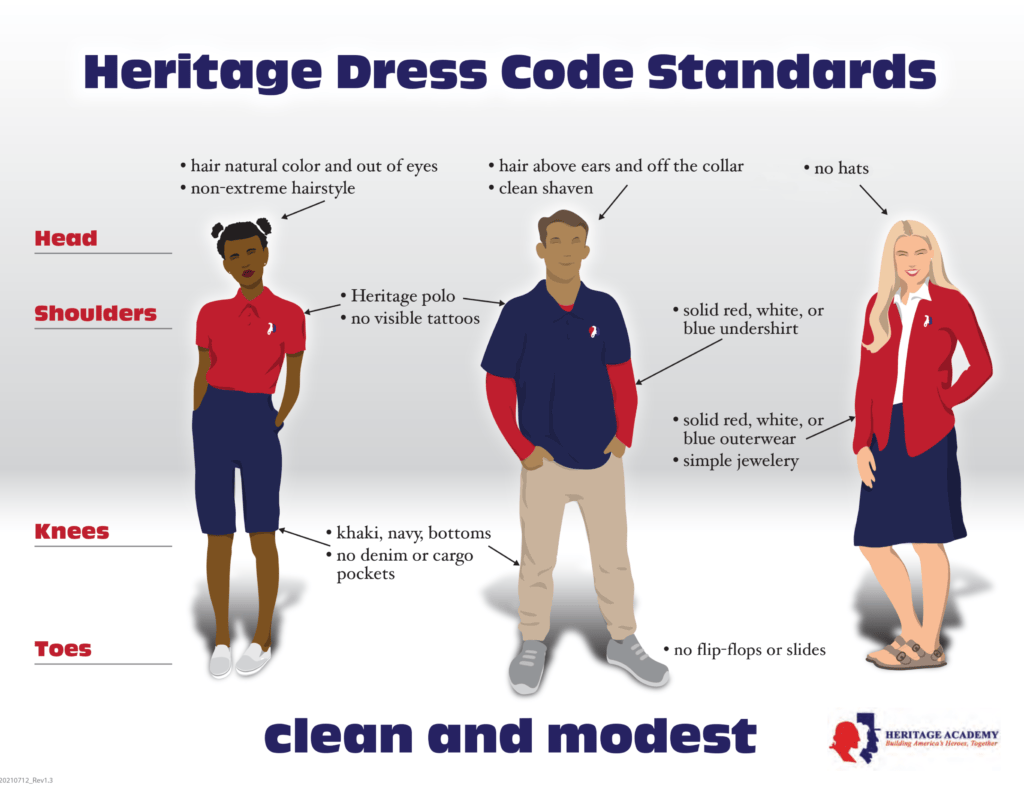 DID YOU ORDER LUNCH? 
New scholars – CLICK HERE to make your MyHotLunchbox account
HERE ARE A FEW REMINDERS:  
Change your scholars grade level under your profile.

Communicate with your scholar if you ordered lunch for them so they know to pick it up.

If a lunch is ordered and not picked up during lunch time, it will be donated.

If your scholar is absent, cancel the order or contact the front office if you want it saved by 10:00 am, otherwise it will be donated.

If you want a friend to pick up your lunch, it must be communicated to the front office by 10:00 am so the records can be updated.  
REMEMBER TO BRING YOUR LUNCH!! 
NO OUTSIDE FOOD IS ALLOWED
NO OUTSIDE FOOD (fast food or delivery) is allowed.  The school does not provide a lunch if your scholar forgets.  REMIND YOUR SCHOLAR TO PACK A LUNCH.