IMPORTANT DATES TO REMEMBER
1/6  – GIRLS VARSITY BASKETBALL – HOME GAME 6PM

1/9  – BOYS JV BASKETBALL – HOME GAME 4:30PM

1/9  – BOYS VARSITY BASKETBALL – HOME GAME 6PM

1/10  – PTO MEETING 7:00 PM – see post for details

1/11 – 1/14  – FINE ARTS RETREAT -required early sign up

1/16-1/17  – CIVIL RIGHTS DAY – no school

1/19  – SCHOLAR COUNCIL TALENT SHOW – see post for details

1/26  – DOUGHNUTS AND DUDS – details to come
IMPORTANT SCHOOL INFORMATION

Our Mission Statement
Heritage Academy is dedicated to youth, their growth and development. The purpose of education is to build strong character. Strong character is reflected in strong families, strong communities and a strong nation.
While teaching the academic disciplines, Heritage Academy is dedicated to instilling into the minds and hearts of today's youth a knowledge of and respect for the ideals and values of the great men and women of history, including those who founded the American nation.
As today's rising generation gains an appreciation of these people of accomplishment, they will be ready to provide the selfless service to their fellow citizens and to their country which will be required in the coming years to assist in preserving America's greatness. Heritage Academy exists to this end.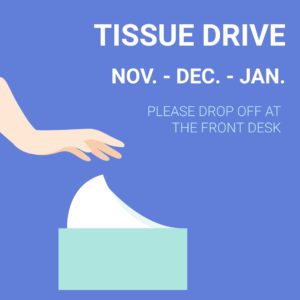 A HUGE thank you to those sending in tissues!
 We are still in need of donations.
Please consider donating tissues, we are still VERY LOW on our tissue supply.
*******
This is our supply of tissue boxes.  Look how lonely they are.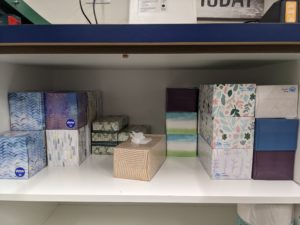 Teachers on the lookout for items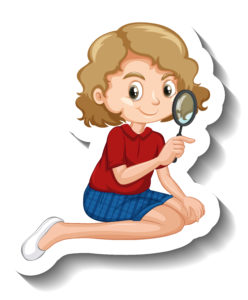 Mrs. Steelman is looking to rehome a few old tablets/iPads, laptops, or even old cellphones (with their charging cords) for use in her classroom. You can wipe/clear all of your data, but they need to have the capability to access the internet. Please bring any donations to the front office for Mrs. Steelman, Room 148.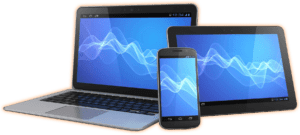 Did you get a new phone, computer, or tablet for Christmas?
Mrs. Steelman can use your old devices!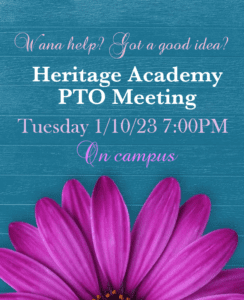 We have THE BEST PTO.
The thought and time put into our staff gift this year was just so beautiful and full of love. We are so very grateful for each of them. Pictures do not do these beautiful, handmade snowflakes justice. Thank you, PTO, you are just simply amazing!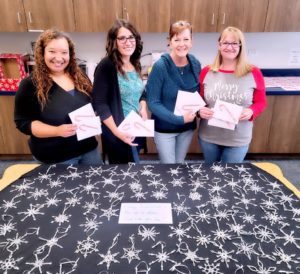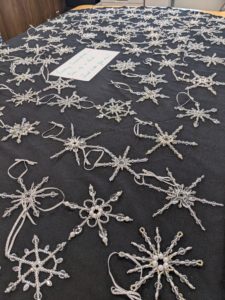 Any school day, but especially at the beginning of a semester it is important for scholars to be in their seat ready with the things they need at the beginning of the day.  The front desk is experiencing too many scholars coming in late.  Being tardy not only impedes the tardy scholar it disrupts the entire class.  We know that traffic can slow down around 7:40, so please plan accordingly.  Please ensure your scholar is on campus at 7:45 a.m.
BE ON TIME!!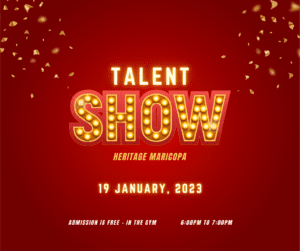 THE 2023-2024 SCHOOL CALENDAR IS HERE!!!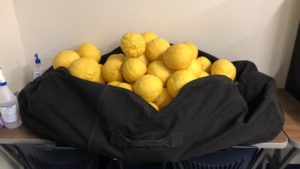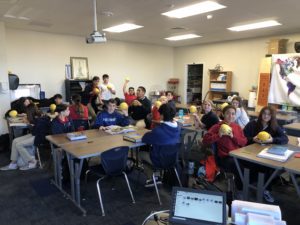 Mr. Hamblin picked some LARGE lemons to gift to his scholars! When life gives you lemons…
It's a brand new year to donate to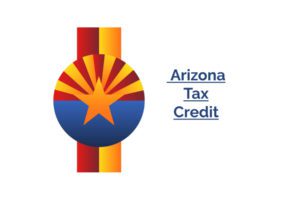 You can use ECA tax credit funds for tours, sports, and fees!
Click HERE!
SCHOLARS SHOULD NOT BE SIGNED OUT BETWEEN 2:30-3:30 PM
Need to schedule an appointment for your scholar during school hours? We ask that you try and schedule appointments on Fridays when the scholars are out of school.  We know this isn't always possible due to days and hours of operation, however due to our driveline, we are not able to sign scholars out after 2:30 pm.  If you have an appointment for your scholar, we will need you to pick them up before 2:30 pm or wait until school is out to pick up your scholar.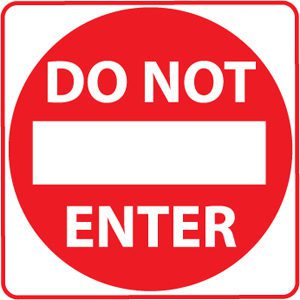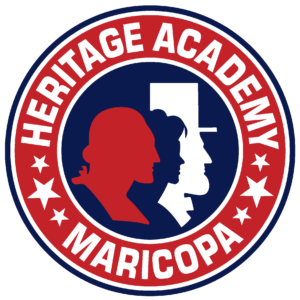 Winter High School Sports Season:
High school boys and girls basketball and wrestling are currently in season.  Our varsity basketball teams are both very young, with only three seniors between the boys and girls.  Both teams are developing and have shown exciting early progress.  The boys are 4-4 and the girls are 3-3.  Both teams have some big games coming up.  The boys play at home twice next week (1/9 & 1/12) while the girls are away.  The next varsity girl's home game is on 1/18.  Admission to varsity games is free when you wear any RED Heritage shirt.
Varsity wrestling is looking to repeat last year's success and challenge for a state championship.  They have dominated in their early meets.  We will be hosting two upcoming tournaments in our gym on 1/14 and 1/21.  Come check them out!
The girl's varsity and JH tennis season is set to begin as well.  Coach Robinson is last year's returning CAA Coach of the Year and is excited to get back on the court with the girls.  She is looking for additional help as these two seasons run side by side.  If you, or someone you know, could be interested in assisting her and the girls, please contact Mr. Miller, Jeffrey.miller@heritageacademyaz.com
Junior High 3rd Quarter Sports:
Our next JH season is starting with girls' basketball, flag football and tackle football.  Teams have been selected and games will be starting soon.  Coach Miller and O'barr will be leading the girl's basketball teams and are excited to continue to build the program.  Coach Doscher is back to coach the flag football team with hopes of another championship.  Coach Taylor is getting our JH tackle team ready for their season.
Here are a few upcoming JH home games:
1/11 – Girls Basketball red vs white 4:30p
1/13 – Girls Basketball A team vs LTS Casa Grande 4:30p
1/18 – Flag Football A team vs Red Rock Elem 4:30p
1/20 – Tackle Football vs ALA West Foothills 4:00p
Sports Notices:
January 30th will be Hero Letterman Jacket Day!  We would like to see all varsity athletes, with jackets, wear them to school on that day for a group picture at lunch.
We can always use help with finding coaches and/or assistant coaches.  We have a lot of kids that want to play, and we can offer them more opportunities if we can find more coaches.
If you are interested in finding out more information for yourself or someone you know, please have them contact Coach Miller, Jeffrey.miller@heritageacademyaz.com
Currently, we need help with these teams:
Tennis, Soccer, Track, Basketball
The spring sports high school classes and JH Q4 classes are beginning as well.  They will be in off-season training until the winter season and Q3 seasons are complete.
***WRESTLING NEWS***
Our JH Wrestling team finished their season Last month. Our heroes took 6th out of 20 teams. Our new State Champions are Kash Dailey, Natalia Diaz, and Amara Wilson. Maddox O'Neal and Christopher Taylor brought home the silver. A great job and a great season to all of our wrestlers. We are proud of you Heroes!
HS wrestling has hit the ground running. The team took first place at the Gateway Grapplers Throwdown and second at the Cottonwood Classic.
As for our Multi-meets, we are 7 and 1. We lost once with only 9 of our 14 wrestlers present.
JUNIOR HIGH STATE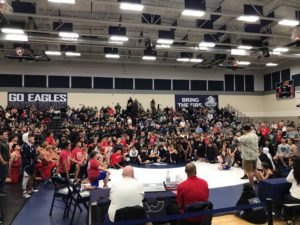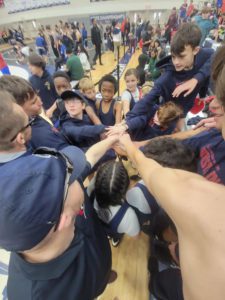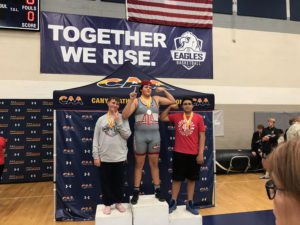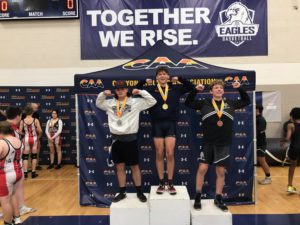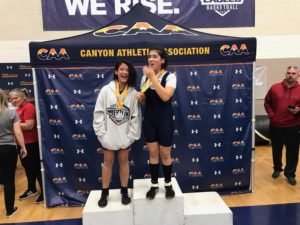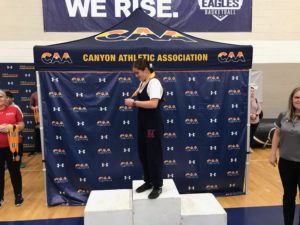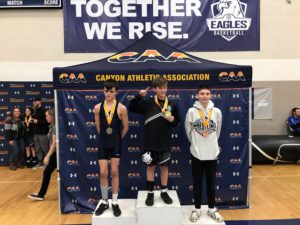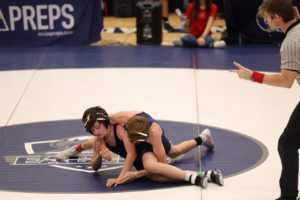 ---
HIGH SCHOOL TOURNAMENTS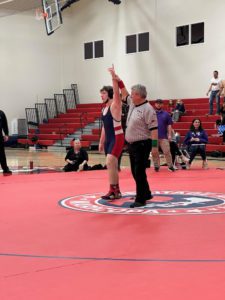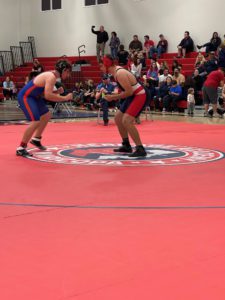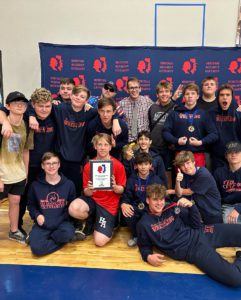 ***CHECK OUT OUR HEROES FAN SHOP***
Not a Heritage sponsored event, but Heritage scholars are invited!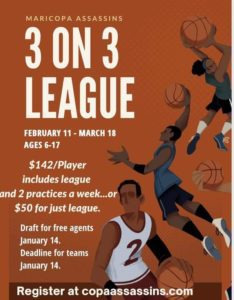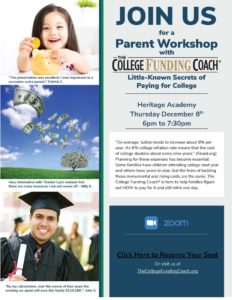 CLICK HERE to check the website of The College Funding Coach
Register for the FREE educational workshop HERE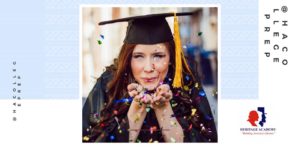 Has your high school scholar created a 4 year plan yet?
Heritage Academy offers advising to every scholar on campus. Mr. McCambridge will coach them along their college prep path, get them enrolled in college while in high school, and set up for future success!
Parents and scholars….. Do you have questions regarding college or high school planning?
Below is a list of topics that you may want to consider.
High school course selection
Early College Program – Dual enrollment, AP & CLEP
Earning an Associates Degree at Heritage Academy
ACT/SAT/PSAT (Which test and when?)
Financial Aid (Scholarships, Grants, Loans & FAFSA)
To schedule your appointment with Mr. McCambridge, please visit https://calendly.com/greg-mcca
REMEMBER TO BRING YOUR LUNCH!! 
NO OUTSIDE FOOD IS ALLOWED
COMMUNICATE WITH YOUR SCHOLAR 
DID YOU ORDER LUNCH? 
HERE ARE A FEW REMINDERS:  
Change your scholars grade level under your profile.

Communicate with your scholar if you ordered lunch for them so they know to pick it up.

If a lunch is ordered and not picked up during lunch time, it will be donated.

If your scholar is absent, cancel the order or contact the front office if you want it saved by 10:00 am, otherwise it will be donated.

If you want a friend to pick up your lunch, it must be communicated to the front office by 10:00 am so the records can be updated.
DRESS CODE REMINDERS
Khaki pants need to be cream, beige, or khaki in color (according to the chart below).  The colors that are crossed out in red are not approved.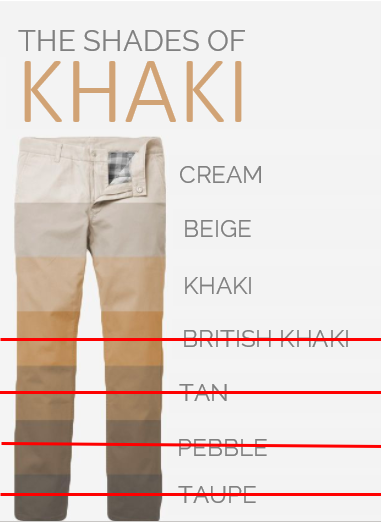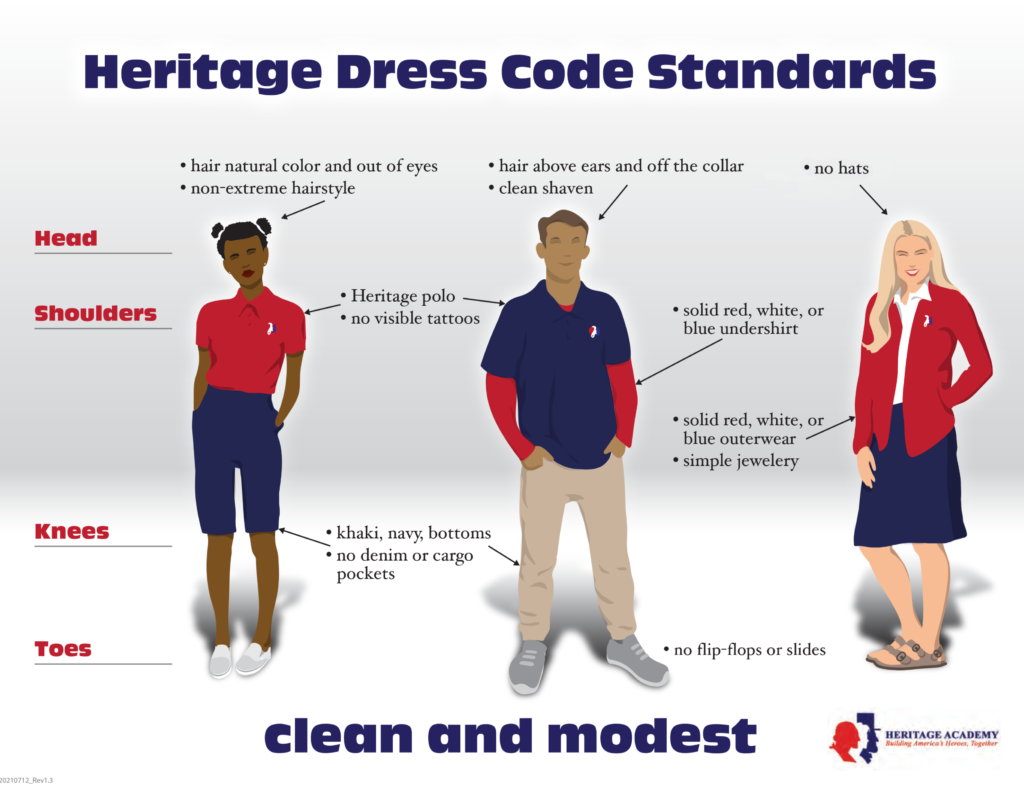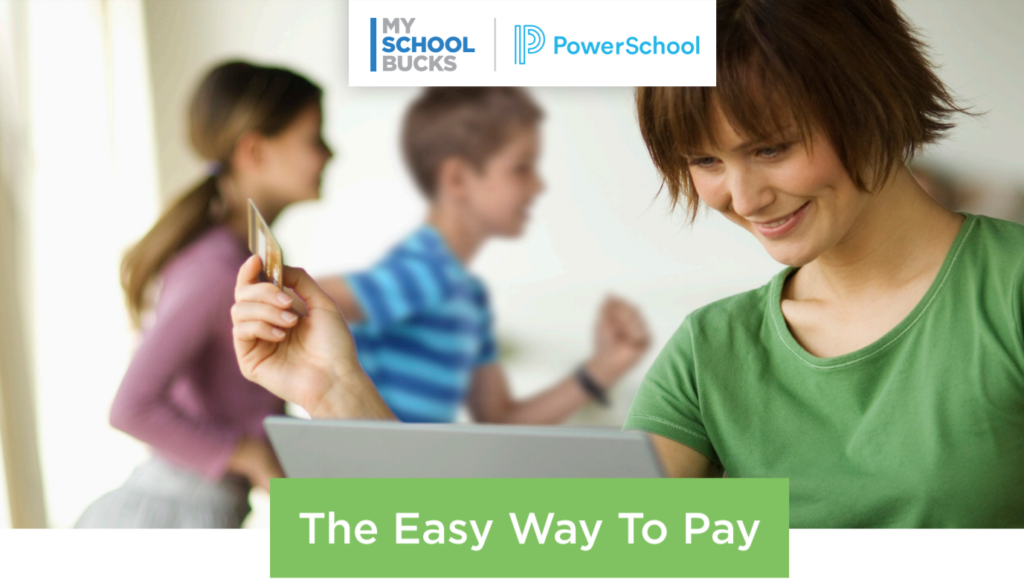 MySchoolBucks is our payment system for course fees and to make purchases through the school store.
To create your account go to MySchoolBucks.com and follow these instructions:
Click "Sign Up Free"
Follow the step by step instructions to add our school and your scholars to your account.  Our district is Heritage Academy Inc.  
Click on "School Store" on the top menu bar for a list of options.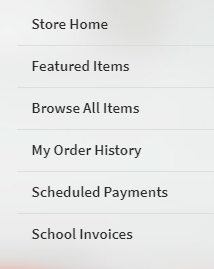 If you click on "Store Home" it will take you to where you can purchase items like a parking permit, pay your PTO dues, or rent your choir robes.
If you click on "School Invoices" this is where your current course fees and end of year school balances from last year will be listed.  You will be able to make a payment right through this system!
We only accept online payments.  No cash or checks will be accepted.
COMMON ISSUE:  
No invoices?  You must add your scholars to your account.  Click the profile icon and select "My Students."  You may also need to add Heritage Academy as a new district if you another school on your account that uses myschoolbucks.