IMPORTANT DATES TO REMEMBER
10/20 –  HOMECOMING DANCE – see post for details

10/24 –  OPEN HOUSE – for next year's new scholars

10/24 –  VISION AND HEARING RETAKES

10/25 –  VARSITY BOYS SOCCER HOME GAME AND SR. NIGHT – vs. Alta Vista 4:30 PM

10/26 –  DOUGHNUTS AND DUDS – see post for details

10/26 – NATIVE PTO FUNDRAISER – see post for details

10/26 – VARSITY GIRLS VBALL HOME GAME AND SR. NIGHT – vs. Pan American 6:00 PM

10/28 –  HS SWIM TEAM STATE CHAMPIONSHIPS

10/28 –  TRAP AND SKEET AWARDS BANQUET. – see post for details

10/30 –  HALLOWEEN FILM FESTIVAL – see post for details

10/31 –  HALLOWEEN – see post for dress up details

11/3 – 11-4  JH FINE ARTS RETREAT – for those who signed up

11/4 – ENTREPRENEURIAL EXHIBITION – see post for details

11/9 – 11/11  MATILDA JR. DRAMA PRODUCTION – see post for details

11/11  VETERAN'S DAY PARADE  – more details to come

11/14 – PTO MEETING – 7:00 PM

11/16  POWDER PUFF FOOTBALL GAMES – more details to come
IMPORTANT SCHOOL INFORMATION

Our Mission Statement
Heritage Academy is dedicated to youth, their growth and development. The purpose of education is to build strong character. Strong character is reflected in strong families, strong communities and a strong nation.
While teaching the academic disciplines, Heritage Academy is dedicated to instilling into the minds and hearts of today's youth a knowledge of and respect for the ideals and values of the great men and women of history, including those who founded the American nation.
As today's rising generation gains an appreciation of these people of accomplishment, they will be ready to provide the selfless service to their fellow citizens and to their country which will be required in the coming years to assist in preserving America's greatness. Heritage Academy exists to this end.
Invited guests from other schools may attend if they have a signed Dance Guess Pass.  These are available in the front office and will need to be  returned to Mrs. Titus before the night of the event.  Middle school scholars from Heritage or any other school may not attend.  Heritage standards apply for scholars and guests.  Click HERE for the semi-formal dress code. 
Invite your friends to our Open House
for those interested in attending Heritage in the future!
A message from out PTO

SCHOLAR COUNCIL PRESENTS…DOLLARS FOR DUDS
PTO OFFERS $1.00 DOUGHNUTS
THURSDAY, October 26th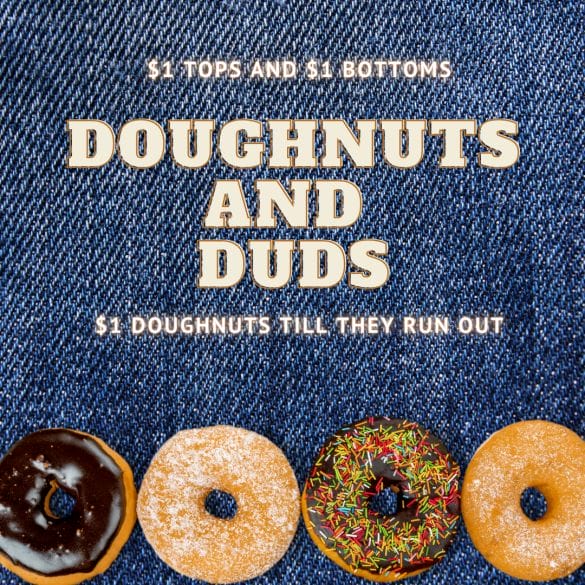 On Dollars for Duds days, scholars are allowed to wear non-uniform clothing (INCLUDING JEANS) that meet Heritage Standards.  $1.00 for shirt and $1.00 for pants/shorts. Wristbands purchased for participation must be worn on your scholar's wrist throughout the day.  Dollars for Duds is optional, and scholars do not have to participate. Money raised goes to support Scholar Council and the school activities and dances they support.
Heritage Standard means: no sleeveless or midriff shirts, even under sweaters or jackets; shorts must be 4″ from the middle of the knee and skirts must come to the middle of the knee; no pants or shorts that are ripped, torn or frayed; no leggings; no inappropriate slogans or symbols on the clothing; and NO PAJAMAS.
If a scholar is wearing inappropriate clothing, they will be dress coded and will need to change into uniforms we have on hand in the office.
The PTO will be offering $1 doughnuts until they are gone that Thursday morning!
Click HERE to print a copy!
If you are interested in signing up for the next season please click HERE
Tickets will be $3.00 CASH/ $4.00 CARD
sold at the door.
We will be selling popcorn, cotton candy and other concessions.
Movies will be held in Room 231
YES, scholars can dress up for Halloween…
Click HERE to sign your family up to walk with us in the parade!!!
Click HERE for volunteer sign ups
Click HERE for tickets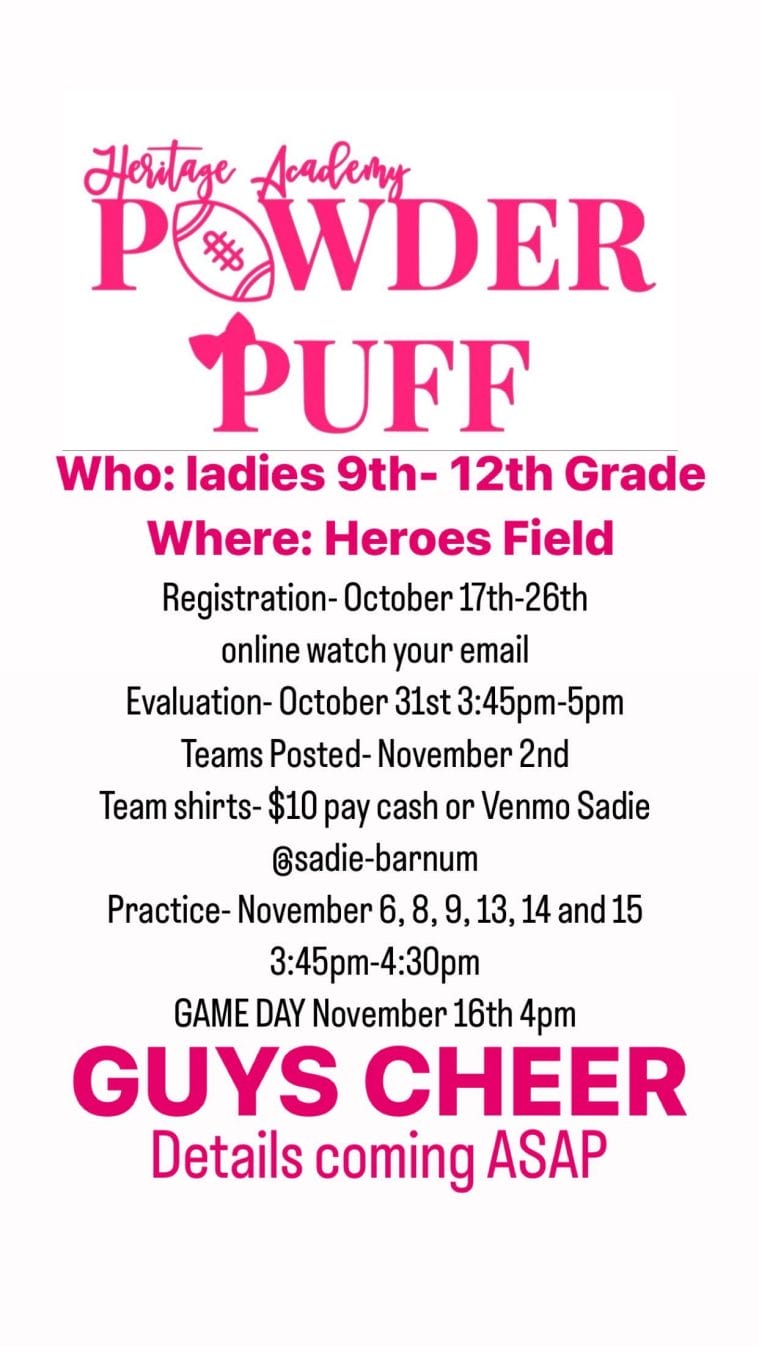 Boys will be practicing on Tues/Thurs
starting October 26th. 4-6PM
Click HERE for all sign ups
Cheer (boys only) and Play (HS girls only)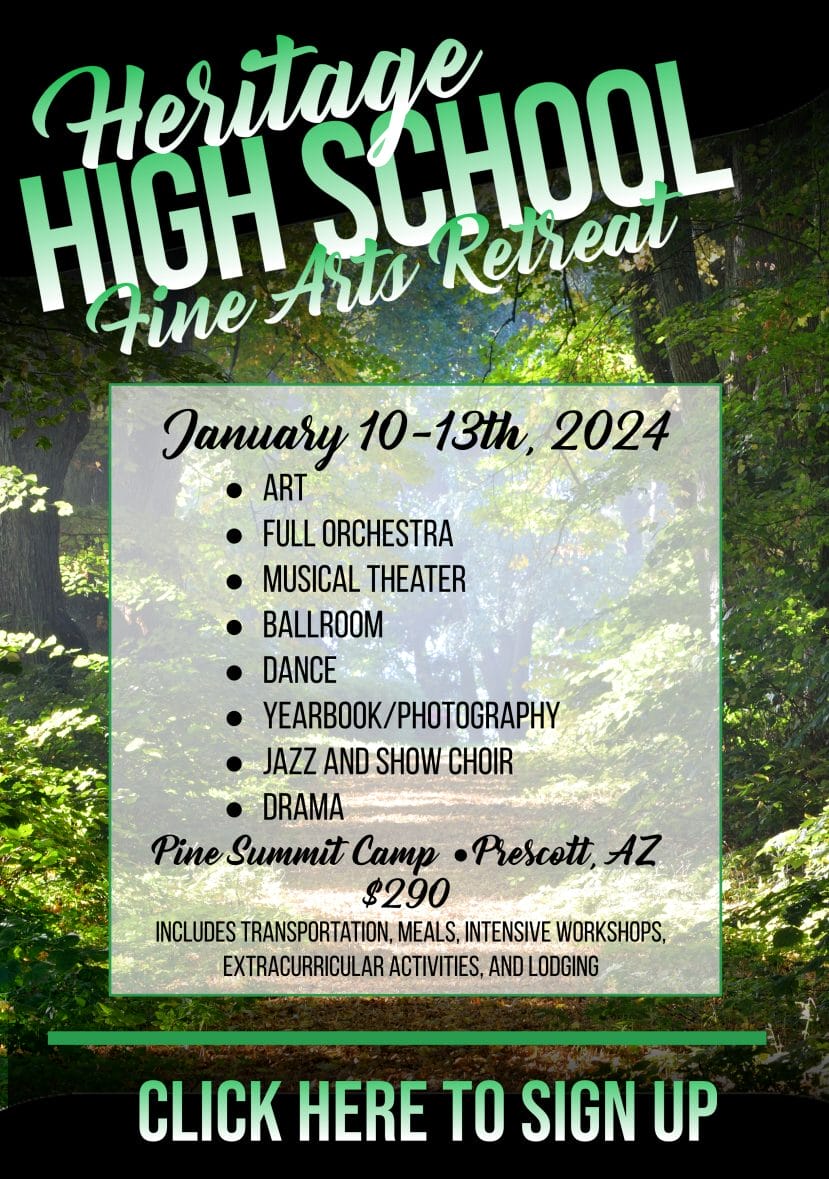 You can use your ECA funds for this trip.  Click HERE to find out how to pay through the ECA tax credit.
Click the flyer to sign up!
Click HERE for the itinerary, click the flyer to sign up!
Click HERE to find out how to pay through the ECA tax credit.
Click HERE to sign up
CLICK ON THE FLYER FOR MORE INFO
This awesome adventure is open to
Now open to ALL HIGH SCHOOL NOW!
Your adventure awaits!!
Tutoring is still happening!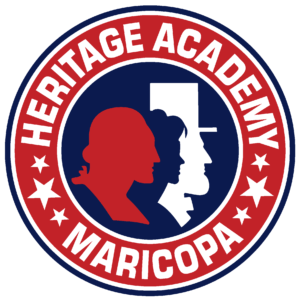 *** Sports Announcements***
We finished the JH 1st quarter season over fall break with two state championships.
Congratulations to the Junior High Baseball team on winning their 1st state championship.  They played Legacy Maricopa and won in extra innings 16-12.  It was a great all-around game.  Cody Broek was named MBP of the game.  Jaxon Pavlich hit an in-the-park home run.  John McCullouch came in to pitch and did a great job earning the win on the mound.  It was an excellent all around game and everyone of the boys did a great job.
JH Coed Soccer continued their dominance of the league winning their third straight state championship.  The team finished undefeated and outscored their opponents 85-6 on the season.  They played Heritage Gateway in the championship game and won 7-1. Owen Celaya scored the first two goals and was awarded the player of the game for the boys.  Tyler Parady scored 4 goals and Kenny Guarin scored one.  Lyla Kray was given the girls player of the game for the assists she provided.  The team played great all season and has a lot of talented 6th and 7th graders so they will continue to be strong for years to come!
***JH BASEBALL***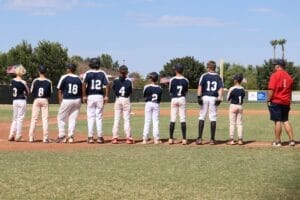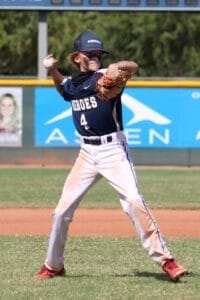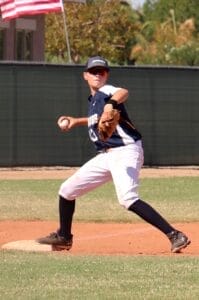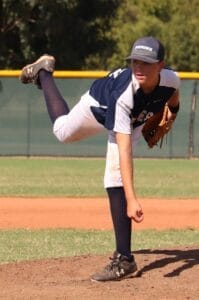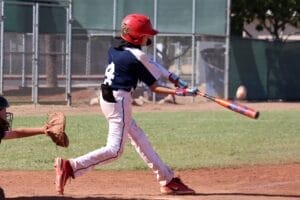 ***CO-ED SOCCER***
*** JH SWIM TEAM***
Our Final Championship meet for Junior High Athletes was last Saturday. There were 15 teams competing and about 390 athletes that competed this season.  This year our athletes were required to meet time standards to attend this Championship meet.  Congratulations Joey Occhiline, Charity Horner, Sienna Hunt, and Lizzie O'Barr for your dedication to swimming and qualifying for the final meet.  Joey Occhiline took 4th place in the 100 IM 50 Back, 100 Free, and 50 Breast stroke.  Charity Horner took 5th place in the 50 Breaststroke.  During the season All of our athletes worked hard and obtained personal bests.  I also witnessed exceptional character in our athletes congratulating other teams athletes and helping their fellow team mates. I am very proud of our team and the things they were able to accomplish this season.  Great Job!  -Coach Huff
*** MARTIAL ARTS***
Eight Heritage scholars attended the annual Martial Arts Retreat in Heber, AZ.  Three days of training, learning and making friends in the Arizona mountains with almost 200 ninjas!
*** VARSITY BOYS SOCCER***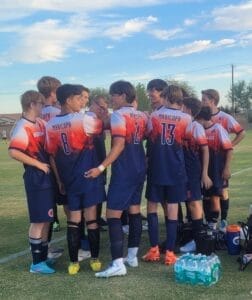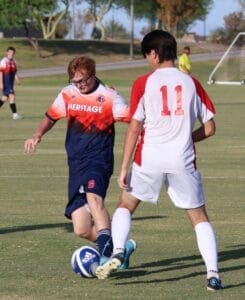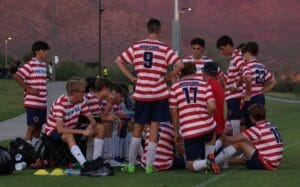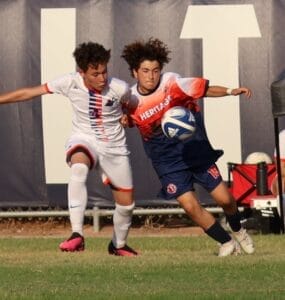 Varsity Boys Soccer beat TriCity Christian this week 4-0 Goals were scored by Manny Valazquez, Ajay Blakes, Brayden Hill and Luca Hernandez.
*** VARSITY FOOTBALL***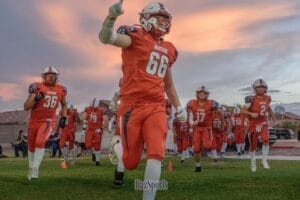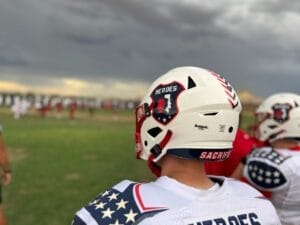 *** WRESTLING***
Thank you PTO for setting up this YEAR LONG fundraiser!
Use promo code:  HAM20 at Papajohns.com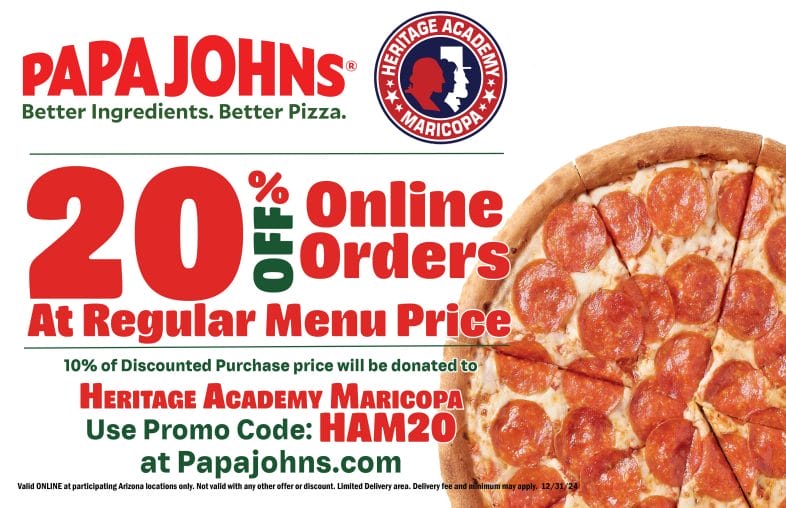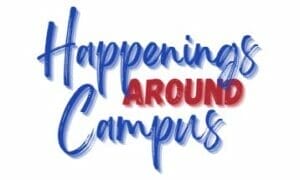 It was a fun week gearing up for HOMECOMING.  Here are a few pictures from our dress up days.
MONDAY – I'm late, I'm late (PJ Day)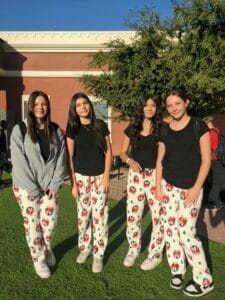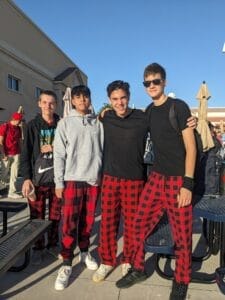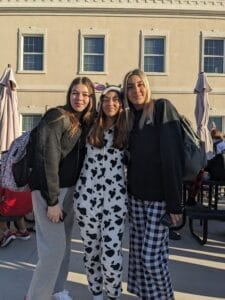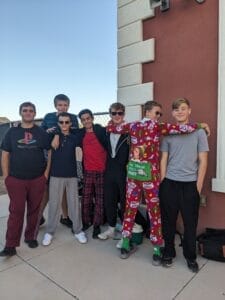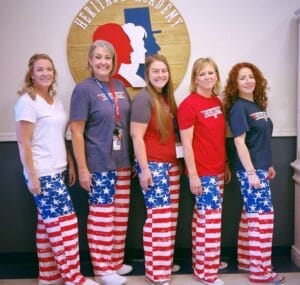 TUESDAY – Tweedledee & Tweedledum (Twin Day)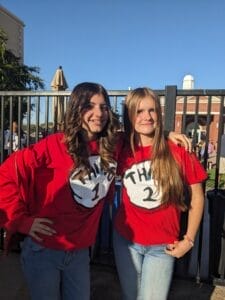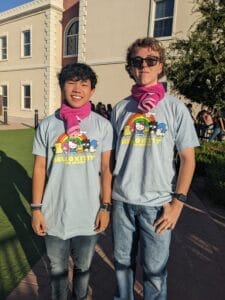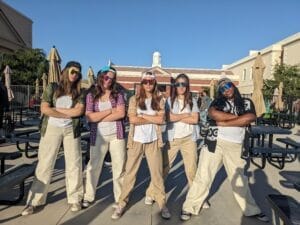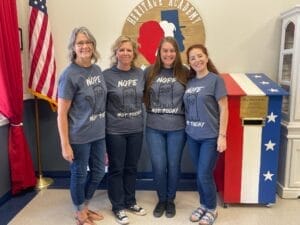 WEDNESDAY – We're all a little Mad (Crazy Hair Day)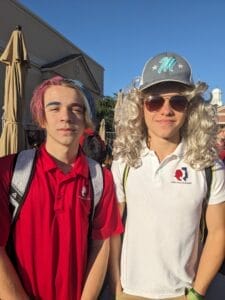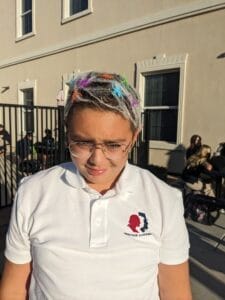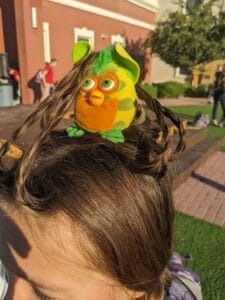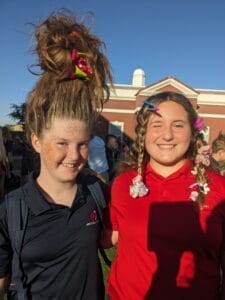 THURSDAY – Queen of Hearts (Red Out Day)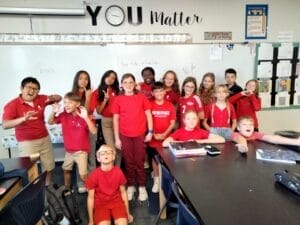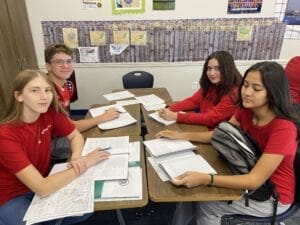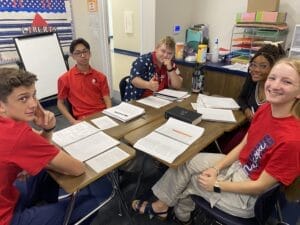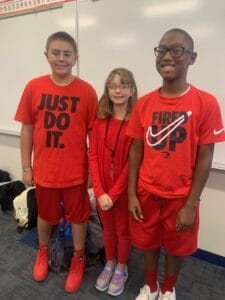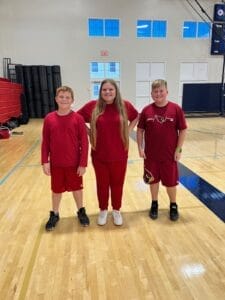 Open Enrollment is for NEW scholars only.
Our dates have changed this year.
Share this information with friends!
Congratulations to these college accepted scholars
| | |
| --- | --- |
| Pia Morales | University of North Texas, Texas Woman's University, Northern Arizona University, Arizona State University |
| Romina Arteaga | Arizona State University |
| Hannah Marney | Arizona State University |
| Isabella Edgecomb | University of Arizona |
| Ariella Oropeza | Arizona State University |
| Delaney Fortier | Northern Arizona University |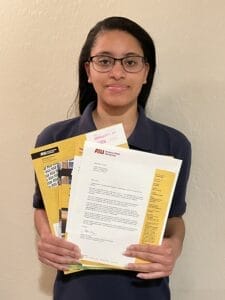 Click HERE to create an account.
CLICK HERE to check the website of The College Funding Coach
Register for the FREE educational workshop HERE
Has your high school scholar created a 4 year plan yet?
Heritage Academy offers advising to every scholar on campus. Mrs. Bocchinfuso will coach them along their college prep path, get them enrolled in college while in high school, and set up for future success!
Parents and scholars….. Do you have questions regarding college or high school planning?
Below is a list of topics that you may want to consider.
High school course selection
Early College Program – Dual enrollment, AP & CLEP
Earning an Associates Degree at Heritage Academy
ACT/SAT/PSAT (Which test and when?)
Financial Aid (Scholarships, Grants, Loans & FAFSA)
To schedule your appointment with Michele Bocchinfuso, please visit: https://calendly.com/michele-bocc
Be prepared and try to remember all of the items you will need for class, sports, and extracurriculars each day. 
We understand things happen and sometimes items get forgotten.  We have had an increase in these forgotten items, so please help remind your scholars to prepare their needed items the night before.  SCHOLAR WILL BE CALLED DOWN BETWEEN CLASSES TO PICK UP THE ITEM. WE WILL NOT DELIVER THE ITEMS TO CLASS.  Please remind your scholar to pick up the item in the front office.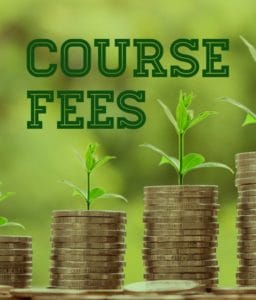 Course fees for all FIRST SEMESTER classes have been assessed and are now PAST DUE . Scholars with balances will now start to be dropped from all fee-bearing classes and will not be enrolled back in for the remainder of the semester.
As a reminder, our course fees are for the class, not the sport. Even if your scholar is not playing on a competitive team, you are still responsible for paying the course fee as is listed on the course request form completed at registration.
MySchoolBucks is our payment system for course fees and to make purchases through the school store.
To create your account go to MySchoolBucks.com and follow these instructions:
Click "Sign Up Free"
Follow the step by step instructions to add our school and your scholars to your account.  Our district is Heritage Academy Inc.  
Click on "School Store" on the top menu bar for a list of options.
If you click on "Store Home" it will take you to where you can purchase items like a parking permit, pay your PTO dues, or rent your choir robes.
If you click on "School Invoices" this is where your current course fees and end of year school balances from last year will be listed.  You will be able to make a payment right through this system!
We only accept online payments.  No cash or checks will be accepted.
COMMON ISSUE:  
No invoices?  You must add your scholars to your account.  Click the profile icon and select "My Students."  You may also need to add Heritage Academy as a new district if you another school on your account that uses myschoolbucks.
DRESS CODE REMINDERS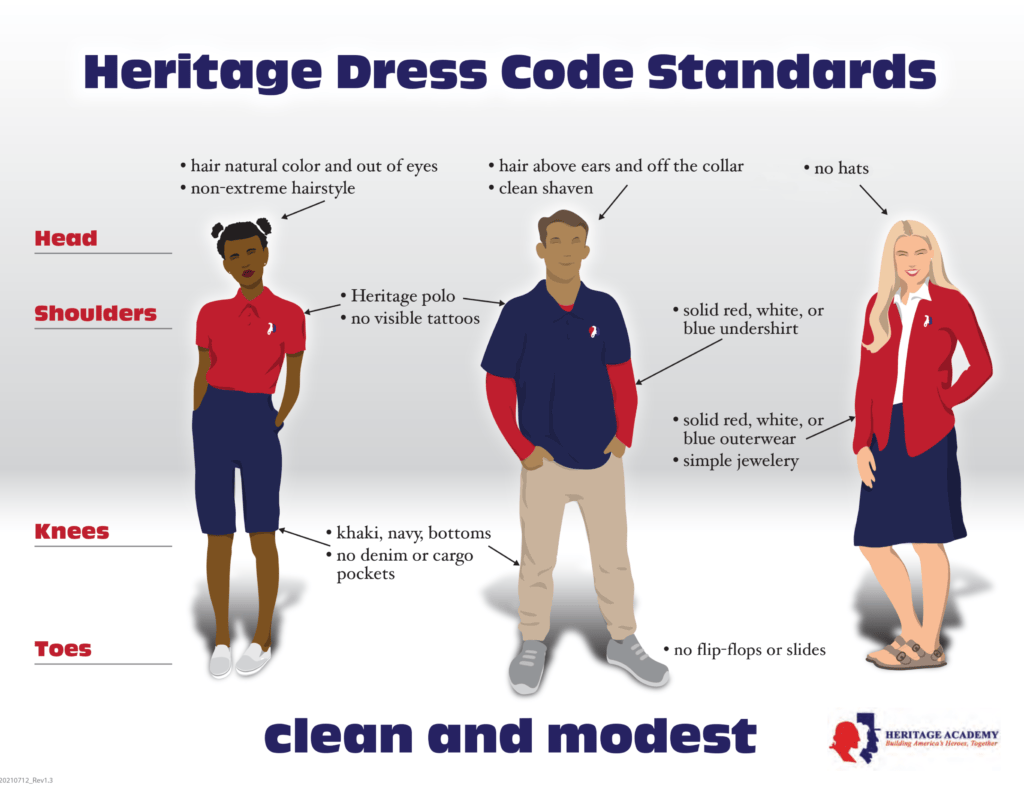 DID YOU ORDER LUNCH? 
New scholars – CLICK HERE to make your MyHotLunchbox account
HERE ARE A FEW REMINDERS:  
Change your scholars grade level under your profile.

Communicate with your scholar if you ordered lunch for them so they know to pick it up.

If a lunch is ordered and not picked up during lunch time, it will be donated.

If your scholar is absent, cancel the order or contact the front office if you want it saved by 10:00 am, otherwise it will be donated.

If you want a friend to pick up your lunch, it must be communicated to the front office by 10:00 am so the records can be updated.  
REMEMBER TO BRING YOUR LUNCH!! 
NO OUTSIDE FOOD IS ALLOWED
NO OUTSIDE FOOD (fast food or delivery) is allowed.  The school does not provide a lunch if your scholar forgets.  REMIND YOUR SCHOLAR TO PACK A LUNCH.