IMPORTANT DATES TO REMEMBER
10/2 – 10/12 –  FALL BREAK

10/7 –  HS & JH CROSS COUNTRY MEETS – Eagle Classic at Skunk Creek

10/7 –  VARSITY FOOTBALL – vs. IP Superstition 4:00 PM

10/14 –  HS CROSS COUNTRY MEET – Race at the Ranch

10/14 –  JH CROSS COUNTRY MEET – Guardian Invitational

10/14 –  JH SWIM CHAMPIONSHIPS

10/16-10/19 –  HOMECOMING SPIRIT WEEK – see post for details

10/16-  VARSITY GIRLS VBALL – vs. A+ Charter 6:00PM

10/17 –  PTO MEETING – more details to come

10/17-  VARSITY BOYS SOCCER – vs. Tri City Christian 4:30PM

10/18 –  SENIOR PICTURE RETAKES – 9AM – 10AM

10/18 –  JV GIRLS VBALL HOME GAME– vs. Ridgeview 4:30PM 

10/18 –  VARSITY BOYS SOCCER HOME GAME – vs. BASIS Ahwatukee @Pacana 6:00PM 

10/19 –  HOMECOMING FOOTBALL GAME– vs. CSA @ Pacana Park 7:00PM

10/20 –  HOMECOMING DANCE – see post for details

10/24 –  OPEN HOUSE – for next year's new scholars

10/24 –  VISION AND HEARING RETAKES

10/26 –  DOUGHNUTS AND DUDS – more details to come

10/28 –  HS SWIM TEAM STATE CHAMPIONSHIPS

10/30 –  HALLOWEEN FILM FESTIVAL – see post for details
IMPORTANT SCHOOL INFORMATION

Our Mission Statement
Heritage Academy is dedicated to youth, their growth and development. The purpose of education is to build strong character. Strong character is reflected in strong families, strong communities and a strong nation.
While teaching the academic disciplines, Heritage Academy is dedicated to instilling into the minds and hearts of today's youth a knowledge of and respect for the ideals and values of the great men and women of history, including those who founded the American nation.
As today's rising generation gains an appreciation of these people of accomplishment, they will be ready to provide the selfless service to their fellow citizens and to their country which will be required in the coming years to assist in preserving America's greatness. Heritage Academy exists to this end.
Homecoming week October 16-19
Invited guests from other schools may attend if they have a signed Dance Guess Pass.  These are available in the front office and will need to be  returned to Mrs. Titus before the night of the event.  Middle school scholars from Heritage or any other school may not attend.  Heritage standards apply for scholars and guests.  Click HERE for the semi-formal dress code. 
The cost of this trip is $215.  You can use your ECA funds for this trip.  Click HERE to find out how to pay through the ECA tax credit.
Click HERE to sign up!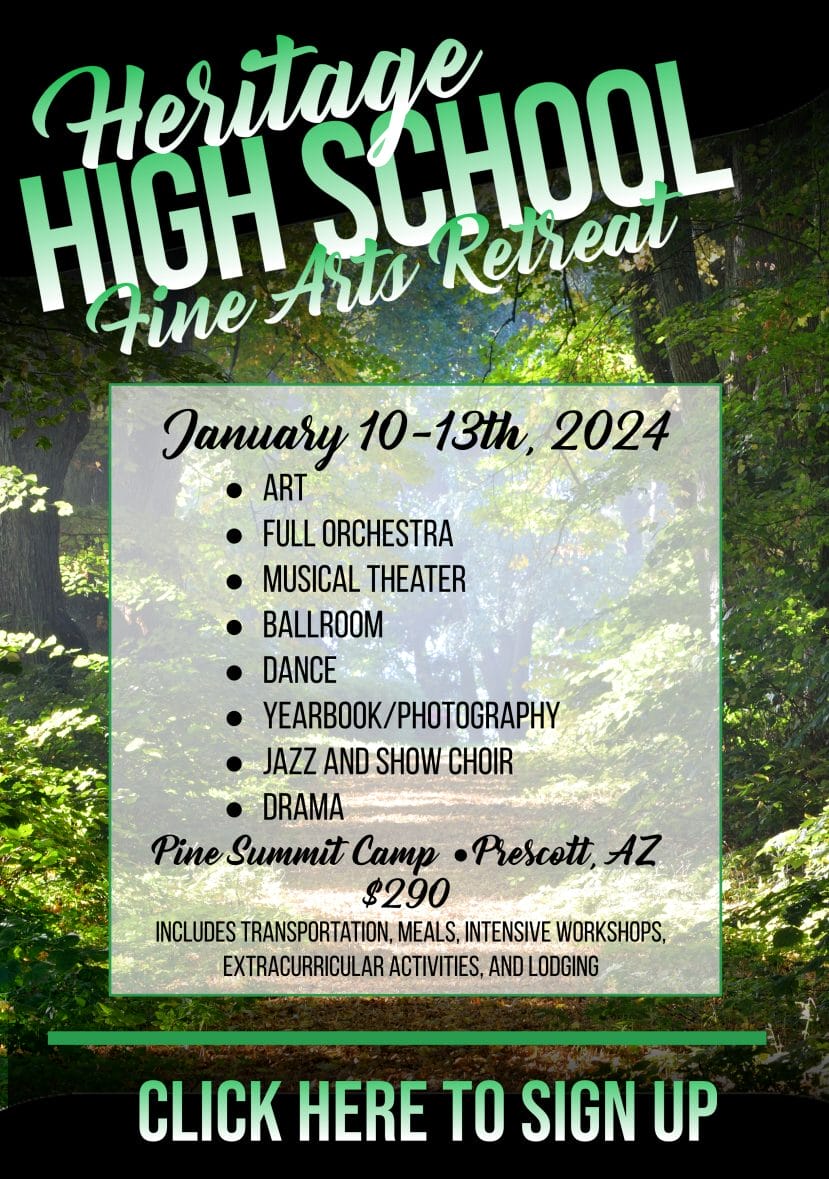 You can use your ECA funds for this trip.  Click HERE to find out how to pay through the ECA tax credit.
Click the flyer to sign up!
Click HERE for the itinerary, click the flyer to sign up!
Click HERE to find out how to pay through the ECA tax credit.
Click HERE to sign up
CLICK ON THE FLYER FOR MORE INFO
This awesome adventure is open to
Now open to ALL HIGH SCHOOL NOW!
Your adventure awaits!!
Want to know more about Distinctions that junior high school scholars can plan for and high school scholars can achieve.
Click HERE to learn more.
Want to know more about Lettering that junior high school scholars can plan for and high school scholars can achieve.
Click HERE to learn more.
Tutoring is still happening!

Trap and Skeet Club 
These Heroes are improving their scores.  They faced some difficult conditions including weather, but they gave it their best effort.  Way to go Heroes!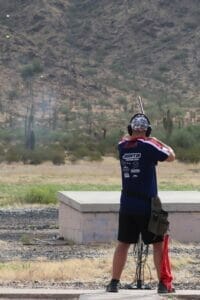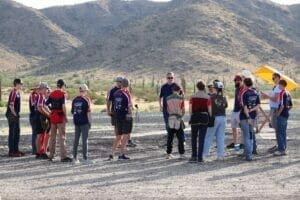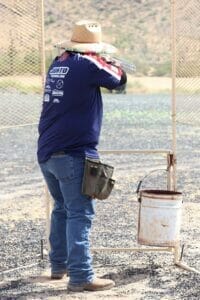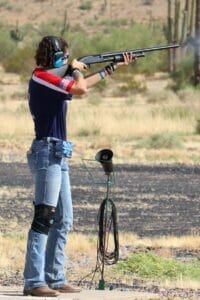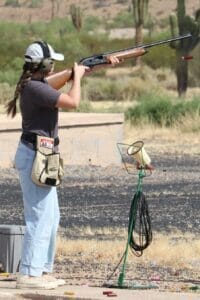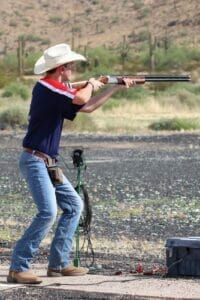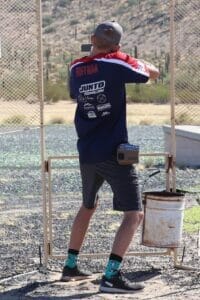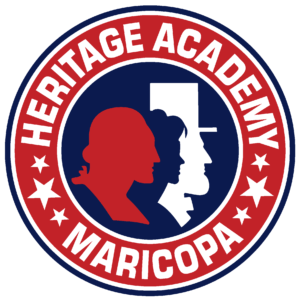 *** Sports Announcements***
Our JH teams have finished their Q1 season. JH Girls volleyball finished 10-1 and ranked number 2.  The semis and final are both on Saturday at Moon Valley HS.
JH Baseball won 5 of their last 6 games to rank 7th going into the playoffs. Final on Saturday.
JH Coed Soccer finished their season undefeated and ranked 1st. The team has won state the last two years and is hoping for the three-peat! The state championship will be at 10a on Saturday at 91st Psalm Christian School.
You can check schedules and follow results at azcaapreps.com
***GIRLS VOLLEYBALL***
The Heritage Girl's Volleyball program attended the CAA Team Night at ASU.  All 4 Heritage Girls Volleyball teams experienced great volleyball and team bonding as they watched ASU beat U of A in three sets!
JH Girls Volleyball A Team finished their season 10-1, sweeping all schools in Maricopa without dropping a set.  They made it to the Playoffs, but unfortunately lost to Legacy Queen Creek in the Semifinals.  The girls had an excellent season with tremendous growth.  We are excited to see these girls advance through the volleyball program at heritage!  Congrats Lady Heroes!
*** SWIM TEAM***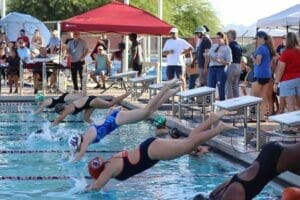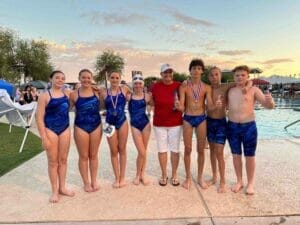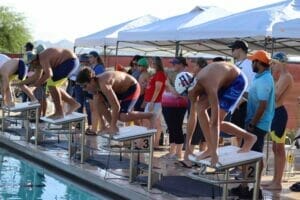 *** CROSS COUNTRY TEAM***
In their last meets JH Cross Country Girls  placed 2nd and JH Cross Country Boys placed 3rd!!! Congratulations HEROES!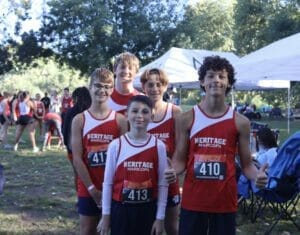 ***JH BASEBALL***
Congrats to our Junior High Heroes they are doing great in the playoffs!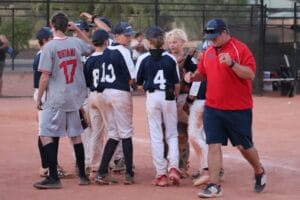 *** MARTIAL ARTS***
Scholars in Master Feiles' Martial Arts Class ending the quarter with our first belt promotion of the year. 40 scholars moved one step closer to Black Belt!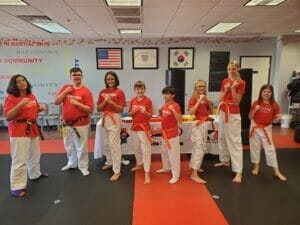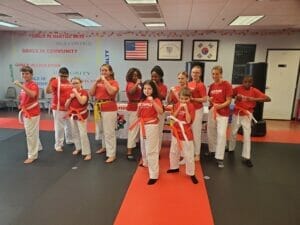 *** WRESTLING***
Not a Heritage sponsored event, but Heritage scholars are welcome…
Thank you PTO for setting up this YEAR LONG fundraiser!
Use promo code:  HAM20 at Papajohns.com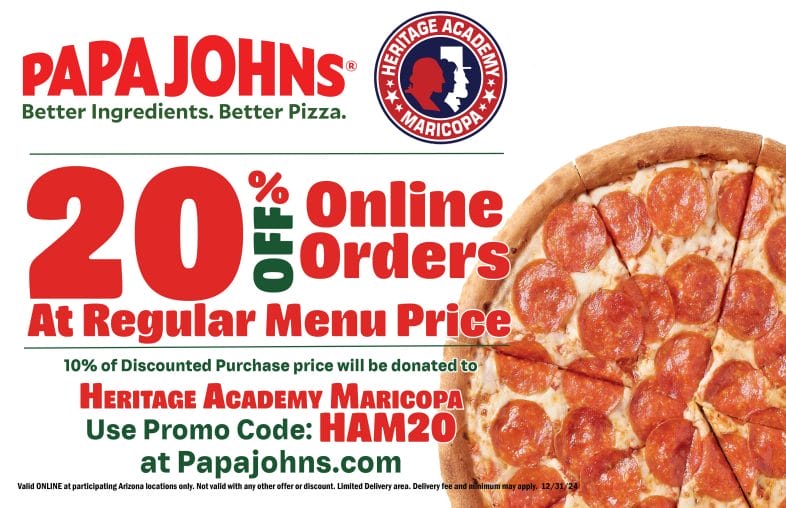 Open Enrollment is for NEW scholars only.
Our dates have changed this year.
Share this information with friends!
Save the date for these upcoming events….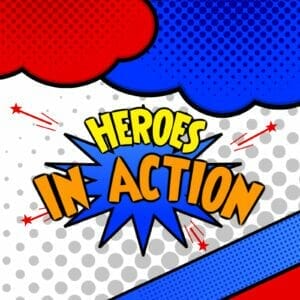 Purpose > Pity
 "When I looked at my pinky finger, it was bent sideways and backwards," described Jaden Hill. It was the first day of tryouts for the elite club basketball team AZ Select, and it had been Jaden's dream to join them. But that big dream was derailed when he crashed into a padded wall after finishing a contested layup where his pinky got caught in the padding. His little finger shattered, and so did his big dream.
In the aftermath, Jaden was devastated. "It was a really tough time. I wanted nothing more than to be out there playing the sport I love most on the team I always wanted to play for."
It was natural to ask, "Why me?" The answer to that question initially led Jaden down a path of self-pity ("Why did this happen to ME?"). But it eventually took him down a path of purpose ("WHY did this happen to me?"). That path from pity to purpose led to answers and led him to consider life after basketball and beyond high school. During the period of injury downtime and reflection, Jaden realized he needed to think about his long-term future.
My dad always says, "You are not molding the clay, you are the clay being molded." Jaden added, "I feel I have a bigger purpose, and I started to see this difficult time as a way of revealing that purpose and God's plan for me in my life."
Fast forward to late June and Jaden is at the ASU Downtown campus listening to a presentation on preparing for medical school. His future now includes a dream much bigger than club basketball – it is to become an orthopedic surgeon specializing in sports injury and recovering athletes just like him.
As he had been helped, he had become inspired to help.
In the end, I suppose there is great irony in the fact that a crooked finger ended up pointing him to his possible life's purpose; a finger bent backwards ended up propelling him forward. The finger is straight now, and so is the path Jaden is on.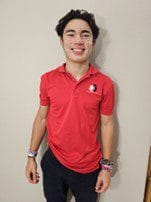 CLICK HERE to check the website of The College Funding Coach
Register for the FREE educational workshop HERE
Has your high school scholar created a 4 year plan yet?
Heritage Academy offers advising to every scholar on campus. Mrs. Bocchinfuso will coach them along their college prep path, get them enrolled in college while in high school, and set up for future success!
Parents and scholars….. Do you have questions regarding college or high school planning?
Below is a list of topics that you may want to consider.
High school course selection
Early College Program – Dual enrollment, AP & CLEP
Earning an Associates Degree at Heritage Academy
ACT/SAT/PSAT (Which test and when?)
Financial Aid (Scholarships, Grants, Loans & FAFSA)
To schedule your appointment with Michele Bocchinfuso, please visit: https://calendly.com/michele-bocc
Be prepared and try to remember all of the items you will need for class, sports, and extracurriculars each day. 
We understand things happen and sometimes items get forgotten.  We have had an increase in these forgotten items, so please help remind your scholars to prepare their needed items the night before.  SCHOLAR WILL BE CALLED DOWN BETWEEN CLASSES TO PICK UP THE ITEM. WE WILL NOT DELIVER THE ITEMS TO CLASS.  Please remind your scholar to pick up the item in the front office.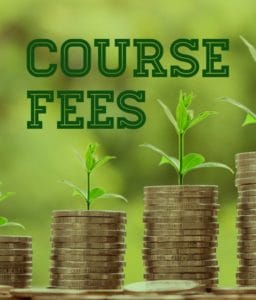 Course fees for all FIRST SEMESTER classes have been assessed and are now PAST DUE . Scholars with balances will now start to be dropped from all fee-bearing classes and will not be enrolled back in for the remainder of the semester.
As a reminder, our course fees are for the class, not the sport. Even if your scholar is not playing on a competitive team, you are still responsible for paying the course fee as is listed on the course request form completed at registration.
MySchoolBucks is our payment system for course fees and to make purchases through the school store.
To create your account go to MySchoolBucks.com and follow these instructions:
Click "Sign Up Free"
Follow the step by step instructions to add our school and your scholars to your account.  Our district is Heritage Academy Inc.  
Click on "School Store" on the top menu bar for a list of options.
If you click on "Store Home" it will take you to where you can purchase items like a parking permit, pay your PTO dues, or rent your choir robes.
If you click on "School Invoices" this is where your current course fees and end of year school balances from last year will be listed.  You will be able to make a payment right through this system!
We only accept online payments.  No cash or checks will be accepted.
COMMON ISSUE:  
No invoices?  You must add your scholars to your account.  Click the profile icon and select "My Students."  You may also need to add Heritage Academy as a new district if you another school on your account that uses myschoolbucks.
DRESS CODE REMINDERS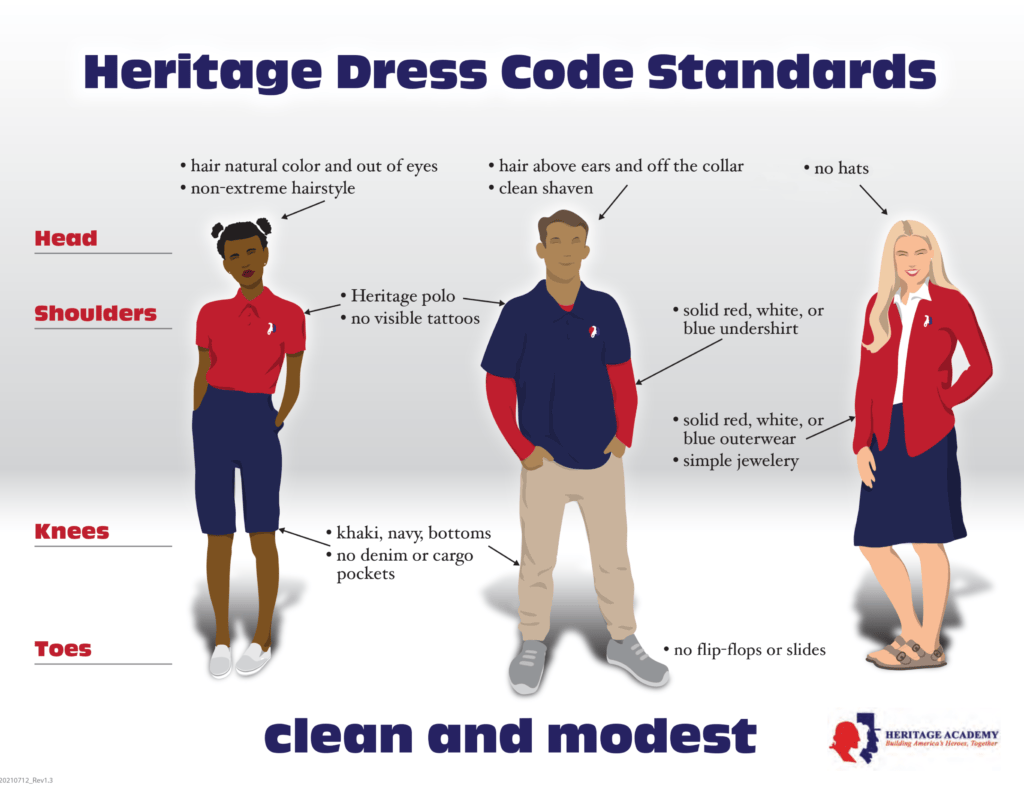 DID YOU ORDER LUNCH? 
New scholars – CLICK HERE to make your MyHotLunchbox account
HERE ARE A FEW REMINDERS:  
Change your scholars grade level under your profile.

Communicate with your scholar if you ordered lunch for them so they know to pick it up.

If a lunch is ordered and not picked up during lunch time, it will be donated.

If your scholar is absent, cancel the order or contact the front office if you want it saved by 10:00 am, otherwise it will be donated.

If you want a friend to pick up your lunch, it must be communicated to the front office by 10:00 am so the records can be updated.  
REMEMBER TO BRING YOUR LUNCH!! 
NO OUTSIDE FOOD IS ALLOWED
NO OUTSIDE FOOD (fast food or delivery) is allowed.  The school does not provide a lunch if your scholar forgets.  REMIND YOUR SCHOLAR TO PACK A LUNCH.